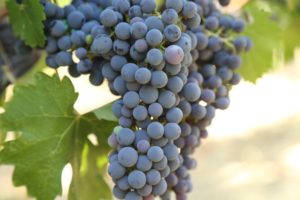 Tela Wines (not to be confused with the winery of the same name in the country of Georgia) is the definition of a small under-the-radar family owned boutique brand. Founded in 2005 by Eric and his wife Annie Bouthillette Mercier, the focus of their production has remained extremely consistent over the years: a single annual bottling of about 200 cases of Napa Valley Cabernet Sauvignon.
Eric moved to California from Québec in 1991 to study for his M.B.A in Agribusiness at Santa Clara University's Leavey School of Business. He intended to spend only two years in the state but never returned to Quebec. He has built a successful career centered around the wine industry, initially working for several cork/closure companies including Pechiney Cork & Seal and Oeneo Closures USA.
He is currently involved in a number of wine related businesses including as owner and president of Premier Wine Cask, a Napa based business selling a diversity of new and used wine barrels, concrete and stainless steel tanks, presses and other cellar equipment. The company attends a limited number of domestic based wine industry trade shows each year. Eric is also co-owner of ORION Warehousing Services, a wine industry storage company located in American Canyon providing wine barrel storage services.
Tying together both their own heritage, love of art and winemaking, Tela is Latin for the French word "toile" which means painting or canvas. The wine is bottled under M.H.M. Wine Company; the M stands for Mercier, H for Herrera (Tela's winemaker Rolando Herrera) and M for Murphy (Garret Murphy, co-founder of Vintner's Collective tasting room in downtown Napa). Every vintage features a different label based on a piece of art painted by Annie and always depicts a woman enjoying a bottle of wine. Prints of her paintings used on each of their bottlings are sold at Vintner's Collective and date back to 2005. Some of her works were on display in Vintner's Collective as early as 2003. And Eric's sister in law creates their label design each year.
Select Wines
Winemaker Rolando Herrera (Mi Sueno Winery) has made every vintage since the inaugural Tela bottling in 2005. Eric met Rolando through proximity; the cork company he was working for was a neighboring business of Mi Sueno Winery. And through Rolando's vineyard contacts, grapes for Tela are always sourced from the southern part of Napa Valley including a vineyard in Oak Knoll and also from Coombsville. Cabernet Sauvignon always makes up the majority of the wine each year with very small percentages of either Petit Verdot or Petite Sirah often included. Each vintage is usually aged in about 50% new French oak.
The Tela bottlings are some of Napa Valley's best value to quality wines. They are styled to be comfortable and approachable in their youth while having the simultaneous character to age.
The 2016 Tela is deep ruby in color and almost opaque; the bouquet is sweetly fruited including aromas of dark licorice and plum along with leather, white pepper, dried herbs and some darker spices. This bottling is showing very well 7 years post vintage at the time of our tasting. We immediately noted two words to describe its polished character: balance and seamless. The brightness of acidity and freshness of fruit keeps the palate vibrant from start to finish. This wine offers flavors of plum, dark cherry and blackberry along with a hint of chocolate and mocha. The well-integrated tannins feature a rounded and light dusty character. The image of the attractive brunette wearing a striped dress on this label is titled: Talking in Cursive.
The 2017 Tela is deep ruby in color; the bouquet is elegant and dark fruited including scents of blackberry, mulberry and dark plum along with licorice, dark chocolate and a light woodsy spice. Of the two bottlings, we were almost tempted to call this bouquet savory. This wine shows plenty of depth on the palate anchored by lively and mouth-watering acidity, especially noticeable on the finish. It offers flavors of plum, dark licorice and lingers with a persistent note of dried tobacco leaf. The earthy tannins are long-lasting, feel more dense than the 2016 vintage, sport a gravelly-like texture and continue to persist with a subtle dry note. The image of the happy woman on this label is titled: I do what I want.
Vintner's Collective connection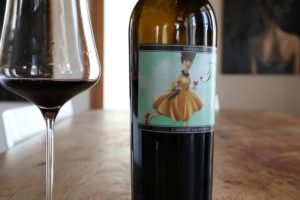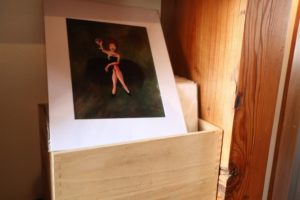 Eric is co-founder with Garret Murphy (Las Bonitas wine) of Vintner's Collective, founded in 2002. Eric initially met Garrett through their wives who were taking a painting class together at Napa Valley College from musician, artist and teacher, John Hannaford. Eric remembers meeting Garret for the first time and Garett introducing himself with a French accent as, "I am an American". Garret was born in Boston but raised in Paris and like Eric, speaks French.
Vintner's Collective showcases wines from a select group of mostly Napa Valley based producers – most of which do not have their own tasting rooms. And it's not easy to have one's wines represented here. Vintner's Collective has an in-depth vetting process to make sure the wines match what their customers are interested in, including varieties, price points and wine styles. Demand from producers far exceeds space available in their portfolio; with only one of up to 40 interested brands being selected for placement. It wasn't always this way; in their early years, Eric remembers having to introduce themselves, needing to explain their concept and convince vintners of their 'collective' idea. In Napa Valley, Vintner's Collective no longer needs an introduction.
As of our latest update to this review there are approximately 40 winery tasting rooms in and around downtown Napa. Vintner's Collective is one of the oldest still operating tasting rooms in the city of Napa and is always one of our favorites. When they opened there were very few other tasting rooms in the city of Napa. Gustavo Thrace also opened in 2002 and was initially a wine collective, Dan Dawson, the founder of Backroom Wines (a wine shop which also offered tastings) opened in 2002 and JV Wines, also a wine shop which is no longer in business was offering tastings for their clients at that time.
Tela was among the early producers represented at Vintner's Collective.
—
The Tela wines are nearly exclusively available through Vintner's Collective in downtown Napa with often multiple vintages available to taste and purchase including bottlings slightly older than most wineries' current releases. A limited number of magnums are produced each year for charities, typically education related. For more information or to purchase wine, visit: www.telawines.com