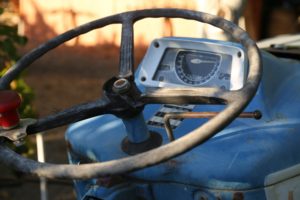 Tedeschi Family Winery was founded by Emil Tedeschi; his first vintage in 2003 was sourced from the family's 1.5-acre dry farmed vineyard just north of downtown Calistoga. This vineyard was originally planted entirely to Cabernet Sauvignon but has since been replanted to about equal parts Cabernet Sauvignon and Cabernet Franc; it provides the grapes for their very limited production 100% varietal estate wine. The winery is the oldest active bonded winery within the city of Calistoga.
The Tedeschi's are originally from northern Italy (Lucca), a region not far from the Leaning Tower of Pisa. They immigrated to California (via Rhode Island) in 1919 and have been in the Napa Valley for decades spanning multiple generations. Over the years the family has been involved in several businesses including creating the lettering on Wells Fargo stagecoaches and owning and operating what used to be the 20-acre Calistoga Pisa Farm Resort. At one point the family also operated a restaurant in San Francisco on Greenwood Ave and the old Surfwood Bar that was located at 1410 Lincoln Ave in Calistoga – both for short periods of time.
Their 20-acre Pisa Farm Resort was located off of Brannan Street, site of what was the Calistoga Bottling Company (just off of the Silverado Trail) not far from the present day Solage Resort. This original resort was operated by three Tedeschi brothers, Armand (Mondo), Alfred (Fred) and Emil's father Eugene who was referred to as "daffy" due to his younger years excelling at playing baseball – in reference to baseball player Dizzy Dean's brother Paul (who was referred to as Daffy).
The resort included three meals a day prepared in their kitchen on the lower level; accommodations ranged from an old hotel room, a sleeping porch or merely sleeping in a tent with a maximum of 55 guests. Their long-time chef was also from Pisa, Italy. The Tedeschi's maintained a thriving garden and a popular bocce ball court next to vineyards. This old building is still standing and has long since been converted into apartments. The vineyard that sat next to the resort is now an empty field.
And for some time, they also owned the Fior d'Italia Hotel and Restaurant, originally built in 1920 on site of what is now the Calistoga Inn Restaurant & Brewery in downtown Calistoga. In the 1870s this was home to the original Kortum Wine Cellars. Kortum Wine Cellars was moved/rebuilt in 1878 due to damage from flood waters from the next-door Napa River – the new location was just up Kortum Canyon Road, not far stop-signed intersection of Lincoln and Highway 128.
Eugene Tedeschi purchased and settled on their current Calistoga property on Grant Street in 1956.
Emil Tedeschi is a Calistoga native; he was born in the old Calistoga Hospital. This operated from 1918 until closing in 1964 and is now the Francis House, a luxurious Bed and Breakfast. At age 27 in 1970, Emil was co-pilot with his friend and pilot Ted Miller in a round trip over the Pacific Ocean touching down in exotic locations such as Pago Pago and the Wake Islands. At one point Ted was the youngest solo pilot to fly across the United States. Emil made a vintage of Cabernet Sauvignon from the iconic Eisele Vineyard in Calistoga with Ted in 1966. We had the privilege of tasting this wine 56 years later – remarkably it still had color indicative of a younger wine, great aromatics and balance after five plus decades.
Emil re-planted his current Calistoga vineyard in 1974 and then moved to Hawaii and co-founded Hawaii's most famous winery originally called Tedeschi Vineyards at Ulupalakua Ranch (now known as Maui Wine). This was the first modern day winery in Maui – a previous winery venture closed before the start of World War II.
This winery was on site of a cattle ranch; with no vineyards yet planted they began initially producing pineapple wine. With the help of UC Davis professor at the time, Dr. Harold Olmo – Emil planted nearly 150 varieties of wine grapes to see what grew best in their Hawaiian climate. In consultation with friend, Dimitri Tchelistcheff, Emil decided to plant a hybrid grape called Carnelian (developed at UC Davis). He produced Hawaii's first sparkling wine from Carnelian grapes in the early 1980s. The winery grew significantly over the years – now their production is around 30,000 cases with over 100,000 visitors annually. Emil is no longer involved with this winery.
In 1991 Emil moved back to the Napa Valley and took jobs at well-known wineries including Grgich Hills, Cain Cellars, Inglenook, Robert Mondavi Winery and at the old St. Helena Cooperative Winery (now Hall Winery). He also built Tedeschi Winery over several years from reclaimed wood he spotted near the train tracks in the city of Napa, destined for the dump. The heavy walk-in freezer door was inspired by the original family cellar where the first Tedeschi wines were made in their backyard.
This is truly a family affair; while Emil has stepped back from his original day to day duties, his children are also involved. Mario is the wine maker and also oversees his own vineyard management company; some of his vineyard clients include The Prisoner, Black Stallion, Cain, Merus Estates, LOLA and Saddleback Cellars. Emil's other son Emilio graduated from Gonzaga University with a B.S. in Biochemistry and several years later completed an MBA in Wine Business at Sonoma State University. He is their General Manager. And Emil's daughter Elaine helps fill in as needed and Aunt Fran (who has a white wine blend named after her) often makes appearances at the winery.
The Tedeschi wines are often more restrained than wines typical from contemporary Napa Valley; the grapes are picked at lower brix resulting in a lower alcohol; refreshingly these are not the opulent fruit driven Cabernet Sauvignon wines commonly found in the Napa Valley. Their older Cabernet Sauvignon wines especially, show best when paired with food.
The early Tedeschi Cabernet Sauvignon wines often saw 36 months in oak which was longer than many wineries, but the wines were not oak driven by any means. The reason for this is their barrel program incorporated mostly neutral French oak and some American oak. In this regard, the focus of the wine making is to show the pure expression of the actual vineyard and variety. In addition, their wines are not fined before bottling.
Select Wines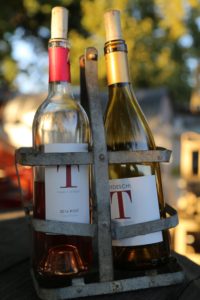 Unlike nearly all Napa Valley wineries, the Tedeschi's typically taste guests on wines starting with their reds and finishing with the lighter style whites. We first experienced this while tasting with Robin Lail (Lail Vineyards) – the idea being that the lighter higher acid wines refresh the palate more than the heavier reds. In addition to their Napa Valley produced wines, Tedeschi also sources grapes from neighboring counties and other parts of northern California for their limited production bottlings.
The 2021 Tedeschi Family Fran's Pick is 100% varietal Orange Muscat sourced from Ukiah in Mendocino County (north of Napa Valley). In Italian this variety is referred to as Moscato Fior d'Arancio which means, orange blossom Muscat. The bouquet is very floral, but the initial aroma we noted after smelling the nose is freshly cut papaya (we are thinking Rayong province, Thailand and fruit stands filled with small papayas in April), along with citrus blossom, honeysuckle and pineapple. This is an easy drinking wine that one doesn't have to think too hard about. Just enjoy it. On the palate its very balanced, with a light creamy texture with flavors of pineapple, nectarine, tangerine, cantaloupe and Golden delicious apple along with a slight perceptible sweetness. It lingers bright with a refreshing acidity. Our recommended pairing is with pool, summertime, evening, friends and sashimi.
The 2019 Tedeschi Family Winery Barbera is from the Shenandoah Mine Vineyard in Amador County. This wine is pale to medium ruby in color; shows a diversity of aromas including red licorice, Santa Rosa plum, white pepper, black olive juice and old cedar box. A very tiny hint of vanilla extract. Somewhat savory. The oak profile, (40% new French oak for 15 months) complements the bouquet rather than detracts. The wine is extremely supple across the palate with some brighter red fruit flavors showing including of red cherry, pomegranate and red currant. The tannins are so fine grained, one hardly notices them on the bright finish. This is a members only available wine.
The 2021 Tedeschi Family Winery Primitivo Carneros (Sonoma County) is medium to deep ruby in color. The bouquet offers a union of darker spices and fruit including plum, bramble, licorice, white pepper and tobacco. There is a sweet thread of a darker dessert spice running through the bouquet. The palate is fruity with flavors of blackberry, dark licorice and dark cherry. It is a balanced wine that is easy drinking. Sometimes we describe wines as crowd pleasers; this bottling aptly fits that description. The tannins are gentle and linger softly along with a light note of white pepper.
The 2019 Tedeschi Family Winery Petite Sirah Calistoga is deep ruby in color. We picked up an initial scent of clove and nutmeg which opens to layers of fruit including blackberry, mulberry, boysenberry and plum along with notes of chocolate, mocha and white pepper. Any influence from barrel aging takes a backseat to the fruit. The flavors somewhat mirror the bouquet. The supple textured tannins offer a light, lingering and slightly dusty grip with an almost creamy mouth feel. This wine features balanced acidity: it is a remarkably approachable Petite Sirah.
The 2015 Tedeschi Family Winery Merlot was harvested from the dry farmed Stargazer Vineyard on the valley floor – slightly south of the winery and still within the city limits of Calistoga. Ruby in color, the bouquet is expressive and elegant offering aromas of boysenberry, sandalwood, cassis, black licorice and old cedar spice. As the wine breathes, the aromatics become more savory. Medium bodied, finishes with vanilla and integrated slightly dusty tannins. Noticeable is the mouthwatering acidity – lively fruit with great movement across the palate. Shows flavors of plum, cherry and currant. This is a balanced, food friendly offering. The Merlot is always one of our favorite Tedeschi family wines.
And special mention should be given to their Valdiguié – a variety often associated with the Languedoc-Roussillon region in southern France. For years in the Napa Valley, it was known simply as Napa Gamay. It doesn't necessarily make a complex wine, but one doesn't always necessarily need to reach for a complex wine! The Tedeschi version of both the rosé and their Valdiguié are refreshing wines, food friendly, easy to drink and great served chilled on warm days. There are very few producers in Napa Valley crafting wine from this variety, and the Tedeschi offerings are some of the nicest.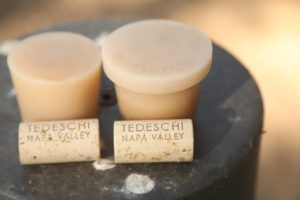 The 2019 Tedeschi Blanc de Blanc North Coast Sparkling Wine was produced in the traditional Méthode champenoise style at Rack & Riddle in neighboring Sonoma County. Medium straw in color; offers aromas of kiwi, green apple, light citrus blossom similar to walking by a partially blooming orange tree in spring, Doyenné du Comice pear and grapefruit. Across the palate shows flavors of ruby grapefruit, pomelo and a lingering hint of bitterness similar to that of a grapefruit. Very refreshing. The label for this wine is representative of the Tedeschi family heritage; it was hand drawn by Emil's father and includes an image of the old family wooden basket press with the words in Italian "sborniaville canteen" which translates into English as a hangover.
The 2003 and 2004 Cabernet Sauvignon vintages (their first two vintages) were both made in a similar style with similar palate structure. They are very food friendly and are wines that are built to age with proper cellaring.
The 2003 Tedeschi Family Winery Cabernet Sauvignon (inaugural vintage) is medium ruby with some light brickish colors on the rim in the glass. This wine smells savory, dark, brooding, gamey and meaty. It offers aromas of mushroom, dried blackberry, tar, leather and assorted baking spices and a touch of mocha. As the wine is allowed to breathe, it begins to express more fruit including red cherry and plum. This bottling is still light on its feet, exactly 20 years post vintage at the time of our tasting; the palate is fresh, savory and bright. It seems younger than its actual age and to us, that is sign that a wine has aged very well. It offers flavors of red cherry, red plum, currant and cranberry, accompanied by a lingering dark tobacco spice that out paces both the fruit and the tannins on the finish. It finishes juicy, energetic and mouthwatering with still grainy textured tannins. Look for continued life from this wine if you are fortunate enough to have one of these very rare bottlings.
The 2004 Tedeschi Family Winery Cabernet Sauvignon is medium ruby color in the glass. The bouquet is elegant and shows more red fruit aromas than dark fruit including raspberry and red currant. The aromas also hint of rose petal and graphite. The entry is lean leading to a medium to full bodied palate. This is a balanced wine throughout with a nice touch of tartness – including plum and cranberry. Slightly spicy notes of oak as well as a smokiness show towards the finish. Dusty tannins complete the clean and pleasing finish. The Tedeschi estate vineyard has great natural acidity which helps make this an excellent food wine. It is somewhat rare to have a Napa Valley Cabernet Sauvignon under 14% alcohol – this wine is at 13.5% alcohol.
In 2016 Tedeschi Family Winery began producing a wine brand for wholesale markets bottled under the label Northbrook (founded by brothers Emilio and Mario Tedeschi). The first vintage was a 2016 Yorkville Highlands Pinot Noir; a North Coast proprietary red blend was later added to the portfolio.
—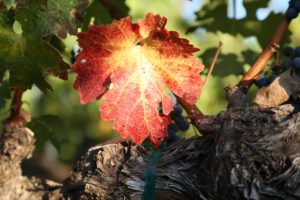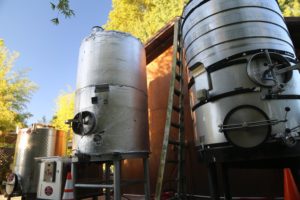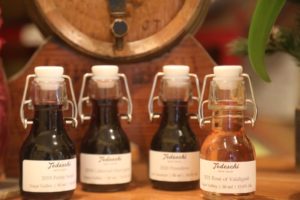 Visits often include meeting one of the Tedeschi family (although several non-family employees also conduct tastings and tours). A visit is like going back in time in Napa – "old Napa" if you will. The winery is located in a residential neighborhood; enter on a gravel driveway through rows of grapes. Calistoga and vicinity are certainly one of the most bike friendly regions in the Napa Valley and Tedeschi welcomes bike visitors (by appointment). A small bike rack is located at the edge of the gravel parking lot. Weather permitting, tastings are conducted outside either on the long table next to the winery building or on metal tables under walnut trees next to the vineyard. Astute guests will look for the initials E.T. 1958 written by hand in concrete (on the south side of the bathroom) by Emil Tedeschi when he was 17 years old.
Short educational tours are often given while guests stand among the vines. Those who visit after verasion but before harvest (the turning of color in the grapes from green to red) may learn how to use a refractometer to measure the sugar level of the grapes.
Tedeschi also offers several other artisan products. Raffine, a fine artisan chocolate manufacturer based in the San Francisco Bay Area uses some of Tedeschi's Cabernet Sauvignon for one of their chocolates.
The author of this website for a time partnered with Tedeschi to produce extremely limited production artisan local honey from beehives housed in an organic vineyard located just north of the Tedeschi property. Unfortunately, all of our beehives quickly burned at the start of the Tubbs Fire during the evening of October 8, 2017. If we can move beyond the mental anguish of losing the hives, we hope to eventually reintroduce beehives to the property.
And from time to time Emil's daughter Elaine makes custom jewelry (Earrings by Elaine) – with some fine pieces crafted from the shedding feathers of their peacock Eddy (who used to live on site but tragically passed away in 2017 after he went blind in one eye). And from a family recipe dating to 1938, the Tedeschi's offer a limited production barrel-aged unfiltered red wine vinegar named Elaine. This has been made from Petite Sirah or Cabernet Sauvignon.
Coming to the valley? Strongly consider staying in Calistoga (for a number of reasons – it is quieter in this part of the valley and there is usually less traffic then further south on busy Highway 29. In addition, when one returns from a day of wine tasting – especially on the weekends if one is in the south part of the valley, you will be driving north – a direction that typically sees less traffic compared to southbound.
The Tedeschi Family maintains a suite in the Mount View Hotel, in downtown Calistoga – mere minutes from the winery. This suite is spacious and features 2 queen bedrooms.
For Tesla drivers, Tedeschi family installed a Tesla charging station in late 2017 next to their tiny gravel parking lot. And on October 1, 2021, Tedeschi Family Winery installed a series of solar panels next to one row of grapes that powers their entire winery operations.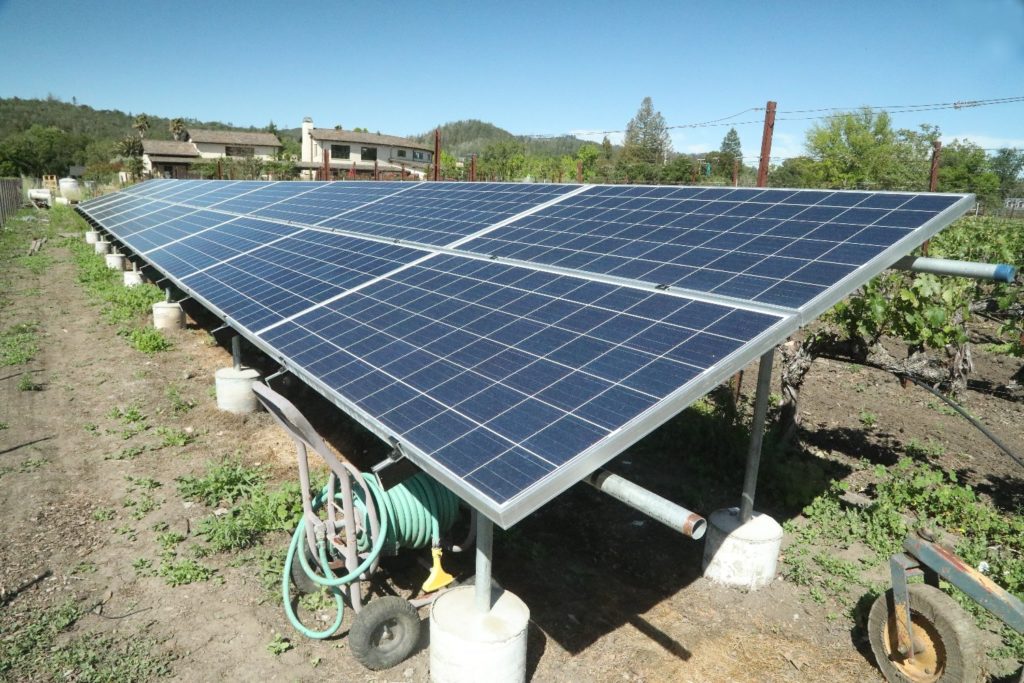 A boutique winery, their total production hovers around 2000 cases each year (although there are plans to eventually grow this). As production has increased, they have entered their wines into various competitions – taking several Best of Class and Best of Show medals including at the annual prestigious San Francisco Chronicle Wine Competition.
At the time of our most recent update, they do not currently distribute outside of Northern California however they will ship to a variety of states. One used to be able to find older vintages of their wine locally at Cal Mart in Calistoga or randomly at other locations in the valley including sometimes at the Oakville Grocery – but these days they focus on selling direct to consumer through winery visits and or through their wine clubs.
Tedeschi is also known for hosting fun gatherings at select times of the year including wine club pickup parties (often utilizing the wood fire pizza oven that Emil Tedeschi built) and their always sold-out lobster feed. And some years they create an elaborate float for the annual December Calistoga Lighted Tractor Parade. For more information about Tedeschi Family Winery, to schedule a visit or to join one of their four customized wine clubs, visit: www.tedeschifamilywinery.com
Lunch + Wine

Tedeschi from Above

Wild & Fun Parties

Additional Photos

Maui Wine (formerly Tedeschi Vineyards)

Tedeschi introduction video

Harvest at Tedeschi: