Tayson-Pierce Wines are owned by Eric (who we met with) and Susan Rothchild. At first impression one may assume some link between the famous French wine family, but a second glance reveals a difference in spelling of the last names. The name of the winery was created by taking several letters from each of their son's first names: Taylor, Grayson and Pierce
Eric (who we met with for this review) is originally from New York; He was introduced to wine by his grandfather who made home wine. Then in his teens he started collecting a variety of different wines and later started keeping journals with his own tasting notes. Eric remembers being fascinated with terroir, different wine regions and wine styles. His passion for wine has progressed from being a consumer, to a hobby winemaker to a commercial producer. Travels took him abroad where he would visit wineries and seek out winemakers to help further his wine education. His passion for wine is noted on every bottle: For the terroir – vines, grapes, wine – for the love of life.
Both Eric and Susan have medical careers. Susan is a nurse. Eric is a brilliant ophthalmologist and cornea specialist who divides his time between his practice in Delray Beach, Florida, the Rothchild Eye Institute with its unassuming offices and his home in the Napa Valley (he has led an innovative career, creating a number of devices used during corrective surgery and continues to do related research).
We stopped by the Rothchild Eye Institute during our visit to Delray Beach but unfortunately our visit was on the weekend, and they were closed. We also accidentally visited another Dr. Eric Rothschild's office, upstairs in the medical clinic in Pembroke Pines (different spelling of the last name); remarkably to add to the confusion, the South Florida Eye Institute is located on the second floor of this building.
They purchased a home in Napa Valley seeking a lifestyle change in 2005 and quickly moved into the wine industry as 2006 was the first year they made wine commercially. Such was Eric's passion for wine that attended the UC Davis 2-year program and graduated with a degree in winemaking and viticulture. He is often in the Napa Valley checking on the wine, tasting and helping with some of the winemaking decisions.
While part of Eric's house is bonded for commercial wine making purposes his wine is currently made at a nearby winery. The focus is on limited production wines, often with single vineyard sources. Their first vintage and release were a 2006 Cabernet Sauvignon and a 2007 Chardonnay. A Pinot Noir was released in 2010.
Winemakers
Kian Tavakoli was initially involved in the winemaking – but is no longer involved. Kian has built up an impressive resume of working at local wineries. He spent several years working with Cabernet Sauvignon at Opus One, then was head of Clos Du Val's wine program and ran Crushpad's Bordeaux varietal winemaking (a former custom crush winery that started in San Francisco). Today he spends his time consulting for a number of local artisan producers.
Jeff Ames has been their head winemaker since 2008; Jeff is one of a number of underrated winemakers in the valley. He crafts wines for a number of small producers in Nap Valley including TOR and until 2021 produced wines for his own label, Rudius. He was born in Germany but spent most of his youth in the southern part of the United States including in Tennessee and Alabama. Early on, Jeff had no background in wine – having earned his B.A. in History from the University of Alabama. Hooked by the world of wine while studying for his master's in education at the University of Memphis, Jeff worked at a wine shop.
Jeff first came to Napa Valley in 1999 and became a 'sponge' – learning as much as he could about the industry, not only the actual winemaking but in sales and as a freelance wine writer. Several years later he worked with Thomas Brown helping make wine for a number of premium brands. We first met Jeff at Laird Family Winery around 2008 when his career was just about to take off.
This is truly artisan winemaking, each wine is currently only available in small quantities, usually several hundred cases of each wine.
Select Wines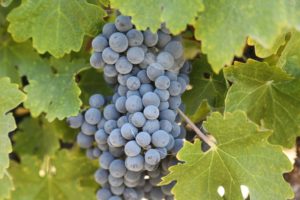 The 2008 Tayson-Pierce Chardonnay is a Burgundian styled wine from the Alder Springs vineyard in Mendocino County to the north. This vineyard is much sought after, and several other Napa producers also source its fruit. It's a vineyard at altitude with an elevation ranging from 1750 to 2700 feet. This wine saw both new French oak as well as stainless steel tanks during its aging. The wine did not completely undergo full malolactic fermentation; rather it reached about 65%.
This wine is pale straw color in the glass. The bouquet is slightly flinty which evolves to more fruit as the wine opens. There are notes of mineralities, orange zest, honeysuckle and citrus blossom. The mouth feel is soft and rounded with just a slight viscous touch. The body is light to medium in structure – notes of melon, red apple and hints of graphite are found mid palate with just a subtle note of spice towards finish. This is a balanced wine throughout – the finish is clean and quick.
The 2006 Tayson-Pierce Cabernet Sauvignon is 75% Cabernet Sauvignon and 25% Merlot. The vineyard sits on an alluvial fan deposited from the nearby Mayacamas mountains and the soil is gravel loam. This wine blends four Cabernet Sauvignon and three Merlot clones. The nose immediately shows darker fruit aromas, white pepper, black spices, tar & leather. More black fruit shows than red fruit on the palate including blackberry; the flavors are layered and complex. The finish shows robust but balanced tannins which integrate well with the fruit. Both the fruit and wood tannins linger for some time along with hints of coffee bean.
It is a complex wine now. However, wines like this have the potential to age very well and this should develop some wonderful complexities in the bottle over the next 10 to 15 years. If you are drinking this young, decanting is recommended.
Champagne Éric Philippe
Eric, along with his son Taylor also run Champagne Éric Philippe through a partnership with winemaker Champagne Nicolas Maillart in the tiny village of Écueil. These wines are grown and produced in Champagne and are made entirely from Grand Cru and Premier Cru vineyards. In Champagne, cru refers to village site designations as opposed to in Burgundy in which cru refers to specific vineyard sites. The Grand cru designation in Champagne must only include wines made from Chardonnay or Pinot Noir.
These bottlings are selectively available in the United States including through the Tayson-Pierce website.
Champagne Nicolas Maillart has records showing their family association with grapevines dating back to 1533 in Chamery (the neighboring village), a four-minute drive or less than 30-minute walk from their winery. Ninth generation winemaking Maillart family member, Nicolas Maillart currently oversees the production for both his family Champagne as well as Champagne Éric Philippe.
The existing winery was completed in 2003 and in 2009 a sizable solar array was added to the property, resulting in providing the energy needs for approximately 90% of their operations. All of their vineyards are grown in Montagne de Reims near the small towns of Verzy and Verzenay (places we have also visited while pursuing other connections to wineries in Napa Valley) with the majority of the vines planted to Pinot Noir. And it is from these particular vineyards the grapes are soured for Champagne Éric Philippe.
A handful of other producers are located within Écueil; the town is extremely small and can be walked through within a matter of minutes. From the winery it's a short walk into vineyards which surround part of the town. It's a beautiful thing when one watches hundreds of birds taking off from within the vineyards, the calming sounds of their features all working in tandem as they swoop up and down and eventually disappear into the distance.
—
Already Tayson-Pierce has found good placement locally at the Carneros Inn and Meadowood Resort. In addition, select wines may be available at Wally's in Beverly Hills. Much of their distribution is direct, via their website. For more information or to join one of their wine clubs, visit: www.taysonpiercewines.com