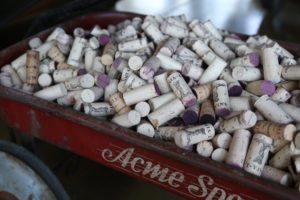 T-Vine Cellars was founded by Greg Brown in 1992. In 2009 he sold both the T-Vine Cellars label as well as the physical winery to separate owners. The old T-Vine Cellars location off of Old Lawley Toll Road in Calistoga is currently home to Amici Cellars. The wine continues to be produced at a winery in the southern part of the valley.
Rather than use his last name for the name of his winery as a number of proprietors do, Greg chose something that represented his own life philosophy. The "T" in T-Vine stands for Trinity which represents the body, mind and spirit of anything – in this case producing limited quantity hand crafted wines. Their logo cleverly incorporates this "T" into the shape of an old vine.
The impetus for starting the winery was because Greg discovered his appreciation for wine in college; after a rising corporate job at Bank of America he decided to dramatically change careers and took a $7/hour job as a cellar grunt. From here he started learning more and more about how to make wine and then first began making his own at Etude Winery in the Carneros region, under the tutelage of vintner Tony Soter.
Our first visit years ago was during the best time of year to see a winery in action – during harvest and T-Vine was bustling with grapes fermenting in bins, juice in the tanks and bunches being de-stemmed. As Greg told us at the time, he is a winemaker who truly loves to taste his own wine. During his time at T-Vine, he was a very hands on winemaker often tasting the wine during its aging and working on various blends. Some of T-Vine's wine-making influences came from Southern France including aging wines in oak for less than a year. This idea behind this is to let the fruit show itself as the main component in the wines, rather than introducing additional flavors from oak.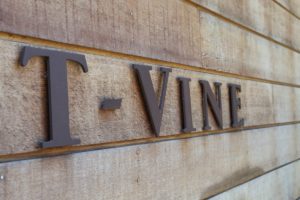 Greg was named winemaker of the year in 2000 by the San Francisco Chronicle. Not only was he known for his excellent wines, but also for his generosity. Several young winemakers got their start in Napa Valley under his tutelage. One of Greg's favorite movies, "Pay it Forward" in 2000 with Kevin spacey, Helen Hunt and Haley Joel Osmont influenced part of his "pay it forward" philosophy. The premise behind this movie is doing good for others. Greg certainly left his mark in the valley not only by helping others but leaving the legacy of T-Vine Cellars. Two years after Greg sold T-Vine, tragically he committed suicide.
Today the owners of T-Vine are James Harder and Jim Regusci – both men are actively involved in the Napa wine world; James & his wife Colleen own James Cole Winery and Jim Regusci's family owns the historical Regusci Winery in Stags Leap Disrict.
T-Vine offers quite a selection of wines and all are reasonably priced by Napa Valley standards. They produce about 4500 cases a year (each single vineyard wine is usually produced in quantities of several hundred cases) and make a large variety of hand crafted wines including several beautiful Grenache bottlings. T-Vine was the first Napa Valley based winery to make wine from this variety. Greg fell in love with this wine while in France sitting on a park bench. He told us he was offered a sample by a local sitting next to him – and decided he wanted to make this wine someday. Grenache is not often found in the valley which is a shame considering the beautiful characteristics this variety expresses.
Select Wines
The T-Vine Cellars 2009 Grenache contains fruit from some of the select Grenache vineyards in Napa (there certainly aren't too many vintners growing this variety in the valley). This wine is composed of fruit from high on Mt. Veeder as well as valley floor vineyards in Calistoga. The wine sees no new French oak and its absence of oak is certainly noticeable in the bouquet and on the palate. The wine making philosophy with Grenache in regards to the type of oak used on this variety – "the older the better!"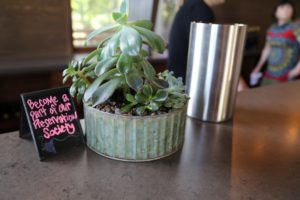 The bouquet is fruit driven with aromas of raspberry, cherry cola, and floral notes including hints of rose petal. As the wine opens a slight earthy component reveals itself. The grapes for this wine are usually the last to be harvested – the alcohol is certainly higher (usually between 15.2 and 15.5%) but the explosion of fruit certainly helps mask this. Their winemaker at the time, Fernando Candelario (who we also met with later) told us, "this wine is meant to express the fruit in the bottle rather than the barrel."
The 2005 T-Vine Cellars Primitivo was the first vintage of this variety produced under their unique Psychedelic Rooster label. This is one label that you won't forget after seeing it the first time! The Primitivo is only available from the winery and is a memorable sensory experience of concentrated fruit flavors complemented with subtle nuances of toasted oak.
The 2008 T-Vine Cellars Merlot is sourced from Calistoga. You can tell this wine is going to have some power, in this case merely by glancing at the dark color in the glass. Its surprisingly soft on the entry but quickly gains layers of flavor. The wine is all about dark fruit including blackberry and black cherry along with notes of coffee and mocha especially towards the finish. It has good structure with a lingering lively finish.
Now for the 'dessert'. That would be the 2008 T-Vine Cellars Zinfandel. The bouquet is pungent, ripe with very fruit forward Zinfandel aromas. Notes of licorice, plum, chocolate and just a slight spicy characteristic show. The wine was fermented completely to dryness but with the amount of fruit it represents one can almost be fooled into thinking it is slightly sweet!
Being a Napa based winery one almost has to make a Cabernet Sauvignon and T-Vine does; their Cabernet is sourced from neighboring Sonoma County from one of the area's premium historical vineyard sites, the hillside Monte Rosso Vineyard founded by Napa's Louis Martini in the late 1930's.
—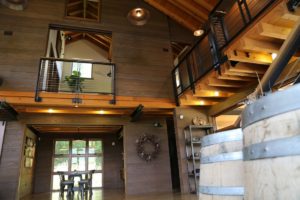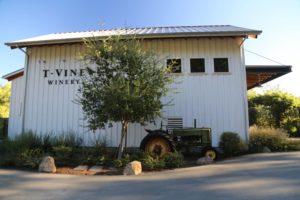 T-Vine works with growers who farm historical vineyards. While T-Vine sources from several premium historical vineyards within Napa Valley, they also source fruit from additional historical vineyards outside of Napa County – including the famed Bacigalupi Vineyards in neighboring Sonoma County and one of the rarest vineyard sites in the state, the Evangelho Vineyard in Antioch (Contra Costa County). One of the last few vineyards in Antioch, Evangelho is planted in part to Carignane and Mataro, some of the vines date back to the late 1880s'. These are all head pruned growing on very sandy soils. The fruit from these vines is highly sought after; T-Vine is not the only Napa producer buying fruit from this vineyard – Hess Collection, Turley and Neyers also make or have made wines from this site.
NOTE: in late summer 2021 T-Vine sadly closed their tasting room and is currently searching for another direct to consumer space where they can showcase their wines and offer tastings. We will keep a close eye on their progress for such space. Once it is open we will visit and will **significantly update** this review including much needed updated tasting notes.
Old T-Vine Tasting Room Calistoga (permanently closed)
In mid 2013 their tasting room opened at 810 Foothill Blvd. (HWY 128) about 1/4 mile south of the stop sign at the intersection of Lincoln and Foothill Blvd in Calistoga. However T-Vine vacated this space in late summer 2021. We keep our notes and photography here for historical reference.
One was able to walk here from downtown Calistoga (about 1/2 a mile). Rooms both downstairs and upstairs accommodated more intimate private tastings. The highway ran past the west side of the winery and the other side was a vineyard. While they did not own that vineyard, they certainly had good views. Tastings were also be conducted outside, weather permitting.
You know a bottle of T-Vine wine by the back label. It always reads, "My favorite days in life are nothing special, rather those in which I find joy in the ordinary rhythm of my existence… those in which I am simply content in my place."
Private tastings can be arranged by appointment. For more information or to join the Preservation Society (their wine club), visit: www.tvinecellars.com