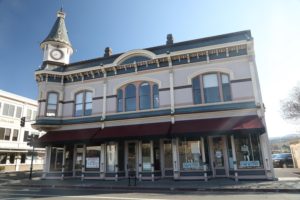 T-Vine Winery was founded by winemaker Greg Brown in 1992. In 2009 he sold both the T-Vine Winery label as well as the physical winery to separate owners. The old T-Vine Cellars location off of Old Lawley Toll Road in Calistoga is currently home to Amici Cellars.
Rather than use his last name for the name of his winery as a number of proprietors do, Greg chose something that represented his own life philosophy. The "T" in T-Vine stands for Trinity which represents the body, mind and spirit of anything – in this case producing limited quantity hand crafted wines. Their logo cleverly incorporates this "T" into the shape of an old vine.
The impetus for starting the winery was because Greg discovered his appreciation for wine in college; after a rising corporate job at Bank of America, he decided to dramatically change careers and took a $7/hour job as a cellar grunt. From here he started learning more and more about how to make wine and then first began making his own at Etude Winery in the Carneros region, under the tutelage of vintner Tony Soter.
Our first visit with Greg many years ago was during the best time of the year to see a winery in action – during harvest and T-Vine was bustling with grapes fermenting in bins, juice in the tanks and bunches being de-stemmed. As Greg told us at the time, he is a winemaker who truly loves to taste his own wine. During his time at T-Vine, he was a very hands-on winemaker often tasting the wine during its aging and working on various blends. Some of T-Vine's wine-making influences came from southern France including aging wines in oak for less than a year. This idea behind this is to let the fruit show itself as the main component in the wines, rather than introducing additional flavors from oak.
Greg was named winemaker of the year in 2000 by the San Francisco Chronicle. Not only was he known for his excellent wines, but also for his generosity. Several young winemakers got their start in Napa Valley under his tutelage. One of Greg's favorite movies, Pay it Forward in 2000 with Kevin Spacey, Helen Hunt and Haley Joel Osmont influenced part of his "pay it forward" philosophy. The premise behind this movie is doing good for others. Greg certainly left his mark in the valley not only by helping others but leaving the legacy of T-Vine Cellars. Two years after Greg sold T-Vine, tragically he committed suicide.
The T-Vine wine brand was purchased from Greg by James Harder and Jim Regusci in 2009; both men are actively involved in the Napa Valley wine world; James & his wife Colleen own James Cole Winery and Jim Regusci's family owns the historical Regusci Winery in Stags Leap District. As of late 2020, the Regusci family are the sole proprietors of T-Vine Cellars. The wines are not made at Resgusci Winery but rather are custom crushed at another local winery.
T-Vine offers a wide selection of red wines, and all are reasonably priced by Napa Valley standards. They produce about 4500 cases a year with the single vineyard wines usually produced in quantities of several hundred cases.
T-Vine was the first Napa Valley based winery to make wine from Grenache. Greg fell in love with this wine while in France sitting on a park bench. He told us he was offered a bottle by a local sitting next to him; he was so impressed by this wine and variety that he decided he wanted to make a Grenache someday. Grenache is not often found in the valley which is a shame considering the beautiful characteristics this variety expresses. The author of this site is involved with a small block of Marselan growing in Calistoga (a cross between Cabernet Sauvignon and Grenache).
So whenever you have a glass of T-Vine Grenache raise a toast to Greg; fortunately they continue to produce wine from this variety.
Select Wines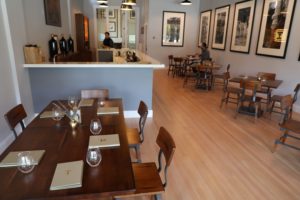 T-Vine works with and supports growers who farm historical vineyards. While T-Vine sources from several premium historical vineyards within Napa Valley, they also source fruit from additional historical vineyards outside of Napa County including the famed Bacigalupi Vineyards in neighboring Sonoma County and one of the rarest vineyard sites in the state, the Evangelho Vineyard in Antioch (Contra Costa County). One of the last few vineyards in Antioch, Evangelho is planted in part to Carignane and Mataro, some of the vine's date back to the late 1880s. These are all head pruned growing on very sandy soils. The fruit from these vines is highly sought after; T-Vine is not the only Napa producer buying fruit from this vineyard – Hess Collection, Turley and Neyers also make or have made wines from this site.
T Vine sources grapes for several of their wines from the historic dry-farmed Frediani Vineyard in Calistoga including their Grenache. The 2019 Frediani Vineyard Grenache is medium ruby in color; the bouquet is ripe with a sweet aromatic thread including of cherry pie, licorice, prune, cassis and strawberry. Some of the cherry characters on the bouquet are also echoed on the palate along with flavors of cherry cola, plum, black raspberry, pomegranate and licorice. The tannins are lightly textured and linger softly with a dark spice note on the finish. This is a ripe expression of this variety. In trying to come up with what to pair this with, we thought of lamb chops drizzled with a balsamic reduction sauce.
The 2019 T-Vine Zinfandel Frediani Vineyard was aged for 22 months in American oak barrels of which 30% was neutral oak. This wine is medium to deep ruby in color; the bouquet is a union of dark fruit and savory spices. It offers scents of plum, black cherry, and dark chocolate with an accompanying woodsy spice and white pepper. There might also be a subtle hint of dill deep in the aromas. The palate is ripe and mouth filling with a perceived sweetness of fruit from the entry through to the finish. It offers flavors of blackberry jam, dark plum, raspberry, red licorice and both a cardamom spice and white pepper more noticeable on the finish. The tannins are grainy and show more on the front of the palate than the back and drop off fairly quickly after one swallows.
The 2019 T-Vine Mixed Blacks, Vyborny Vineyard Oakville is a blend of Zinfandel, Carignan, Petite Sirah and Malvasia. This wine was aged for 18 months in 40% new French oak barrels. It is deep ruby and opaque, with purple tinges on the rim in the glass; there is no mistaking this wine based on its dark color. It offers aromas of blackberry pie, boysenberry jam, ripe plum, mulberry, chocolate and a sweet baking spice closest to cardamom. There are also some florals here including of violets and lavender. After smelling this, on aromatics alone we noted this is a crowd pleaser, before even tasting the wine. The entry is soft with a plush texture across the palate; the tannins are ripe, resolved and rounded and nicely integrated into the finish. This wine reveals flavors of blackberry, boysenberry and some savory spices on the finish including of white pepper.
Parts of the Vyborny Vineyard are among the rockiest vineyard sites in all of Napa Valley. Call the site what you want, but for those who work with this site, it is commonly referred to as the Rock Pit, the Rock Pile and the Boulders. The sheer volume of and size of the rocks makes this a challenging site to farm; when pruning the cuttings are not left on the ground but rather are incinerated as they are being cut off the vines.
The property remarkably features a significant soil variation; within approximately 200 yards from the rocky section is another section called Trailside, featuring reddish rocky and iron-rich soils with an actual layer of top soil.
The 2020 T-Vine Frediani Vineyard Charbono is deep ruby/purplish in color and opaque in the glass; the bouquet offers plenty of savory character including of dried herbs, sage, and dark fruited aromas including of plum skin. One would not be incorrect in describing its scents as brooding and gamey. We also picked up on a note of creosote bush which brings back great memories of our numerous camping trips to the middle of nowhere Panamint Valley in mid spring surrounded by desolate landscape and thousands of creosote bushes in bloom. The palate offers a soft entry but finishes with gravelly textured but rounded tannins. Its texture is almost creamy. This wine offers flavors of bright plum, red cherry and cranberry anchored by a mouthful of energetic and mouthwatering acidity resulting in a lasting tartness. This wine's verve and red fruits are the star of the show. It was aged in 30% French oak and 70% American oak.
Frediani Vineyard has close to 12 acres planted of Charbono including their earliest two blocks dating from 1920 which are the oldest blocks on the property. They also have other Charbono blocks dating from 1980, 2001, 2011 and a half acre planted in 2023. Incidentally this is the vineyard that another local Charbono producer, Tofanelli Vineyard took cuttings from the in late 1980s.
Older vintages
The T-Vine 2009 Grenache was bottled using grapes from some of Napa Valley's few Grenache vineyards including from high on Mt. Veeder as well as valley floor sites in Calistoga. The wine sees no new French oak and its absence of oak is a positive attribute both on the bouquet and on the palate. The wine making philosophy with Grenache in regard to the type of oak used on this variety is, "the older the better!" The bouquet is fruit driven with aromas of raspberry, cherry cola, and floral notes including hints of rose petal. As the wine opens a slight earthy component reveals itself. The grapes for this wine were usually the last of all their source vineyards to be harvested and the alcohol is higher (usually between 15.2 and 15.5%) but the intensity of fruit certainly helps mask this. Their winemaker at the time, Fernando Candelario (who we also met with later) told us, "This wine is meant to express the fruit in the bottle rather than the barrel."
The 2005 T-Vine Primitivo was the first vintage of this variety produced under their unique Psychedelic Rooster label. This is one label that one won't forget after seeing it the first time. The Primitivo was only available from the winery and was a memorable sensory experience of concentrated fruit flavors complemented with subtle nuances of toasted oak. T-Vine no longer produces wines bottled under Psychedelic Rooster.
The 2008 T-Vine Merlot was sourced from Calistoga. One can tell this wine is going to have some character, in this case merely by glancing at the dark color in the glass. It's surprisingly soft on the entry but quickly gains layers of flavor. The wine is all about dark fruit including blackberry and black cherry along with notes of coffee and mocha especially towards the finish. It offers a moderate structure along with a lingering lively finish rooted in its bright acidity.
Now for the 'dessert'. That would be the 2008 T-Vine Zinfandel. The bouquet is pungent and ripe with very fruit forward Zinfandel aromas. This bottling shows notes of licorice, plum, chocolate and a slight spicy characteristic. The wine was fermented completely to dryness but with the amount of fruit it presents, one can almost be fooled into thinking it is slightly sweet.
As a Napa Valley based winery one almost has to make a Cabernet Sauvignon and T-Vine does; over the years they have sourced from a variety of vineyards for this wine including from neighboring Sonoma County from one of the area's premium historical vineyard sites, the hillside Monte Rosso Vineyard founded by Napa's Louis Martini in the late 1930s. As of our latest update to this review, their Cabernet Sauvignon is sourced from older vines in the Stags Leap District.
Napa Tasting Room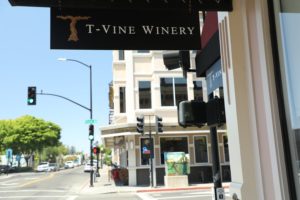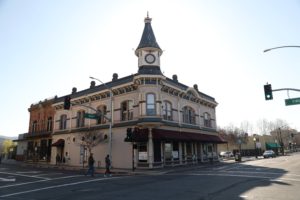 In late summer 2021 T-Vine closed their tasting room in Calistoga. On July 20, 2023 they opened a corner located tasting room inside the historical Winship-Smernes Building in downtown Napa. We visited the day they opened. This is one of downtown Napa's most prominent historical structures; it dates from 1888 and was designed by prominent Napa architect Luther Turton. The building is on the National Register of Historic Places. Prior to T-Vine's occupancy, the previous tenant was Napa Valley Coffee Roasting Company – we have fond memories of meeting a number of individuals here for wine related reasons. And it is an appropriate space for T-Vine considering their efforts working with old-vine vineyards.
The focus of a visit to this tasting room is clearly on the wines. All wines available for tasting or for purchase are red wines. The space features a number of tables for seated tastings. This is a prime downtown location; the tasting room is located on the corner of First and Main Street. Summer and Fall weekends in particular are busy times in downtown Napa. Our recommended seating is one of the several tables located next to the windows near the entrance for optimal viewing of passing by pedestrians.
The prominent black and white photographs hanging on the wall were taken by talented photographer Sarah Risk, primarily of scenes at Regusci Ranch in the Stags Leap District.
And should visitors require a restroom, the city of Napa maintains two push button free-to-use bathrooms within a 20 second or less walk of the tasting room just down the block on Main Street (the same street one enters this tasting room from).
Old T-Vine Tasting Room Calistoga (permanently closed)
In mid 2013 their tasting room opened at 810 Foothill Blvd. (HWY 128) about 1/4 mile south of the stop sign at the intersection of Lincoln and Foothill Blvd in Calistoga. However, T-Vine vacated this space in late summer 2021. We keep our notes and photography here for historical reference.
One was able to walk here from downtown Calistoga (about 1/2 a mile). Rooms both downstairs and upstairs accommodated more intimate private tastings. The highway passes the west side of the winery with a vineyard surrounding the other side of the tasting room. While they never owned that vineyard, they certainly had good views. Tastings were also conducted outside, weather permitting.
You know a bottle of T-Vine wine by the back label. It always reads, "My favorite days in life are nothing special, rather those in which I find joy in the ordinary rhythm of my existence… those in which I am simply content in my place."
Private tastings can be arranged by appointment. For more information or to join the Preservation Society (their wine club), visit: www.tvinewinery.com