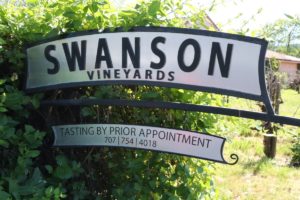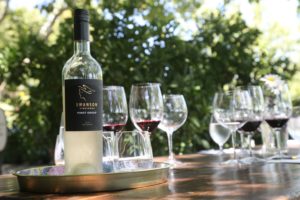 Swanson Vineyards is a premium winery but is typically under the radar of most first time visitors to the valley. Swanson was founded in 1985 by Clarke Swanson (born in Omaha) and his wife Elizabeth (born in New Orleans) although their first vintage wasn't until 1987, a Cabernet Sauvignon, Chardonnay and perhaps in setting the trend for their dessert wine program, a late harvest Sémillon.
If the Swanson name sounds familiar, that is because it is an ingrained part of the American culture; Swanson frozen meals (the TV dinners) were popularized starting in the early 1950s – the company's roots actually date back to 1899 in Omaha. Clarke's grandfather Carl and his father were instrumental in building the Swanson frozen food business before it was eventually acquired by Campbell Soup Company. Today Pinnacle Foods owns the Swanson TV Dinner business and Campbell's owns the broth line of products. Still a formidable name in Omaha, the name Swanson honors a library, condominium, an elementary school and a hall at a private university, among other locations.
One would not be incorrect in calling Clarke a serial entrepreneur. Slightly prior to founding Swanson Vineyards, Clarke was involved in a partnership with the British wine merchant John Avery in a venture called Averys of Bristol. Avery's imported wines from select international markets for the British market. And he was also involved in several Florida based businesses including owning South Florida Cable TV in many areas north of Naples, including North Naples, Bonita Springs, Ft Myers Beach, Estero and N. Ft Myers and the Naples Star newspaper – and at one point was majority owner and CEO of Napa National Bancorp which eventually was acquired by Wells Fargo Bank. South Florida Cable TV was one of the first cable operators in the area to offer HBO.
During Clarke's studies at Stanford, he was introduced to Napa Valley during weekend trips (he also has MS degree in Journalism from Columbia University). And later he would visit Northern California during business trips and would take side trips to Napa Valley. There is a reason that Swanson focused on Merlot despite being located in Rutherford (an appellation known for premium Cabernet Sauvignon). Iconic winemaker and viticulturist André Tchelistcheff made this recommendation early on.
The Swanson's daughter Veronica Swanson Beard co-founded Veronica Beard (a boutique women's clothing store) with her sister-in-law, Veronica Miele Beard in 2010. In 2023 the two women opened a Veronica Bearcd in St. Helena. AS of our latest update to this review, Veronica Beard operates approximately 30 stores, primarily in the U.S. but with several international locations.
The previous winery site for Swanson Vineyards in Rutherford (their home until 2020) used to operate as another winery called Cassayre-Forni Cellars from the late 1970s through the early 1980s. Michael Forni was one of the partners; his grandfather Charles was one of the founding members of the Napa Valley Vintners Association.
In 2015 Swanson Vineyards was sold to Santa Rosa based Vintage Wine Estates. This company has become a significant player in the wine worlds of Napa and Sonoma – with the acquisition of a number of winery properties and vineyards in both counties. In the Napa Valley, as of our latest update – in addition to Swanson they own Clos Pegase, Cosentino, Delectus, Girard and the former Napa based Cartlidge & Brown.
Swanson Vineyards used to own the 100-acre Oakville Cross Road Estate vineyard (of which about 75 acres are planted to vines) but in 2018 sold this to the Huneeus family (owners of Quintessa Vineyard). Swanson continues to source grapes from both within and outside of Napa Valley.
Swanson farms as sustainable as possible returning any cuttings back into the soil, planting cover crops for additional nutrient load, and never using herbicides on weeds, rather removing them the old-fashioned way, with shovels.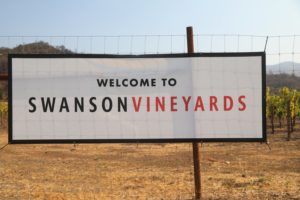 VERY IMPORTANT NOTE: on May 1, 2021 Swanson sold the winery and accompanying property (1.4 acres) to Texas native Suzanne Booth (who owns nearly 33 acres in Rutherford) and produces her own wines under the Bella Oaks brand which we will highlight in a separate review on this site sometime in the next few years once Bella Oaks becomes more established.
For a very short while, Swanson hosted popup tastings by appointment at Girard Winery on Duneweal Lane, just south of Calistoga until December 1, 2021. Plans are in the works to build out a permanent and new Swanson location; this will be located in the old Milat Winery space and most recently the home for Delectus Wines (on Highway 29 south of St. Helena). We will significantly update this review by the end of 2023 or 2024 once the new Swanson tasting room is open.
As a result, this review has been identified as needing a *major* update. Once we visit their new tasting room, we update all the photography on this site to reflect their new location.
Select Wines/Winemaking
Despite making a diversity of wines, Merlot is probably the wine they are most known for and still comprises the bulk of their production. They are one of Napa's larger producers of estate grown Merlot. In regard to Merlot, Swanson acquires new wood staves for their oak barrels and then ages this outdoors in the elements on one of their local vineyard sites. When they have been aged properly, they will take the staves to a cooperage for the barrel construction. This is very unique; most wineries will purchase entire wine barrels. This is just one more attention to detail and part of their extra focus on quality.
The 2017 Swanson Salon Merlot shows aromas of darker spices, cedar, and dried tobacco leaf – all complemented nicely by darker fruit aromas. Rounded on the palate with some density but not heavy structure. Layered. Decent acidity. Rounded and slightly granular tannins linger smoothly on the finish. The grapes were harvested from both their own vineyards as well as from vineyards on the western side of Oakville. Was aged in barrel for 18 months. Very approachable in its youth.
Swanson's Salon wines are winery and wine club exclusive offerings.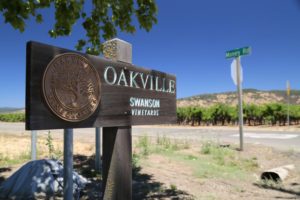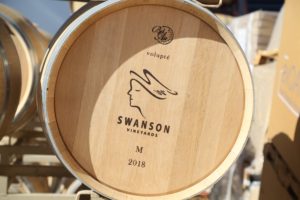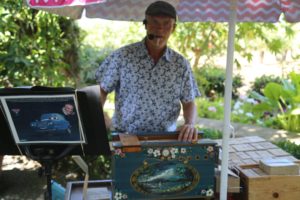 And Swanson Vineyards is also known for their Pinot Grigio. The 2018 Pinot Grigio is pale yellow in the glass with aromas of cut grass and citrus blossom. Flavors of lemon lime – with a rounded texture balanced nicely by its brightness of acidity. Smooth across the palate with flavors of melon and pineapple and a lingering note of citrus.
The Alexis Cabernet Sauvignon is named after Clarke and Elizabeth's daughter (who incidentally is married to Trevor Traina who served as Ambassador to Austria under President Donald Trump. He is not the first Napa vintner ambassador to Austria connection – see Kathryn Hall of Hall Winery). The 2016 Swanson Vineyards Alexis Cabernet Sauvignon (100% varietal from the Dalla Gasperina Vineyard) is dark purple in color; this wine offers elegant aromatics with notes of darker licorice, clove, olive and hints of mocha in the background. Big but balanced – features plenty of darker fruit tones with a long-lasting grip of tannins, darker spices and some cedar notes on the finish.
The 2016 Swanson Vineyards Sangiovese is sourced from the Antinori Vineyard on Atlas Peak (one of the few places in the valley that grows this variety – although we heard that they have since removed or budded over a significant number of these vines to other varieties). This vineyard is owned by one of the longest continuously producing winemaking families on the planet, the Antinori's from Italy. This wine shows bright aromatics including aromas of cherry and various berries complemented by some nuances of cedar and lighter spices. The brightness of aromatics continues onto the palate – with its lively showing featuring flavors of red cherry, cranberry and red currant. It offers a pleasant texture with a finish of integrated but slightly drying tannins and tobacco leaf. Makes one want to reach for some carb-laden Italian cuisine. Spent 16 months aging in barrel.
Swanson Vineyards is one of relatively few Napa wineries to produce Napa Valley grown Pinot Grigio (although the grapes for this variety come from outside of Napa Valley). For those who enjoy lighter styled wines, be sure to try their Rosato of Syrah, a dry wine that is one of the better rosé's we've tried of this variety. This can be the go-to everyday wine for pool and patio parties or pre-dinner sippies.
And dessert wine enthusiasts take note of their premium sweet wines. Most Napa wineries who make a sweet wine just make one or two. It is always a treat to find a Napa Valley based winery that has a special emphasis on well-made sweet wines. Swanson employed Marco Cappelli for over 20 years; during his tenure here, he was their dedicated dessert wine maker. For the first few years, famed vintner and soils expert André Tchelistcheff offered additional wine making expertise.
As of our latest update to this review, they make several different dessert wines – all are made in very low quantities including the delicious Minuit Black Muscat. Out of the more than 1,100 Napa winery reviews posted on this website, this is only the second time we've seen this grape being used in Napa.
The Angelica is our favorite of their dessert wines we have tried over the years. Perhaps a bold statement, but this is one of the most exceptional dessert wines made from a Napa based winery that we have tried. It is created from non or slightly fermented Mission grapes with the addition of brandy. Certainly, the first churches to enjoy this grape as altar wine or miners in the California gold mining camps never enjoyed such a rich wine as this from the Mission grapes. For some time, the grapes for this wine were sourced from the historic Deaver Vineyard in Amador County first planted in 1853. Deaver Vineyard also provided grapes for Sutter Home's first ever White Zinfandel.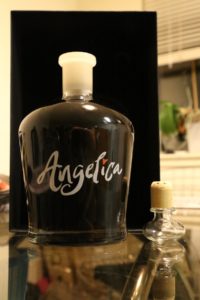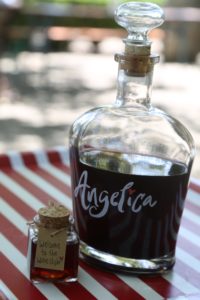 The release we tasted was a non-vintage which spent 10 years aging in neutral oak and was bottled in December 2014. The sexy packaging (black box, elegant bottle, extra glass topped wine cork) matches the opulence of the product. Aromatically the wine is rich with notes of toffee, caramel, and black fig. The mouth feel is a gorgeous attribute of this wine – creamy and supple while weighted with an intensity of flavor. This wine is perfect for those dessert lovers who crave complexity of flavor mirrored with sugar. We originally wrote about this wine for a piece we contributed to Robb Report highlighting some of Napa's best dessert wines. Unfortunately, with such limited production it always sells out quickly – although new wine club members often receive a tiny bottling of Angelica with their membership.
And for an Angelica from a vine that dates some 80 years before the Deaver Vineyard Mission grapes were planted, we must travel south to Los Angeles. Another nonrelated Angelica worth pursuing is made by Angeleno Wine Company in Los Angeles from the Ramona Vine dating back to 1774, growing at Mision San Gabriel. Here is what we wrote years ago after a visit to this vine:
"A highlight of a visit here is seeing the Ramona Vine – a mission grape variety that was planted in 1774. This has to be the oldest living planted grapevine in California. Its grapes fall on the ground every year; this would be one of the most unique, limited production and potentially expensive wines produced in the states if wine was made from this single vine! It is still thriving and producing plenty of grapes – its trunk is the size of a good-sized tree and its "arms" which grow on the sizable arbor are massive. At one point Mission San Gabriel was the largest winery in the state of California and provided wine to other California missions. In fact, this mission planted the first vineyard of any mission. Other ancient vines also contribute to this long arbor (probably 150 feet long) which runs along the outside of the church."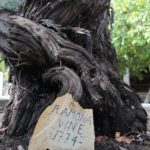 Some of the Swanson dessert wines are made from grapes infected with botrytis rot; these grapes are covered with ugly grey spores which might discourage one from drinking wines made from these 'rotting' grapes. Despite botrytized grapes initially being visually quite unappealing, ultimately, they produce wines rich in aroma, flavor and color. This type of rot only naturally occurs during some years when conditions are favorable. Some wineries will artificially spread these spores, but not Swanson. If this rot does not naturally occur in the vineyard, Swanson will not make this wine. The trick with these types of wines is to always ensure balance, avoid producing cloyingly sweet wines, temper the sweetness with acidity and be sure they have the structure to age gracefully. Swanson does an excellent job with these considering their attention to detail in their vineyards and wine making expertise.
—
Hospitality We keep these notes and photographs here for historical reference.
At their old winery in Rutherford, Swanson Vineyards offered one of the most intimate and personal sit-down tastings one could find in Napa Valley. Many larger Napa Valley wineries feature a wine bar which of course separates visitors from the hosts; the more personal ones offer seated tasting at a rectangular table, but tastings at Swanson were held around a circular table which lent itself greatly to conversation and getting to know the others in your group.
The luxury salon was one of the more elegantly decorated rooms in Napa Valley; it was timeless in its visual appeal. Inspired by culinary salons in 18th-century Paris, this was old world elegance at its "new world" best. The "keeper of the salon" was called a Salonnier and Swanson's very articulate Salonnier was first class.
Visitors could choose from two tastings: the Salon Tasting, a sit-down experience led by a salonnière (host) which provided an in depth look at their rarer wines paired with delectable delights included and the Sip Shoppe Tasting (held in the room which used to house their old bottling line) which explored limited production wines paired with chocolates.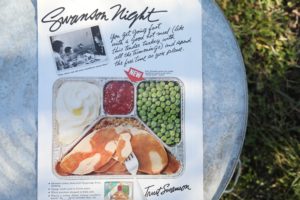 And during the warmer spring through fall months, noted performer Michel Michelis would often be tucked away in one corner of the property in the shade playing his hand organ. French born, Michel is also a singer and comedian and performed the voice of one of the cars in the movie, Cars 2.
—
For more information, to schedule a visit or to sign up for one of their three membership programs (the Oenophile, the Bon Vivant & the Bohemian), visit: www.swansonvineyards.com
PHOTOGRAPHY (these photographs are from the old Swanson Winery; we keep them here for historical reference)
Grounds/Exterior

Sip Shoppe

Salon

Winery