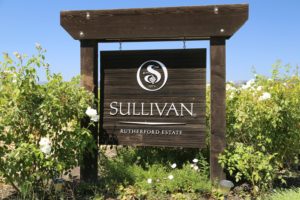 Sullivan Rutherford Estate was founded by the late Jim Sullivan and his wife JoAnna. Jim was a graphic design artist in Los Angeles; his firm Sullivan Graphic Arts became a well known firm in the city, working with several well prominent rock bands and others in the 1950's and 1960's including for the The Monkees and Dick Clark Productions. His son Ross (who we have met) recalls his father planted a small backyard vineyard in 1959 when the family was living in Van Nuys – eventually his father made home wine while living in Los Angeles.
Both Jim and JoAnna came from California farming families – Jim's relatives were (and still are) in Solvang and Santa Ynez (Central California) along with in Marysville (Central Valley) and JoAnna's family farmed in the Napa valley (what is now the Oak Knoll District) until the early 1900's. Jim and JoAnna looked a various wine regions in California in the 1960's and then ultimately decided the Napa Valley was where they wanted to move to realizing that dry wine was beginning to outsell sweet wines and red wine was becoming more popular among consumers.
They initially moved to Rutherford in 1972 purchasing a small property on Manley Lane, a few minutes south of their winery location. In 1978 they purchased property from Virgil and Alice Galleron whose family originally came to the Napa Valley in 1918 and is the namesake for Galleron Road (as of our latest update in 2021, Alice still lives next to their property and is well into her 90's). Ross grew up in Rutherford – he has a number of memories from his youth but one stands out; he recalls the iconic André Tchelistcheff driving up to their home in his blue Corvette from time to time asking his father for a light (Andre was a heavy smoker).
Following in her father's footsteps, Kelleen is well-known artist, creating mostly wine related pieces; some of her works are on display in the tasting room and her art has graced many labels of their wines over the years.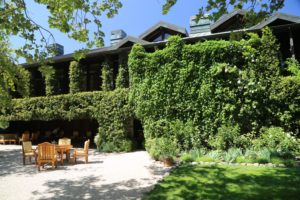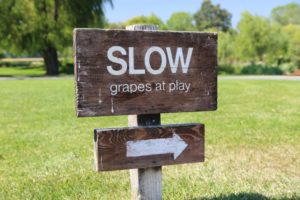 In late 2017 the winery was sold to the investment firm VITE USA Inc., based in Sausalito and led by the dynamic and personable Juan Pablo Torres-Padilla, Sullivan's Managing Partner. Juan Pablo grew up in Mexico City with his first exposure to wine coming through his grandfather who drank wines from Bordeaux and Burgundy. Later in life, he moved to France for what was planned to be a short 6 months stay, but after meeting his future wife and settling down in Paris for work and family, he ended up staying in France for nearly 16 years. During his time in the country he took full advantage of several wine regions – often visiting Bordeaux, Champagne and Burgundy and touring some of the great chateaus along with smaller lesser known producers.
In 2006 on a trip to Burgundy with an uncle he found himself tasting in what might be considered one of the holy grails of wine tasting – a private tasting with Aubert de Villaine, the co-owner and co-director of the Domaine de la Romanee-Conti. During his visit, he and his uncle pondered the idea of someday owning vineyards and a winery. A number of years later they began looking for winery & vineyard property in Burgundy and then Bordeaux. Not finding what he wanted, Juan Pablo returned to the states and began visiting the Napa Valley in 2016. He began actively searching for wineries for sale, estimating he visited over 100 Napa based wineries in his research and search for the right property. One of his wine advisers introduced him to Sullivan Vineyards and by late 2017 the sale of the estate and winery was complete.
Juan Pablo has been drawn to wine for a number of reasons but he is always fascinated by how wine touches people from all walks of life – across social and economic status.

His vision with Sullivan Vineyards is to incrementally elevate their wine making program and hospitality while at the same time preserving the sense of place of this particular property and the Sullivan family's rich history and contributions to the wine world.
Sullivan produced its first vintage in 1981 (prior to this they were growing grapes for other wineries). Today the Estate is 26 acres of which 22 are planted. Since the transition in ownership, two other non Rutherford vineyard properties were acquired including a parcel off of Soda Canyon Road in the southern part of the valley and the 18-acre Criscione Vineyard in the hills above St. Helena for a total of approximately 40 planted acres of grapes.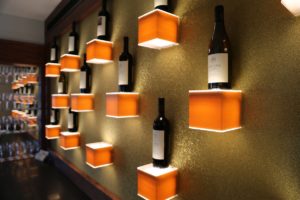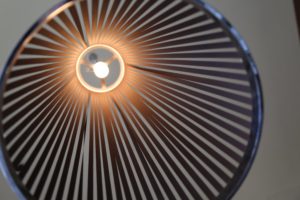 With a family pedigree of farming, the Sullivan's have always paid careful attention to their vines – dry farming and also managing their vineyards in-house rather than hiring an outside vineyard management company.
For a small winery (about 5000 cases) they offer a wide selection of wines – including several whites (although the focus of their production is on Bordeaux style red varieties). Sullivan Vineyards also holds back a certain amount of older vintages; these library wines are selectively available.
The winery is located just minutes off the main busy "wine strip" of Highway 29 in the heart of Rutherford, a part of the valley sometimes described as the 50 yard line of the Napa Valley due to its central location. Their location makes it very easy to find yet at the same time seems as if you have landed in the middle of an oasis away from all the traffic and hustle and bustle of Highway 29. It is quiet here among the beautifully landscaped gardens with bucolic views overlooking the pond. The wine tasting room adjoins the barrel room and is located across a courtyard from the main residence (formerly where the Sullivan's lived, it is now used for private events). The home and winery was designed by John Marsh Davis – known for his 'organic' style of architecture including Joseph Phelps Winery and Rutherford Hill Vineyards.
Select Wines
The 2016 Sullivan Rutherford Sauvignon Blanc (100% varietal) shows tropical aromas on the bouquet with more subtle notes of citrus. On the palate displays flavors of lemon-lime, with notes of mineralities. Crisp but not overly zesty, this wine is very well balanced on the palate between ripeness and acidity. It shows a clean finish with fruit that lingers for some time.
The 2014 Sullivan Estate Cabernet Sauvignon shows a bouquet of great depth with notes of blackberry, dust, cedar box and cigar smoke. Keeps evolving wonderfully in the glass as it opens. A lovely entry that is immediately supple on the palate – layered in flavor but delicate in structure – finishes smoothly with polished slightly chalky tannins.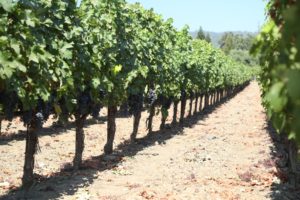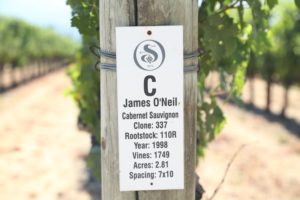 Legend has it that the borders of Rancho Caymus and Rancho Carne Humana (two of a number of early Ranchos located in the Napa Valley) were formed after a horse walking north from Napa and a horse walking south from the town of Calistoga met about half way between the two locations. In any case, the name of this wine, Coeur de Vigne means "heart of the vine" in French referencing their geographical center point in Napa Valley. This wine is always a Bordeaux style blend. The 2014 Sullivan "Coeur de Vigne" Red Wine Blend shows lively and youthful fruit-driven aromatics with notes of dark chocolate. Somewhat savory or meaty on the palate, shows excellent acidity and slightly chalky tannins that linger for quite some time. This is a very balanced wine.
Sullivan produces several wines under the James O'Neil label including a Merlot and a Cabernet Sauvignon.
The Sullivan flagship wine is their "James O'Neil" Sullivan Estate Cabernet Sauvignon. The 2013 vintage smells elegant and seductive at the same time; this is a bouquet that keeps evolving wonderfully given time with an intriguing depth of aroma. Shows dark fruit including plum and blackberry complemented nicely initially with more subtle aromas of vanilla and espresso and as it breathes milk chocolate. Supple upon the entry and throughout the palate, the wine has a seamless quality in it's youth. The polished and well-integrated tannins feel good in the mouth – somewhat dusty, or chalky they linger softly but with great length on the finish. This wine has good acidity and is somewhat savory on the palate with just a hint of lingering tobacco smoke. This is one of the more intriguing Cabernet Sauvignon wines we have tried from Napa this year (2018).
This wine is named after the winery founder Jim O'Neil Sullivan, and the artist that created the image for the label; look closely at the label, you will see a woman's face somewhat hidden at first glance.
PA Vinea
In 2022 Sullivan Estate announced plans to build a new winery and hospitality center, overseen by Hans Baldauf of BCV Architecture + Interiors. Construction will begin in fall of 2022 with plans to be completed sometime later in 2024. This is part of the properties transformation and new vision since the change in ownership. Once construction is completed the property and winery will transition from Sullivan Rutherford Estate to PA Vinea. The first vintage under the new label was from 2019.
PA is the acronym for the Latin words, Proportion Aurea – referring to the Golden Ratio. As a result of all these changes, this review has been identified as needing a *major* update. We will revisit once all the construction is completed and the name change has been made.
—
Over the decades, Sullivan has won numerous awards for the quality of their wines. In the early 90's was voted as one of the top wineries in the world by The Wine Spectator and recently listed among James Suckling's Top 100 Red Wines.
The vast majority of their wines are sold directly through the tasting room or their wine clubs. A tasting is always relaxed, down to earth, private and geared to your wine interests. All visits are by appointment.
For more information and to join their membership list, visit: www.sullivanwine.com