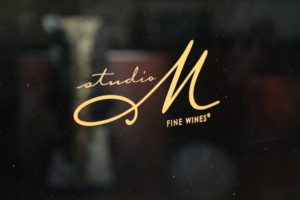 Studio M, opened in late March 2015. This well appointed tasting room and retail boutique is located in downtown Napa next to Oenotri Restaurant and across the street from the Andaz Hotel. They are located in the former art galleries of prominent local artist, Gordon Huether. However Gordon Huether left his mark (in a good way) in the the tasting room before he moved out.
Gordon designed an intriguing blue mosaic (which lights up) and weaves its way through the wooden floor. Astute locals may recognize this shape sooner than out of town visitors; it is in the form of the Napa River. Yes you can spot the U shaped "oxbow" that the river makes – this is the location of the Oxbow Public Market located just east of here. Gordon also designed the cascading waterfall that you see when you enter.
Studio M was founded by Houston residents, Bret & Paula Morrison. Both started visiting Napa about ten years ago – driving up and down the valley experiencing a variety of tasting rooms and wine offerings but not finding anything quite like what they have envisioned with Studio M.
The concept here is rather unique for the Napa Valley; Studio M focuses on personalized tastings of rare, unique and highly allocated wines from the Napa Valley. These are wines from private wineries that typically do not see visitors – in which much of the wines are distributed via private mailing lists.
Some of these wines are so far under the radar we had never heard of them – both older and new producers (Luscher-Ballard & Arcudi to name several). Luscher-Ballard is wine made by John and Alex Kongsgaard from a vineyard high on Spring Mountain and Arcudi produces a Cabernet Sauvignon from the highest block on one of the highest vineyards in all of Napa – Black Sears on Howell Mountain.
We maintain a list of well over 1000 unique Napa producers on this website and have spent and continue to spend *significant time* searching out new labels or wineries well under the radar. Studio M certainly carries these types of wines. With that said, this is a rare opportunity to try and purchase some of the most highly sought after very limited production wines that typically catch the eye of serious collectors
These are the types of wines in which there is often a waiting list just to get on the mailing list to then have a limited window of opportunity to actually purchase the wines. One manager of such a list once told us his list is a 7-year wait to get on the mailing list.
Several tasting flights are offered organized into a Red Wine Flight and a White Wine Flight. While they do offer white wines, the focus here is clearly on Napa Cabernet Sauvignon – often from tiny hillside producers. They try to have at least one established "cult" wine on the tasting menu. During our recent visit (on the first day they opened) a 2011 Bryant Family Bettina was on the Red tasting flight (a proprietary red blend and one of three wines made by this producer).
This wine shows plenty of fruit complemented by toasted oak, mocha, cedar and darker fruit. As the wine breathes the bouquet reveals a great depth of fruit – mostly darker in nature. The entry is surprisingly soft but quickly gains in complexity across the palate through to the finish. Black berry, blueberry and black currant show with tannins that linger for some time both on the front and back of the palate. Pritchard Hill (where Bryant Family is located) produced some of the nicest wines from Napa during the at times difficult 2011 vintage.
Other bottles of similar caliber are on display including Screaming Eagle, Dalle Valle, and Schrader, among others.
Mostly everything displayed in the tasting room is for sale – including one-of-a-kind pieces of artwork, cigars and of course wine. The large wall decoration behind the main bar was done by a former German pastry chef – she drew the lines and circles by hand. The bar itself is quite unique – many copper bullion coins were laid by hand by both Bret & Paula and then epoxied over. This brings a nice element into tasting at the bar – combining what looks like money (1 oz coins) and premium wines.
The "Crystal Room" is an adjoining room available for private tastings. A V Canter is on display here – this wine device is made in Switzerland is specifically made for rotating and changing the angle on Magnum sized format wine bottles so that the wine pours easily into a glass or another decanter. There is a lot to be said for presentation of wine and this device certainly delivers in that regard.