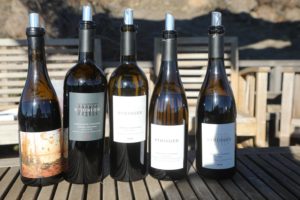 Stringer Cellars. Founded by winemaker Casey Stringer in 2016, the focus of his production is on small lot wines from both the Napa Valley and beyond – including Santa Barbara and Sonoma counties. Casey remembers visiting the Napa Valley for the first time. He was on a trip with his parents to scope out several college campuses including USF and Humboldt State in Arcata. Scheduled on the itinerary was a visit with a great aunt (who he had never met before) living in San Francisco. But she passed merely two days before their visit. As a result, the family had a few extra days on their trip. Casey's father who enjoys wine suggested they drive up to the Napa Valley for a visit.
Casey recalls his first visit to the Napa Valley, something like, "I like this, this feels good" referring to both the visual beauty of the vineyards and surrounding hillsides along with the restaurant scene. This initial attraction has led to numerous winemaking jobs over the years. Hooked, but without really much background in wine yet, he returned to the Milwaukee area and began working at Grapes and Grain (a wine shop). Later he moved to Santa Barbara to study photography at the Brooks Institute of Photography (closed after 70 years in 2016). While studying photography Casey took a part time job in the cellar at Fiddlehead Cellars. He quickly realized making wine was a newfound passion and left photography school to work at Fiddlehead Cellars full time.
In 2004 he moved to the Napa Valley and worked in the cellar at Robert Sinskey and later at Archery Summit in Oregon's Willamette Valley. He realized that to continue and further his career in winemaking he would need more education. This decision took him to Hawke's Bay in New Zealand where he completed a two-year winemaking and viticulture certificate at the Eastern Institute of Technology (EIT) while simultaneously working at wineries on both the north and south islands. Back to California in 2009, he took a cellar position at Jonata Vineyards in Santa Barbara.
Returning to the Milwaukee area he met Brooke who would eventually become his wife – he also began to work for his family business, Matenaer, a Wisconsin based metal manufacturing company. But winemaking was never far from his mind. In 2013 he decided to purchase Sryah grapes from a coveted vineyard in the Ballard Canyon AVA of Santa Barbara (through connections he made while working at Jonata) – the ton of grapes was loaded into a refrigerated truck and driven across country where he made the wine in Wisconsin and later gave it to friends, family and clients of his family's business. The following year he purchased the same amount of Syrah but also some Howell Mountain Cabernet and again transported the grapes across the country. By this time he had bonded a part of their metal manufacturing facility as a winery and the wines were produced there. These two wines were essentially the impetus for Stringer Cellars.
Between the logistical challenges of making wine across the country from where the grapes were grown, plus the additional headaches of compliance, various regulations and retail perception of high quality (and higher priced wines) from California but being produced in Wisconsin Casey made the decision to move the winemaking operations to the Napa Valley. Like with his own winemaking career – his 'winemaking home' has been in a number of cellars in both the Napa Valley and neighboring Sonoma County over the years. Today he makes his wine at a small winery on Atlas Peak.
Select Wines
Casey's winemaking style is one that embraces the California sunshine, yet simultaneously emphasizes freshness over power – balance over boldness – especially when it comes to his Napa Valley produced Cabernet Sauvignon wines.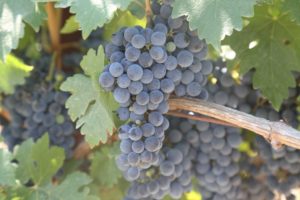 As Casey admits, if he could build a business entirely on single vineyard expressions of Syrah – he would. His time working in Santa Barbara certainly was an important influence. The 2018 Ballard Canyon Syrah is medium ruby in color with an elegant bouquet showing aromas of violets; it offers a liveliness of exuberant fruit with some savory notes as it breathes. Not a spicy bouquet. Shows a roundness and density on the palate. Lingers with long lasting tannins – a noticeable grip but not course in feel. Also notes of darker spices – juicy and mouth watering. Casey noted the bouquet is more old world style while the palate is more California style. Its easy to see what he means after trying this wine.
The 2019 Stringer Cellars June Mountain Vineyard Grenache was sourced from a site in the Fountain Grove District in Sonoma County, (an AVA which neighbors Napa Valley's Spring Mountain District) just off of Calistoga Road on the hills before dropping into Santa Rosa. A fairly windy site – these Alban clone vines would set only about 1/3 to 1/2 of fruit per acre before they were finally grafted over to Cabernet Sauvignon. 2019 is the last vintage from this vineyard. Shows ruby red color with a pink purple hue to the rim – with a freshness and a vibrancy that envelopes the glass immediately. Notes of raspberry, strawberry and a 'pine freshness' as Casey noted. Also red licorice – its typicity is very 'Grenachy'. Well balanced in its extreme youth at the time of our tasting – with great acidity. The tannins are darker in nature – slightly earthy/dusty and linger with a light grip and notes of cigar smoke, and bright cherry. A pleasure to drink.
And the energetic label is based off of a painting Casey's family commissioned of artist Tom Uttech (known for his works depicting wildlife migrations through forests based in the northern United States and south-eastern Canada).
Casey tends to pick his Chardonnay a little bit earlier and when it comes to this variety, he is not a fan of 'too much' especially oak. He ferments in both new 500 liter puncheons and neutral oak barrels. The wine goes through full malolactic fermentation but he uses a strain of malolactic bacteria that is known for producing less diacetyl (a compound that results in buttery aromas and flavors). The 2018 Stringer Cellars Linda Vista (Oak Knoll District) Chardonnay (clone 4) offers a pretty bouquet with aromas of ripe apple, a hint of vanilla, citrus and darker desert spices. Very balanced but certainly not oaky – the wine is carried by a brightness of fruit across the palate lingering with just a hint of butter on the finish. Spent 12 months aging sur lees – but without any battonage.
The 2018 Stringer Cellars Napa Valley Cabernet Sauvignon (4% Petit Verdot) is a blend of grapes from various parts of the Napa Valley including Stagecoach Vineyard, Rutherford, the Oak Knoll District and Howell Mountain. The wine offers a bouquet that is both influenced by youthful fruit and youthful oak. Offers plenty of ripe fruit aromas – it is also savory at times with aromas of cedar. Chalky tannins linger along with darker spices including cracked peppercorn and cedar. Still needs some time to fully integrate. Available at a reasonable quality to price point ratio.
The 2017 Stringer Cellars Stagecoach Vineyard Cabernet Sauvignon (2% Petite Sirah from Calistoga) is dark ruby in color; offers aromatics of blackberry, red cherry, violets and some darker notes including tobacco smoke. Features long lasting earthy tannins with a moderate grip along with a tobacco leaf note. This wine certainly has the spinal fortitude to be able to age for years to come – tasting three years after its vintage date – it is still a very youthful wine.
Stagecoach is a large vineyard – the fruit for this wine was sourced from the northern part of the vineyard – close to Pritchard Hill with soils similar to what is found on Pritchard Hill – volcanic, iron rich red with plenty of rocks. We have seen this type of soils extend all the way into parts of Atlas Peak – through parts of Kongsgaard Vineyard. Aged in both a combination of closed top stainless steel tanks and in barrel – 80% new French oak.
And these are not the only single vineyard designate wines that Stringer produces – he also produces a single vineyard expression from specific sites in Oak Knoll and on Howell Mountain.
—-
And the name and logo for the wines was carefully and appropriately chosen – reflecting both Casey's last name and his love of fishing (a stringer is a row of fish hanging from a string).
Total production of all the wines is around 2,000 cases annually (including several wines bottled under a second label, Metal Bender – in homage to the family business). The wines are selectively distributed in a number of states including California, Texas, Illinois, North Carolina and Florida. Tastings are by appointment and are always held with Casey either at a production facility in Windsor or at a small winery on Atlas Peak. For more information or to join their wine club, visit: www.stringercellars.com