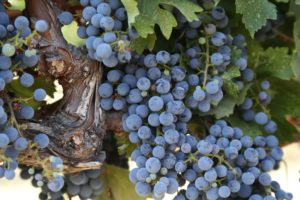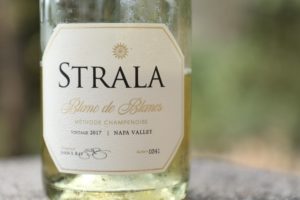 Stråla Vineyards was founded in 2014 by husband wife Jason and Laura Ray. Laura was born in Chicago and raised most of her life in Wisconsin. Taking a job in medical sales after college she eventually moved to San Francisco. She recalls her first trip to Napa Valley was sometime in 2004 with her sister. She remembers driving up the Silverado Trail and visiting Darioush soon after they had opened and stopping across the highway in front of the prominent now red colored barn with the words Bluetooth Vineyard painted on one side and taking photographs. She remembers telling her sister, "I want to live here at some point". Remarkably, a decade plus later her wedding reception was held at a vineyard next to the Bluetooth Vineyard (owned by Napa dentist, Sam Gittings) and today she and Jason source fruit from this adjoining vineyard.
Random events can often change the course of one's life. Such is the case with Laura's path into the wine industry. During a blind tasting hosted by master sommelier and Napa Valley local, Andrea Robinson in 2011 at the Culinary Institute of America in St. Helena, Laura found herself pitted against a number of wine professionals including master sommeliers. When the final results were announced, despite not having a wine background or related education, Laura ending up winning the contest.
After winning this blind tasting challenge word got around the valley and a few days later she received a call from the team at Tonnellerie Ô Cooperage with an offer to join their sales team selling barrels to various vintners. Laura accepted the offer and through this position met numerous winemakers in the valley including Massimo Monticello (who eventually introduced her to her now husband Jason).
Jason grew up on California's Central Coast with no agricultural background. But he was attracted to agriculture – and earned a degree in Fruit Science and Viticulture from California Polytechnic University in San Luis Obispo. After graduating he took a job with Kendall Jackson working with some of their vineyards.
In 2005 Jason started his own vineyard management company, Napa Select Vineyard Services and works with some of the same people he met while at Kendall Jackson. In what has been a rather remarkable trajectory, Napa Select manages over 1,500 vineyard acres – mostly in Napa Valley but also for select vineyards in neighboring Sonoma County. Through the vineyard management company, he has been introduced to numerous vineyard sites throughout the valley and today works with some of the best local winemakers in the business including Thomas Rivers Brown and Philippe Melka. And he also manages vineyards for iconic Napa vintners including Warren Winiarski and Mike Grgich.
Stråla owns 10 acres in Carneros, near Hyde Vineyards and the Carneros Inn and planted a vineyard soon after their purchase. Plans eventually call for a tasting room to be located on site. In addition, they have access to numerous premium vineyard sites and can selectively choose which vineyards to work with each year. In addition, Jason's team has planted a number of vineyards from which they have first rights to the fruit including a premium site in the Fort Ross Seaview appellation in Sonoma County (where they source their Pinot Noir).
The first release of Stråla Vineyards was in 2014, a soft release to friends and family. David Brown, winemaker for Brown Estate produced this first vintage. Massimo Monticello crafted subsequent vintages through the 2019 vintage and is no longer their winemaker. Their primary inaugural release was in 2015 – under 1000 cases but later vintages have grown since then. While Jason focuses on managing their source vineyards and isn't involved in the winemaking, while Massimo was the winemaker, Laura used to work with him to some extent on winemaking decisions including on types of oak used and related toast levels.
Select Wines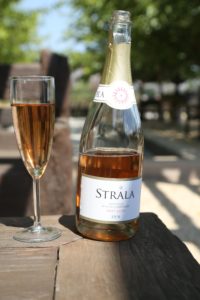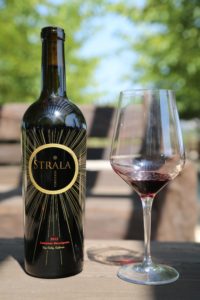 The 2021 Strala Rosé of Pinot Noir is from the Barron Vineyard in the Russian River Valley. This wine is made entirely from clone 113. It is a copper/salmon color in the glass. The bouquet offers delicate aromas of citrus, raspberry, a minerality nuance and of wet slate rock. The palate is bright, and dare we say, savory and mouthwatering. The texture is creamy and rounded, balanced by a vivacious acidity that bounces around the palate from start to finish; its verve is similar to a twirling dancer in one of Edgar Degas's lovely paintings. This wine offers flavors of ruby grapefruit, strawberry, other citrus including lemon and lime and some notes of green apple and gooseberry. This is an acid and higher fruit tone driven wine, lingering with an energetic finish.
The 2021 Strala Fort Ross Vineyards Chardonnay is medium gold in color; the bouquet is immediately floral including aromas of honeysuckle along with citrus, honeycomb and light scent of vanilla. This wine offers a supple and velvety texture paralleled by flavors of citrus including mandarin and melon. It is a balanced bottling but rich expression of the variety without any heavy oak or buttery influence either on the bouquet or the palate. The vineyard site is slightly over 2 miles from the cooling influence of the Pacific Ocean in far west Sonoma County. The first Chardonnay Strala produced was in 2019.
The 2021 Strala Richardson Ranch Pinot Noir (Sonoma County) is medium ruby in color; the bouquet offers aromatic character with notes of dried tobacco leaf, a light jalapeno, leather, a woodsy spice and other herbs. As this wine evolves in the glass it opens to additional scents including violets and chocolate. The aromatics are diverse and also savory. This savory tone continues onto the palate. The palate offers flavors of cherry, dried tobacco leaf and a finish showcasing tannins with an earthy/dusty and moderate lasting grip. If we were to categorize a Pinot Noir as a 'cab lovers' bottling, this wine would be a good candidate.
The 2021 Stråla Vineyards Proprietary Red Blend for the first time this vintage was led by Syrah and one can notice its influence both on the bouquet and the palate. The other varieties in this blend include Grenache, and Cabernet Sauvignon. This wine is deep ruby in color with an amaranthine rim. The bouquet smells like this wine might have bright acidity (and it does) with aromas of red plum, violets, lavender and crushed black pepper. It is a savory showing. the palate offers flavors of plum and red cherry with a lingering note of pepper on the bright and mouthwatering finish. The tannins are grainy. We immediately thought of pairing this with smoked meats.
The 2015 Stråla Vineyards Proprietary Red Blend is a unique blend of Merlot, Zinfandel, Cabernet Sauvignon, Petite Sirah and Malbec. Laura calls this their "workhorse wine" – an approachable wine in its youth with an equally approachable price point. Shows ripe and opulent fruit on the palate including aromas of blackberry and dark cherry along with hints of dessert spices and milk chocolate. This is a pretty wine, mouth filling with sweet fruit across the palate – seamless on the finish between fruit and structure with very supple tannins. Drinks very well by itself and in its youth.
The 2015 Stråla Vineyards Cabernet Sauvignon reveals a showy bouquet with both red and darker fruits – raspberry, bright red cherry and blackberry. There is also a noticeable sweet thread running through the aromatics with aromas of mocha and vanilla. Plush, yet juicy with nice acidity this wine has great length – not necessarily with structure but more about the long-lasting fruit flavors. Textured smoothly with fine-grained tannins these complement rather than grip the finish. Plenty of flavor in this beauty.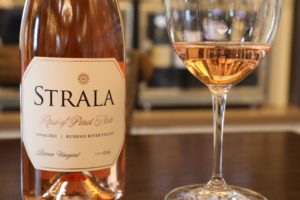 And in a somewhat unusual offering for a new and small producer, Stråla Vineyards produces several refreshing sparkling wines including a Brut Rosé made from Chardonnay and Pinot Noir and a Blanc de Blanc made from Chardonnay. We sampled the 2015 Stråla Vineyards Brut Rosé. One's attention is immediately captivated by the color alone of this wine – it is a dark orange salmon color. Bright acidity and a lively finish make this an excellent choice for a premium celebratory wine.
The 2019 Stråla Vineyards Reserve Cabernet Sauvignon is 100% varietal. This wine was sourced from several vineyards including on Howell Mountain, Atlas Peak, and Coombsville. This wine is deep ruby and nearly opaque in the glass; the bouquet offers and aromatic bowlful of ripe fruits including blackberry and dark cherry along with additional non fruited scents including that of a baseball mitt that has been used on a hot day, chocolate and a complementary contribution from the oak. But the aromatics are primarily about the fruit. This wine offers flavors of dark plumb and blackberry. One can feel the density of its tannins, but they are rounded so its texture is fairly smooth. The tannins finally outpace the fruit on the long finish. This wine hits all the pleasure points on the palate.
Hospitality
Since early 2021, visits and tastings are hosted at Brasswood Estate, located a short drive north of St. Helena. This is a very unique Napa property. It is approximately 50 acres and straddles two sub appellations including Spring Mountain and St. Helena. While no grapes are currently planted on the property for commercial use, they have up to 20 acres to develop in the future. The property also comes with a variety of valuable permits – one being the extremely rare Napa permit to allow weddings on site.
This "campus" if you will, features four tasting rooms including the main tasting room where most walk-in visitors will taste wines), The Winemaker's Den, an appointment only room across from the main tasting room, the Vintner's Den just outside of the wine cave and one within the winery.
The property allows a number of their custom crush wineries to host visitors. Guests interested in tasting the Stråla wines can reserve several visit options including a sit-down tasting or a longer experience in which their wines are paired with a several course lunch from Brasswood Bar + Kitchen.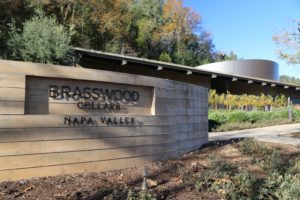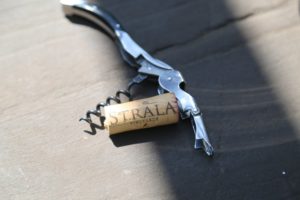 Food is an integral part of the property. Brasswood Bar + Kitchen is a Gastro Pub; the large window behind the bar looks north towards the actual winery facility; you can watch harvest activities on the crush pad during September and October from your bar-stool seat! Their founding chef has Michelin three-star experience; he joined them previously from The Restaurant at Meadowood, also located in St. Helena. The sizable commercial kitchen easily has enough space to accommodate both the restaurant and the cafe's needs. Weather permitting, guests can eat outside on the patio overlooking the grounds, a great place to see and be seen, inside in the booths or at the bar.
Some of the fresh ingredients used by chef are sourced directly from the property – from a culinary garden growing on the south side of the property.
This experience typically lasts a minimum of 90 minutes up to 2.5 hours for a more leisurely lunch and occurs outside on the Brasswood patio (weather permitting) or inside the restaurant. Stråla wines are poured in between each course.
We always recommend guests coming to Brasswood Estate to arrive early to spend some time browsing the grounds including The Shop at Brasswood + Mercantile. This small store offers a collection of hand selected products from around the globe – it is a unique shopping experience for this part of Napa Valley. Both men and women's fashion, home décor, artisan jewelry, culinary tools, fine textiles, ceramics, hand-blown glass, specialty cosmetics and even a few electronics are available.
And this shop also contains wines from Brasswood wine partners as well as products from Brasswood Spirits, American whiskey, gin and vodka.
—
When deciding upon a name for their wines, Laura spent a year trying to come up with a creative descriptor (focusing on a single word). Thinking outside of the box she chose the name Stråla, borrowing from her Swedish heritage and second language. Growing up, her stepmother (born in Sweden) would speak Swedish around their home. Stråla means radiant light or shining brightly – referring to the sun's light. And of course, this ties in nicely with their last name of Ray.
Locally one can find select bottles of Stråla at ACME Wine shop in St. Helena. For more information, to schedule a visit and or to join one of their Ray of Light wine club membership offerings, each delivered three times per year (Shine Bright, Emit Rays and Sparkle), visit: www.stralavineyards.com