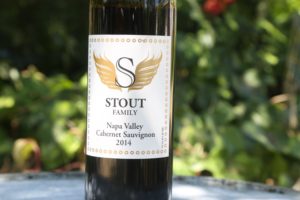 Stout Wines. Guy Stout has seen all aspects of the wine business during his 40+ career in the industry. He was raised in Dallas, Texas; his introduction to the world of food and wine began with washing dishes and working as a bus boy at age 15 at Dominique's in Dallas. This was a fine dining owner/chef operated restaurant serving continental cuisine. Guy recalls their French General Manager at the time, Jean was a strict and painfully detailed boss. But Guy learned a lot from him about wine including the basics – something as simple as how to pronounce the names of the first growth chateaus represented in the restaurant.
After Dominique's he became a sommelier at what was the finest steakhouse in Dallas at the time, Arthur's. And he became very familiar with their California wines – a restaurant that was before its time with a California and Napa Valley dominated wine list. He remembers being introduced to early vintages of Schramsberg, Green & Red and Heitz Cellars. While the focus was on California wines; a few French notables were kept on hand but were relegated to the back and were available for those who asked for them.
He then began to work at Marty's a fine wine shop and because of his exposure to California wines was put in charge of their California wine selection. One day Silver Oak winemaker and co-founder Justin Meyer walked into Marty's trying to sell Franciscan wines. Ultimately, he offered them a 1972 Silver Oak Cabernet Sauvignon, their inaugural vintage. Guy recalls he purchased 5 cases of magnums, fully expecting to receive Napa Valley wine. But in actuality, the wine that arrived was labeled as North Coast sourced from Alexander Valley in neighboring Sonoma County (Napa Valley first appeared on the Silver Oak label with the 1979 vintage).
Later Guy became very good friends with Justin and still considers him one of his most valued mentors.
After working at Marty's Guy decided he would travel the world. The scope of his travels before this trip were to places like Oklahoma, New Orleans, the Mexico border and Flagstaff, Arizona. He was ready to visit some of the wineries whose wines he had been serving. So, he bought a one direction Pan Am World Pass (no extra cost as long as he traveled in the same direction around the globe) and a 3-month Eurorail pass and spent much of his time in France exploring different wine regions and wineries.
But after 3 months, he was ready to return home and soon became the junior partner in Arwood Stowe, a small wine import company. He remembers work involved three desks, three phones and three vans – and any wine each of the partners sold would have to be personally delivered by that partner. He later setup a warehouse and distribution arm of the company in Houston and was responsible for bringing the first wines into Texas from a number of prominent Napa Valley producers including Rombauer, Newton, Forman and Dunn among many others.
One day, Koerner Rombauer offered to take him out to lunch in Dallas – but when Guy arrived, he found representatives from two other distributor competitors already there. But Rombauer later told Guy he chose him for their Texas distribution. Ultimately a smart move.
In 1979 he took his first trip to the Napa Valley, visiting Randy Dunn who was working at Caymus at the time. He remembers helping Randy haul hoses around a much smaller Caymus Winery at that time. And it was in the early years of his visits to the Napa Valley that he met Tom Rinaldi who was making the first vintages at Duckhorn Winery.
In 2005 he became Texas' second Master Wine Sommelier (at that time there were only about 100 Master Sommeliers on the planet) and later served as president of the Court of Master Sommeliers.
Later he spent more than 30 years at Glazers (today known as Southern Glazers Wine & Spirits) and was their Texas Director of Wine Education helping develop and implement Glazer's Wine and Spirits University – offering wine education to their own employees, customers and selected partners. And for a time, he and his wife Kimberly owned vineyards in the Texas Hill Country near the town of Blanco (pronounced Blank-O by the locals) where he developed and grew 4 acres of Syrah and Tempranillo. They have since sold this property (the drive was becoming too much for Kimberly and their well water began to have issues with boron). If you ask Guy about this vineyard, it is clear that he misses his time spent on the tractor and being out among the vines.
When two of his three sons were close to finishing college, Guy remarked to them one day, "you will be out of college soon and the only job you have on your resume is lifeguarding." Wanting to introduce his sons to Napa Valley and some of its winemakers and vineyards, they all spent a long weekend in Napa in 2010. The wine industry appealed to his son Ian who worked a harvest at Rombauer – later graduated and then with Guy, drove back to the Napa Valley where he continues to live and work in the wine industry.
Today Ian is one of the partners and the 'boots on the ground' for Stout Wines – while Guy continues to commute to the valley especially during critical wine making times throughout the year.
Select Wines/Winemaking
The first vintage of Stout Cabernet Sauvignon was a result of another one of the strong relationships that Guy has cultivated in the Napa Valley over the years. Along with another Texan, Michael Stewart (Stewart Cellars), Guy helped establish one of Stewart's brands – Slingshot. And then he trained and mentored Michael's son James. In payment for helping out his family, Michael connected Guy with 6 barrels of a Paul Hobbs crafted Cabernet Sauvignon. This was the first vintage bottled under Stout in 2011.
They didn't produce a 2012 vintage but then ramped up production in 2013 to around 450 cases (a vintage that Guy calls one of the greatest years in the Napa Valley that he has seen over his long career). And Tom Rinaldi became their winemaker and partner in the brand in 2013 and has made the wines every vintage since. Despite only their second vintage and needing to make sales, fortunately Guy had the foresight to hold back some of this wine in their library. Today they produce both a Sauvignon Blanc, a Cabernet Sauvignon and a tiny amount of Cabernet Franc – production is around 1,200 cases annually.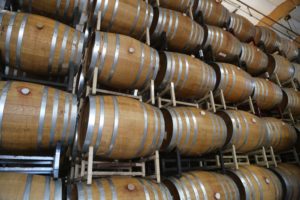 The winemaking and aging of the Stout Cabernet Sauvignon was influenced by Justin Meyer at Silver Oak. Justin walked Guy through their winemaking during his early visits to the valley; ferment, age in barrel, rack once to remove the gross lees, top off the barrel and then let the wines age. The extended aging appealed to Guy – like Silver Oak, Stout ages their red wines longer than most producers – up to two years in barrel and then up to 2 years in bottle before releasing. As a result, their current vintage is often 5 or 6 years old.
The 2014 Stout Vineyards Cabernet Sauvignon is medium to dark purple in color; displays an elegant ripeness on the bouquet – there is no mistaking this as nothing but a Napa Valley Cabernet Sauvignon. Ripe plum, blackberry, leather and black olives. Old cedar. Savory. Layered with fruit from beginning through to the finish including flavors of blackberry, boysenberry and black licorice. Well integrated with a finish that lingers with darker and slightly chewy oak and fruit tannins. Some notes of lingering dark pepper and cedar. This vintage tended to be quite approachable in its youth and 6 years after the vintage date this wine is drinking very well. And it is a wine that perhaps will go very nicely with a steak – or as Guy likes to phrase it, "a slab and a cab".
The Stout Vineyards Sauvignon Blanc: sold out at the time of this review, we will update our notes here as soon as we get our hands on a bottle of their next current release.
The two sets of wings on their label are a tribute to family with 6 feathers on each side, each feather represents Gus and his 11 siblings.
The focus of their distribution is on fine restaurants and select wine shops in locations around the country. They also sell direct to consumer through their website. For more information or to join one of their wine clubs (Spring and Fall shipments), visit: www.stoutwines.com