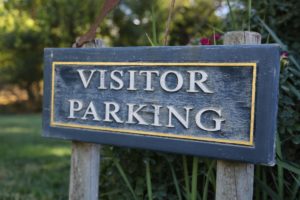 Storybook Mountain Vineyards (Seps Estate) is one of the Napa Valley's northernmost wineries (almost to the Sonoma County line north of the town of Calistoga). The winery and vineyards are located far from all the traffic and tasting rooms commonly found further south in the Napa Valley; this is a quiet and peaceful part of the Napa Valley. One comes to Storybook for its history and the relaxed and informative tastings – but mainly one comes for the premium Zinfandel. Most Napa wineries who produce Zinfandel – perhaps only offer one or two wines from this variety; Storybook is one of Napa Valley's few wineries where Zinfandel is the core of their production.
Storybook is an extremely historical winery – one of the three famous Napa Valley "Jacobs" originally founded it in the 1880's, Jacob Grimm, who was later joined by his brother Adam. The other two famous Jacobs were Jacob Schramsberg and Jacob Beringer, both of whom founded well-known Napa wineries in their own right. The Grimm's were from family that has been and still is involved in the wine industry dating back to 1540 (in Germany). During the 1880's Zinfandel was one of the varieties planted on site.
According to a June 29, 1934 article in the St. Helena Star this winery was at one point called Napava. The first vines were planted on the property in 1883. Construction by hand began of the historic wine cave in 1888 by Chinese workers. During Prohibition the Grimm Brothers continued the vineyard operations making medicinal and Sacramental wine (for church use). In September 1933, Jacob Grimm (died 1940) sold the property to druggist Thomas Toomey and his son-in-law Robert Grison – the transaction included 136 acres. By 1940 the property and winery was no longer in operation.
The property was owned in the late 1960s by Arthur Lyman of Berkeley – who apparently cleared out some of the debris that had accumulated in the old wine caves. Current proprietors Jerry and Sigrid Seps purchased the property in 1976, replanted and built a new winery and then released their first Zinfandel in 1983 from the 1980 vintage. What is admirable at the time is that Jerry left his job as a tenured college professor (European History) at California State University, Dominguez Hills, moved his family with four children to Napa from Los Angeles – and all without a background in growing grapes.
The property has a history of fire. In October 1932 firefighters saved the Grimm home from burning during a particularly windy spell. And some 30+ years later, Storybook winery was abandoned by subsequent owners after the big 1964 Hanly Ranch Fire came through the property and burned all the way to Santa Rosa – 20 miles away. Other fires burning simultaneously were called the Mt. George Fire and the Nuns Canyon Fire (names that were would be eerily engrained in locals' minds some 50+ years later. Until October 2017, redwood trees (very resistant to fire) on the property still showed prominent burn marks on their lower bark more then 50 years later. The Seps family remembers the redwoods just beginning to grow back when they purchased the land in 1976, merely 12 years after this terrible fire. But then the Tubbs Fire tore through their property in October 2017 burning the building that stored all their library vintages to the ground and also re-burning all their redwood trees leaving burn marks that will probably last another 50+ years until the next damn fire races through.
And besides being one of the Napa Valley's most historical caves, one of the tunnels was also home to the first four vintages of wines produced by Schug Cellars from 1980 through 1983 – when Walter Schug was winemaker at Joseph Phelps Winery. This was well before Schug Estate was established on the Sonoma side of Carneros.
Realizing that the original name of the winery, 'The Grimm Wine Vault' was perhaps a bit austere, Jerry and Sigrid decided to honor the original brothers in another way. They chose Storybook, a play on the German Grimms' Fairy Tales.
The property is 120 acres of which some 43 are planted to vine of which these vineyard acres are organized into 105 unique blocks. Initially the Seps planted the property entirely to Zinfandel (with the advice of one of Napa's most well regarded viticulturists, André Tchelistcheff) and only produced wines from this variety for 2+ decades, but over time they learned that certain parts of the land was more suited to other varieties and today about 20% of their vines are non Zinfandel including their only white variety, Viognier. The oldest vines on the property date from 1976. One of their blocks is highly unique for the Napa Valley – planted in double rows, essentially a row of grapes with two vines in tight spacing planted directly across from each other.
In addition they have selectively replanted based on vines that were originally planted on a Phylloxera non-resistant root stock. All farming is done organically without insecticides or pesticides. Their location is somewhat unique due to their relative isolation from the floor of the Napa Valley. The site sits on the eastern hills of the northern Mayacamas mountains which separate Sonoma from Napa County.
As far as the crow flies, their site is not that far from the cooler coastal influenced Russian River Valley; cooler breezes blow through on hot summer days and combined with their elevation – the property is often 10 degrees cooler than the northern part of the Napa Valley in the summer. This all contributes to longer more evening ripening. In addition, they receive a fairly large amount of rainfall and are able to dry farm most of their mature vines. Production varies each year, usually between about 3,000 and 5,000 cases and since 2004 their wines are entirely made from estate fruit (no purchased grapes).
Jerry is a man of many talents – he is a pioneer in the Zinfandel industry and he was instrumental in starting the Zinfandel Advocates & Producers organization (ZAP) and also served as the organization's president for 6 years. Jerry is also an avid mountain climber.
While much of Jerry's time is spent in the vineyards, he is also the winemaker and while in his 80s is still very actively involved in all the day to day operations. His daughter Colleen is actively involved in the operations and is their assistant winemaker. Colleen and her husband Rick also host small group or private tours.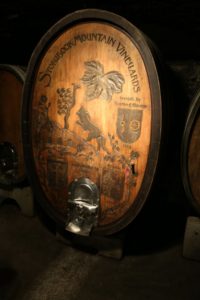 Tours to the property are very educational and typically include a walk in the vineyards followed by a short tour and tasting in the old hand dug caves (dating from 1889) located directly behind the winery. These are among the oldest and largest hand dug caves in the Napa Valley; and are one of only a several from this age in all of Napa including Del Dotto Napa, El Molino Winery, Beringer Vineyards, Schramsberg Vineyards and Stags' Leap Winery). The inside can be fairly humid; very velvety thick black mold grows on the ceilings and walls (this mold is harmless to touch). Parts of the original cave has been reinforced over the years including one section covered in gunnite but there are still plenty of the original cave walls exposed including an old brick ceiling. It is interesting to note that part of the cave contained riddling racks used when sparkling wine was produced here.
The tour culminates with a tasting of 4 to 5 wines held at the end of one of the cave tunnels. Their estate grown Zinfandel is world class; Zinfandel enthusiasts have a variety of wines to choose from including a Zin Gris rosé (with both weight and good acidity), the very popular Mayacamas Range Zinfandel, and a proprietary dominated Zinfandel wine called Antaeus. The Eastern Exposure Zinfandel is blended with Viognier (not co-fermented), a unique blending for a Napa based winery. The Reserve Zinfandel is a compilation of only the best barrel lots; these are typically rich and complex wines that are built to age. Storybook also produces an estate Cabernet Sauvignon.
Select Wines
The 2014 Storybook Vineyards Estate Mayacamas Range Zinfandel is ruby red in the glass – immediately offers ripe and lively aromas of fresh fruit including blackberry and boysenberry and more subtle and in the background, roasted espresso and mocha. Stretches a suppleness from start to finish – with flavors of red and dark cherry and plum. Lingers with flavors of rhubarb, darker spices along with a hint of vanilla – and tannins so harmonious that one does not readily notice them unless carefully observing the finish.
—
Their wines have consistently been top rated and have won numerous awards; Storybook Winery has been listed by Wine & Spirits as one of the top 100 wineries in the world. Well-known wine critic Robert Parker once commented on their wine as "representing the pinnacle of wine quality in California." Not bad. And their wines have selectively been poured at the White House (for select state dinners spanning several presidential administrations). For more information or to join their wine club, visit: www.storybookwines.com