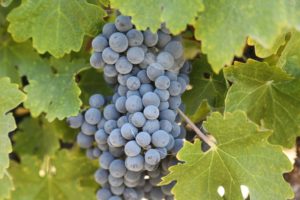 Stormy Weather Wine founder, Cameron Woodbridge was born in Ontario, Canada and was introduced to wine early in life with his family embracing a European openness to alcohol, allowing their children to sample tiny amounts of wine with food. During high school the family lived in Edmonton. The drinking age in Alberta is 18 years old. Cameron recalls his attraction to wine even then. During the winter months he would sometimes cool a bottle of Riesling by putting it into a snowbank outside the family house until ice crystals would start to show inside the bottle. Then he would pour himself a glass, cozy up to a warm fire, put on a composition by Pyotr Ilyich Tchaikovsky and engross himself in a good book.
His father worked in television and in radio as a program director for radio stations. He would often receive free tickets to opening night performances of various shows including at the Citadel Theatre in Edmonton; Cameron recalls various Champagnes and wines served at these events, furthering his exposure to wines at a young age.
Cameron remembers tasting and being impressed by one of the Harlan Estate bottlings during an early trip to Napa Valley in 1999 and having its flavor and textural profile committed to memory. His first cellar work was with his brother Jayson Woodbridge (Hundred Acre) in 2004, working a harvest in the Barossa Valley and then also at Hundred Acre in Napa Valley.
Cameron has learned winemaking by working with and apprenticing with other accomplished winemakers. And he learned quickly; for a couple of years, he was working two harvests a year, one in the Barossa Valley and one in Argentina. And at one point he worked three harvests in a year including in Napa Valley. His winemaking is about the details of the craft and through learning by doing and mentioned several examples.
Early on in his winemaking career, he learned to be patient, recalling the tannin development of a particular Cabernet Sauvignon from the 2007 vintage. While aging in barrel its texture transitioned from primarily felt on the back of the palate, then after additional aging time, evolved to showing mostly on the front, then the sides and finally became so integrated the word seamless best described its textural feel. And while working with a particular vineyard for several years after the grapes were harvested, each year he noticed low malic acid levels. It took him some time to research the reason for this – ultimately discovering the vineyard had an issue with potassium.
He is also the co-founder of Wolf's Head wines and for several years helped make wine for his mother Patricia Woodbridge's brand, Charity Case.
Stormy Weather does not own any vineyard land, rather they source from vineyards ranging from southern Napa Valley to the north in Calistoga. And vineyard sources have changed over the years.
Select Wines
Cameron is passionate about making the best possible wines every vintage and he told us, "continuously striving to produce a great wine, but realizing there is always something else to make the wine better". And it is this pursuit of perfection that in part motivates him each vintage. Cameron mentioned that his wines can hold up to some oxygen after being opened and as a result, can be enjoyed over several days.
The wines are aged in French oak barrels, typically for around 30 months, but sometimes longer; the 2008 vintage of Stormy Weather was aged for 48 months before being bottled. All wines bottled are 100% varietal. The first vintage of Stormy Weather was in 2006 from 7 tons of grapes purchased from Jericho Canyon Winery in Calistoga.
Each label is an image of a painting by renowned Canadian artist David Blackwood (died in 2022) and are of paintings that Cameron has in his personal collection. Blackwood received the Order of Canada in 1993, the nation's second highest honor reserved for Canadians who have contributed distinguished service to the country. His works are found in both private and public collections worldwide. He focused on subject matters he was familiar with; coastal scenes and activities off of the coast of Labrador including Wesleyville (Blackwood's birthplace). And his works were etchings including an etching variation known as aquatint.
Northern Gale is the most produced bottling under the Stormy Weather wines (usually around 600 cases a year). The 2018 Northern Gale (100% varietal) was sourced from a small vineyard in Coombsville. This wine is dark ruby and almost opaque; the bouquet offers darkly fruited aromatics including of spicy plum and blackberry with some tobacco spice notes and old cedar box. And as the wine opens and found deeper in the aromatics are hints of darker dessert spices. The wine offers loads of fruit on the plate, it is layered with flavors of blackberry, boysenberry and black currant. This balanced bottling offers moderately textured tannins anchoring a savory and lightly dry finish. This wine was aged in 58% new French oak and the remainder in once used Stormy Weather barrels for 30 months. It was aged for one year on the lees before being racked.
Cameron has long enjoyed Cabernet Franc. Sometimes while showing his Wandering Star bottling people will inform him that they don't like this variety because of its green characteristics. Cameron eliminates these overtly green characteristics by letting his Cabernet Franc hang late into the season. Some years this can be a challenging proposition in regards to early inclement weather or even some years, fires. And logistically it can be more difficult in the winery when operations are starting to pivot from harvesting to post fermentation work.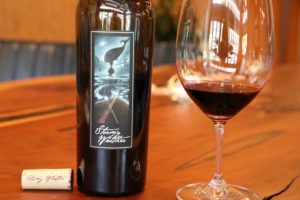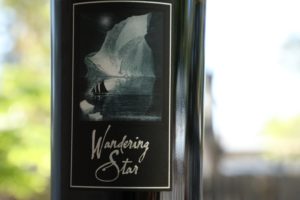 The 2018 Wandering Star (100% Cabernet Franc) is from the Mill Race Vineyard in Yountville. This wine is deep ruby; one immediately notes its varietal characteristics but without any vegetal notes. It offers some herbal scents including of mint, light jalapeno, not fully dried tobacco leaf, dark pepper and plenty of ripe but not overly ripe fruit including Santa Rosa plum and blackberry. This highly attractive bouquet offers both character and aromatic intrigue, not always words we associate with wines over 15% alcohol. While sounding simplistic, we immediately wrote the word, yummy to describe the characteristics of the palate. Its drinks well by itself with flavors of dark plum and blackberry supported seamlessly with well-integrated tannins which show a silty/light gravelly texture. This wine finishes bright, is packed with fruit and is slightly savory with a lingering touch of dried tobacco leaf, toasted oak and crushed peppercorn. It spent 29 months aging in French oak barrels, of which 80% were new and 20% neutral.
Wine is often used as a vehicle to complement culture; Cameron has incorporated both art and music into this particular label. The name Wandering Star is partly an homage to one of Cameron's favorite songs, Wand'rin' Star written by Alan J. Lerner and Frederick Loewe in 1951 for the Broadway musical, Paint your Wagon. The song was later recorded by Lee Marvin and included in the score in the 1970 film version of the Paint your Wagon musical staring Clint Eastwood.
The image on the label is that of the Canadian double masted schooner Flora S. Nickerson sailing under the light of a bright star among the ice floes off the coast of Labrador. Artist Blackwood's grandfather Captain A. L. Blackwood was the skipper and owner of this ship (used for cod fishing) as was his father Edward. David might have also sailed this ship as a career, but unfortunately it was destroyed in a fire at sea.
The 2018 Stormy Weather Cabernet Sauvignon is produced entirely from clone 7. This clone is also referred to as the Conconnan clone, named in homage to James Concannon of Concannon Vineyard in Livermore who originally sourced this clone from Montpellier nursery in France. And it is a commonly planted clone in Napa Valley. This wine is deep ruby, dark and inky and the definition of opaque. The bouquet offers dark-fruited aromas of blackberry and boysenberry along with a darker tobacco spice note. As the wine breathes it offers additional scents of chocolate and a hint of Graham cracker. The aromas of toasted oak are a complementary character to the bouquet rather than a detracting one. This well-layered and robust wine shows some noticeable depth both in flavor and structure. It offers a variety of darker fruits including plum and blackberry along an accompanying note of cocoa. This wine is savory with some accompanying spices including crushed peppercorn. The tannins are pixelated and gravelly in texture with some lingering dryness; they outlive the fruit on the long and energetic finish. It is beautifully crafted from vineyard to bottle. And of their bottlings each year, this is the only wine that is aged in 100% new French oak barrels (this vintage for 29 months).
The name Stormy Weather refers to both stormy relationships weathered over the years, the harsh winter storms in Canada and one of Cameron's favorite songs, Stormy Weather written in 1933 by Harold Arlen and Ted Koehlerby and recorded in 1952 by the smooth sounding Billie Holiday. Cameron was struggling to formulate a name for his wine brand that would both be meaningful to him as well as not be trademarked. In 2007, his brother Jayson had to pickup some furniture in Carmel so Cameron accompanied him on the trip. During the drive back Holliday's Stormy Weather came on the radio; they agreed this would make a nice name for a wine brand. Cameron recalls he immediately went to the TTB's website to check availability.
And later he discovered the works of Japanese author, Haruki Murakami who in his book, Kafka on the Shore wrote the following prose, "And once the storm is over, you won't remember how you made it through, how you managed to survive. You won't even be sure, whether the storm is really over. But one thing is certain. When you come out of the storm, you won't be the same person who walked in. That's what this storm's all about."
The image on the Stormy Weather label depicts a weather vane located on top of a roof. Take a close look at the image, the vane appears to be somewhat askew. This vane was located on the roof of Blackwood's parents home but was blown off during a particularly nasty winter storm. The family collected pieces of the vane scattered on the beach after the storm subsided. The person they hired did not put the vane back as it was, but rather slightly altered the orientation of the directional N,S,E,W signs.
Stormy Weather has been made from a number of premium vineyards in Napa Valley over the years including initially from Jericho Canyon in Calistoga, Sugarloaf located in the hills south east of the city of Napa and most recently the Pelissa Vineyard in Oakville.
—
The wines have limited distribution in parts of the U.S. including in California through Kimberly Jones Selections, are also available in parts of British Colombia, Alberta and Ontario and have some distribution through a Zurich based distributer for both Switzerland and other parts of Europe. Total production of the Stormy Weather and its related labels is less than 1,500 cases per year. Magnums are also produced of the wines each year and are primarily sold in Europe. For more information, to signup for their mailing list or to purchase wines, visit: www.stormyweatherwine.com
Harvest photographs provided by Stormy Weather Wines