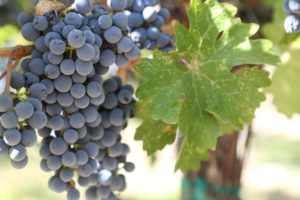 Stonehedge Winery opened their tasting room in 2007 and by 2021 it was vacated. The tasting room used to be located in tiny section of downtown Napa originally be called "Spanish Town" – referring to the immigrant community who lived here from the 1860s through the 1930s – with residents often from Hispanic speaking countries in South and Central America. And for decades, it was also Napa's red light district (reference the Vintner's Collective building located directly across the street from the old Stonehedge tasting room) and was the city of Napa's Chinatown.
Stonehedge was founded by the Shahabi Brothers – they immigrated to the United States in 1979 and Shahin Shahabi (went to UCLA for four years) and his brother and father began working in the wine business in 1982. Originally from Iran, the winery was founded in 1990 with first commercial release from the 1992 vintage – today Shahin Shahabi is the sole proprietor.
Stonehedge is one of a number of brands including Havens, 39 North (wines exclusively from latitude 39 or north thereof), Diamond Ridge (wines from Napa Valley and other parts of California), KooLooLoo (wines made only from certified CCOF vineyards with a focus on the Sutter Buttes), Graymont Estate (California terroir driven wines), Coolfish Wines (wines primarily marketed to fishing and hunting enthusiasts and crafted to be enjoyed with seafood – with a small portion of the proceeds from the sales of these wines donated to the FishAmerica Foundation – an organization that focuses on restoring fisheries), Dawson Creek (wines from California's Central Coast region) and Napa Highlands.
All these brands are overseen by the city of Napa based parent company, Smith-Anderson Wine Group. Shahin is the president of this company.
Smith-Anderson Wine Group produces a wide variety of affordable wines. Their philosophy is to handcraft wines that are accessible and affordable to many people. What really separates this winery from many other Napa wineries of its size (other than the low prices) is their remarkable international distribution. The wines are found in select locations from Azerbaijan to Oman to small islands one normally doesn't hear about including places like the Faeroe Islands and Mauritius. Smith-Anderson Wine Group distributes throughout 49 of the 50 states as well as Africa, Asia, Europe and the Middle East.

As a result, out of all the 1000+ commercial Napa Valley wine producers we have visited and tasted with, this winery gets the award for the most international distribution.
Stonehedge has grown rather rapidly since their first vintage as initially they were very small but now their production is about 190,000 cases. Compared to a typical family owned Napa Valley based winery, their production is significant. However in the global world of wine they are considered a medium sized producer.
Stonehedge sources fruit from vineyards all over California from Mendocino in the north to Amador County in the east all they way down to Santa Barbara. Stonehedge offers three types of wine, California Appellation (wines from all over California), Napa Valley wines and their Signature wines which are available in very limited quantities. While nearly all of their wines are from fruit they purchase from California vintners, they do own 20 acres of grapes in the Oak Knoll AVA in the Napa Valley.
NOTE: the Clinton Street tasting room is permanently closed and their is currently no direct to consumer space to taste these wines. We keep our notes here for historical reference only.
A tasting here was relaxed and informal. The tasting room was tastefully decorated and faux cellar blocks were painted on the wall to give one the idea of tasting in a cellar. In addition real oak barrels lined the edge of the room. A more private room was located behind the primary tasting room for more intimate tastings. Stonehedge makes many different wines with the focus of the tastings on their Napa Valley wines but wines from some of their other labels were also available for tasting. The tasting room left like a lounge – with several couches. Their wines are very reasonably priced by Napa standards.
During one visit we discussed customers coming from their Yelp reviews. Over the years Yelp has been a valuable sales chanel for visits to the tasting room. The tasting room staff seemed to remember every customer who commented on Yelp!
One of their labels, Havens used to be a physical winery located off of Highway 29 just south of Yountville (now home of Joel Gott wines). Founder Michael Havens sold his winery in 2009 and Smith-Anderson Wine Group acquired the brand name but not the physical winery or property. Havens was not in production for several years following the sale but production soon resumed. The "first" Havens release under the Smith-Anderson Wine Group ownership was a 2009 Chardonnay – in later years, additional varieties were added including Pinot Noir and Cabernet Sauvignon.
Select Wines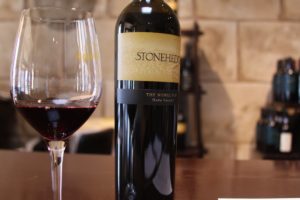 There are not many Chardonnay grapes grown in Oakville as this appellation is located further from the cooler appellations to the south and the moderating influences of the San Pablo Bay. In an unusual offering (based on its more central Napa Valley vineyard location), Stonehedge sources their Chardonnay from a vineyard close to the Napa River (valley floor fruit) in Oakville.
The 2009 Havens Oakville Chardonnay was aged in 40% stainless steel and 60% oak – however, the oak's influences are extremely subtle. The bouquet features juicy fruit aromas – some citrus and hints of tropical fruit with steely mineralities – the palate is all about the fruit, it is rich but not overly oak-influenced or buttery. A sweet core of fruit runs from the mid palate onwards – the finish shows hints of graphite. This is a clean easy drinking Chardonnay that will appeal to many Chardonnay drinkers.
The 2007 Stonehedge Nobel Red is one of their top selling wines. It is a blend of Zinfandel, Cabernet Sauvignon and Merlot (all Napa Valley fruit). The label lists the wine as 15.5% alcohol but it in actuality it is probably higher. The bouquet is fruit forward – very aromatic and lively with distinct aromas of red licorice, violets and chocolate covered cherries. The entry features a sweet core of fruit, raspberries and plums – noticeably very ripe. The mouth feel is super soft, rounded and supple from start to finish.
Their Reserve Cabernet Sauvignon is priced remarkably low considering it comes from the well-known Stagecoach Vineyard on Atlas Peak – fruit from this vineyard often commands higher priced wines at other wineries. When the co-founder and owner of Stagecoach Vineyards Jan Krupp was ready to sell his first harvest, he told us that no one would buy the grapes as his vineyards were in "unproven" terroir". He had to make 40 calls before anyone would even buy the fruit. In a relatively short amount of time Stagecoach has become one of the Napa Valley's most coveted vineyards – today the large site is owned by Gallo Family wines.
For more information, to join their mailing list or signup for one of three wine clubs, visit: Smith-Anderson Wine Group and www.stonehedgewinery.com
Williams Smith House, 1868