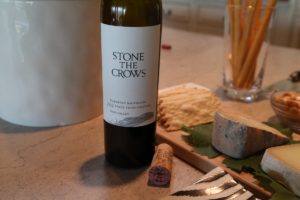 Stone the Crows Wine is a single vineyard producing one wine each year from a hillside vineyard planted in St. Helena. The vineyard itself is somewhat remote – located in the hills east of the town of St Helena on the northern slopes above Lake Hennessy. Initially one wine was produced annually, made from the vineyard's several clones of Cabernet Sauvignon and a small percentage of Petit Verdot. After 5 years, a second wine was introduced, called Fallen Feather produced primarily from clone 337 Cabernet Sauvignon.
Proprietor Rick Talmadge has been coming to Napa for years – since his early twenties. He met a friend in law school and upon graduating his friend moved to the San Francisco Bay Area. Rick would visit him, and they would often make the short drive up to the Napa Valley. After a successful career in Real Estate law based in New York, he began to look for property in the valley. A local real estate agent who happens to be the daughter of a Napa Valley winery owner showed him a number of pieces of property around the valley.
After a deal to purchase this property fell through with another buyer, Rick then acquired this land. Vineyards were not planted on the property at the time – as the land was originally used for cattle grazing. The first vines were planted in 2004 – today there are five acres of vines divided into four unique blocks. The property is at an elevation of about 700 feet. The vineyard is named the Three Twins Vineyard as a nod Rick's children – he has triplets. This vineyard has fantastic views – overlooking Lake Hennessy and beyond its waters, additional hillsides which form the Pritchard Hill growing region.
The microclimate here is somewhat of a banana belt – perhaps influenced by nearby Lake Hennessy. The area remains fairly frost free and although it can certainly warm up here – breezes tend to moderate the temperature throughout the day.
A number of vineyards are planted in this hilly part of Napa Valley, but unlike the valley floor the terrain here is still primarily natural hillsides. Despite fairly strict county standards for developing new vineyard land, especially on the hillsides – new vineyards continue to be developed in the region. The well-regarded Pritchard Hill region is home to a number of prominent Napa producers to the south and east of the Lake. While not as many vineyards and wineries are on this side of the lake, there are several well-regarded vineyards on the north side of Lake Hennessy. Their closest winery neighbor to Stone the Crows is Buehler Vineyards. BOND, Fairchild and Amizetta either own or source from nearby vineyards.
Winemaker, Thomas Brown
Well regarded winemaker Thomas Brown has made very vintage. Before he was hired, Rick had spoken to him on the phone a number of times. Trying to arrange an in-person meeting, Rick told Thomas it would have to wait until he returned from his trip to Paris. As it turns out, Thomas was also in Paris at the same time, and they ended up meeting for the first time at a cafe along the Champs-Élysées.
Thomas is one of the busiest wine makers in the Napa Valley. Several producers have showed us lists of all the Napa brands that he consults for and or provides direct winemaking services; this is an extensive list. He is from South Carolina and developed an interest in wine while attending the University of Virginia where his major was not wine related (he studied English and Economics).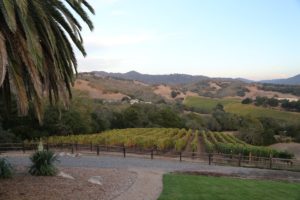 He moved to the Napa Valley in 1996 and took a job at All Seasons Bistro in Calistoga (known for their California cuisine, wine selection and long time in business – but unfortunately permanently closed in 2020). While there, Thomas met winemaker Ehren Jordan who was working for Larry Turley at the time of Turley Wine Cellars. Thomas took a job with Ehren in the cellar at Turley in 1997 – spent several years there before beginning his own career and starting to consult for various clients (some of which were clients that Ehren was already working with).
And within only 10 years of making wine in the Napa Valley Thomas received two 100-point scores from Robert Parker – regardless of what your perception is of scores, creating several wines within a short period of time that receive 100 points from Parker was a watershed moment in Thomas's consulting career.
Today Thomas is highly sought after for his winemaking services, experience and access to premium area vineyards. And while he was once the student, over the years he has become the teacher. We have met with a number of winemakers who worked under Thomas – and consider him one of their mentors. These are winemakers who have gone on to establish their own brands or consult for other Napa based brands.
—
The name Stone the Crows is rather intriguing, but it has nothing to do with actually throwing stones at Crows. Initially Rick and his family considered using his last name but that was already in use by another winery. Noticing all the large black crows that would perch on the fences on his property he creatively came up with the name.
The words "Stone the Crows" is actually an Australian expression one uses to indicate surprise or amazement or a wow factor. And it can aptly be used to describe Rick's reaction when he first tried wine from his vineyard. Some vineyards have a bird problem when the grapes become ripe – but it is not usually crows doing the damage – rather starlings, or even wild Turkeys.
Select Wines
The first wine produced was from 2009; Stone the Crows made only 35 cases and did not release it commercially. 2010 is their first commercial vintage.
The 2012 Stone the Crows initially shows pleasing aromas of sage, cedar and black fruit. As the wine breathes the bouquet becomes more elegant and reveals a hint of baking spice. The mid palate is soft and rounded. The finish initially shows mocha, a bit of coffee bean, toasted cedar and lingering fruit. The tannins hit the palate delicately – first in the front and then slowly to the back lingering softly along with fruit for some time. A pure pleasure to drink.
We initially tried the 2011 Stone the Crows Cabernet Sauvignon soon after release at a local tasting and remember being impressed by that particular wine. Since then, we have tried a number of wines up and down the valley from this vintage. It was a challenging year for wine making based on rains all the way into June (think rain at the annual Napa Valley Wine Auction), a cool summer and early rains. Some of the best wines we have tried from that vintage were from the eastern hills in Napa Valley.
—
For more information and to join their mailing list, visit: www.stonethecrowswine.com