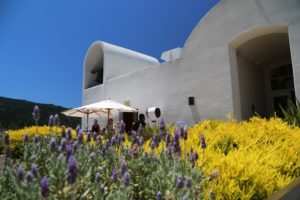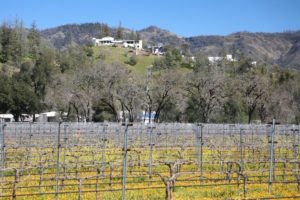 Sterling Vineyards is located in the northern part of Napa Valley; this is a property well setup for tourism. Sterling has Napa's only winery aerial tram; the ride lasts just a few minutes whisking guests from the parking lot to the actual winery located on top of a 300-foot wooded volcanic knoll that rises from the valley floor.
Not only does Sterling operate Napa Valley's only tram, but in late 2008 it was converted to solar power. The tram takes a different route on the way back down. On a clear day, the views from the top of the hill are spectacular. Fortunately, or unfortunately depending on perspective this winery is typically identified by the tram; they do make wine to! This tram was replaced and updated in early 2007 after many years.
NOTE: the hospitality spaces at Sterling Vineyards sustained significant damage from the fires in 2020; Sterling is currently closed for all tour and tasting experiences. We have stopped by several times since the damage to get an idea of reopening dates; as of our latest update to this review, a completely remodeled visitor center is tentatively scheduled to reopen to guests sometime in October or November 2023 including a modernization of their iconic tram system.
The tram will feature larger tram cars, seating 8 instead of 4 guests, a faster system and a slightly different route to the top. And remarkably the same company that built their original tram system (Doppelmayr) is in charge of the remodel and upgrade.
We look forward to visiting once it reopens and updating both our photography and wine tasting notes on this review at that time.
—
The winery was designed with input, mainly from Martin Waterfield, Dick Graff (one time owner of Chalone Vineyard and one of the founders of the American Institute of Wine & Food along with Robert Mondavi and Julia Child and very young winemaker Ric Forman. Tragically Dick died in a small plane crash near Salinas at age 60. It was Martin's idea to install a tram to whisk visitors from the valley floor up to the top of the mountain.
Billed as the only winery in the world with an aerial tram – this opened in 1973 and holds 13 tram cars each of which is built with plenty of glass windows so one can see in all directions on the ride up and down. The total distance is 300 feet which takes 3 minutes and 15 seconds to ascend and 4 minutes and 5 seconds during the descent (the tram cars move at speeds up to 400 feet per minute). The total distance traveled round trip is 2,768 feet. At its highest point tram cars are 90 feet above the ground. And note that when the temperature reaches around 100 degrees, Sterling will close the tram because of the high heat. And at that point, guests will be shuttled up and down to the hospitality center in vans. Although we have been here when the temperature was 104 degrees and the trams continued to run.
Three years after the tram opened, Sterling Vineyards made an important vineyard purchase in 1977, acquiring 320 acres on Diamond Mountain from William Hill (long time vineyard developed based in Napa Valley). They called this property, Diamond Mountain Ranch – and wines continue to be produced from this site today including the Sterling Vineyards Reserve Cabernet Sauvignon.
The property that would become Sterling Vineyards was acquired in 1967 by four investors including the late Peter Newton, a native of England who was an executive at a large paper company in San Francisco called Sterling International. Another investor was London born Michael Stone was a former Navy fighter pilot who later served as Secretary of the Army under President George Bush and eventually was President of Sterling Vineyards. The previous owner of the property, Charles Rockstroh had actually bonded a winery here in 1933 (the first winery on site) – he died in 1967 and his 70 acres came up for sale. Newton had actually already started acquiring other vineyard land in the Napa Valley beginning in 1964.
Newton built the winery in a style that was influenced by Greek Mediterranean whitewashed architecture, specifically from the island of Mykonos. This influence is pretty obvious when one sees the winery. Their first vintage was produced in 1969.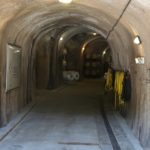 Ric Forman was Sterling's founding winemaker; he went on to have a continued a very successful career and operates Forman Vineyard. Interestingly, some of the first Sterling wines were stored at Schramsberg Vineyards until the caves were completed at Sterling. Sterling's hospitality center and winery on top of the hill were not yet completed at that time.
Sterling Vineyards has sold several times over the years including in 1977 to the Coca-Cola Company, in 1982 to Seagram and in 2001 to Diageo. Interestingly during the Seagram ownership, Sterling produced sparkling wine in conjunction with GH Mumm in Reims (Champagne, France). Currently Sterling is owned by Melbourne, Australia based Treasury Wine Estates.
Peter loved designing elegant formal gardens and to see some of his other gardens visit another Napa winery he founded called Newton (located just west of the town of St. Helena – appointment only). Sterling's long driveway winds through olive trees to several wrap around parking lots located at the base of the tram. The tram runs continuously during their normal business hours so there is no need to purchase advance tickets, however, note that on busy weekends, its best to get here early as there can be a fairly long line later in the day. Some 150,000 visitors come through their doors each year.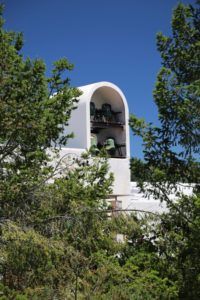 There are several tasting options available for purchase at the ticket counter and all include the tram ride.
Once you reach the winery at the top, you begin a self-guided tour following signs and educational videos on strategically placed monitors explaining various components of wine making and Sterling's history. This was Napa's first self-conducted winery tour when the hospitality center opened in 1973.
Weather permitting you will be greeted by a small wine bar upon exiting the tram, where you will typically sample one of their white wines. You will be given a glass to take with you to the other tasting stations. After your tastings, the glass is yours to keep. Most people probably do keep the glasses but on the several times we've been here we've noticed people have had a little too much fun and have seen broken glass on the ground. At each of these 'mini bars' someone will be pouring and providing verbal information about the wine being served.
Continuing your tour, be sure to walk outside on the catwalk overlooking their large steel tanks – additional educational information is available here about the process of fermentation. Eventually you will reach their outside upper terrace. The most common question the poor pourer at the terrace tasting station has to answer is, "is that a castle over there?". Yes, it most definitely is – in this case it is the impressive Italian styled "Castello di Amorosa" built by Dario Sattui who is also the founder of the wildly popular V. Sattui Winery.
Select Wines
During one of our visits, we sampled the Sterling Vineyards 2007 Pinot Gris; this wine is light bodied, crisp and full of citrus overtones.
One of their more popular white wines (among those who have a sweet tooth) is the Malvasia Blanca. This is an ancient variety that is not usually grown in Napa Valley and the grapes for this wine come from Madera (in California's central valley). Interestingly this variety is also grown in Madeira, (islands that are a part of Portugal, located West of Morocco). The 2015 Malvasia Blanca is light bodied, sweet without too much acid, fruity with some mineralities and will pair well with spicy Asian food.
Updated tasting notes of current release wines coming by late 2023.
—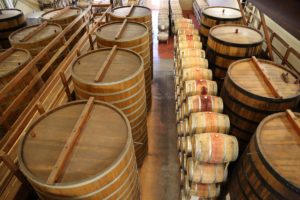 The large tank room is worth seeing with its huge tanks sometimes full of wine. During certain times of the year, the smells in here are fantastic and actually linger all throughout the main building. If the weather is bad, a wine station will be located in a corner of this room. You have to pass through this room on your way to their well-loved outdoor terrace and bell tower (the bells still ring every fifteen minutes). These bells were cast in the early 1700's – hung in church in London for some time (which was bombed during World War II). Ultimately, they found their way to hang at Sterling in 1972.
On a warm day the terrace is a fantastic place to soak up your wine, the sun, people watch behind your sunglasses, and see the stellar views of the surrounding hills. From here, there are good vistas of Napa Valley to the South and of the rugged wooded hills to the northeast. This is definitely one of Napa's romantic spots and couples can often be seen flirtatiously cozying up to each other next to the railing while other well-appointed tourists take selfies for their Instagram accounts.
Two prominent Italian Cypress trees form vertical frames for photos looking north from the terrace. These two stately symbols should be named, so we have given them some – the one on the left as you face north is Easton and the one on the right is Weston in reference to their geographic locations.
Benches and small tables are available on the terrace. Weather permitting there will be another wine station setup here. We tried the 2005 Reserve Chardonnay which has a good weight in the mouth in part because the wine was left on the lees and stirred during its aging in the barrel (lees are the sediments left after fermentation).
Sterling has 3 tasting rooms – the primary elegant sit-down tasting salon was recently remodeled. One can swing by here after your self guided tour or simply walk over to the tram for the ride back to the base.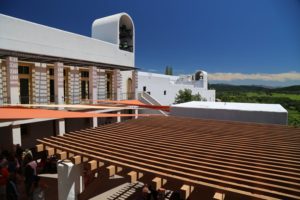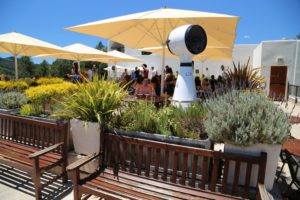 If you do walk up the stairs to the salon, be sure to visit the outside terrace. If the weather is nice this is definitely the most preferred part of the salon. Trees surround parts of the patio and when the wind blows, it's hard to determine whether you are actually in Napa or maybe in California's Sierra Nevada mountains somewhere.
Sterling is one of Napa's larger landowners with some 1200+ acres under vine. As a result, they make a very wide selection of wines, all very reasonably priced. Some of their wines can only be purchased at the winery; you can tell these special wines (Cellar Club Wines) from their normal distributed wines because the physical wine label is split in two.
The large gift shop is the last room one visits before heading back to the tram. Check their website as sometimes they have coupons for tram ride discounts. Special reserve tours and tastings are also available. If you are in the area in the summer be sure to check out their Silver Screen Series, a series of outdoor movie screenings with all proceeds benefiting a local charity.
—
Treasury Wine Estates
Treasury Wine Estates is currently the 4th largest wine company on the planet. Treasury was formerly the wine division of the Australian based Foster's Group and was founded in 2011 – although its roots can be traced back to the mid 1990s when Foster's began to build out their wine division. Treasury Wine Estates owns or manages some 22,000+ acres of vineyards in Australia and New Zealand and nearly 10,000 acres of vineyards in the USA (mostly in the Napa Valley, Sonoma County and California's central coast).
As of our latest update to this review they are the largest controlling entity of vineyards in the Napa Valley through mostly leased land. They own several of the Napa Valley's most iconic, historical and storied producers including the following other five wineries: Beaulieu Vineyard, Beringer, Etude, Frank Family, Stags' Leap Winery. In addition, they own the Napa Valley brands Acacia and Hewitt. And of the other brands under their ownership, Penfolds in the Barossa Valley, Australia is arguably the most famous.
Headquartered in Melbourne, Australia the company also maintains offices in Napa, Oakland, London, Shanghai and Singapore. In 2019 the company moved its headquarters to one of the uppermost floors in one of Melbourne's most iconic buildings, the T&G Building located on Collins Street a few minutes' walk from the Flinders Street Railway Station.
The T&G building, named after the T&G Mutual Life Assurance Society was built in 1928 and features a gorgeous atrium like setting and high-end retail shops on the ground floor as well as 10 floors of office space. This was one of Melbourne's first large scale office buildings. Despite being one of Melbourne's prominent and historical buildings, Treasury Wine Estates keeps a very low profile and has no signage.
—
On busy weekends, often the last allowed entry for visitors is at 415pm. Refreshingly, Sterling Vineyards has blanketed much of their parking lot with complimentary wifi, appropriately called 'Wine Fi"! (For more information or to join their wine club, visit: www.sterlingvineyards.com
Tram

Winemaking

Views

Tasting Rooms

Miscellaneous