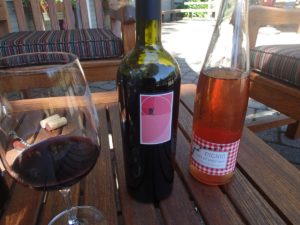 Stellareese Wine takes its name from owner and winemaker Rachel Davies' middle name. She released her first vintage in 2007. Rachel was born and raised in Calistoga. Despite growing up surrounded by the vineyards of the Napa Valley, it took her some time before the wine industry took her as one of their "own". It all happened at a barbecue a number of years ago where she met vintner Greg Brown – the founder of T-Vine Cellars. Rachel recalls that party was abnormally quiet – unusually so, for when wine is around. Greg pulled up in a van – opened the doors and turned on some music. The atmosphere quickly changed – later he pulled out his guitar for a more intimate connection of music and wine.
Ultimately he invited Rachel to help him out at T-Vine Cellars. He needed someone to offer assistance with marketing and hospitality. At the time Rachel was working at the Boys and Girls club in Calistoga and had no prior experience in the wine industry. However, while at T-Vine, she would work each harvest, gaining invaluable wine-making knowledge and insights from Greg about the art of wine-making. This experience helped set the stage for starting her own label.
Greg always encouraged Rachel to branch out on her own and follow her new-found passion for wine-making – and when she put out the word one night at a local pub over a glass of beer (often the choice of beverage for winemakers) that she needed a vineyard source she was told about a small vineyard in Calistoga. "Marcey's Vineyard" – is owned by Jack and Marcey Smith long time growers in the northern part of the valley. Incidentally their contract to sell fruit to nearby Chateau Montelena had just ended and they were looking for a new home for their grapes. The timing was right and Stellareese's flagship wine, the Cabernet Sauvignon has been made from this single vineyard every vintage since 2007.
Jack and Marcey farm their vineyard by hand – hand hoeing the rows and working very closely with Rachel determining how to best manage the vineyard. Their organic and natural farming practices coincide with Rachel's own wine-making philosophy.
Select Wines
The 2010 Stellareese Marcey's Vineyard Cabernet Sauvignon shows bright lively fruit in the nose including ripe blackberry and black cherry – as the wine breathes more spice shows as well as pleasing notes of mocha and a dusty brown chocolate characteristic. Traces of mocha also show on the palate towards the finish. The palate has good concentration of flavor – the finish is more subtle rather than bold with finer grained tannins. This vineyard produces some consistent notes in the wine regardless of when they pick and how much fruit is harvested – in other words, irregardless of vintage. Each wine shows a neat floral characteristic – with rose petals and notes of rosewood.
Rachel painted the original image for the front label – it represents the "Golden Mean" – a mathematical term that is also used by artists and is found in nature – a visual balance if you will. In the natural world, it represents the beginning of life.
In addition to the Cabernet Sauvignon, Rachel also makes several other wines – often depending on the year and quality of fruit that is available. In 2011 she sourced Pinot Noir from the Russian River Valley in neighboring Sonoma County and made a rosé. This wine was made by the French saignée method (juice is bled out after a certain amount of time in contact with the seeds and skins). The 2011 Stellareese Russian River Valley Rosé is a gemstone orange color rather than the more traditional pink color that you associate with this type of wine. The bouquet is floral – the palate is rounded with some decent structure for a rosé. This wine has very good acidity with a clean finish.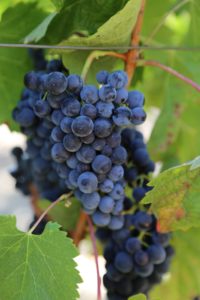 Rachel has a healthy obsession with vintage table clothes and a checkered tablecloth serves as the image on their label, along with ants, because one always associates ants with picnics on warm days! And this rosé is a refreshing wine to enjoy with food especially on a warm summers day.
A wine meant to be consumed early on and available at a reasonable price is their 2 Wines label. This wine varies from year to year depending on the vineyard sources – it might be a barrel of already finished wine or something Rachel blends – securing fruit from area vineyards. The 2009 2 Wines Knights Valley (Cabernet Sauvignon with 20% Cabernet Franc, from the valley just north of Napa) is plush and well rounded on the palate. The bouquet shows ripe fruit – inviting notes of plum and cherry. The fruit lingers on the finish for some time and the tannins are fairly silky.
An exciting project that Rachel created is a three-varietal red blend of Cabernet Sauvignon, Cabernet Franc and Petit Verdot – called "Community", in honor of her former mentor Greg Brown. Tragically and unexpectedly, Greg passed away in 2009. Over the years, he loaned several "new" vintners interest free money to start their own wine-making and other projects. Stellareese was among those he helped finance interest free when Rachel was working with him at T-Vine Cellars.
Buoyed by a private donor who shares her and Greg's original vision, she organized a group of vintners and others who were helped by Greg. They operate under the auspices of a non profit organization with a singular focus to loan small mom and pop businesses in the Napa Valley interest free money to pursue their own passions and start their own businesses.
This is part of a "pay it forward" philosophy – popularized in 2000 by one of Greg's favorite movies, "Pay it Forward" with Kevin spacey, Helen Hunt and Haley Joel Osmont. The premise behind this movie is doing good for others. Greg certainly left his mark in the valley not only by helping others but his winery T-Vine Cellars continues to operate (under new ownership).
The wine itself is a non vintage – the inaugural release is only 125 cases – it was released in the Fall 2013. Perhaps in future releases, a touch of Grenache in the blend would be a fitting tribute to Greg's legacy (the variety he fell in love with while in France) and the initial wine he made at T-Vine.
—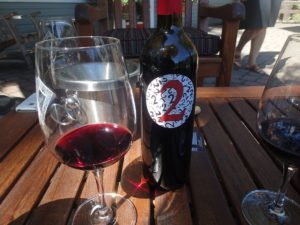 With such a small production, their distribution is selective – their Cabernet usually runs just 200 to 300 cases per year and their other wines less than that. The wine is found at several markets in the valley including Calmart in Calistoga and Sunshine in St. Helena as well as just a handful of restaurants. The wine is also available for sale online – visit: www.stellareesewine.com
Note: In 2017 Rachel came up with a cleverly designed purse that had built in pockets for wine bottles! She parlayed this initial design into what is now called the Stellareese Collection showcasing products such as hand-made hand bags, wine totes and miscellaneous travel gear. We have seen some of her products in the past for sale at several tasting rooms in Yountville – and at the Feast it Forward tasting room in the Oxbow District of the city of Napa.
In addition, the Stellareese bags are sold at a number of pop up events in both Napa and Sonoma counties throughout the year. Those interested can also purchase them directly from the website. For more information, visit: www.stellareesecollection.com
NOTE: possibly no longer producing any wines but we haven't been able to verify this yet. As of our last update to this review, Stellareese host visitors by appointment at the Parlour house on the grounds of Feast it Forward in downtown Napa.