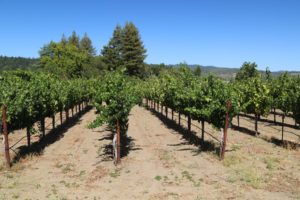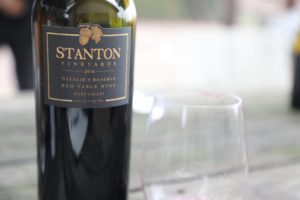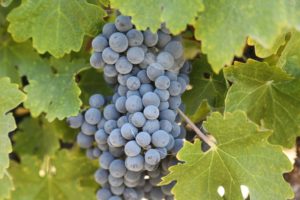 Stanton Vineyards has roots in Napa Valley dating back to 1947 when Jesse Stanton (a San Francisco native) first purchased acreage in the valley (100 acres in Yountville). He kept acquiring land and by the late 1950s owned nearly 220 acres in Napa Valley.
Today the Stanton's own 75 acres of vineyards including two sites within a short distance of each other in the St. Helena Appellation: J.B. Ranch and Mills Vineyard (both east of Highway 29) and one site in Oakville bordering Highway 29 (also on its east side). They do not outsource any of the vineyard management duties, rather they have their own in-house team managing all their vineyards. And a number of their employees have been with them for years and as a result, know their vineyards extremely well.
Today they grow only red varieties including Cabernet Sauvignon, Merlot, Cabernet Franc, Petit Verdot, Malbec, Petite Sirah and Mourvèdre) and sell the fruit to local exemplary wineries such as Stag's Leap Wine Cellars and Del Dotto among others.
Proprietor of Stanton Wines, Doug Stanton is Jesse's grandson; Doug's father John was born in San Francisco but raised in Los Angeles. When he retired in 1971, he was the chief chemist for the Bureau of Sanitation for the city of Los Angeles. After retiring at a fairly young age, he moved his family to Napa Valley almost immediately following his retirement to take over management of the properties his father had purchased.
After many years of growing and selling grapes (for many years their grapes were sold to what was the Napa Valley Winery Cooperative (where the present-day Hall Winery is located) Doug decided to start making wine and released his first vintage in 1999. When one has excellent vineyards and tastes the wines, they are producing for other winery clients, it made a lot of sense to produce wines under his own label.
Their production is small, usually around 800 cases divided between two or three wines, a Cabernet Sauvignon, a Petite Sirah and a sometimes-produced red blend. Based on years of experience managing their vineyards they know where the best blocks grow within the vineyards, and they harvest only those blocks for their wine.
Their Cabernet Sauvignon is actually sourced from the same rows each year. They are only using a small percentage of the fruit they form for their own label – all the rest is sold to other premium producers in the valley. What typically changes every year is the blending wine used and its variety. This is because every growing season is different, and it is the challenge of the winemaker to best use a blending wine which complements their Oakville Cabernet Sauvignon.
As Doug says, "producing wines has made us better farmers".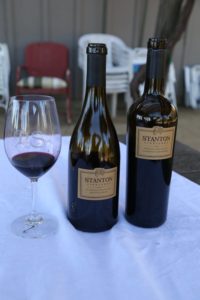 Winemaker Dave Phinney (of Orin Swift fame) made the 2002 Stanton Vineyards vintage and crafted their wines through the 2017 vintage. Dave began his wine career at Robert Mondavi Winery as a temporary harvest intern in 1997 working several hours every day during the graveyard shift in the winery doing punch-downs and pump overs. With Mondavi's encouragement, in 1997 Dave made a barrel of wine from second crop grapes and the next year produced his first vintage of a label he ultimately became well known for, Orin Swift. He wasn't satisfied with the quality of the wine, so Dave sold that vintage on the bulk market (Orin Swift is now owned by E & J Gallo Winery). Little did either Mondavi or Phinney know that eventually both would again be linked based on Phinney's remarkable success with The Prisoner wines.
A gifted blender of both varieties and regions, Dave built his reputation on creating fruit forward (often higher alcohol), approachable blended wines that incorporated multiple varieties and regions. His winemaking has never been constrained by specific varieties or geographical places. To complement his creativity with winemaking – his wines incorporate extremely creative, unique and often eye-catching labels. And he is a master marketer – helped by the fact his wines are reasonably priced based on quality.
Select Wines
The 2017 Stanton Vineyards Cabernet Sauvignon is dark ruby in color with purple tinges on the rim in the glass; the bouquet offers darker fruit aromatics including of blackberry and plum with a focus on ripe but elegant aromatics. This is a balanced but intensely flavored bottling. It offers flavors of blackberry, dark chocolate and black currant anchored by earthy, gravelly tannins showing a lingering note of dust. The finish lingers brightly, showcasing plenty of fruit.
The 2019 Stanton Vineyards Petite Sirah like all previous vintages of this wine is very dark ruby in color almost purplish; it offers aromas of grilled meats, smoke, mushroom, beef jerky, chocolate and a wood spice. Its savory aromatic character is echoed on the palate with dark fruits including plum, along with crushed pepper and other dark lingering spices. The tannins are earthy, chewy and long lasting. It also lingers with a note of tobacco spice on the finish. The first vintage Stanton Vineyards Petite Sirah was in 2004.
The 2016 Stanton Vineyards Petite Sirah. This wine looks like a scared squid was let loose in the glass. Inky dark and violet purple the aromatic presentation is fascinating; it is deep, dark and brooding with notes of damp earth and mushroom. It is meaty and savory. Also it shows notes of black pepper, coffee grinds, mocha and toasted oak and cedar. Plush and well-endowed with flavor on the palate including ripe blackberry, surprisingly this wine does not have the robust structure that one often associates with wines made from this variety. The texture is lovely, with dusty and fine-grained tannins. This is an opulent showing.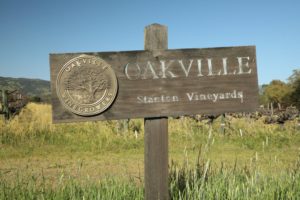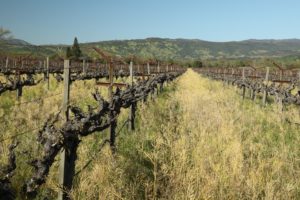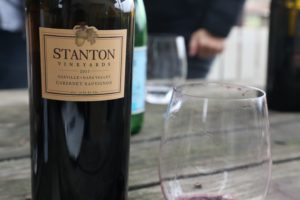 The challenge with this variety is to get it ripe each year (weather doesn't always cooperate late in the growing season) as Petite Sirah is a fairly thin skinned grape and doesn't have a stronger resistance to moisture as does a Cabernet Sauvignon grape. And Stanton's style with their Petite Sirah is to ferment it when it is very ripe; this creates a higher alcohol wine but none of the vintages we have tried over the years have been overly ripe or revealed jammy characteristics.
For the first time ever in 2016, Stanton Vineyards began producing a red blend bottled under Stanton Vineyards 'Natalie's Reserve' Red, named in honor of Doug's daughter Natalie. This wine was inspired by Dave Phinney who wanted to produce a propriety red for a number of years; this wine is not produced every year. The first two vintages of this bottling were from 2016 (a 50/50 blend of Petite Sirah and Cabernet Sauvignon and 2019 (dominated by Cabernet Sauvignon). The 2016 Nathalie's Red Table wine (a four-barrel production0 is dark ruby in color and almost opaque; the bouquet offers sweetly fruited aromatics including of cherry and plum along with sweaty leather. The palate is intensely flavored showing layers of complexity along with layers of flavor including plum and dark cherry. Despite a 50/50 blend, the Petite Sirah dominates the character of this wine. Regardless, the focus here is on the fruit rather than the barrel influences. It lingers with a noticeable density of tannins, not course with more of a gravelly-like texture. This wine was aged 20 months in French oak barrels of which 50% were new.
During our first visit with Doug many years ago, we sampled the 2005 Stanton Vineyards Cabernet Sauvignon from their Oakville Vineyard. This was already bottled but was not yet released. However, it was already drinking very nicely with hints of vanilla and chocolate on the nose. The oak is subtle and does not dominate with pleasing flavors of blackberry and blueberry on the palate.
The 2005 Stanton Vineyards Petite Sirah is a big wine, yet elegant beginning with a bouquet rich with black cherry aromas. The tannins are well managed, and the finish is very long. Many Cabernet Sauvignon lovers will really enjoy this wine because of its structure and rich fruit. The fruit for the Petite Sirah is sourced each year from several select rows of vines growing in their St. Helena vineyard.
—
The Stanton label has an image of an acorn on the bottle; their vineyards have oak trees growing nearby and these trees were the inspiration for the label. Stanton is also active in several charities by donating large format bottles to auctions. One can sometimes find Stanton's wines locally at Backroom Wines in the city of Napa, the Oakville Grocery and Brix Restaurant.
Doug holds back approximately 5 cases of each bottlings each year for his library. The wines are sold both direct to consumer and through limited distribution outlets in states such as New York, North Carolina, Texas and Ohio. And the Stanton wines have done very well in various competitions including the San Francisco Chronicle Wine Competition and the California State Fair.
For more information, to purchase current release wines, or to join their mailing list, visit: www.stantonvineyards.com