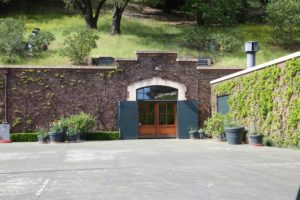 Staglin Family Vineyard is tucked away in a little visited southern part of the Rutherford Appellation (despite being a very short drive from the often busy Highway 29). Their focus is on premium limited production wines; the winery was founded by Shari and Garen Staglin (both UCLA graduates) and family. Their appreciation for the Napa Valley began in the 1960's – Garen attended Stanford Business School and would visit the Napa Valley during breaks in his schedule. Garen (an engineer by training) has been involved in a number of businesses through his career including as CEO of Safelite Glass Corp (replacing windshields and windows in automobiles) and in private equity, venture capital and payment and credit card processing services.
He and Shari lived in the San Francisco Bay Area for a number of years; in 1985 they purchased a 50-acre piece of land owned by Dagmar de Pins the granddaughter of Georges de LaTour (Beaulieu Vineyard founder) and her husband Walter as well as another 12-acre adjoining parcel. Their first vintage was in 1986, a Cabernet Sauvignon.
An early owner of the property was Serranus Clinton Hastings (namesake of UC Berkeley's Hastings School of Law founded through his donation). This vineyard is one of Napa Valley's most historic and was originally planted in the late 1860 by John and Mary Steckter to about 60 acres of grapes. At one point the property was owned by Frank Manley who had become wealthy through oil and gold in Alaska and Texas.
Today the winery is led by mother and daughter; Shari is the CEO and Shannon is the President. Shari's previous career is in health care. Shannon's husband Artie is also involved – he runs a private mailing list only subscriber wine brand called WineXYZ.
Well regarded winemaker, soils and viticulture expert André Tchelistcheff originally helped convert what were prune orchards on the property back into vineyards beginning in 1963 – his viticulture knowledge played a prominent role in the types of vines planted here and how the vineyard was laid out. We've heard differing opinions on whether the grapes from these vines were used in the well-known Georges de Latour Private Reserve label that Beaulieu Vineyard popularized (and still makes today). Regardless this is one of Napa Valley's sweet spots for growing premium quality wine grapes.
Today the Staglin's own nearly 62 acres of prime land in the heart of the Rutherford Appellation. Their 51 acres of vineyards are located on coveted bench land soils. These deep slightly gravelly brownish soils were formed during millions of years because of erosion and run off from the nearby Mayacamas mountains. As a result of this type of soil, its excellent drainage and the climate, this is excellent terroir for growing Cabernet Sauvignon.
The property is planted to Cabernet Sauvignon, Petit Verdot, Cabernet Franc and to two perhaps more surprising varieties – Chardonnay and Sangiovese. Chardonnay is generally planted in the southern part of Napa Valley closer to the cooling influence of the San Pablo Bay; there is very little Chardonnay currently growing in Rutherford or Oakville. The Staglin's chose to grow Chardonnay (instead of Cabernet Sauvignon) because Shari enjoys drinking wines from this variety. Their wines are made entirely from estate grown grapes, other than a small amount of Chardonnay that they source.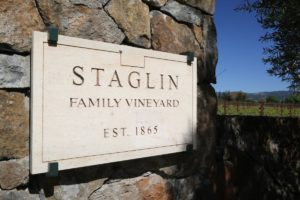 Well regarded vineyard manager David Abreu is in charge of managing their vineyards – all of which are CCOF farmed organically; the Staglin's were among the earlier Napa Valley adopters of the CCOF certification for organic farming. Solar cells on the property supply all of their energy needs. Staglin is in the enviable position on sunny days of providing extra energy back into the grid.
Highly sought after French based blending master Michel Rolland used to consult for Staglin and helped with their final blending decisions. Over the years a number of Napa Valley's most accomplished winemakers have made or been involved in the production of the Staglin wines including Cathy Corison, Celia Welch, Bob Levy, Luc Morlet and Andy Erickson.
It is clear that Staglin's focus is on quality and producing the best possible wines they can from their vineyards.
The actual winery is completely underground; it is self-contained within a 27,000 square foot cave system. Note the very high ceilings, they are much taller than most Napa winery caves. The only exposed portion of the winery is the crush pad located directly outside.
Music Festival for Brain Health
Besides their wines, Staglin is well known for their annual Music Festival for Brain Health event held on site every September. The inspiration for this event came after Shari and Garen's son Brandon was diagnosed with schizophrenia in 1990. Since the inaugural event in 1995 remarkably (as of 2019) they have raised 360 million dollars towards research and medicine for mental health related diseases. The music festival directly benefits One Mind, a research organization also co-founded by Garen and Shari, dedicated to finding cures for brain illnesses and injuries.
The Music Festival for Brain Health is one of (if not the largest) annual private Napa winery charity event; it is *the* winery event to attend in the valley. Typically, well-known musicians will headline and about 75 of Napa Valley's most exclusive wineries are on site pouring their own wines. Celebrity or other well-known chefs always prepare the gourmet dinner.
This is not the only fundraiser that Staglin supports; their wine is often one of the higher bids at the annual Auction Napa Valley and the Naples Winter Wine Festival. They do an amazing amount of work with charities and have directly contributed nearly 1 billion dollars to charity efforts over the years.
And the Staglin's support brain research at their Alma mater, UCLA. The Semel Institute on campus in part houses the Staglin One Mind Center for Cognitive Neuroscience. This center is primarily used for education and research purposes. An advanced laboratory contains an MRI machine which can be rented by the hour by research members of the UCLA community.
Select Wines
Their current production is around 7,000 cases annually. A second label, Salus is named after the Roman goddess for safety and welfare and includes a Chardonnay and a Cabernet Sauvignon with 100% of the proceeds from the sales of these wines donated to research and treatment of schizophrenia, bipolar disorder and depression. The name for this wine came from a trip to Italy where the Staglin's first noticed an image of this goddess on a coin.
The Salus wines are crafted to be more approachable in their youth. The 2014 Salus Cabernet Sauvignon has an elegant bouquet with a noticeable sweetness and ripeness of aroma. Also, subtle floral and herbal aromas. Supple across the palate, this wine shows plenty of fruit including flavors of blackberry and plum. Well integrated tannins complete a fairly soft finish. This bottling drinks extremely well by itself.
The 2005 Salus offers black fruit aromas including blackberry and black cherry. On the palate, the wine is supple with an intriguing velvet feel from start to finish. This wine is framed by good acidity and manageable tannins for early consumption. This vintage was 100% Cabernet Sauvignon.
Dark ruby color in the glass, the 2014 Staglin Cabernet Sauvignon shows a dark fruit component to the bouquet including blackberry and a sweet black licorice nuance. As the wine breathes, additional dessert spices are revealed including cinnamon and mocha. A juicy mouthwatering palate features mostly darker fruit flavors. This wine simultaneously has a softness yet also a richness; it is well layered with depth of flavor. Structurally, the tannins are noticeable but are well-integrated – they are not harsh. A fairly approachable wine in its youth from a vintage that generally showed well early on (as compared to the 2013s which tended to need more time in bottle). Offers a very long finish. Keep or drink now.
In contrast to the Salus bottling, the Staglin Cabernet Sauvignon is crafted to be a more robust wine which can be aged. The 2004 Staglin Cabernet Sauvignon shows notes of ripe black cherry with more of a subtle underlying note of cedar. Offers generous layers of flavor including plum, blueberries and subtle notes of pepper especially towards the finish. Good structure, good acidity and tasty fruit will ensure this wine will only age gracefully. There is a saying attributed to André Tchelistcheff about the influences of soils in Rutherford on wines from this sub appellation; the 'Rutherford dust' – and this wine shows a slight dusty nuance towards the finish.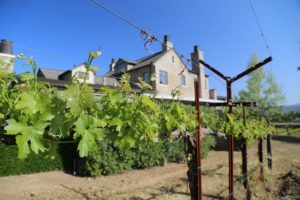 The Staglin Chardonnay is barrel fermented each year (stirred regularly as it sits on the lees), often in at least 50% new French oak and is not permitted to go through secondary fermentation. The 2017 Staglin Chardonnay is rich and well layered with aromas of orange, lemon and citrus blossom. There is a noticeable viscosity and a creamy feel across the palate which is almost a bit saline in its texture or briny. It is big but balanced with a very long finish; this is a memorable wine well worth seeking out for serious Chardonnay enthusiasts and collectors.
—
In 2007 Staglin purchased the historic Steckter House within their vineyards (built in 1864). It has been carefully restored and now serves as the primary hospitality center and tasting room. A tour and tasting is for serious wine enthusiasts and collectors and will include a quick overview of the vineyards, a visit to the cave and a sit down tasting in the Steckter House. The main dining rooms opens up onto a deck which faces east and overlooks down on their vineyards and parts of Rutherford and Oakville.
And film aficionados take note; Staglin has a direct connection to Hollywood; scenes from the 1998 version of The Parent Trap, starring a very young Lindsay Lohan were filmed at the Staglin's home located in the hills east of the winery.
Staglin has limited international distribution including to parts of Asia (Japan and Hong Kong). And we have also seen their wines at premium wine shops and restaurants in Bangkok, Thailand. For more information or to schedule an appointment, visit: www.staglinfamily.com
Estate

Cave