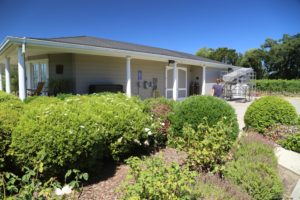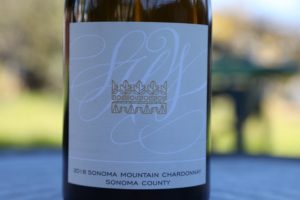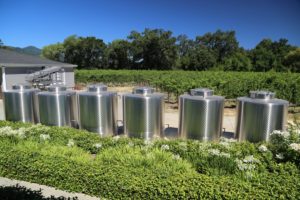 St Helena Winery is located a few minutes' drive north east of the town of St. Helena and is bordered by the Napa River and York Creek and is near the Silverado Trail. While the property is surrounded by other vineyards in a rural setting, the winery and grounds are actually within the city limits of St. Helena.
This winery was founded by Peter (who we originally met with) and Paulette Story, San Francisco Bay Area transplants. While never having a background in the wine business until moving to St. Helena Peter's unbridled passion for wine was at the fundamental core of his success. He purchased the property in 1994, began his career as a grower, selling grapes to several prominent well-known Napa wineries. In 1999 Peter joined a local home wine making organization. When experienced winemakers began to give him positive feedback Peter decided to start making wine commercially. Around this time, winemaker Mark Herold had begun making Merus Wines in his garage in Napa – wines that would ultimately become 'cult' favorites because of their style and favorable high ratings from prominent wine writers. With Mark's consulting help, St. Helena Winery's first commercial release was from 2000 – a single barrel of wine.
In 2010 Peter sold the winery and estate to Federated Insurance, a company founded in 1904 by farmers and farm-equipment dealers (based in Owatonna, Minnesota). Peter moved to Placer County where he founded Mount Saint Joseph Wines and operates the Vin Uva tasting room in the Granite Bay Village shopping center in Granite Bay (in the foothills east of Sacramento). What is more remarkable is another current Napa winery, Work Vineyard owns and operates a wine shop in this same shopping center complex (Lakeside Beverages).
Current winemaker Lindsey Wallingford handles both vineyard management duties and the wine making. Long time vineyard foreman, Javier Nino de Rivera stayed on during the transition in ownership and continues to oversee the vines along with his two twin sons. It is a small team here – even during harvest they do not have to hire interns as the vineyard team also provides support in the winery.
Long time and well-respected Napa winemaker Aaron Pott was already familiar with this vineyard through his work at Quintessa Winery. He joined the team and is now their consulting winemaker. He calls this vineyard a little Haut-Brion in tribute to Château Haut-Brion, a Premier Cru Classé chateau located in Bordeaux.
With the transition in ownership both the vineyard management and wine making has been elevated with an eye on creating premium hand-crafted wines. They are meticulous with how they manage their own estate vineyards seeking to control many different aspects throughout the year. One management item they have taken a much more detailed approach with is quantity of fruit allowed to fully ripen. They farm for low yields; a certain amount of fruit is cut from the vines prior to harvest – taking into consideration the balance of fruit to vine vigor.
The soils on the property do differ from one side to the other – there are three variations of Bale Loam on site including parts of the vineyard that are full of gravel (alluvial in nature). 13.5 acres are planted to vine out of 17 total acres on the property. Three clones of Cabernet Sauvignon are planted on site – See, 337 and 191 – with the See clone coming from the well-known Bakus Vineyard (Joseph Phelps). For many years the winery would ferment in T-Bins (one- or two-ton plastic fermenters). In 2013 they purchased a number of small stainless-steel tanks – which has given them additional control during the fermentation. The property is certified by Fish Friendly Farming.
In a good year the winery produces about 1600 cases – between their two Cabernet Sauvignon wines, a Chardonnay and a Petite Sirah (usually just a barrel is made from this variety for wine club members). The vineyards are planted to mostly Cabernet Sauvignon with small amounts of Malbec, Cabernet Franc and a single row of Petite Sirah.
Select wines
The 2018 St. Helena Winery Sonoma Mountain Chardonnay, Sonoma County Scopus Vineyard (grown at an elevation of about 700 feet) is medium to deep yellow in color (we tasted this wine 5 years post vintage date). The sweetly expressive bouquet offers an appealing union of both fruit and dessert spice aromas including ripe melon, apricot, yellow peach, creme Brulé, caramel, vanilla, warm butter, honeysuckle and honeycomb. The palate offers a creamy texture with intense flavors of melon, peach, Meyer lemon and a lingering note of subtle vanilla. This is a rich Chardonnay; however, it does not cross the line into a California overripe, buttery and oaky style. This wine was whole cluster pressed, fermentation conducted in French oak barrels using indigenous yeast and the wine was aged sur lie with regular stirring. And it went through full malolactic fermentation and was aged for 18 months in neutral French oak barrels. This is their nly non-estate wine.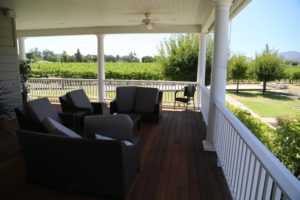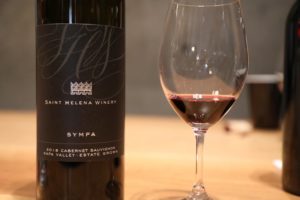 The 2014 Chardonnay was fermented in tank and underwent full malolactic fermentation. The bouquet shows notes of citrus blossom, mandarin with toasted oak nuances. Structurally, the palate displays a beautiful creaminess – a softness if you will. Stone fruit including peach along with lemon is complemented by a hazelnut nuance that lingers on the long finish.
The 2018 St. Helena Winery Sympa is a blend of 97% Cabernet Sauvignon and 3% Petit Verdot. This wine is dark ruby in color with purplish tinges on the rim in the glass and almost opaque; the bouquet is darkly fruited with some darker floral notes along with plum and some slight cedar nuances. As the wine breathes it reveals scents of blackberries. The darker notes on the bouquet transition to the palate with flavors of plum and blackberry. This is a robust but balanced bottling. The long-lasting slightly savory finish offers a noticeable tannic grip, is chewy and lingers with a slight dryness. A hint of chocolate is found deep in the finish.
The 2011 St. Helena Winery Estate Cabernet Sauvignon is an elegant wine and reveals a nice complexity of layered aromatics as the wine breathes. Perhaps a vintage characteristic is the reason for the initial aromatic blend of spice and white pepper mixed with jalapeno, along with aromas of cigar box, dried rose petal, and cedar box notes. This wine is extremely balanced on the palate showing more red fruit than darker fruit including plum, red cherry and raspberry with a pleasing lingering tartness and oak influence as sweetness of tannin. Good acidity. And most likely this wine will continue to age quite well. And because this was a challenging vintage with the weather, only 450 cases were produced compared to their normal production of around 800 cases.
The 2012 St. Helena Winery Sympa is dark purplish red in the glass showcasing darker fruit on the bouquet with aromas of mocha, toasted oak and cassis complementing the rich fruit aromatics. Ripe blackberry, a hint of smokiness and a sweet floral note meld together well. The weight of the wine is like velvet on the palate with well-integrated polished tannins.
During vintages of stand-out quality, sometimes a very small production wine called the Grand Reserve Cabernet Sauvignon will be produced based on barrel selections from the estate.
After tasting these red wines, the word seamless popped into mind. These are wines easily characterized by that descriptor; none of the bottlings we have tried over the years have any jagged edges or harsh components which stand out, rather they are harmonious in flavor and structure from start to finish.
—
Note the symbol on the label of all their wines – at first glance it may resemble a crown but upon a closer glance some of the minute details are revealed. The leaves on top represent Cabernet Sauvignon grape leaves which sit upon a stylized version of the historic bridge on Pratt Lane (located right next to the start of their driveway).
Their wines are sold mostly through a mailing list and visits are for active members of this list and serious wine enthusiasts looking to enjoy and purchase premium hand-crafted wines in a very personalized private setting. Weather permitting, tastings are outside on their back porch overlooking the lovely pool and property or inside the tastefully furnished home (the former residence of Peter and Paulette Story).
For more information about this small producer, to join one their two allocation member list levels (CRU or the Fab 4), or to schedule a tasting, visit their website, www.sthelenawinery.com
Former owner, Peter Story's Tasting Room – Vin Uva, Granite Bay CA