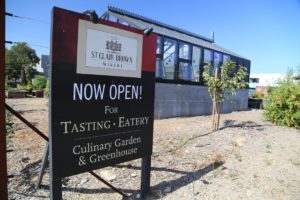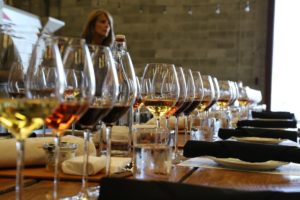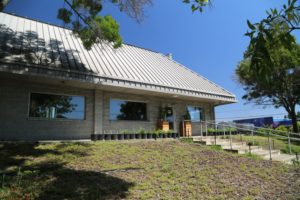 St Clair Brown Winery opened an urban winery and tasting room in the city of Napa in 2012. But with a twist. This little oasis is surrounded by various auto body shops and other industrial type businesses. We counted some 5 auto-body shops seen from their gardens. This is not your typical urban stand alone tasting room. Farm to table is a much practiced concept in the Napa Valley but is not always able to to be put into practice in an urban environment.
Despite being on the fringes of downtown Napa, the winery has plenty of space to work with – across the street are raised beds, a patio for tastings – and a former greenhouse for rainy day tastings. Wine tastings are paired with seasonal dishes – much of which is grown on site in these raised beds. Local gardener Peter Jacobsen, works with a number of premium restaurants in the valley, including managing the gardens for the French Laundry in Yountville. He was brought on to consult for their raised beds – helping decide what vegetables to plant seasonally as well as which fruit trees to grow on site.
During Spring and Summer (weather permitting), tastings are held outside in their small patio or on tables or benches strategically located among their vegetable beds. It is a nice feeling here – knowing you are in a somewhat industrial part of town, but this little cocoon of greenery offers you a respite from the surrounding urban environment. Often staff can show you what is ripe and point out a number of various fruit, citrus and vegetables.
The winery is a partnership between Elaine St. Clair and Laina Brown. Elaine has a long history making wine in the valley. She and her family immigrated to the United States from England when she was 12. Her father was an engineer with a job that required moving locations often. Eventually she moved to Davis to attend UC Davis. She was initially attracted to this school because of their strong Environmental programs and her own love of food – but as fate would have it, she ultimately became fascinated by wine and graduated with a degree in Fermentation Science.
Elaine has been making wine in Napa since 1986 – both sparkling and still wines. She spent a number of years working at two of Napa's best known "sparkling" houses – Domain Chandon and Domain Carneros. She developed the Pinot Noir program at Domain Carneros. Later she consulted for Black Stallion and became their winemaker. Over the years she has been awarded numerous medals and impressive ratings from both the Wine Enthusiast and the Wine Spectator for her wines.
Laina met Elaine at Domaine Carneros – both were also at Black Stallion (Laina was their founding president) and when Black Stallion Winery sold they decided to branch out and form this winery partnership – drawing from a combined many years of experience in the industry working for others. Often either Laina (or her son Cole) or Elaine will be on site helping serve customers in addition to several employees.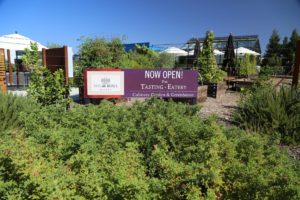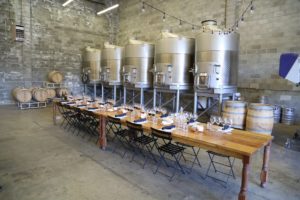 Half of their available production space is bonded for a winery and the other half for beer. Elaine is no stranger to making beer – she was the co-owner of Napa Ale Works for 10 years. With Napa known for wine worldwide – locally crafted beer is a fairly rare occurrence (we have never met someone who came to the Napa Valley solely for experiencing its beer)! For groups who visit to taste wine, invariably someone in the group prefers beer. They are currently sell and taste beer brewed on site (3 beers available on tap at any one time – with a selection that rotates weekly) and like their wine club, they also offer a beer club.
The brewery is small, they call it a 'nano-brewery' with only 2-barrels that can handle 60 gallons total each time. Each beer is bottled by hand in 750mL. Champagne bottles. And twice a year the brewery is open for the appointment only Beer Boot Camp, attendees learn how to brew beer with Elaine, enjoy a lunch and beer tastings throughout the day.
The food menu is creative – little petunia flowers indicate any items used from their own gardens. Other products are sourced locally – and are from vendors they know personally. To whet the appetite – we recently enjoyed a Duck Confit Salad, Chickpea-peanut and Meyer Lemon Hummus and finished with a delicious Strawberry and Shortbread desert. Wines can be ordered by any size you desire from 1/2 glass, to a glass, to 1/2 bottle, to bottle to case.
The winery sources grapes from a number of premium independently owned vineyards from Carneros to Calistoga. None of their productions for each wine are large – in fact no wine made here is over 200 cases. With her contacts over the years – Elaine has access to some of the valley's premium vineyards. Knowing the vineyard sources, the vineyard managers and their style and having worked with them for a number of years – gives her the confidence that the fruit she is working with is of the highest quality.
Elaine has always enjoyed the benefits that blending brings to the "bottle" and incorporates this philosophy into her wine program.
Their first vintage was a 2005 Syrah from Elaine's tiny 1-acre vineyard in Coombsville. She makes this wine each year (in a good year its production is about 200 cases).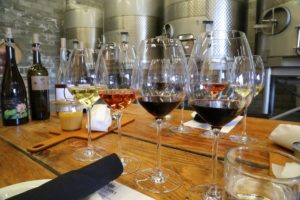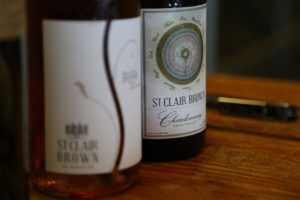 The 2007 Syrah has an intriguing complex nose – notes of green olive, black pepper and other dark spices initially show – over time as the wine breathes the fruit comes forward – sweet aromas of cherry as well as casis. On the palate, the wine is rich in flavor – yet balanced with mouth watering acidity and tannins that are rather fine grained.
The 2010 Zinfandel is sourced from Wooden Valley in Eastern Napa County. The nose shows a pleasing gravelly or dusty component – the wine is dark in the glass with some plum characteristics on the palate. The flavors hint of jam (blackberry, black currant) but the structure of the palate does not. The focus on this wine is the variety. The wine has a depth and richness of flavor often typical of Zinfandel but without being overly "ripe". They continue to produce Zinfandel every year, although not necessarily from this specific vineyard.
The 2010 Muscat is sourced from Calistoga. The bouquet is very floral – think spring time, honeysuckle, jasmine citrus blossoms. It is rich in flavor and sweetness on the palate but not overly viscous. It has a clean finish packed with plenty of flavor that lingers for some time. The residual sugar is 10% and the alcohol is 8.5%. This is a wine they produce every year.
Guests staying at the River Terrace Inn or the Westin Verasa hotel are within easy walking distance of the winery. Further, yet still well within walking distance, is the Oxbow Public Market and downtown Napa. The wine train is a close neighbor – it passes directly behind their outdoor garden.
Guests are a nice mix of long time locals as well as visitors to the valley. Can get busy Friday and Saturday late afternoons. Select days in the summer feature their Garden Music Series (local musicians perform on site – no charge for guests). When its cold out side but the sun is shining, the inside of the greenhouse with its limited seating is an ideal place to hang out for a while. When its warm outside, the inside of the greenhouse can be quite hot.
For more information or to join their wine club, visit: www.stclairbrownwinery.com
Greenhouse + Gardens

Brewery