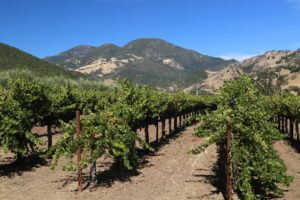 Spire Collection features the most premium wines bottled by Jackson Family Wines including from wineries all under their ownership; i.e. local, regional and international producers. The various Jackson Family Wines properties, wineries or brands are incredibly geographically diverse covering parts of five continents. As of our latest update to this review, their total count of wineries or brands is nearly 40 with the most being located in Sonoma County but also with a presence in Oregon and Washington. For reference, in addition to the Spire Collection property, their Napa Valley owned wineries or brands are the following: Cardinale, Freemark Abbey, Galerie, La Jota Vineyard Co, Lokoya and Mt. Brave.
This is an extremely rare tasting in Napa Valley featuring numerous non-Napa Valley produced wines including wines from their most premium properties around the world.
Guests of the Spire Collection taste wines at the Spire Collection Estate located near Calistoga in the far northern reaches of the Napa Valley. The long-established winery on the property is in a bucolic location completely surrounded by vineyards (just north of Tubbs Lane near Old Faithful Geyser). This winery was originally founded by long time Napa vintner Robert Pecota and is who we met with years ago when he owned this property. An imprint of his hands is still embedded in the concrete. He sold the winery and vineyards to Jackson Family Wines in 2006; it was then operated as Atalon Winery for several years. Other than a single small tank to keep the Atalon Winery bond active, this winery is no longer being used to produce Atalon's wines and all production has been moved to the wine making facilities at Cardinale Winery in Oakville.
Tastings at this private estate are conducted in an elegant room overlooking the vineyards planted on the property. The stunning backdrop of Mt. St. Helena is in the background (the tallest mountain in or near the Napa Valley at 4,341 feet). Weather permitting, during a tasting, a glass door can slide open; this creates a nice ambiance between the indoor space and the outdoors. An outdoor fire pit and Adirondack type chairs complete the setting.
As a result of its location this is one of the most northerly based Napa wineries. We always enjoy visiting this part of the valley as there are less people, less traffic, and the wineries are much more spread out. On some of the smaller roads north of Calistoga one has a greater chance of seeing bicycles rather than cars and along with Carneros in the south, this is a very bicycle friendly part of Napa Valley.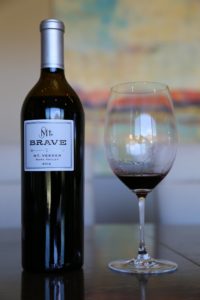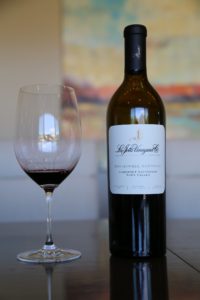 This estate is well under the radar of nearly all visitors to Napa Valley and perhaps it is purposely kept that way. Visits are for serious wine enthusiasts and collectors and are often initiated through word of mouth or referrals (rather than any advertising). With such a diversity of properties both domestically and internationally tastings can really be hand curated based on your interests in regions, types of wines or varieties. For example, one can enjoy a Napa and Sonoma focused Cabernet Sauvignon tasting or simply focus on Pinot Noir. Usually at least one wine from their international brands will be a part of a tasting.
Several of their Napa Valley grown and produced wines are a part of the Spire Collection and are available for tastings here. La Jota is a historical property that encompasses two vineyards on Howell Mountain – the La Jota Estate Vineyard and the W.S. Keyes Vineyard. Each of these vineyards were established separate from each other in the late 1800s and both produced award-winning wines in the Paris Exposition of 1900. The La Jota property features a beautiful stone winery built in 1898 (still being used for wine making).
Mt. Brave features wines from the Mt. Veeder appellation with vines growing on rugged steep hillsides. The name is in tribute to the Wappo Indians who lived in these mountains and later to the pioneering settlers of the region. Their vineyard is located on slopes ranging from 1,400 to 1,800 feet in elevation. This site was originally purchased in 1841.
And Captûre and Galerie are brands that incorporate parts of Napa in their wine making program (along with neighboring regions outside of Napa Valley). These wines are available in distribution at select restaurants but are primarily sold direct to consumer.
Well regarded winemaker Chris Carpenter makes the wine for both La Jota and Mt. Brave. Chris was originally a bar tender from Chicago and remarkably for many years found time to bar-tend most Friday evenings at the Rutherford Grill along highway 29 in Rutherford. Over the years, we sent a number of clients to the Rutherford Grill on Fridays just to say hi to Chris!
Select Wines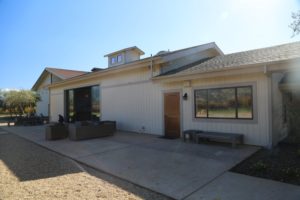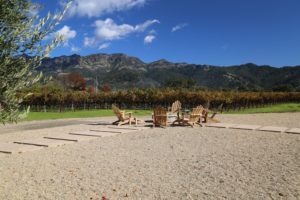 The 2008 La Jota Vineyard Cabernet Sauvignon is a beautiful wine. Shows blackberry, chocolate, an earthy quality and as it breathes a floral note is revealed (rose petals). There is a balance that probably has been helped by time in the bottle between a richness of flavor and power of structure. It offers lingering sweetness of fruit, long lasting tannins and very good acidity. This bottling is available at a reasonable price to quality ratio.
The 2012 La Jota Vineyard Merlot initially shows sweet dessert spice aromatics including notes of browned sugar and burnt toffee. Given time, beautiful fruit aromatics start showing including plum along with lesser aromas of toasted cedar plank. A tartness of fruit lingers along with a moderate grip of tannins on the finish. The vines that produce the grapes for this wine are over 40 years old.
The Mt. Brave Malbec from Mt. Veeder is usually 100% varietal but in 2012 it was blended with a kiss of Cabernet Sauvignon (2%). It is rare to find a 100% varietal Malbec in Napa Valley: much less from Mt. Veeder. We are aware of only one other producer making a 100% Malbec from Mt. Veeder (Godspeed Vineyards who has since sold his vineyard to Alpha Omega Winery). The 2012 Mt. Brave Malbec vintage shows a depth of aroma and flavor. The bouquet offers darker fruit including notes of blackberry and as it breathes it reveals a sweetness of both fruit and dessert spices. Texturally it feels soft but with great depth of flavor. Mouthwatering and juicy this wine has great acidity.
The 2013 Mt. Brave Cabernet Sauvignon combines several elements to make this a standout, showy and muscular wine. The variety and the hillside location certainly contribute to this but the vintage itself was a "powerful" one in the Napa Valley. This vintage shows dark ruby in the glass with a savory note on the bouquet including hints of dried sage. Predominately notes of blueberry show both aromatically and on the palate; this wine has great length in terms of both flavor and structure. It needs some time to be 'tamed' so to speak with some bottle age.
Several membership levels are available including their upper tier membership which gives members the opportunity to stay in the guest house on site.
Field Stone Vineyard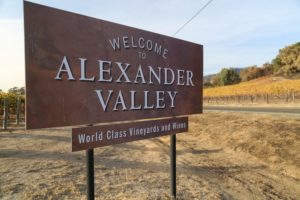 The Spire Collection is also available for tasting at Field Stone Vineyard (winery) in Alexander Valley just north of Healdsburg in neighboring Sonoma County.
This property is about a 20-minute drive from the Spire Collection in Calistoga in part through Knights Valley on beautiful California Highway 128. The Jackson Family acquired this property in 2016.
We first drove into Field Stone Winery immediately following the Kincade Fire in October 2019 (the largest fire in Sonoma County's history).
Unfortunately, the winery suffered major damage; we will keep a close eye on any re-construction and or any other developments and will re-visit the property and update this review accordingly by end of March 2023.
Jackson Family Wines
The remarkable success story of Jackson Family Wines began with Jess Jackson; San Francisco raised, he founded a law firm in the city in the 1950s focusing on real estate and land rights issues. Later, with his first wife Jane in 1974, he bought an old 80-acre pear and walnut orchard near Lakeport, Lake County. They converted this to Chardonnay and began selling the grapes to local wineries. Eventually the market for grapes softened and Jackson had more grapes than he could sell.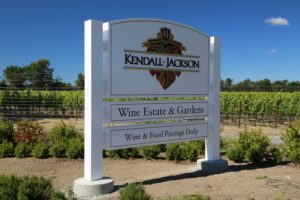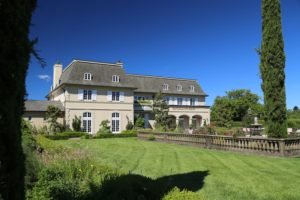 He decided to make Chardonnay – the fermentation on one of the lots ended up not fully completing leaving the resulting wine with a little bit of residual sugar. With the help of Napa Valley vintner, Ric Forman they created the first Chardonnay from a blend of multiple lots from various vineyard sources. The 1982 vintage was the first wine from Jackson Family Wines – called Vintner's Reserve Chardonnay. Priced reasonably, not to cheap and not too expensive, this was a premium made fruit-forward Chardonnay, soon made in large amounts with a flavor profile that appealed to many people.
With the popularity of the Chardonnay, Jackson began expanding to other parts of California and eventually outside of the state including international properties. The Kendall-Jackson Winery and tasting room is located in tiny Fulton, just north of Santa Rosa in Sonoma County. The company headquarters is located in Santa Rosa. Kendall was the maiden name of Jackson's first wife.
In 2003 Jess began involvement with professional horse racing including purchasing horses (some went on to stand-out careers) and establishing Stonestreet Farm (Stonestreet is Jackson's middle name); this horse farm and racing stables is based just outside of the small town of Versailles in Kentucky. This is prime 'horse' country' with numerous thoroughbred horse farms in the region. Stonestreet is also the name of their winery in Alexander Valley (not far from Field Stone Winery). And it should be no surprise that the horse stables are named after grape varieties.
In 2009 Jess was inducted into the Vintners Hall of Fame. He died in 2011; today his wife Barbara Banke oversees the growing company and its operations.
Stonestreet Farms, Kentucky

For more information about the wines represented under the Spire Collection, to arrange an appointment, to become a member or to join their mailing list, please visit: www.membershipbyspire.com