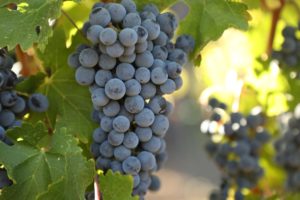 Spence Vineyards is located on Howell Mountain at about 1,900 feet in elevation; the closest small town is the nearby Angwin. This is a well-respected region for growing red varieties, primarily Cabernet Sauvignon but also Zinfandel. Howell Mountain in general is known for its shallow rocky soils, but the Spence Vineyards property features soils which are deep compared to some of their neighbors. While they have the depth of soil that others lack on the mountain, their vineyard is still full of rocks. As a result of their unique location with its excellent soil depth, vines are planted much closer together.
Due to its elevation and exposure, this hillside vineyard typically ripens up to a month later than the valley floor. This means increased hang time for the grapes which has its advantages in that the fruit is allowed to fully mature and develop a balanced tannin structure. However, the longer hang time also means the grapes are harvested later in the season and inclement weather can sometimes be a factor. The property is planted entirely to three different clones of Cabernet Sauvignon (7, 15, & 191). One of their immediate vineyard neighbors is the Beringer owned Steinhauer Ranch which provides grapes for both the Beringer Steinhauer Ranch single vineyard bottling and in their Private Reserve.
The founders of Spence Vineyards, Allen (born in St. Louis) & Jacalyn (originally from southern California) Spence purchased this property in 1996 as a place to live with no intention of growing grapes and starting a winery. The previous owner was growing a small block of Concord grapes near the home and was making grape juice each year for personal consumption. The Spence's introduction to winemaking is because of a winning bid they placed on a barrel of wine at a local elementary school auction. They never imagined theirs would be the winning bid. After they took possession of this barrel, they began making home-wine in their garage. Not only was this very educational but it inspired them to learn more about winemaking. They spent countless hours doing wine research and also enrolled themselves in a number of wine-making classes. And they learned from other respected winemakers on Howell Mountain including Randy Dunn, Bob Brakesman and Dennis Johns. The inaugural vintage of Spence Vineyards was their estate 2003 Cabernet Sauvignon.
Since their first estate releases, Spence Vineyards has diversified their wine portfolio and now produces wines from several other varieties from non estate grown vineyards. Three categories of wines are produced, the estate Cabernet Sauvignon, the Studio label (generally for club members) and their most premium bottling, Atelier.
Spence's longtime wine maker, Ted Osborne has worked in Napa Valley at several premium wineries including Storybook Mountain and Pina Cellars. Ted also has his own label and tasting room in Calistoga (Olabisi Cellars).
One day while working on his property, Allen spotted one of his neighbors and called him over casually mentioning that if he ever decided to sell, Allen would be interested in purchasing. Ultimately this neighbor took Allen up on his offer and the Spence's purchased this adjoining parcel of land. For many years all their grapes were processed at a winery in south Napa but after the acquisition of this neighboring property, they converted one of the buildings into a working winery. Physically this is one of the smaller wineries in Napa Valley and with space at a premium, is usually completely filled with wine barrels. But the convenience of conducting all the wine making on site is invaluable.
Incidentally, Allen is a cousin of Dave Spence, owner of one of Park City, Utah's most well-regarded restaurants, Riverhorse on Main having owned the iconic establishment since 2011. See our notes from our visit at the bottom of this review for more details. The following year, Dave ran for governor of Missouri. Spence Vineyards has also produced a private label wine for Riverhorse. Dave is a partner in Spence Vineyards.
Select Wines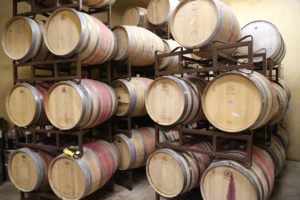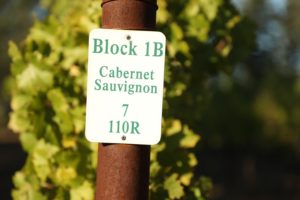 Studio
The 2022 Spence Vineyards Grenache Rosé is pale copper in color; the bouquet offers an attractive citrus and zesty aromas including of grapefruit and lemon/lime along with wild strawberry. There is also a flinty-like minerality present. Its texture across the palate is creamy which balances out the crisp and lively acidity. This wine offers a richness of flavor we don't always find in rose wines including of green apple, grapefruit, raspberry and gooseberry.
The 2022 Spence Vineyards Chardonnay is medium to gold in color; the bouquet offers a diversity of aromatics including stone fruited influences (nectarine, yellow peach and apricot), along with aromas of melon, papaya, mango and pineapple. As the wine evolves in the glass it offers a note of caramel. Its texture is creamy almost waxy-like and glides effortlessly across the palate. This is a rich but not an opulent showing with flavors of melon, pineapple, crème Brule and a light note of warm butter. It showcases plenty of California sunshine but also with a simultaneous restraint. An oaky, buttery bottling of this variety? No.
The 2019 Spence Vineyards Howell Mountain Zinfandel was sourced from one of their neighbors, Summit Lake Vineyards, the oldest active commercially producing winery on Howell Mountain. This bottling is medium to deep ruby in color; despite an alcohol over 15% the bouquet is clearly not a fruit forward, riper and jammy styled wine from this variety. The bouquet is savory and offers aromas of leather, old cedar box, strawberry, rhubarb, dried sage, cherry, and several other spice notes including white pepper, clove, pipe tobacco and as it breathes, a hint of mocha. One would not be incorrect in their description if they called its scents, earthy or with some forest floor/freshly tilled earth nuances. The palate is soft with a creamy texture featuring fine grained and rounded tannins. This wine features flavors of dark raspberry and blackberry and echoes some of the spice notes shown on the bouquet. The finish is rich and fruit-filled and persists for quite some time.
The 2019 Spence Vineyards Petit Verdot is 96% Petit Verdot and 4% Merlot. This wine is deep ruby and nearly opaque in color with an amaranthine rim. The bouquet offers aromas of violets, sage an darker fruits including plum and blackberry. As it breathes it reveals a subtle layer of mocha. The tannins are surprisingly approachable in their youth, certainly helped by the softening of the Merlot; even a low percentage can make a remarkable difference in this regard. The grainy tannins present and are densely packed but they display a rounded almost creamy texture. This wine reveals flavors of plum, cherry and blackberry. The finish lingers with a light but persistent dusty/earthy note. Allen recommends this wine be paired with a juicy ribeye (butter-basted) cooked in a cast iron skillet.
Estate Cabernet Sauvignon
The 2016 Spence Vineyards Howell Mountain Cabernet Sauvignon is deep ruby and nearly opaque; this wine offers aromas of sweet tobacco spice, and blackberry. The palate offers flavors of bramble, blackberry, plum and dark raspberry. The several vintages of their estate Cabernet Sauvignon we have tried have always shown a slight savory component on the palate and this wine is no different in that regard. The long-lasting, grainy, firm and lightly-drying tannins eventually outpace the fruit on the finish.
The 2015 Spence Vineyards Howell Mountain Cabernet Sauvignon is deep ruby in color; the nose is darkly fruited with aromas of blackberry, plum along with tobacco spice and a note of old parchment paper. We sampled this wine 8 years post vintage from a 375ml bottling – it has aged extremely well with still more life ahead of it. The finish is bright and lively with a light red-fruited tartness which lasts for some time. The tannins are evenly distributed across the palate, and are persistent and grainy/gravelly textured.
The years 2012 and 2011 are good examples of how vintage variation results in differences in wine despite being from the same vineyard. The 2012 Spence Vineyards Howell Mountain Cabernet Sauvignon in contrast to the 2011, shows brighter fruit driven aromatics, a sweetness of cherry and plum that continues onto the palate. As the wine opens in the glass it reveals subtle notes of vanilla, further adding to the sweet aromatics. The palate is well layered with surprisingly well integrated softer tannins.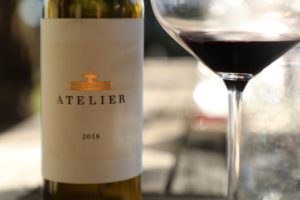 2011 was a challenging year in Napa Valley with rains into June and early rains coming in September. Their site is a perfect example of how certain parts of the Napa Valley produced some really nice wines even during this difficult wine growing year. This is especially true for parts of the eastern hillsides in Napa Valley including Pritchard Hill and Howell Mountain. In addition, their property is somewhat unique in that they often receive strong afternoon breezes based on the geography of their vineyard site; even nearby neighbors do not receive the sustained breezes which blow through the Spence Vineyard.
The 2011 Spence Vineyards Howell Mountain Cabernet Sauvignon is deep ruby in color in the glass with darker fruit aromas including blackberry tinged with cocoa powder. The wine is very balanced with dusty well integrated tannins and an earthy finish. Nice depth of flavor. Very well made and very age-worthy to.
The 2004 Spence Vineyards Howell Mountain Cabernet Sauvignon is a complete contrast to the 2003 vintage; this is the beauty of wine making where despite using the same grapes, the wine can be so different from year to year. The 2004 is much fruitier both in the nose and on the palate with hints of raspberry and blueberries. It is also not as tannic as the 2003.
The 2003 Spence Vineyards Howell Mountain Cabernet Sauvignon is their first commercial vintage. This was an excellent vintage on Howell Mountain and in Napa Valley in particular with a wet and cool spring which limited yields (small crop) but with an extended growing season into autumn. This particular wine features an attractive bouquet; it shows aromas of old leather, tobacco smoke, is earthy and delivers a complexity of fruit on the palate. The finish is long with well-managed integrated tannins which contribute to a seamless finish.
Atelier
The Atelier Reserve is a very limited production wine based on a barrel selection each year of the best 2 or 3 barrels from their estate Cabernet Sauvignon. Atelier is French for workshop or studio; incidentally Jacalyn maintains a small painting studio on their property. The 2018 Spence Family Vineyards Atelier Reserve is deep ruby in color; the focus on the bouquet is on darker fruits with the oak a complementary character. We found the oak made its presence felt more on the palate than the aromas. This wine offers scents of plum and blackberry which are also echoed as flavors. This wine has depth and complexity with plenty of layers both in flavor and terms of texture. The chewy tannins are broadly distributed and long lasting, lingering with a note of toasted oak. This wine is clearly built to age.
Riverhorse on Main, Park City UT
The busy season at Riverhorse on Main is during the winter skiing season and also in summer. Reservations are required for table seating while the bar seating is available on a first come first serve basis. We will make a visit to Riverhorse on Main by early October 2023 with resulting notes and photographs to follow soon after.
For more information, to purchase wine and to join their mailing list, visit: www.spencevineyards.com