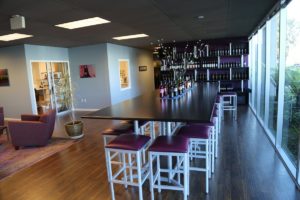 Spelletich Family Wine Company was founded in 1994 and is truly a 100% family run winery. Their motto is: "Food, Family & Friends". Their first vintage included three wines: a Chardonnay, the BoDog Red and a Cabernet Sauvignon. Tragically they lost their entire 1997 vintage and most of their 1998 and 1999 wines in a warehouse fire in 2000 at what is now Frank Family winery. Husband wife team (Barbara and Timothy Spelletich) and their daughter Kristen (who we originally met with) are responsible for all aspects of the wine making, marketing, sales and direction of the winery. Barbara is the winemaker and has been since their founding in 1994. As the Spelletich's say, "their secret weapon is Barbara's Palate"!
The name Spelletich dates back to the former Yugoslavia and may have originated from the Polish verb, 'spelnic' which means to fulfill something or to complete a task.
Early in her career, Barbara spent significant time in France & other European wine making countries tasting some of their most desirable wines and learning winemaking techniques. At one point in her career, she was a negociant selling wines for select premium wineries in France, Italy and Spain. And through her work in Europe, she was introduced to a number of not often seen grape varieties including Marselan. She has considerable experience working in the USA for select distributors – and later founded her own distributorship, Zephyr Imports, in Seattle (which imported wines from Europe to the U.S. market including varieties like Marselan. Barbara first came to Napa Valley in 1992 and worked at what was St. Clement Vineyards (now Faust Winery).
Prior to co-founding Spelletich with Barbara, Tim enjoyed a long career in the culinary world. After graduating from the University of Massachusetts in Amherst he moved to Italy where he worked at a small inn & restaurant (formerly a monastery). After his time in Italy, he returned to the U.S. and worked for the Pierre Hotel in New York and the Four Seasons in Philadelphia. He first came to Napa Valley in 1993 and worked for a short time as manager and wine buyer at the former Tra Vigne Restaurant.
The focus of Barbara's winemaking is to create wines that are unique to the actual varieties i.e., producing wines that really highlight the fruit flavors as well as the fruit aromas. She does this in a variety of ways; picking the fruit when its ripe, pressing the fruit at the appropriate time and not letting the oak dominate the wine. She also is a wine making pioneer in one sense by not allowing some of their red wines to go through the normal secondary fermentation (malolactic fermentation).
Select Wines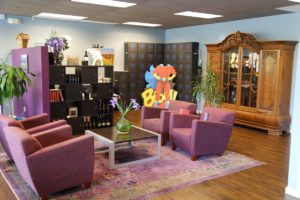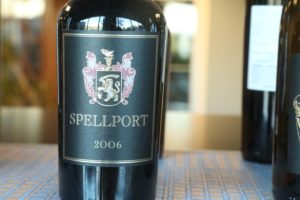 Spelletich sources grapes from Napa Valley as well as several other wine producing counties within California and produces Chardonnay, Zinfandel (from Amador county – Sierra Nevada foothills), Syrah, Cabernet Sauvignon and their popular Bodog Red. Bodog Spelletich was Tim's great, great grandfather (originally from the village of Subotica, in present day northern Serbia, a short drive from the Hungarian border), a Hungarian freedom fighter who fought for the independence of Hungary and eventually ended up living in the United States with family settling in the former Hickory Grove community near Davenport, Iowa (Quad-City, where Tim was born and raised along with 8 other siblings). We attempted to visit this village, but it was at a time that Europe was still mostly shut down and due to crossing border issues, we were unsuccessful. Bodog Red is a proprietary wine blended with Cabernet Sauvignon, Zinfandel, Merlot and Syrah. Seeing the Hungarian history in relation to this wine, it is only fitting that part of the aging program incorporates Hungarian oak. The 2003 Spelletich Bodog offers layers of fruit flavors along with a meaty nuance including blackberries and blueberries. The palate also shows some spices including clove and pleasant nuances of pepper towards the finish.
Due to the number of custom crush clients who make wine here and their various vineyard sources, sometimes Spelletich is offered access to grapes from one of their clients. Case in point was in 2017 a Fiano from Santa Clara Valley. This Italian variety is most common in southern Italy and on the island of Sicily; it is noted for its low yields. This wine is pale to medium yellow in color; offers aromas of pitch on a pine tree, pine needles, the semi-dry husk of an English walnut and light citrus blossom. Also, perhaps a subtle note of petrol – it will be interesting to see if this aroma develops further for the coming years. The texture is supple but balanced with a brightness of fruit. Quickly noticeable on the palate are flavors of toasted hazelnut or what we use to eat and call as filberts and a lingering note of mandarin. Refreshing and easy to drink.
The Spelletich Cellars 2013 Reserve Napa Valley Chardonnay (tasted 8 years post vintage date) is deep gold in color; offers aromas of honeycomb, baked apple, yellow pineapple, toasted marshmallow, crème Brule, brown sugar and vanilla. Age has endowed the bouquet with additional layers that certainly were not there in its early years. Shows a creamy, almost saline texture across the palate. Offers flavors of mandarin, pineapple, margarine and lingers with a bright (but not tart) lemon lime note. The rich and lively fruit is still very much present. This wine was barrel fermented and aged in both French and Hungarian oak.
The 2006 Spelletich Cellars Zinfandel Spellport was sourced from vineyards in Amador County. This wine was aged for 10 years in both French and Hungarian oak. Its color is medium garnet in the glass; offers powerful aromas of ripe dark cherry, mulled spices including clove and cardamom, brown sugar, and toasted cedar. The palate is light in texture (with a very slight creaminess) but rich in flavor and sugar. The lift of the acidity and brightness of the fruit complements and balances out the residual sugar. Offers flavors of blackberry pie, dark cherry and ripe mulberry. Deep into the finish, reveals hints of dried tobacco leaf. This is not a syrupy, jammy or viscous wine. Refreshing. Bottled as 500ml.
—
After 20 years of making wine at other people's wineries, they currently operate their own winery and tasting room in the Crusher District, a business park located in the southern part of the city of Napa (less than a 10-minute drive from downtown Napa), home to a number of tiny and tucked away wineries. Spelletich used to produce their wines on Vallejo Street, just north of downtown Napa, in a building that used to house Vinoce Cellars. It was at this location where we first met Barbara and Kristen. The name of this district is from the Crusher statue located on a prominent hillside location next to Highway 12 just south of the city of Napa above the Meritage Spa cave. Spelletich was one of the founding winery members of the Crusher District.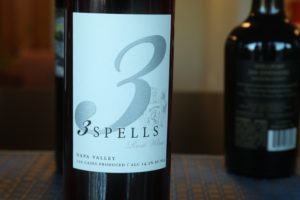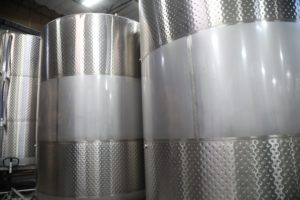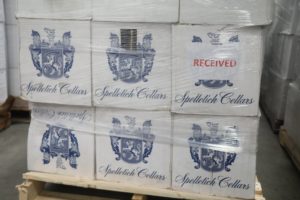 Their tasting salon is in the front of the winery, a lab adjoins and the sizable winery facility is located directly behind the tasting salon. Tastings are hosted on a long dark colored table directly next to the entrance. Three items are noteworthy about a tasting; Spelletich Cellars produces some of the most affordable priced wines in Napa Valley, the majority of the wines presented in tastings are from 7-10 years old, and due to the variety of vineyard sources, this is a unique opportunity to taste wines from various locations within California. Visitors are also given a short but very educational tour of the inner workings of their winery.
Not only do they make their own wines here (the production facility is 16,000 square feet), but they also rent out space to other small producers. In honor of the year they were founded, the family calls their winery and related services, Crush 94. This is a full-service custom crush facility from winemaking to bottling. In addition to producing still wines they also have services to produce sparkling wines including automated riddling machines. There is plenty of parking on site.
The focus of their production is on several brands: Spelletich Cellars (reserve, Napa Valley only produced wines), SPELLwine (their most produced wine from sources throughout California) and 3 SPELLS (focusing on vineyard sources primarily from Napa and Sonoma County). The family chose the number 3 to represent three generations at Spelletich. The Spelletich family crest is depicted on the label of some of their bottlings. Total annual production is around 3,000 cases annually. For more information, to make an appointment (guests are often hosted by one of the Spelletichs) and or to join their mailing list or wine club, visit: www.spellwine.com