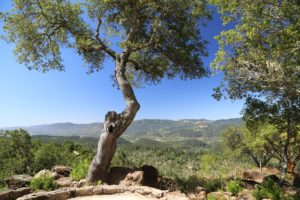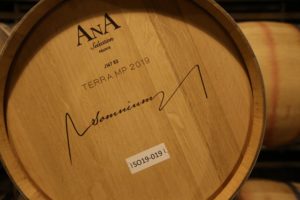 Somnium Wine was founded by long time race-car driver and wine enthusiast Danica Patrick. Her career has in part been about breaking racing barriers for women. Her win in the 2008 Indy Japan 300 is still the only win by a woman in an IndyCar Series. Her final races were the Daytona 500 in February 2018 and the Indy 500 in May 2018. Since retiring from racing, she is now a sports analyst and commentator.
She visited Napa Valley in 2006 and was impressed by her winery experiences and related hospitality and also by the premium wines she tried. One of her visits was to Quintessa where winemaker at the time, Aaron Pott stopped by to introduce himself. He ended up walking Danica and her friends to the back of the property where one is always greeted with bucolic views overlooking their vineyards and picturesque pond. They started discussing race cars (a topic that Aaron is well-versed in) and then the conversation invariably led back to wine. Aaron offered his expertise should Danica every decide she wanted to own a slice of Napa Valley.
Like the world of wine, one must presume the world of racing is a fairly tight knit community. Danica also had another connection in Napa Valley; Rico Abreu (vineyard manager David Abreu's son) is a professional stock car racing driver who has already enjoyed some success in a short career to date. When Danica was ready to begin another chapter in her life, she called Aaron and instructed him she wanted to purchase "an A ++ site" in the valley. With Aaron and David Abreu's help they located a rugged and extremely rocky western facing site on slopes just below Howell Mountain. The site had never been developed for vineyards. Danica first saw the property in 2008 and purchased it in 2009.
While the uppermost elevation of the site is around 1375 feet (only a few feet below the Howell Mountain sub appellation) the views from this hillside perch on a clear day are as spectacular and even more intimate as any on the higher western facing slopes of Howell Mountain. This property is within the proposed Crystal Springs Appellation which if approved would be Napa Valley's 17th sub appellation and first since Coombsville was approved in December 2011. Status pending as of 2023.
The site is 24 acres of which only 6 acres are planted to vine, separated into 6 unique blocks. The initial vines were planted between 2011 and 2016. This was not an easy site to develop and several years were dedicated to preparing the slopes to be planted including removing some 50 tons of rock; a number of impressive rock piles surrounding parts of the vineyard are testament to their efforts. Much of the rock was even ground up and redistributed within the vineyard. The majority of the vineyard is planted to Cabernet Sauvignon but small blocks of Cabernet Franc and Petite Verdot are also grown on site.
The vineyard is farmed organically and was certified CCOF in 2019. Unfortunately, two of the lower blocks (5 and 6) which were planted to Cabernet Sauvignon, sustained significant damage in late 2020 from the Glass Fire. These blocks have since been replanted to Cabernet Franc.
Farming is challenging due to the rocky environment and at times steep slopes as well as the logistics of accessing each of the separate blocks (none are contiguous). As expected in such a rocky environment, the yields are somewhat small – usually around 2.5 tons/acre. Pina Vineyard Management planted the vineyard and has overseen the vines since their inception. The vineyard has been farmed organically since the first vines were planted; in 2019 they received their CCOF organic certification (typically a three-year process).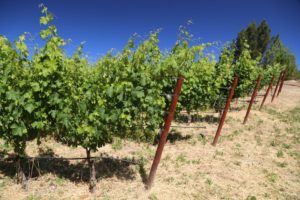 The first wine made for Danica by Aaron was in 2010 from purchased fruit from the acclaimed Stagecoach Vineyard. Only a barrel of this wine was made, primarily for friends and family and for gifts in the racing world. The first wine from the property was from the 2013 vintage – only a barrel was produced and never released. The first official release was the 2014 vintage. Aaron made all Somnium's wines through the 2019 vintage. Winemaker Julien Fayard finished the 2019 vintage; his first full vintage was in 2020. Danica is involved in all the final blend decisions prior to bottling.
After leaving her prior position at Terra Valentine Winery, Napa Valley native and now General Manager Tracy Smith was planning on moving to Oregon. However, her neighbor is Aaron Pott and after he heard that Tracy was planning on moving out of state and was in between jobs – he approached her about possibly working with Somnium. She joined the team in 2016 and never left the valley.
The label is creatively designed. Somnium in Latin means "to dream"; this is one of Danica's key philosophies in life. She followed her dream and encourages others do the same. The red dot above the 'i' in Somnium refers to a sense of place – being somewhere and enjoying that particular moment and location. And the catchy curvy line refers to the pathway that one follows in life; this path never follows a straight line as life is about twists and turns and unexpected events. Or one could look at the line as a racetrack or even representing the windy road leading to the vineyard site.
Select Wines
Every year Somnium produces a rosé from primarily estate fruit although the blend and varieties change each year. Their first bottling of this wine was in 2017. The 2021 Somnium Napa Valley Rosé is made from estate grown Cabernet Sauvignon and Cabernet Franc with a very small percentage of Grenache from the Sierra foothills. This wine is salmon in color; the attractive aromatics offer notes of raspberry, a hint of citrus blossom, rose petals, a light fruit tinged sweetness and a kiss of vanilla. The bouquet shows some minerality notes as well. The palate offers some weight but with a balancing freshness of both fruit and acidity. It reveals flavors of raspberry, strawberries and red apple, a light melon note and some citrus. This wine finishes flavorful with plenty of accompanying brightness.
Grapes for the first Somnium Sauvignon Blanc (2017) were sourced from a premium vineyard in Knights Valley (slightly to the north of Napa Valley). This vintage was aged in amphora clay vessels made in Italy. Their Sauvignon Blanc grapes are now sourced from the McGah Vineyard in Rutherford. Danica is very particular about her preferred style of both Chardonnay and Sauvignon Blanc, preferring a Sauvignon Blanc that shows more like a Chardonnay and a Chardonnay that shows more crisp and minerally driven, like a cooler climate grown Sauvignon Blanc.
When deciding to produce Sauvignon Blanc from Napa Valley the team met at ACME Wines in St. Helena and tasted through a variety of Sauvignon Blanc bottlings including wines that were stylistically different from each other. And then they tried several more bottlings from clients that their winemaker Fayard makes wine for.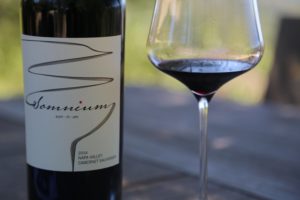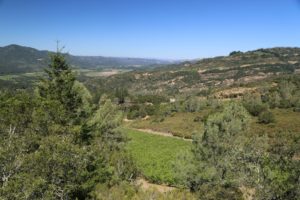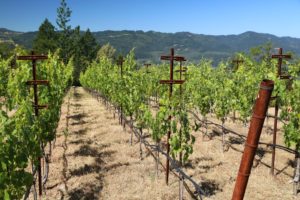 The 2020 Somnium Rutherford Sauvignon Blanc was fermented very cold in 100% new French oak barrels and was also aged in barrel for 16 months. This wine is medium golden in the glass; the aromatics are generous and diverse. It opens to notes of honeysuckle, honeycomb, pineapple, butterscotch and a subtle hint of toasted oak which dissipates as the wine fully evolves in the glass. There is plenty of sweetly fruited stone fruit scents here including peaches and apricot. The palate is rounded with a light creamy texture and offers flavors of pineapple, apricot, pear and some toasted oak. It lingers with a richness of fruit and acidity. It would be interesting to blind taste this wine with various wine writers and or winemakers to see what their feedback would be.
The 2019 Somnium Napa Valley Cabernet Sauvignon is 75% Cabernet Sauvignon, 13% Merlot, 10% Cabernet Franc and 1% Petit Verdot. It is bottled in a red label, red being Danica's favorite color. This wine is deep ruby in the glass; the bouquet offers aromas of both red and darker fruits along with dried tobacco leaf and toasted oak. As it opens, it shows additional scents of espresso, clove, darker spices and some chocolate. Both the bouquet and the palate show some savory overtones; this bottling offers flavors of red cherry, red licorice and red plum. It lingers with persistent but rounded chalky textured tannins along with a note of dried peppercorn. This is a softer showing than the estate bottling. It was aged 22 months in 80% new French oak and 20% in once-used barrels.
The Estate Cabernet Sauvignon is created by a barrel selection each year and is usually sourced from two of the best sections of the estate including Block 4 on the uppermost part of the property and also from the bottom of Block 2. The 2019 Somnium Estate Napa Valley Cabernet Sauvignon is deep ruby and opaque in the glass; the aromatics are dark and layered including both fruit and secondary scents. It offers notes of blackberry, old cedar box, chocolate, mocha, tobacco smoke and a note of clove. Give it time to open, the darker fruits will become more expressive. The palate is equally as dark with flavors of blackberry and dark currant along with some supporting savory characteristics including old cedar wood and crushed peppercorn. This is a very texturally driven bottling; the drying tannins feel dense, are well-layered and persistent on the long lasting finish. For Napa Valley premium mountain grown and crafted red wines, collectors should take note of this particular bottling. This wine was aged 22 months in 100% new French oak barrels.
The 2014 Somnium Cabernet Sauvignon is dark ruby in the glass and almost purplish in color. The bouquet shows an elegant ripeness featuring mostly darker fruit, black fig, blackberry and wet stone. As it breathes, hints of cedar box, baking spices and mocha show. The aromas are very pretty. A noticeable density of fruit frames the mid palate leading to an appealing texture anchoring the finish. While showing rich fruit, the wine is very well balanced which is always an Aaron Pott trademark. Textured but fine-grained tannins linger softly along with fruit completing a satisfying and supple finish. It drinks beautifully in its youth.
In addition to her Napa Valley wines, Danica has partnered with the Les Vins Margnat family in Provence, France to produce the Danica rosé. This family's wine business heritage dates back to the 1890s. The visual presentation of the Danica rosé is highly attractive matching the quality and pedigree behind the wine. And like Danica the Margnat family has been involved in racing having sponsored their own cycling team in the Tour de France during the years 1958-1965.
And in 2021 Somnium produced their first estate Cabernet Franc.
Calistoga Tasting Salon
In late winter 2023 Somnium opened a tasting space in downtown Calistoga, previously occupied by Maldonado Family Vineyards (who vacated this space to a business park located south of the city of Napa). And prior to Maldonado's occupancy, this space was a clothing store called Three Sisters. And from the late 1960s until at least the early 1980s the space was home to La Boutique a dress and clothing shop.
All visits are by reservation and as of our latest update to this review, include one of two private tasting options: the Taste of Somnium including current release wines and the Vertical Estate Cabernet Tasting, showcasing several vintages. A dedicated tasting space is used for private tastings, hosted over a beautiful table created through a combination of epoxy/resin and real wood. A separate room functions more as lounge.
Parking is either in an adjoining side open air small parking lot or curbside on Lincoln Avenue. The interior of the tasting room was designed by Vonsaal Design with input by Danica and included several pieces of art, mineral specimens and crystals including a sizable piece of amethyst and a gorgeous citrine (success stone). Danica personally chose these items.
One of the most intriguing pieces of art is Fortitude, a part of a trunk of an old oak tree that grew on their estate property until it was killed by the Glass Fire in 2020. The remains of the tree sat on the property until this trunk was was removed and converted into a piece of art, by California born artist Jonah Ward. His works often portray fire and heat; for this piece he melted 5,000 pieces of glass creating thin strands representing grape tendrils, which were then placed inside the trunk. The first photograph at the top of this review is of the tree when it was living.
As part of Danica's health-conscious and spiritual lifestyle, she also owns a product line of various scented candles called Voyant by Danica. Each candle is contained within a stemless wine glass to be used once the candle has fully been burned. And these candles are available for purchase online or at the salon.
Somnium wines are primarily available via an allocation list. A small percentage of the wines are in limited distribution including in Arizona and Florida; Danica also occasionally participates in wine dinners, usually coordinated with varioyus speaking engagements. Somnium does hold back wines each year for their wine library.
A permit has been issued to drill a cave on their vineyard property; eventually they may do so and move their wine making on site. Total production of all their wines is around 1,200 cases per year. For more information, to schedule a tasting and to join their mailing list, visit: www.somniumwine.com