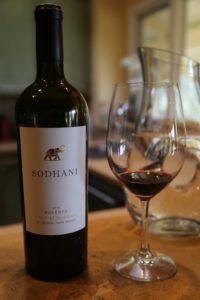 Sodhani Vineyards is a 6 acre hillside vineyard located just north of the town of St. Helena; this property is owned by Arvind Sodhani and his wife Beverly. Arvind has enjoyed wine for many years – recalling he first became interested in wine while studying at college in London. He has since become a collector focusing on Bordeaux and Burgundy. And when the former custom crush powerhouse Crushpad was sourcing grapes for numerous clients – Arvind had three vintages made from To Kalon in Oakville, one of Napa's most highly prized vineyards.
Beverly was introduced to wine through Arvind and has become passionate about their vineyard, their own wines and the world of wine (a passion that has carried over into the names of their two dogs, Bordeaux and Burgundy!).
They purchased this 11-acre property in the summer of 2013 after searching for some time; it also has special significance as they were married on site. They prefer hillside properties in Napa with even more specific requirements; land that is located on western slopes with vineyards that face east. As a result of exposure and location, their property receives less sunlight then land at the same elevation on the opposite side of the valley (the sharply rising hills to the immediate west of their vineyard and the surrounding forest and tall trees help ensure this). This all factors into the acid development of the grapes – their vineyard is in shade sooner and therefore begins cooling earlier then vineyards on more exposed western facing hillsides.
The vineyard is well established with the current vines having been planted in 2000. We first visited this property many years ago with former owners and as a result, were already somewhat familiar with the vineyard and it's layout. At that time it was also planted to a few rows of Merlot. This has been since budded over to Cabernet Sauvignon; there are currently three clones of Cabernet Sauvignon planted on site; clone 7, 15, and 337. To date, all three clones have been used in all of their wines.
The vineyard is farmed by hand – although they do appreciate the benefits of using an optical sorter once the grapes arrive at the winery. While the vineyard is fairly compact they tend to harvest up to four times each year; this is based on clones and location within the vineyard – some of the grapes ripen earlier then others. Their picking crews harvest late at night – usually starting at 2am – ensuring the grapes are still cold when they come into the winery for their cold soak, pre-fermentation.
The entire property is 11 acres – they have secured the necessary permits to build a cave and eventually hope to make wine wine on site.
Grapes from this vineyard were going to Harlan Estate but the Sodhani's wanted to use some of the fruit for their own wine and no longer sell to Harlan Estate.
This is prime St. Helena terroir – nearby neighbors include a Colgin owned vineyard and Vineyard 29. Both Arvind and Beverly have been blessed to have met a number of vintners in Napa over the years including several who have been extremely generous with sharing their own knowledge. Dr. Revana (another one of Napa's select Indian (India) owned wineries has been particularly helpful.
Arvind and Beverly interviewed some of Napa's most highly sought after winemakers; ultimately they settled on hiring Thomas Brown based on his interest in preserving the terroir of their particular vineyard and a having palate similar to Arvinds. He has made each vintage since their 2013 inaugural release.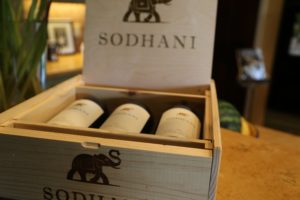 The 2014 Sodhani Estate is 90% Cabernet Sauvignon and 10% Merlot. This wine shows bright fruit aromatics including blackberry and raspberry along with notes of tobacco spice. The wine is exceptionally approachable at such a young age. Somewhat dusty fine-grained tannins anchor a pleasing and smooth finish. Drinks very well young.
The 2013 Sodhani Cabernet Sauvignon shows aromas of blackberry, spicy plum (with some notes of pepper) along with more subtle aromas of toasted cedar. As it opens it reveals a hint of browned sugar aroma. Fairly approachable on the palate it delivers an intensity of flavor. Dark plum, somewhat spicy. Dusty very well integrated slightly chewy tannins linger.
Their Reserve wine is a barrel selection – choosing a select number of what they determine to be the best barrels of wine from each vintage. The 2014 Sodhani Reserve initially shows subtle notes of dry gravel on the bouquet – as it opens notes of dark fruit show including plum and blackberry. There is an elegant yet savory component to the bouquet. This wine is noticeably dark – inky black dark purple in color (visually perhaps could almost be mistaken for a Petite Sirah).
A density of fruit and structure show on the palate – with concentrated but not course long lasting tannins. Somewhat chewy mid palate. Lingering notes of blackberry and espresso.
The elephant on the label with it's upright trunk represents good fortune and good luck. It is also a nod to Arvind's heritage. And if one looks very closely you can see the elephant is holding a small bunch of grapes in it's trunk.
They are selectively distributed in Napa including at Solage in Calistoga, Brasswood Restaurant and ACME wine shop, both in St. Helena. And at two extremely fine establishments in the San Francisco Bay Area; the Plumed Horse in Saratoga (with it's fantastic wine list) and the three Michelin-starred Saison in San Francisco. Or you can purchase direct by becoming a member of the Sodhani Wine Society – more information here: www.sodhanivineyards.com
Note: several photos above provided by Beverly Sodhani
We are blown away with our 2018 vintage! Very drinkable now and has such a luxurious finish but you will have to wait until late 2021 for the release. Our wine enjoys resting in our cellars for 18 months before it safely arrives in your cellar. Thank you to the Outpost team for a fabulous job in bottling our Reserve and Estate wines! Until we build our winery, Thomas Rivers Brown is passionately crafting our wine at Outpost and his team is amazing!

Posted by Sodhani Vineyards on Monday, June 22, 2020