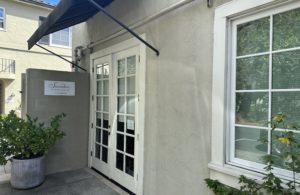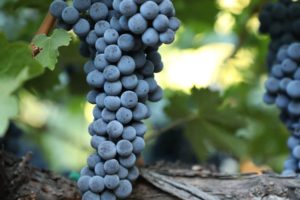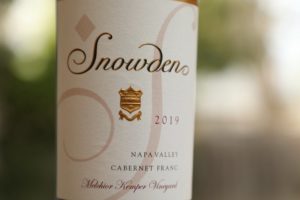 Snowden Vineyards is run by multiple members of the Snowden family; they have owned their property since 1954 (160 acres). Their vineyards are located east of the Silverado Trail not far from Joseph Phelps Winery and near Auberge du Soleil in an area known as Spring Valley. The vineyard was originally purchased by Wayne Snowden and his wife Virginia. Wayne was born in Alameda, was a World War II veteran and later a research engineer in Traffic and Transportation Engineering at the University of California, Berkeley.
Their property was originally settled by a gold miner, Levi Philander Davis who came to California to pursue a dream of getting rich in the gold fields (certainly not the first Napa Valley wine family with prior gold mining pursuits). He and his wife moved to Napa Valley in 1878 taking full advantage of the Homestead Act, allowing the settlement of previously non settled areas with the caveat that the land be used for farming. An article dated July 23, 1880, in The St. Helena Star indicated Davis had already cleared 75 acres of which 3 acres were planted to grapevines, planted an orchard, built a house and had a barn that was 40×60 feet. Records show that eventually he planted the property to 60 acres of wine grapes including Zinfandel, Malvoisie and Chasselas. Levi passed in 1881 of pneumonia at only 45 years of age.
Prior to the Snowden's ownership, the property was known as the Eisan Ranch or Ward Eisan Ranch. The Eisan's settled in Napa Valley pre-1900; grape growing continued during their ownership. We spotted a wanted ad in the St. Helena Star from 1937 advertising a need for grape pickers on the ranch. In the mid 1940s the Eisan's often placed 'warning' ads in the St. Helena Star informing potential trespassers and illegal hunters, that if they were caught on the ranch, they would be arrested and fully prosecuted.
By 1955, much of the property had reverted back to its natural state and only a percentage of the wine grapes were still being managed. Wayne initially planted conifers; a December 22, 1955, St. Helena Star article references his early efforts and by 1962, an article in the Napa Register about Christmas Tree farming in Napa Valley mentioned his young trees.
He planted Cabernet Sauvignon in the early 1960s (with grafting wood from Nathan Fay, owner of the time of the now well-known Fay Vineyard in the Stags Leap District). Scott and Randy eventually replanted the rest of the old orchards to grapes – again choosing Cabernet Sauvignon, this time from bud wood from Jordan Winery in neighboring Sonoma County.
For many years the Snowden's sold their grapes to Stag's Leap Wine Cellars, and in later years to Silver Oak Wine Cellars – who once called the Snowdens to tell them they were paying too low of a market price for their grapes and needed to redo the contract to be more fair – and in 2020 told the Snowdens they would honor their contract and purchase all grapes despite the possibility of smoke taint. other wineries they have sold to include Frank Family Vineyard, and Viader. Today, the Snowdens keep most of the grapes for their own wines. They used to harvest all the fruit at once but over time they have become more tuned into the nuances and ripening patterns of the specific vineyard blocks and varieties.
Their first vintage was in 1993. In the early days they sold all their grapes to local cooperatives which then created two popular wines, a mixed red and a mixed white wine. As a result, one never knew exactly what varieties were blended into the completed wines – field blends on a large scale, if you will. The first few vintages were produced at Stag's Leap Wine Cellars. Winemaker David Ramey was also involved in these early years.
This is truly a family run affair as multiple generations have become involved over the years; today Scott and Joann Snowden and Randy and Janet Snowden oversee the operations. Scott and Joann's daughter, Diana Snowden Seysses is the winemaker for Snowden Vineyards. Diana grew up in Napa Valley and attended the University of California, Davis, where she graduated with a B.S. in Viticulture and Enology in 2001. Her first wine related job in Napa Valley was for Robert Mondavi Winery and later worked additional harvests at what was Araujo (now Eisele Vineyard), Mumm and Ashes and Diamonds. Her winemaking has become international in scope; her husband Jeremy's family owns Domaine Dujac in Burgundy (where she also works – see our notes at the bottom of this review) and today seasonally commutes to Napa Valley to produce the wine for Snowden Vineyards. She has been the sole winemaker at Snowden since 2011.
Snowden Vineyards range in elevation from 600 to 850 feet. These hillside vineyards are all very much managed by hand throughout the season depending on the needs of each vine. In late winter the vines are pruned; once spring arrives there is always plenty to do as the vines grow in spurts depending on how warm it is each day (tying, shoot thinning, removing suckers, training the shoots etc.). And after veraison occurs (usually in early July), vineyard workers will cut off certain bunches of grapes to keep the vines in balance between canopy and fruit and by September or October (depending on the vintage), will ultimately harvest.
The Snowden's farm their vineyards as organically as possible; instead of using herbicides to remove weeds they do so by hand and with machine. While the Snowden's own 160 acres, only about 23 are actually planted to vines. Today their vineyards are separated into a number of blocks each of which is harvested separately; this ensures that only the ripest grapes are fermented. In addition, each block is fermented separately until the final blending takes place. Indigenous yeast is used during the fermentation and after this is finished, only free run juice (the highest quality) is placed into the barrels for aging. All wine is bottled unfiltered for maximum flavor.
In 2019 Snowden Vineyards opened a business office upstairs in the old Vasconi Building in St. Helena. Private tastings were hosted there for several years with one of the family members by prior appointment. Currently tastings are located in a small space just off of Main Street a short distance from their previous office.
These wines are grown in Napa Valley but perhaps are crafted more with a European mindset. They have character and stand out from the Napa crowd. And some of their offerings are extremely limited – as in only a barrel of wine bottled. With a combination of history, pedigree of the property and obviously passion, Snowden Vineyards absolutely deserves to be on your radar.
Select Wines
Whites/Rose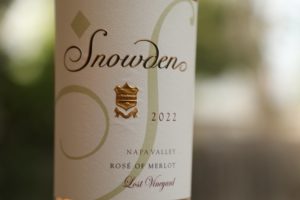 The 2022 Snowden Vineyards Rosé of Merlot, Lost Vineyard is medium copper in color (no color corrections were made to this wine). This wine was harvested from a 1.71 acre block at an elevation of about 800 feet. It was aged in neutral French oak and stainless steel barrels for about 9 months. Its bouquet offers aromas of citrus blossom, kaffir lime, pineapple guava, an aroma we are highly familiar with after more than 30+ years of harvesting guavas from bushes growing next to graves at our local cemetery. There are also scents of lemongrass, grapefruit and rose petals. The palate is bursting with brightness and an intensity of flavor which shouts, "I am not a light and lean rosé". These include ruby grapefruit, lemon juice, cucumber infused water, green apple and gooseberry. We would pair this with a fish that inherently has more fat in its flesh to hold up to the richness of this bottling. Perhaps a spicy Thai raw salmon salad.
The 2018 Snowden Vineyards Sauvignon Blanc "Sunninghill" is sourced from a 1.1-acre block of this variety growing at an elevation of about 800 feet. This wine was foot treaded and then fermented using indigenous yeast (no secondary fermentation). The wine was aged sur lie for 7 months in both stainless-steel tanks and neutral oak barrels. The bouquet immediately offers expressive aromatics of citrus blossom, kiwi, lime, green apple and not overly ripe pineapple. There is also a distinctive minerality nuance to the bouquet. Smells like the variety. We like that. Straw yellow in the glass, this bottling is wonderfully balanced across the palate with refreshing but not biting acidity. We like that to. Finishes quickly and invites another sip. Only 161 cases produced.
Reds
The 2016 Snowden Vineyards Petit Verdot "Levi Philander Davis Vineyard". This is a rare offering; less than 44 cases were produced and is not a wine one often sees in Napa Valley when bottled as 100% varietal. Indigenous yeast fermentation. It is inky, super dark red showing plenty of purple color in the glass. This is a distinctive wine; funky meets fruit on the bouquet with spicy, meaty, woodsy and savory all rolled into one very intriguing aromatic showing. It offers very subtle hints of mocha and espresso deep in the bouquet. Let this wine breathe for a few hours; the fruit starts to really shine. It is dense on the palate with darker fruits including plum and blackberry. Succulent and mouthwatering. One might almost say a bit rustic with its flavor profile. Lingers with pepper spices, tobacco smoke and noticeable and chewy but not overtly course tannins. This wine has plenty of life ahead of it.
The 2019 Snowden Vineyards Cabernet Franc Melchior Kemper Vineyard is medium ruby in color; the bouquet is initially shy and needs time for its layers of aroma to open; it offers scents of dark raspberry, red plum, other sweet red berries and a light touch of old cedar box and dried herbs. Bright and red fruited across the palate this wine reveals flavors of sour cherry, currant, red cherry, a light peppermint and a lasting darker tobacco spice. The finish is seamless with fine-grained and rounded tannins presenting a gentle almost chalk-like touch.
The 2017 Snowden Vineyards Merlot "Lost Vineyard" is sourced from a slightly under 2-acre block at about 800 feet in elevation. 100% varietal. Spent 18-month aging in French oak (50% new and 50% used). Most of this wine went into their Ranch Cabernet Sauvignon – only about 24 cases of this belle were bottled. Offers an elegant bouquet, somewhat floral with notes of violets, red cherries and hints of coffee bean. Multifaceted in its flavor profile yet more subtle in its approach then perhaps if it was harvested riper, later in the year. Lively acidity – refreshing on the palate. Polished tannins. Let's pair this with some spicy food; how about a dish of Thai larb gai.
The 2020 Snowden Vineyards Cabernet Sauvignon Dum Spiro Spero is led by Cabernet Sauvignon but blended with Cabernet Franc. This wine is deep ruby in color; the bouquet is sweetly fruited with a diversity of aromas including blueberry, raspberry, cherry, red licorice, violets and perhaps a hint of fennel. No earthiness here. The palate delivers dark fruited flavors of plum and blackberry and showcases plenty of depth and density. The tannins are grainy in texture and lingers with a dusty note to the bright and juicy finish. This wine was fermented using indigenous yeasts and spent 18 months in French oak of which 50% was new and 50% used. This was the only red wine released by Snowden Vineyards this year. Dum Spiro Spero is the Snowden family motto; it is written on the front label, meaning, While I breathe, I Hope, a direct reference to the difficulties of 2020, especially in Napa Valley in regard to the devastating wild fires.
The 2019 Snowden Vineyards Los Ricos is 100% Cabernet Sauvignon. The name of this vineyard was suggested by the Snowden's long time vineyard manager in regard to a mansion owned by one of their neighbors. Ricos in Spanish refers to rich. This wine is deep ruby in color; the bouquet is earthy with aromas of pepper, herbal notes including a light jalapeño and shishito along with red cherry. The palate shows plenty of depth with flavors of dark cherry, blackberry, Pakistani mulberry, plum and chocolate. Some of the herbal notes on the bouquet are also mirrored here. The tannins are persistent and outpace the fruit on the extended finish along with a dusty and drying character. The finish is mouthwatering. This wine smells like Cabernet Sauvignon which is not always the case with contemporary Napa Valley wines from this variety. Randy Snowden calls this bottling his 'intellectual wine'. It is a wine you want to spend some time with and enjoy all its various nuances.
The 2019 Snowden Vineyards Brothers is 80% Cabernet Sauvignon 18% Cabernet Franc and 2% Petit Verdot. It is from the highest block on the property at 850 feet with generally more sun throughout the day than some of their other vineyard blocks. This wine is deep ruby in color; the bouquet offers a diversity of aromas including rose petals, violets, old cedar, sandalwood, dark olive and other assorted darker spices. It smells elegant and becomes more sweetly fruited as it evolves in the glass. The palate offers flavors of cherry, blackberry and plum. One can feel the density of the tannins here; they are grainy, granular and long lasting. This wine was fermented with indigenous yeasts and then aged for 17 months in French oak barrels.
The 2019 Snowden Vineyards The Ranch is a blend of 77% Cabernet Sauvignon, 22% Merlot and 1% Petit Verdot. This wine is deep ruby in color; the aromatics are gamey with scents of forest floor/earthiness, leather and truffle oil. As the wine breathes it opens and reveals more of its fruit. The savory characteristics on the bouquet are also mirrored on the palate. This wine offers flavors of plum, chocolate, bramble and if one were to gnaw on leather, perhaps a possible similar flavor. This wine lingers with comfortable tannins which flow seamlessly across the palate. Supple and smooth, their gentle kiss is paralleled with a light note of dust.
The 2005 Snowden Reserve Cabernet Sauvignon received very high ratings and accolades soon after its release. This wine comprises the bulk of their overall case production and includes only the best lots from their vineyard. The bouquet shows notes of cedar and dried herbs along with an abundance of dark fruit aromas. The palate has a multidimensional flavor profile with notes of currant and red cherry supported by a long-lasting finish.
As of our latest update to this review, the wine is made at Fantesca Winery (a state-of-the-art facility) across the valley on Spring Mountain above the town of St. Helena.
—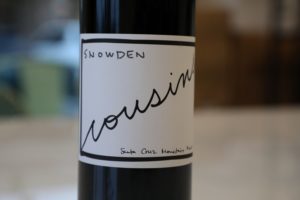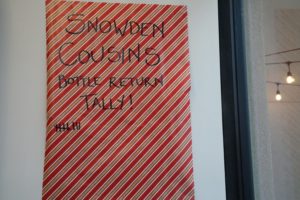 And in 2021 Diana, along with her cousins Christian, Susanne, and Carey produced the first wine under the Cousins label, a biodynamically dry-farmed Merlot from the 2000-foot elevation Zayante Vineyard in the Santa Cruz Mountains. The focus of this wine is to also bring awareness to limiting one's carbon footprint focusing on the largest portion of wineries' carbon impact, the wine bottle. This wine is bottled in reused glass, has no metal capsule and features a washable label.
The 2021 Snowden Cousins Santa Cruz Mountains Merlot is deep ruby in color with purple inky tones and is almost opaque. The bouquet initially offers aromas of dark plums, damp earth, mushrooms, bramble, tar and dark spices including white pepper and dried herbs. Be patient with the aromatics as it needs time to fully open and fully express its core of fruit. It also offers notes of violets and rose petals. The palate shows higher toned fruits including flavors of sour cherry, cranberry and currant. This is a very balanced bottling. The acidity keeps this wine fresh and lively across the palate. It lingers with a light but persistent grip of slightly astringent and drying tannins. Pepper. Tobacco spice. Savory. Bright. 13% alcohol. It is pleasant to try a wine where one doesn't feel alcohol on the finish. Our recommendation: pair with roasted duck leg.
Conveniently one of the partners, Joann Ortega Snowden does label design through Ortega Design Studio located in St. Helena. She designed the Snowden labels.
This is not the only Snowden family who has been involved in the Napa Valley wine scene; a cousin living nearby owned Rockledge Vineyards who we originally met with (no longer producing). Total production is around 2,000 cases a year. For more information about Snowden Vineyards, to schedule a tasting or to sign up for their mailing list or wine club, visit: www.snowdenvineyards.com And note that members have access to a limited number of Snowden library wines.
NOTE: this was one of the earliest reviews on this site: we originally met the Snowdens at a tasting in 2007. Of the 1,100+ Napa Valley based wineries or producers we have visited or met with and reviewed on this site, this was the last review on this site originally written based on attending a public tasting. We have since enjoyed a tasting at their tasting room.
Domaine Dujac, Burgundy

In 1967 Jacques Seysses acquired Domaine Graillet and promptly changed the name to Domaine Dujac (creatively combing 'du' with the first three letters of his first name). He married his wife Rosalind in 1973. The first vintage bottled and released from Domaine Dujac was in 1969; Jacques oversaw the winemaking until 1999; today his sons Jeremy and Alec and Jeremy's wife Diana are in charge of winemaking. Winery practices have changed in certain regards over the years including destemming a certain percentage of clusters depending on the wines and vintage, much less racking prior to bottling and a more judicious use of oak.
Domaine Dujac is located in the beautiful village of Morey St. Denis; for premium Pinot Noir this is ground zero on the planet. Morey St. Denis is located between two prominent Burgundy names, Gevrey- Chambertin and Chambolle-Musigny and less than 10 minutes from Vosne-Romanée (home of Domaine Romanée Conti).
A new state of the art cellar was built in time for the 2022 harvest. At the time of our visit in late 2022 Diana told us they were still putting on the final touches. The tank room is located upstairs with the barrel chai located below ground. The winery farms approximately 43 acres of vines and also purchases grapes from other growers. Vineyard holdings have expanded since the early days of only Morey St. Denis to now also include sites in Puligny-Montrachet, Côte de Nuits and Côte de Beaune.
An important part of their ethos is mitigating their environmental footprint. Domaine Dujac was certified organic in 2012 and since 2008 employs biodynamic practices across their vineyards. Maintaining surrounding forest biodiversity is an important part of their viticulture operations for heat mitigation and water retention and they have run trials to capture carbon dioxide resulting from fermentations.
Domaine Dujac is a member of The Porto Protocol Foundation, a Porto Portugal based nonprofit founded in 2018 by Taylor, Fladgate & Yeatman, one of the largest port houses in Portugal and producer of Taylor's Port. One of their core focuses is on climate change and implementing related practices such as water conservation and reclamation, a close look at minimizing packaging including in particular bottling, soil health, solar energy, and vineyard designs incorporating more biodiversity. The organization offers a variety of related ideas and practical solutions and also hosts numerous valuable in-person and virtual events each year.
Their mission is: "To drive collaborative action by bringing together a network of change makers and workable climate solutions for and within the wine world". The organization is truly global, however while rooted in the wine industry with both small and larger international wineries as members (including some of Napa Valley's most respected wineries), additional members are from select other industries.
Select wines
The wines from Domaine Dujac are modern, inspired, balanced and refreshing to drink in their youth while having the simultaneous capability to age gracefully. During our visit and tasting we noticed a number of their bottlings were very much texturally driven, unlike our experience with many of California's Pinot Noir wines. Tasting through 20+ Pinot Noir wines was somewhat of an eye opener for us in regard to the beautiful complexities inherent to this variety.
Normally we like to sit with each wine for a while, letting it open and watch how it evolves, but due to circumstances we tasted the following wines rapid fire and as a result were only able to jot down quick and very basic notes for each bottling.
The 2021 Domaine Dujac Chambolle-Musigny Village is pale to medium ruby in color; the bouquet reveals a hint of white pepper, grilled meats and red plums. This wine is highly energetic on the palate offering flavors of red currant, slightly under ripe red cherry and a lingering cranberry-like tartness. One can feel the tannins with their light gravelly texture. Lingers with a dark finish including notes of dried tobacco leaf and a slightly lasting dryness.
The 2021 Domaine Dujac Morey St. Denis Village is from their largest vineyard; the bouquet takes some time to be teased out in its youth but when it does it offers aromas of tobacco spice, raspberry and a subtle hint of jalapeno pepper and matchstick. The palate offers flavors of blood orange, orange rind and dried tobacco leaf. The tannins show as dusty on the finish; one would not be incorrect to describe its lingering notes as somewhat savory.
The 2021 Domaine Dujac Charmes-Chambertin is medium ruby in color; the sweetness of the fruit aromatics is immediately noticeable offering a blackberry and or cherry jam along with dried herbs. This wine reveals plenty of fruit on the palate including cherry, red plum and currant. The texture is a lovely attribute, elegant and silky. A note of sour cherry lingers on the finish. Bright acidity, juicy, fresh and youthful.
The 2021 Domaine Dujac Vosne-Romanée 1er Cru Les Beaux Monts is medium ruby in color; the bouquet is primarily about red fruits including cherry, pomegranate and strawberry. The nose was a bit closed. The fruit shows well on the palate including red cherry and other bright red fruits. The fleshy tannins are nicely integrated into the supple finish showing a lingering a slightly silt-like texture. This is an elegant bottling.
The 2021 Domaind Dujac Vosne-Romanée 1er Cru Aux Malconsorts shows as slightly reductive in its youth; the bouquet offers aromas of matchstick, mushrooms and dried herbs, all of which dissipates slightly as the wine opens in the glass. This is already a superbly balanced wine offering flavors of pomegranate and red cherry anchored by delicate and rounded tannins. Lingers with energetic acidity and a hint of mushroom.
The 2021 Domaine Dujac Chambolle-Musigny 1er Cru Les Gruenchers was 100% whole cluster fermented. The bouquet offers aromas of white pepper, mushroom and red plum. The tannins show a noticeable density and are still tightly woven in their youth but already have some rounded edges. They persist for quite some time. One can feel the darker spices on the finish including black pepper along with dried tobacco leaf. The finish is accompanied by very bright and energetic acidity.
The 2021 Domaine Dujac Gevrey-Chambertin 1er Cru Aux Combottes is medium ruby in color; the bouquet is distinctive, offering notes of forest floor, white pepper and mushroom. One can almost call its aromatic profile, gamey. This wine was fermented 40% destemmed and 60% whole cluster. This wine is both simultaneously juicy and fleshy – not often words we use in the same sentence. Offers flavors of red plum and cherry. The tannins feature a short-lasting but very noticeable grip.
The 2020 Domaine Dujac Morey St. Denis Village is medium ruby in color; the bouquet offers beautiful aromatics which are sweetly fruited, offering cherry, plum ripe strawberry, blueberry and a blackberry preserve. It smells elegant. This very balanced wine offers notes of red cherry, blackberry and boysenberry. The fruit is the star of this show. The tannins are rounded, well-integrated and show as slightly dry on the finish. Very bright acidity.
The 2020 Domaine Dujac Bonnes Mares Grand Cru offers aromas of cherry, plum and other berries; the bouquet is primarily about the fruit but with a hint of darker spice in the background. The is a very balanced but richly flavored bottling shows both red and darker fruits across the palate. The tannins are seamless and supple in their textural feel.
The 2020 Domaine Dujac Vosne-Romanee 1er Cru Aux Malconsorts is medium ruby in color; the bouquet features sweetly fruited aromatics including currant and raspberry. This wine is extremely flavorful and concentrated offering notes of plum, strawberry and currant. The tannins show a light silty-like texture and are well integrated into the bright and mouth-watering finish. This wine clearly will have great aging potential.
The 2020 Domaine Dujac Clos de La Roche Grand Cru is medium to dark ruby in color; the bouquet is filled with fruits including cherry, blackberry, blueberry and plum. The palate offers more darker than red fruits. This is a high acid wine. Shows a complex and layered palate with darker spice notes lingering including notes of crushed peppercorn. The tannins linger with a dry note. Savory finish. Would love to try this wine in 10 years.
For more information about this iconic producer, visit: www.dujac.com
Morey St. Denis

Domaine Triennes
The Seysses family and Aubert de Villaine, the part-owner and director of Domaine de la Romanee-Conti are also partners in Domaine Triennes in Provence. We have been to Provence before but will visit this winery during our next trip to the region.