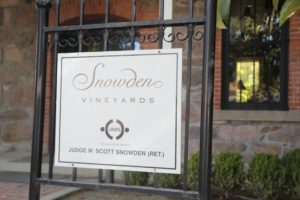 Snowden Vineyards is run by multiple members of the Snowden family – they have owned their property since 1955. Their vineyards are located just east of the Silverado Trail not far from Joseph Phelps Winery and near the famed Auberge du Soleil resort. The vineyard was originally purchased by Wayne and Virginia Snowden and today their sons Scott and Randy and their families oversee the vineyard and winemaking. Their first release was from the 1993 vintage. In the early days they sold all their grapes to local cooperatives which then created two popular wines, a mixed red and a mixed white wine. As a result, one never knew exactly what varietals were blended into the completed wines – field blends on a large scale, if you will.
Their property was originally settled by a gold miner, Levi Philander Davis who came to California to pursue a dream of getting rich in the gold fields (certainly not the first Napa wine family with prior gold mining pursuits). He and his wife moved to the Napa Valley in 1878 taking full advantage of the Homestead Act, allowing the settlement of previously non settled areas with the caveat that the land be used for farming. Levi planted the first wine grapes on site in 1879 and later planted additional vineyards as well as fruit trees. By 1891 records show that the property was planted to 60 acres of wine grapes including Zinfandel, Malvoisie and Chasselas.
However, by 1955, much of the property had reverted back to its natural state and only a percentage of the wine grapes were still being managed. Wayne Snowden planted Cabernet Sauvignon in the early 1960s (with grafting wood from Nathan Fay – owner of the time of the now well-known Fay Vineyard in the Stags Leap District). Scott and Randy eventually replanted the rest of the old orchards to grapes – again choosing Cabernet Sauvignon, this time from bud wood from Jordan Winery in neighboring Sonoma County.
For many years the Snowden's sold their grapes to Stag's Leap Wine Cellars, and in later years to Silver Oak Wine Cellars, Frank Family Vineyard, and Viader. Today they hold back most of the grapes for their own wines. They used to harvest all the fruit at once but over time they have become more tuned into the nuances and ripening patterns of the specific vineyard blocks and varieties.
The first few vintages were produced at Stag's Leap Wine Cellars. Winemaker David Ramey was also involved in these early years.
This is truly a family run affair as multiple generations have become involved over the years; today Scott and Joann Snowden and Randy and Janet Snowden oversee the operations. Scott and Joann's daughter, Diana Snowden Seysses is the winemaker for Snowden Vineyards. Diana grew up in the Napa Valley and attended the University of California, Davis, where she graduated with a B.S. in Viticulture and Enology in 2001. Her first wine related job in the Napa Valley was for Robert Mondavi Winery – later working additional harvests at what was Araujo (now Eisele Vineyard), Mumm and Ashes and Diamonds. Her winemaking has become international in scope – her husband Jeremy's family owns Domaine Dujac in Burgundy (where she also works) and today seasonally commutes back to Napa Valley to produce the wine for Snowden Vineyards (she has been the sole winemaker at Snowden since 2011).
And in 2021 Diana, along with her cousins Christian, Susanne, and Carey produced the first wine under the Cousins label, a biodynamically dry-farmed Merlot from the 2000 foot elevation Zayante Vineyard in the Santa Cruz Mountains. The focus of this wine is to also bring awareness to limiting one's carbon footprint focusing on the largest portion of wineries' carbon impact, the wine bottle. This wine is bottled in reused glass, has no metal capsule and features a washable label.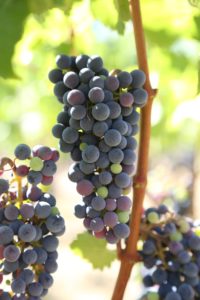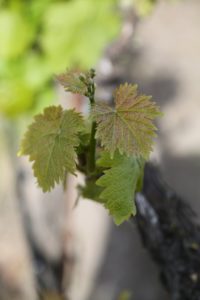 Snowden Vineyards range in elevation from 600 to 850 feet. These hillside vineyards are all very much managed by hand throughout the season depending on the needs of each vine. In the late winter the vines are pruned – come spring there is always plenty to do as the vines grow in spurts depending on how warm it is each day (tying, shoot thinning, removing suckers, training the shoots etc), after veraison occurs, then dropping certain grapes and ultimately harvesting the fruit.
They farm their vineyards as organically as possible – not using Round-up to remove weeds but rather doing so by hand and with machine. While the Snowdens own 160 acres only about 25 are actually planted to vines. Today their vineyards are separated into a number of blocks each of which is harvested separately; this ensures that only the ripest fruit is used. In addition, each block is fermented separately until the final blending takes place. Indigenous yeast is used during the fermentation and after this is finished, only free run juice (the highest quality) is placed into the barrels for aging. All wine is bottled unfiltered for maximum flavor.
In 2019 Snowden Vineyards opened a business office upstairs in the old Vasconi Building in St. Helena. Private tastings might be hosted here – we will update this review once we have more details.
These are wines grown in the Napa Valley but perhaps crafted more with a European mindset. They are wines that have character and stand out from the Napa crowd. And some of their offerings are extremely limited – as in only a barrel of wine bottled. With a combination of history, pedigree of the property and obviously passion, Snowden Vineyards deserves to be on your radar.
Select Wines
The 2018 Snowden Vineyards Sauvignon Blanc "Sunninghill" is sourced from their 1.1 acre block of this variety growing at an elevation of about 800 feet. Foot treaded and then fermented using indigenous yeast (no secondary fermentation). The wine was aged sur lie for 7 months in both stainless steel tanks and neutral oak barrels. Expressive aromatics of citrus blossom, kiwi, lime, green apple and not overly ripe pineapple. Also a distinctive minerality nuance to the bouquet. Smells like the varietal. We like that. Straw yellow in the glass – wonderfully balanced across the palate with refreshing but not biting acidity. We like that to. Finishes quickly and invites another sip. Only 161 cases produced.
The 2016 Snowden Vineyards Petit Verdot "Levi Philander Davis Vineyard". This is a rare offering, less then 44 cases were produced – not a wine one often sees in the Napa Valley when bottled as 100% varietal. Indigenous yeast fermentation. Inky super dark red showing plenty of purple color in the glass. This is a distinctive wine; funky meets fruit on the bouquet – its spicy, meaty, woodsy and savory all rolled into one very intriguing aromatic showing. Very subtle hints of mocha and espresso deep in the bouquet. Let this wine breathe for a few hours – the fruit starts to shine. Dense on the palate with darker fruit including plum and blackberry. Succulent and mouth watering. One might almost say a bit rustic with its flavor profile. Lingers with pepper spices, tobacco smoke and noticeable and chewy but not overtly course tannins. This wine has plenty of life ahead of it.
The 2017 Snowden Vineyards Merlot "Lost Vineyard" is sourced from their slightly under 2 acre block at about 800 feet in elevation. 100% varietal. Spent 18 month aging in French oak (50% new and 50% used). Most of this wine went into their Ranch Cabernet Sauvignon – only about 24 cases of this belle were bottled. Offers an elegant bouquet, somewhat floral with notes of violets, red cherries and hints of coffee bean. Multifaceted in its flavor profile yet more subtle in its approach then perhaps if it was harvested riper, later in the year. Lively acidity – refreshing on the palate. Polished tannins. Lets pair this with some spicy food; how about a dish of Thai larb gai.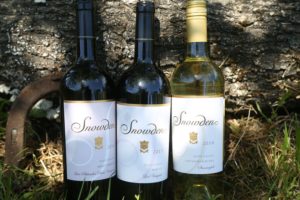 During our first tasting many years ago, we sampled the 2006 Snowden Sauvignon Blanc made from the only non estate grapes used (sourced from Beckstoffer's Rutherford based vineyard). However this wine was already sold out; only 200 cases were produced; it is a crisp clean wine with notes of fresh cut grass, pineapple and grapefruit flavors.
Snowden is perhaps most known for their premium Cabernet Sauvignon. The 2005 Snowden Reserve Cabernet Sauvignon received very high ratings and accolades soon after its release. This wine comprises the bulk of their overall case production and includes only the best lots from their vineyard. This is a very concentrated Cabernet Sauvignon; wines of this style and caliber only improve Napa Valley's reputation when it comes to premium Cabernet Sauvignon. The bouquet shows notes of cedar and dried herbs along with a plenty of dark fruit aromas. The palate has a multidimensional flavor profile with ripe notes of currant and cherry and a long lasting finish.
As of our latest update to this review, the wine is made at Fantesca Winery (a state of the art facility) across the valley on Spring Mountain above the town of St. Helena.
—
Conveniently one of the partners, Joann Ortega Snowden does label design through Ortega Design Studio located in St. Helena. She designed the Snowden labels.
This is not the only Snowden family who has been involved in the Napa Valley wine scene; a cousin living nearby owned Rockledge Vineyards who we originally met with (no longer producing). Total production is around 2,000 cases a year. For more information about Snowden Vineyards or to signup for their mailing list, or wine club, visit: www.snowdenvineyards.com
NOTE: this is one of the earlier reviews on this site: we originally met the Snowdens at a tasting many years ago. Of the 1,100+ Napa Valley based wineries or producers we have visited or met with and reviewed on this site, this is the last review on this site originally written based on attending a public tasting. This review has been identified as needing an update.