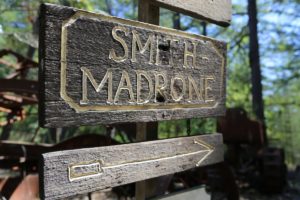 Smith-Madrone Vineyards & Winery is one of the oldest wineries in the Spring Mountain District and dates from 1971 with their first commercial release coming in 1977. The name incorporates the owners last name as well as a tribute to the Madrone trees that are common in this part of Spring Mountain. Some of the largest Madrone trees we have seen are located near parts of their vineyards.
Two grizzled looking brothers, Charles (Charlie) & Stuart (Stu) Smith are the long-time owners and winemakers. Stuart, with some financial help from family and friends, founded the winery in 1971. He has also taught numerous students in winemaking programs at Santa Rosa Junior College and Napa College over the years. Charles joined him two years later. Decades later, Stuart's son Sam has joined his father and uncle and for several years was their Assistant Winemaker. Its hard to imagine both Charles and Stu as young men, as their timeless look seems like from another century, but both men were in their 20s when they moved to Spring Mountain and built the winery, completing the structure in 1977.
Both came up from Southern California to attend the University of California Berkely – Stuart graduated with a B.A. in Economics and Charles attended both UC Berkeley and San Francisco State eventually earning his teaching credential. Stuart was introduced to this property for the first time while studying for his Master's Degree in enology and viticulture at UC Davis.
This winery is located at the end of a long narrow winding road, part of which is gravel. You enter the road from Spring Mountain Road and then keep following the several forks to the right side all the while watching for this wineries' sign at each of the forks. Allow at least 20 minutes to get here from St. Helena. Many people who visit this part of Spring Mountain under estimate the time needed to get here – the area roads are very windy and narrow.
Smith-Madrone owns 200 hillside acres and like several other Spring Mountain based wineries, their land offers spectacular views overlooking the Napa Valley, neighboring vineyards and the mountains in the distance. One side of their property backs up to the Bothe-Napa Valley State Park which of course will always remain in its natural state. Their vineyards are between 1300 and 2000 feet in elevation and for the most part are planted on steep rocky red soils. This is an Aiken series of soil with a combination of both clay loam, sandstone and shale deposits.
During their initial exploration of the property they discovered remnants of old vineyards and an old dirt wagon road that connected the city of Santa Rosa to the west with the Napa Valley. In 1972 they planted their first vines – Cabernet Sauvignon, Chardonnay, Riesling and Pinot Noir – all on their own roots (not grafted to a rootstock). Eventually that annoying tiny louse that lives in the ground, phyloxxera, infested the roots and they replanted the vineyard to vines on phyloxxera resistant rootstock.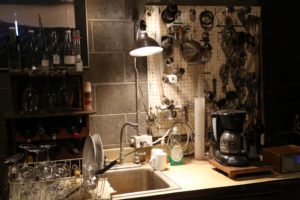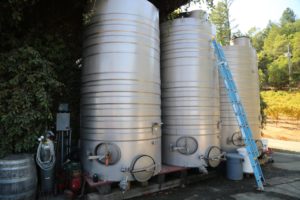 Visitors will see the original olives trees still growing just down from the winery and these are over 120 years old. Their property is surrounded by Stony Hill Winery directly below them, Barnett Vineyards and Keenan Winery – not a bad neighborhood at all! What started out as a hobby many years ago somewhere became a passion and turned into a serious business with their wines often winning medals and scoring other fairly high ratings. There is a board full of gold medals next to where you taste and as Charles says, "we throw out all the bronze and silver medals". Perhaps not.
Their first big recognition came in 1977 when they sent 2 cases of Riesling to the American Embassy in Paris. As Charles said they were about out of capital at the time and needed a "shot in the arm". This "shot" came in the form of the Wine Olympics who secured their wine and other producers' wine from the embassy. Six months after they sent their wine, unbeknownst to them, their 1977 Riesling had won in its category. This wine made headlines in the French papers and helped validate the quality of their wine and terroir.
Upon arriving at the winery during our initial visit many years ago, we found Charles in the barrel room washing wine glasses and he told us we would find his brother Stuart asleep in the truck "out back". It is a unique experience just walking into the main winery building, which is part laboratory, part workshop, part tasting room and part storage for older vintages dating from the early 1980's. This winery is a contrast with the newer fancier wineries that have more recently sprouted up in the Spring Mountain district in the last 10 years. Tasting is always one on one with one of the Smith brothers. They have been farming these vineyards for 40+ years and as a result, intimately know their hillside terroir.
They make several hillside grown wines, (all dry farmed), a Chardonnay, Riesling and a Cabernet Sauvignon. These wines are typically aged in bottle longer than most current releases at area wineries. This is not a bad thing of course for the consumer. Smith Madrone should almost should be called a Riesling house as this is the wine that they are most known for and have spent years perfecting. Llove Rieslings? You come here, however note that they sell out quickly of this varietal and may not have a bottled vintage available for tasting. The best way to acquire this wine is to join their mailing list and take note: they do sometimes re-release older vintages of this varietal to mailing list customers only.
Select Wines/Winemaking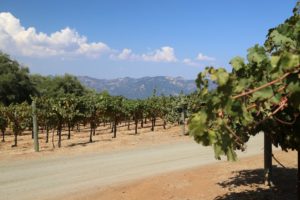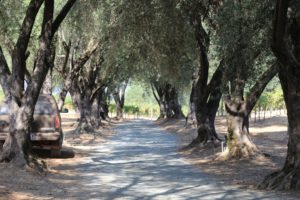 After all these years of producing Rieslings there are a few factors in their wines that tend to "work" from vintage to vintage. First of all their pH levels tend to be extremely low – typically around 3.0+ with usually just under 1% residual sugar (near the threshold for where you can taste sugar). These wines pair well with food. As a result of the mountain complexities shown in their Rieslings and the wonderful acidity, these wines do also age very well. Charles told us their Rieslings can easily age 15 years. Riesling is such a versatile variety and can be paired with so many different foods. It is also a wine that can be enjoyed by a variety of palates. As Charles also says, "Riesling is a wine for both under sophisticated and over sophisticated drinkers!" He speaks reverently about aging this varietal calling the qualities that develop over time in the bottle as "magical".
We have tried some of their earlier 1990s vintages of Riesling. One time, Charles cracked open a bottle of 1994 estate Riesling for us; it was golden hued in color with so much fruit flavor after all those years. A 1993 we tried was absolutely delicious by itself with still tons of flavor – this is a wine that will still be good for a number of more years. The nose showed slight diesel or petrol qualities that Rieslings of this age often develop as well as notes of freshly pulled saran wrap (sounds odd, but doesn't detract from the bouquet). Charlie has noticed that some vintages of their Riesling develop these qualities but it doesn't happen every year.
Smith Madrone's Rieslings have a nice balance between acidity, pH, structure and weight. It is this balance that is so important to their wine. During one of our visits Charles was filtering his 2006 Riesling so we sampled straight from barrel. These younger Rieslings show more fruit than the older vintages and this one had intriguing pear and other stone fruit aromas, along with honeysuckle and some nice terroir driven mineralities. The younger vintages of these wines are very lively and do vary both in aroma and flavor from vintage to vintage.
The 2006 Smith Madrone Chardonnay was completely fermented in barrel (rather than tank), it is a rather big Chardonnay with notes of caramel on the nose and a rich rounded mouth feel.
The 2003 Smith Madrone Cabernet Sauvignon was 5 years old by the time we tried it. It is a very dark wine that is smooth on the palate and doesn't go down the road of big huge tannic finishes, rather the tannins are delicate and anchor a velvety mouth feel. This wine has dusty aromas, hints of cloves, flavors of plum and tobacco smoke on the finish. Their total annual production is usually around 5,000 cases.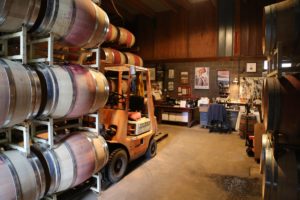 Did you know that Smith Madrone used to make a Pinot Noir many years ago? Today growing Pinot Noir on Spring Mountain is the domain of only a select few producers. The reason they no longer grow this varietal is it never consistently produced a wine of high quality each year.
At the time of our latest update, Smith Madrone has begun producing a Reserve wine, called Cook's Flat Reserve. The 2007 was the first vintage of this wine. This "reserve" wine is only made in years where the quality meets their exacting specifications. This wine contains a different blend than their their typical Cabernet Sauvignon.
The 2007 Smith Madrone Cook's Flat is 66% Cabernet Sauvignon, 22% Merlot and 11% Cabernet Franc. This wine is structurally a more "Napa" styled wine in that the fruit shows well at a young age, its riper, with just a touch of jam characteristics on the bouquet with a soft plush entry showing very well balanced fruit along with its pleasing structure. Their Cabernet Sauvignon's age very well – a 1979 vintage that we tried, while having lost some of its fruit still had plenty of noticeable structure with a savory quality.
—
We have been here a number of times and can highly recommend the tasting and visit. If you want to really "escape" from the valley floor and have a very personable tasting experience one on one with the owners its well worth your time to make the trek up to Spring Mountain. With winery owners who have the experience the Smith brothers have, visitors will probably even learn something about wine and vineyards that they didn't know before.
Total production each year is around 5,000 cases. For more information, visit: www.smithmadrone.com