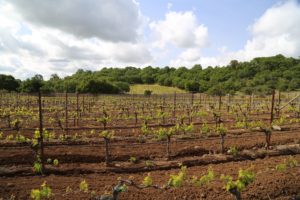 Sill Family Vineyards. Founder Igor Sill has led a diverse second career centered around wine. He holds his Court of Master Sommelier degree, has judged select wine competitions including the annual International Wine Challenge held in London. He learned winemaking while studying at the University of California Davis (their viticulture program). He also worked at select Napa wineries – initially at V. Sattui where he implemented their first educationally focused hospitality and tour programs and then later at Opus One overseeing tours for some of their VIP clients.
Igor first purchased a slice of the Napa Valley in 1984 when he acquired a 3.5-acre hillside parcel in the hills northeast of St. Helena. This property is currently planted to slightly less than an acre of Cabernet Sauvignon. Looking to acquire additional property, he and his wife Cindy began their search on both Mt. Veeder and Howell Mountain but ultimately gravitated towards the terroir on Atlas Peak. In 2016 they located a 24.5-acre parcel at 1,500 feet in elevation on the rocky slopes of the Atlas Peak Appellation. Formerly Ardente Estate Winery, today the site is planted to approximately 13 acres including mostly Cabernet Sauvignon, Merlot (which Igor says does exceptionally well here) and a smaller amount of Cabernet Franc.
Atlas Peak is generally characterized as a rugged appellation that is located in the cooler part of the southern Napa Valley. As a result of this cooler growing climate Sill Family Vineyards often experiences a longer growing season than up valley. Like other Cabernet Sauvignon growing regions in the south valley, (Coombsville for example), harvest can occur in late October and sometimes even into early November. This gives the grapes significant time to mature and develop additional complexities on the vine. However, this can sometimes be a challenge depending on the type of weather experienced during the tail end of harvest.
The vineyards are managed naturally – no synthetics or pesticides are added to the vines or soils – rather natural compost is used; overall the vines are managed using an organic approach.
Most of the fruit from the vineyard is sold to area wineries but Igor holds back some for his Atlas Peak Cabernet Sauvignon. The focus of Sill Family Vineyards is currently on two Cabernet Sauvignon wines, a Chardonnay and a Rosé de Chardonnay. Igor works with only exceptional fruit creating extremely limited production wines. Rather than list the total number of cases produced yearly, he lists production in terms of bottles produced. Every wine is hand numbered.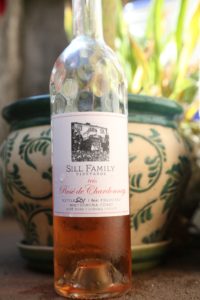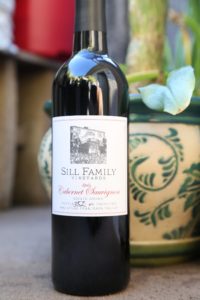 One of Igor's friends spends several months in St. Tropez every year, and holds a rosé tasting every summer. Some 50 to 60 rosé's are offered, mostly from Provence but also from a few regional vintners. Spoiled by the wonderful wines that Igor has tasted at some of these events, he recalled visiting a grocery store in California and picking out a number of domestic rosés. Disappointed in what he was tasting, he set out to, make a rosé that "brings me back to the tastings in St. Tropez" with the gorgeous vistas overlooking the town and the blue waters beyond, dotted with yachts and sailboats.
Select Wines
He did so, with his first vintage of rosé from 2015. This very unique wine is the très Rosé de Chardonnay; the 2017 vintage was 98% Chardonnay and 2% Cabernet Sauvignon. The Chardonnay is from the Rogers Creek Vineyard, located in a very cool part of the Russian River Valley in neighboring Sonoma County and the tiny bit of Cabernet Sauvignon comes from several rows in a Georges de Latour originally developed Rutherford bench vineyard located in the heart of Rutherford. Igor ferments the Chardonnay in stainless steel tanks – it also sees some oak during its aging. The Cabernet Sauvignon is made like a rosé and then blended with the Chardonnay prior to bottling.
The 2017 Sill Family Vineyards très Rosé de Chardonnay is salmon colored in the glass; the wine offers bright, lively and elegant aromatics with scents of wild strawberry, raspberry, tangerine and an orange peel zest influence. As the wine opens, subtle hints of vanilla show. Very aromatic. Superbly balanced and seamless throughout (one of the more balanced rosés from the Napa Valley that we have enjoyed), the wine is neither heavy nor light; but it does show a perceptible mid palate creaminess. Layered in flavor, the palate offers mineral notes and citrus – a smooth finish lingers with rich fruit.
And as one consumes wine from this bottle – one actually begins to notice the bottle itself. As the level of the wine drops in the bottle, a number of dimples begin to show on the interior. Of the thousands of wines, we have tried over the years, this is the first time we have seen this this type of glassware design. It adds a classy design element to an already photogenic style of wine.
The 2015 Sill Family Vineyards très Cabernet Sauvignon Atlas Peak is composed of 75% Cabernet Sauvignon, 16% Merlot and 9% Cabernet Franc. Offers intense fruit driven highly appealing aromatics – powerful yet elegant at the same time. Reveals aromas of black cherry and blackberry with sweet notes of cassis, vanilla and mocha. The concentration of aroma carries onto the palate – rich, layered and ripe one can drink this wine in its youth and not be disappointed – very approachable. Shows a pleasing texture, especially on the finish – supple, refined and slightly chalky tannins persist softly, anchored by the long-lasting fruit rather than the grip of structure – along with accents of mocha and a hint of clove. Exceptional fruit, an outstanding wine.
—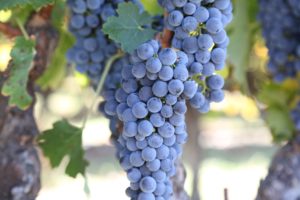 And in the prestigious CWSA Hong Kong International Wine Competition in 2018 this wine received a double gold. This is a coveted medal – at that year's competition over 4,600 wines were judged from 900 producers from 550 countries. Over the years, this is not the only Sill Family Vineyards to earn coveted awards; in 2019 Sill Family Vineyard's Atlas Peak Estate received WINE ENTHUSIAST's Number 1 highest-rated Atlas Peak Appellation Cabernet Sauvignon after reviewing 138 Atlas Peak appellation wines.
While Igor currently sources from select vineyards, his ultimate goal is to produce wines from all estate owned vineyards.
Only four Napa based physical wineries sustained complete or near complete damage from the fires in October 2017, Helena View Johnston, Signorello Estate, Sill Family Vineyards and Wing Canyon. Sill Family Winery burned to the ground only a year after the Sill's purchased the property. A silver lining in this natural disaster was the fact their vineyards were not burned.
And after these terrible fires, additional fires burned several months later that same year near Santa Barbara and Montecito, followed by mudslides. San Ysidro Ranch was unfortunately severely damaged by these natural disasters. Some of the wines on their wine list were from Sill Family Vineyards – Igor remembers receiving a call asking for more of his wine because their inventory of his wine at the time was completely destroyed in the fires.
The wines are mostly sold directly with very limited distribution. For more information or to join one of three levels of membership in their wine club, visit: www.sillfamilyvineyards.com