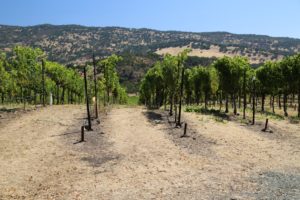 Signorello Estate was founded in 1977 by Ray Signorello and his father; their original intent was to own a summer home away from the San Francisco Bay area where he lived. Neighbors were growing premium vineyards and eventually Ray planted his own vineyards and initially sold grapes to other wineries. Their first vintage of Signorello is from 1985.
This is often how vintners start in the wine industry who don't have a background in wine. However, realizing the premium quality of wines being produced from their vineyard, they decided to hold back some of the grapes for their own wine. The Signorello's were able to do this in 1985 when a larger than normal crop allowed them to keep some of their own fruit for themselves. The quality of their first wines inspired the Signorello's to build a winery. Ray dreams of owning a summer house in Napa, which was never actually built, transitioned into building a physical winery. The "Napa allure" brings so many people to this beautiful small slice of the state, from a variety of backgrounds, individuals who eventually become vintners.
Ray was born in California but raised in Vancouver, Canada (his father was in the mining business). Ray is involved in a number of wine ventures including Signorello Estate. In addition to his interest in Edge Wines, he is also involved in Fuse wines (Napa Cabernet Sauvignon blended with various red varieties) and Trim wines (Chardonnay and Cabernet Sauvignon from select vineyards throughout California). And he founded and operates Evolution Fine Wines; based in Vancouver, their focus is on distributing fine French, Italian and American wines to mostly the western and central Canadian markets.
The entire property is 100 acres of which 42 are planted to vine; the only grapes they source from are for their Pinot Noir. The property features a west facing and an east facing hillside vineyard. The west facing block is easily seen from the Silverado Trail – whereas the east facing vineyard is located higher up the slopes and 'hidden' from view from the valley floor. Despite each vineyard being so close to each other there are dramatic differences in soil types and even in temperatures.
The hospitality center is located just off of the southern part of Silverado Trail nestled in the foothills of the Vaca mountain range, about a 10 minute drive from downtown Napa. Their driveway is a long one and leads up a hill to both the winery site and their hospitality center. As visitors pull in off of the Silverado Trail be sure to glance to your right hand side. These vines are among some of the oldest still producing Chardonnay in all of Napa Valley and were originally planted in 1980.
Visitors who were on site before the terrible fire of October 2017 used to see the trademark front of their winery building. One half of the stone façade was covered with perfectly groomed ivy. The winery sits in a stunning location with intimate views of the southern part of the valley below. A gorgeous pool overlooks the vineyards.
Select Wines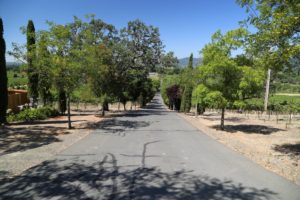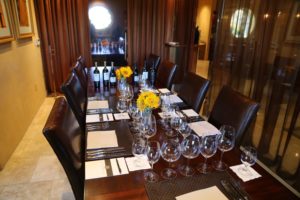 The 2006 Signorello Estate Vieilles Vignes Chardonnay is from the section of their vineyard planted in 1980. Only a partial malolactic fermentation gives this wine a rounded feel with not much buttery influence that sometimes are found in California styled Chardonnays. Nuances of toasted oak, a slight toasted nut characteristic and honeysuckle intermingle with lovely fruit flavors including pear and apple.
Signorello makes a variety of Pinot Noir, all sourced from select vineyards in the cooler Carneros region to the south including the tasty 2006 Las Amigas Vineyard. Looking for a big juicy ripe Syrah but not one that is overly tannic? Their estate Syrah is a good choice.
It is also intriguing to see how a vintage can really affect a wine. A good example of this is a side by side comparison of the 2003 and 2004 Estate Cabernet Sauvignon. 2003 was a cooler growing year and this wine has an underlying spiciness and earthiness. In contrast the 2004 was a hotter year and was much more fruit forward. One can tell this as soon as they smell the bouquet. Unlike a number of area wineries who use Cabernet Franc for blending purposes, Signorello makes a 100% varietal of Cabernet Franc.
Padrone is one their most premium wines; it is bottled every year as a dedication to Ray's father. This red wine blend is sourced from two blocks in their vineyard each of which grows in extremely rocky soil and produces very low yields resulting in an intense flavors.
They currently produce small quantity lots from about 50 to 3000 cases depending on the type of wine for a total annual production of around 6,000 cases.
—
Signorello lost a sizable amount of wine (as in thousands of cases) in the now infamous arson wine warehouse fire in Vallejo in 2005. We saw the photos of this disaster – at the time it directly effected numerous Napa wineries. Fortunately they were able to recover like most already established wineries affected by this fire.
Unfortunately, this was not the last time the winery was effected by fire; in October 2017 the hospitality center, house, offices, lab and winery burned down (one of the very few Napa Valley wineries to burn to the ground). Signorello Estate was one of the prominent featured wineries in the news coverage of these devastating fires. We know of at least 4 Napa based wineries whom suffered total building loss from these fires (Signorello Estate, Helena View Johnston, Sill Winery and Wing Canyon). Remarkably the fire did not burn their outside fermentation tanks (which still had wine in them at the time). And remarkably only 4 vines were lost on the entire property when part of a burning fence fell onto the plants.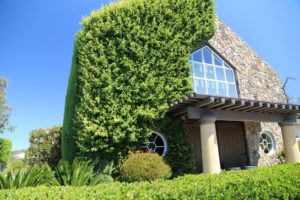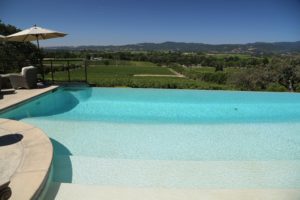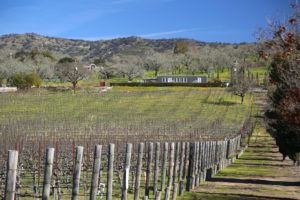 In July 2018, a temporary 60′ x 12′ modular tasting room was located on the property until the winery and hospitality center can be rebuilt. Making due with this temporary space, a reception area contains sofa seating with the seated tasting room next door. Small bites are paired with their current release wines.
As of mid 2022 construction began to rebuild the winery, hospitality center including the commercial kitchen and to ultimately add a new feature to the property, a 10,000 square foot cave. And based on the fires in October 2017, wine caves (even short wine caves) were generally a very safe place for wine despite fires raging all around their entrances. This construction project is slated to take several years. Until their winery rebuilt is completed they continue to produce a small amount of wine on property as well as at another winery offsite.
—
One of the highlights of visiting Signorello Estate is for their unique food and wine pairings. Two selections are offered and both include a personalized tour of the part of the property with time taken to walk in the vineyards, enjoy the picturesque views and learn more about their farming practices Antipasti lasts 90 minutes with current release wines paired with a variety of artisan cheeses, dried fruits, nuts and some seasonal fresh fruits. For a more in depth experience, choose the Enoteca (seasonally offered) which includes a 5-course paired sit down lunch including Wagyu beef – allow up to 3 hours for this experience.
A full commercial kitchen was on site (it will be rebuilt) and their house chef will discuss the reasons for the pairing as well as provide information about the dishes. Seasonal vegetables and herbs are used in the dishes (grown on the property).
All visitor's to the property are toured around part of the estate in one of their customized vehicles "golf carts". All experiences require advance reservations. For more information and or to join their Allocation Membership or to purchase select wines, visit: www.signorelloestate.com
NOTE: this review has been identified as needing a *major update*. We will revisit and update this review once the new winery is completed. Potentially by the end of 2024.
Original Hospitality Center/Grounds
(we keep these photographs for historical purposes)