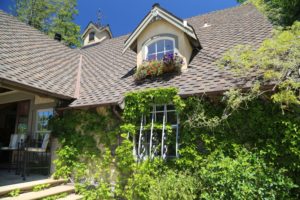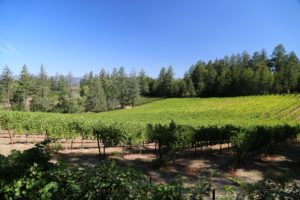 Sherwin Family Vineyards is a boutique winery located in the forests of the Spring Mountain district. A tiny road leads north from the Napa / Sonoma County line at the top of Spring Mountain, the 'summit' road as we refer to this ribbon of pavement. This road passes select driveways to Spring Mountain wineries before forking several times – the road is well signed with winery names, follow the signs to Sherwin Family. Allow about 20 minutes from the town of St. Helena on the valley floor.
The winery was founded by Steve and Linda Sherwin. They used to live in Clayton (the East Bay) in the San Francisco Bay Area and would make weekend trips to Napa Valley. After a friend suggested they start to look for property in Napa Valley, they located this secluded hillside location. It was perfect for what they were looking for, a place in the country where they could raise their family. Their land was originally part of a much larger property and at the time of their purchase, included several acres of old vine Cabernet Sauvignon, Merlot and Cabernet Franc.
NOTE: tragically the winery completely burned in the Glass Fire of 2020, but not the nearby Sherwin's house across the pond. We a couple of days after the fire burned through this part of Spring Mountain; there were still flames burning on the property. The Sherwin's, buoyed significantly by their background in construction, as of mid 2022, have impressively rebuilt the winery in a look and feel to the original winery, in what is a fairly short amount of time (aside from significant obstacles, initial debris clearing, county bureaucracy and high cost of insurance). By starting construction before others, they actually saved quite a bit on cost of materials which have since increased remarkably.

We will visit the new winery in 2022 or 2023 and significantly update our notes here including archiving all the previous winery photographs and updating with all new winery photographs.
Steve's background is in construction (which are always useful skills to have when starting a winery); over the next few years he cleared out additional acreage for new vineyards. He has been the winemaker since their first vintage in 1996 although his son Matt who is their General Manager, also helps out. Steve also is their vineyard manager; he and Linda's home is conveniently located across the pond from the winery. The property is 30 acres of which approximately 16 acres are planted to vine (15 acres Cabernet Sauvignon with the balance being Cabernet Franc and Merlot). Steve and Matt are also avid fishermen.
The winery building itself is reminiscent of a mountain style chalet and is surrounded by tall fir trees. The cellar and barrel room are directly below the main house and tasting room.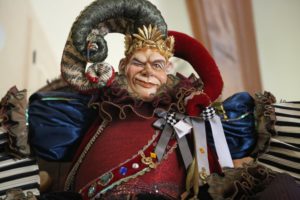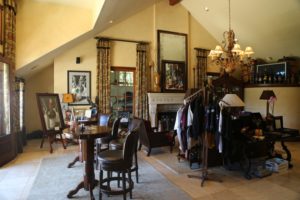 The inside of the main house is a well-furnished modern looking 'museum' devoted to their wines. It features a variety of artwork and sculptures relating to the wines and wine labels as well as wine related merchandise for sale. Letters and photos from dignitaries who have enjoyed Sherwin wines are on display.
A tasting here is an extremely relaxed experience, often outdoors weather permitting – on their stone patio overlooking a pond and some of their vineyards. This is a quiet part of the Napa Valley surrounded by trees and more forest land then vineyards; it is well off the beaten path of Highway 29. Tastings are generally private for your party. A very unique feature is a floating green located in the middle of their pond; sometimes guests will try their skills at hitting a golf ball onto the green with the hopes of getting the ball into the hole.
Select Wines
Sherwin Family currently produces several wines including a rosé, a Chardonnay from the Napa side of Carneros, an intriguing wine of high quality called Cellar Scraps and their estate Cabernet Sauvignon.
The 2016 Sherwin Family Vineyards Rosé of Cabernet Sauvignon was bled out from their tank (concentrating the remaining grapes for their primary Cabernet Sauvignon). The result is a refreshing wine with very lively fruit forward aromatics – raspberry and watermelon. It is completely dry with no residual sugar and is packed with flavor. The palate also shows some noticeable textural weight which is complemented nicely with bright acidity.
The 2015 Sherwin Family Vineyards Chardonnay went through 50% malolactic fermentation and spend 8 months in oak (20% new). Initially shows aromas of Crème brûlée, butter with just a kiss of citrus on the bouquet. As it opens – notes of brown sugar show. This wine features good acidity on the palate with a mouthwatering finish that lingers with both citrus and green apple. It is fairly well balanced.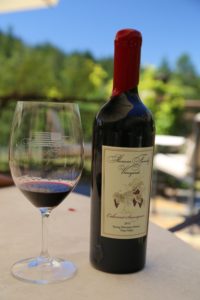 During our latest visit, Cellar Scraps #9 was their current release. This is a multi-vintage wine that combines small lots that did not make their way into their primary wines. The name sounds like these are simply leftover wines – but in reality, this is an exciting blend that over delivers for the price. The blend changes every time they make this wine. They only made 100 cases of Cellars Scraps #1 and it sold out very quickly. They increased production for subsequent vintages. The Sherwin Family Vineyards Cellar Scraps #9 is very dark red in the glass; it shows an aromatically powerful bouquet with rip fruit – the nose is voluptuous with notes of blackberry and ripe plum – (think ripe wild blackberry). As it continues to breathe it reveals notes of dessert spices including clove. It is balanced on the palate with ripe flavors of dark cherry. Anchored by earthy tannins.
They are the only winery in the United States to have received approval for the image of the US Flag on their label. After 9/11 happened a wine auction was organized on the shores of the extremely picturesque Lake Garda Italy (near the prominent wine growing region of Verona). This auction benefited the families of those lost in the restaurant, Windows of the World in the World Trade Center. Steve and Linda were contacted – asking if they would donate some wine.
They created a beautiful design for this auction with the words "in remembrance of those lost September 11, 2001". This Magnum ended up being one of the top lots in the entire auction. Steve decided to use this label on additional large format bottles – with the intent to donate them to charity. However, this label was denied approval by the branch of the Federal Government that oversees label approval. Steve being persistent sent in a bottle and explained the story of this wine and remarkably the label was approved almost immediately upon receipt.
Today Sherwin Family continues to make this wine in both 750ml as well as large format bottles with much of the proceeds going to support military charity organizations and education among other charities. Clients who purchase and consume these bottles can send the bottles back to the winery; they will then paint the inside, re-cork and re-apply wax to the cork and send the bottle back to the client as a memento.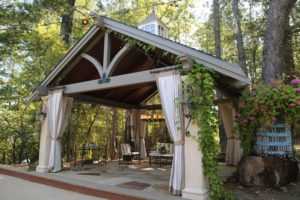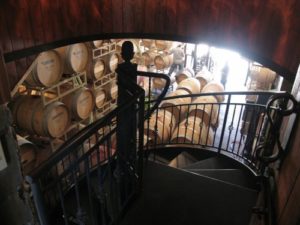 The 2013 Sherwin Family Vineyards Estate Cabernet Sauvignon is very dark in the glass; it shows mostly darker fruit aromas on the bouquet including blackberry and darker cherry and quickly reveals very ripe aromatics with a sweetness of aroma. Offers rich fruit on the palate without being dominated to much by the oak. Earthy integrated tannins linger for some time with a slight presence of oak on the finish including notes of mocha.
—
The wines are selectively distributed in certain states – but the majority of their wine is sold direct through the winery, often from referrals of those who have visited here before. Wine club members are simply referred to as the "Cellar Scrappers". Total production of all their wines is usually only several thousand cases per year. For more information, to schedule a visit and to join their wine club, visit: www.sherwinfamilyvineyards.com
Exterior

Hospitality, Interior

Vineyards