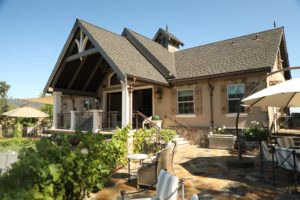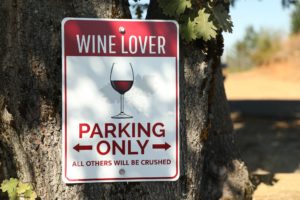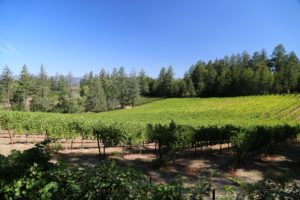 Sherwin Family Vineyards is a boutique winery located in the forests of the Spring Mountain district. A tiny road leads north from the Napa / Sonoma County line at the top of Spring Mountain, the 'summit' road as we refer to this ribbon of pavement. This road passes select driveways to Spring Mountain wineries before forking several times; the road is well signed with winery names, follow the signs to Sherwin Family. Allow about 20 minutes from the town of St. Helena on the valley floor.
The winery was founded by Steve and Linda Sherwin. They used to live in Clayton (the East Bay) in the San Francisco Bay Area and would make weekend trips to Napa Valley. After a friend suggested they start to look for property in Napa Valley, they located this secluded hillside location. It was perfect for what they were looking for, a place in the country where they could raise their family. Their land was originally part of a much larger property and at the time of their purchase, included several acres of old vine Cabernet Sauvignon, Merlot and Cabernet Franc. Today they continue to grow these varieties with the vast majority of the property planted to Cabernet Sauvignon. The first vintage of Sherwin Family Vineyards was a 1996 Cabernet Sauvignon.
Over the next few years Steve cleared out additional acreage for new vineyards. He has been the winemaker since their first vintage in 1996 although his son Matt who is their General Manager, presently handles much of the winemaking duties. Steve also is their vineyard manager; he and Linda's home is conveniently located across the pond from the winery. The property is 30 acres of which approximately 16 acres are planted to vine including 15 acres Cabernet Sauvignon with the balance being Cabernet Franc and Merlot. Steve and Matt are also avid fishermen.
The winery building itself is reminiscent of a mountain style chalet and is surrounded by tall fir trees. The cellar and barrel room are directly below the main house and tasting room.
The inside of the main house is a well-furnished modern looking 'museum' devoted to their wines. It features a variety of artwork and sculptures relating to the wines and wine labels as well as wine related merchandise for sale. Letters and photos from dignitaries who have enjoyed Sherwin wines are on display. And weather permitting on one side of the house, doors slide into the walls, creating an open space between the indoors and the outdoors with beautiful views overlooking their vineyards and pond.
A tasting here is an extremely relaxed experience, often outdoors weather permitting on their stone patio overlooking a pond and some of their vineyards. This is a quiet part of Napa Valley surrounded by trees and more forest land than vineyards; it is well off the beaten path of Highway 29. Tastings are generally private for your party. A very unique feature is a floating green located in the middle of their pond; sometimes guests will try their skills at hitting a golf ball onto the green with the hopes of getting the ball into the hole. All money raised from the price of attempting three shots is donated to charity. And a bocce ball court is located next to the outdoor tasting spaces.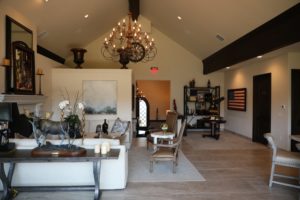 Tragically the winery completely burned in the Glass Fire of 2020, but not the nearby Sherwin's house across the pond. Steve did not evacuate and was able to successfully save his own home. We visited the Sherwin property several days after the fire burned through this part of Spring Mountain; there were still flames burning on site and along parts of Spring Mountain Road. Most of their vineyard survived except for about 100 vines which were burned.
The Sherwins, buoyed significantly by their background in construction, by early 2023 impressively rebuilt the winery with a look and feel very similar to the original building. This construction occurred in what was a fairly short amount of time despite plenty of obstacles, including initial debris clearing, county bureaucracy and the high cost of insurance. By starting construction before others who lost wineries in this fire, they saved quite a bit on cost of materials which since significantly increased. While the winery was being rebuilt the wines were temporarily produced at Napa Wine Company in Oakville. As a result of the fire, the surrounding forest was destroyed or significantly damaged resulting in picturesque views of the northern part of Napa Valley far below from parts of their property.
Select Wines
Sherwin Family currently produces several wines including a rosé, a Chardonnay from the Napa Valley side of Carneros, a 'customer favorite' red blend called Cellar Scraps and the wine they are most well-known for, the estate Cabernet Sauvignon.
The 2022 Sherwin Family Vineyards Rosé of Cabernet Sauvignon is medium to deep pink in color; this wine smells fresh and floral with notes of rose petals along with raspberries a hint of watermelon jolly rancher hard candy and as it evolves in the glass, a note of citrus including lemon juice. This is not a light rosé either in terms of texture or flavor. It's mouthfeel is creamy and rounded with some viscosity. The flavors somewhat mirror the bouquet and include notes of watermelon, red berries (reminded us of foraging in the Alaska wilds in late summer for low to the ground bush berries) and ruby grapefruit. The finish is richly flavored and long lasting.
The 2016 Sherwin Family Vineyards Rosé of Cabernet Sauvignon was bled out from their tank (concentrating the remaining grapes for their primary Cabernet Sauvignon). The result is a refreshing wine with very lively fruit forward aromatics including raspberry and watermelon. It is completely dry with no residual sugar and is packed with flavor. The palate also shows some noticeable textural weight which is complemented nicely with bright acidity.
The 2022 Sherwin Family Vineyards Sauvignon Blanc, Yount Mill Vineyard in Yountville is pale yellow in color; the enticing aromatics are diverse and include scents of honeysuckle, citrus blossom, guava, pineapple, melon, lemongrass, grapefruit pith and while present, a very faint note of vanilla. Smelling this wine reminded us the various florals one finds in spring. On the palate this wine is perfectly balanced between flavor, acidity and texture. It offers a slightly creamy mouth feel, flavors of pineapple, lemon juice, pineapple guava, honeydew melon, white peach and ripe mandarin. This wine is an ideal example of the evolution of Napa Valley Sauvignon Blanc in general; a wine that is not overtly green or grassy, nor is it too tropical. It flirts with both ends of the spectrum and ends up right in the middle. Beautiful. Pair with a dish of thin rice noodle Thai Pad Thai.
The 2015 Sherwin Family Vineyards Chardonnay went through 50% malolactic fermentation and spent 8 months in 20% new French oak barrels. This wine initially shows aromas of Crème brûlée, warm butter with just a kiss of citrus on the bouquet. As it opens it reveals notes of brown sugar. This wine features bright acidity on the palate with a mouthwatering finish that lingers with flavors of both citrus and green apple. It is fairly well balanced.
During our latest visit, Cellar Scraps #16 was their current release. This is a multi-vintage wine that initially was crafted from small lots which were not used in their other wines. Over time production has significantly increased and it is now their most produced wine. And in addition, it is now an intentionally made wine as they are purchasing grapes from other growers for this particular bottling. The name sounds like these are simply leftover wines, but in reality, this is an exciting hand-crafted blend which over delivers for the price. The blend changes every vintage but is always led by Cabernet Sauvignon. They only made 100 cases of Cellars Scraps #1 and it sold out very quickly.
The Sherwin Family Vineyards Cellar Scraps #16 was produced from two vintages of Cabernet Sauvignon and blended with Petite Sirah and Petit Verdot. The winery uses a highly technical adjective to refer to the character of this wine – they simply call it 'yummy'! This bottling is deep ruby in color; the bouquet offers aromas of dark cherry, mocha and chocolate. One would not be incorrect in calling it hedonistic. Its drinks comfortably and effortlessly with flavors of blackberry, blueberry and notes of chocolate, accompanied by a gentle and slightly creamy texture across the palate.
The Sherwin Family Vineyards Cellar Scraps #9 is very dark red in the glass; it shows an aromatically powerful bouquet with ripe fruit; the nose is voluptuous with notes of wild blackberry and ripe plum. As it continues to breathe it reveals scents of dessert spices including clove. It is balanced on the palate with ripe flavors of dark cherry. The finish is anchored by earthy tannins.
The 2018 Sherwin Family Vineyards Merlot (their inaugural vintage) is from a block growing on the highest part of their property and is 100% varietal. It is dark ruby in color and darkly fruited on the bouquet. It offers aromas of blackberry, boysenberry, dark chocolate, tobacco spice and a note of toasted oak. As the wine opens further, it reveals a hint of caramel and mocha. This bottling is made for Cabernet Sauvignon enthusiasts with its complexity and layers. The palate offers dark fruits including plum, along with a lingering note of crushed pepper. This is a savory showing, with bright acidity and grainy, persistent and dusty tannins which ultimately outlast the fruit on the finish.
Sherwin Family Vineyards is the only winery in the United States to have received approval for the image of the US Flag on their label. After 9/11 happened a wine auction was organized on the shores of the extremely picturesque Lake Garda Italy, near the prominent wine growing region of Verona. This auction benefited the families of those lost in the Windows of the World Restaurant in the World Trade Center. Steve and Linda were one of 50 U.S. based wineries who donated wine to this auction.
They created a beautiful design for this auction with the words "in remembrance of those lost September 11, 2001". This Magnum ended up being one of the top lots in the entire auction. Steve decided to use this label on additional large format bottles with the intent to donate them to charity. However, this label was denied approval by the Alcohol and Tobacco Tax and Trade Bureau (TTB), the branch of the Federal Government that oversees label approval.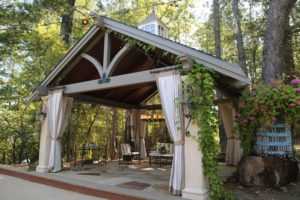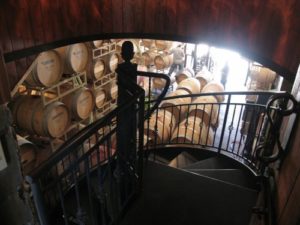 Steve received a call one day from their office notifying him of their decision. Steve being persistent called up the Wine Institute (based in Washington D.C.) and talked to several employees who told him they had never seen the TTB approve a wine label containing an image of the U.S. flag. He asked to speak to their supervisor and was transferred to the president of the Wine Institute who confirmed what the other employees of the Wine Institute had already told him. But after hearing Steve's request and its intent, he asked Steve to send in a bottle and explain the story behind this wine. He said he would walk it across the street to the person who would make this kind of label decision. He did, and called up Steve to inform him that remarkably the label was approved almost immediately. That was in November 2001.
Today Sherwin Family continues to make this wine in both 750ml as well as large format bottles with much of the proceeds going to support military charity organizations and education, among other charities. Clients who purchase and consume this wine can send the bottles back to the winery to be painted inside, re-corked and wax re-applied to the cork. The bottle will then be returned looking like it is filled with wine.
The 2021 Sherwin Family Vineyards Estate Cabernet Sauvignon (the one bearing the etched image of the flag on the bottle) is 82% Cabernet Sauvignon, 9% Merlot and 9% Cabernet Franc. For reference, we tasted this wine young, prior to its release. It is dark ruby and opaque; the bouquet is fresh and offers aromas of violets, a minty note, plum, blackberry, red cherry and a note of vanilla. The bouquet is about the purity of the fruit rather than any overt barrel influences. This wine is well-layered on the palate with brightly fruited flavors of plum and blackberry accompanied by grainy and grippy tannins that parallel the flavors for quite some time on the finish. It also persists with a savory light dryness and a note of pepper. Those who appreciate age worthy Napa Valley mountain grown Cabernet Sauvignon will want to seek out this wine.
The 2013 Sherwin Family Vineyards Estate Cabernet Sauvignon is very dark in the glass; it shows mostly darker fruit aromas on the bouquet including blackberry and darker cherry and quickly reveals very ripe aromatics with a sweetness of aroma. Offers rich fruit on the palate without being dominated to much by the oak. Earthy integrated tannins linger for some time with a slight presence of oak on the finish including notes of mocha.
M.S.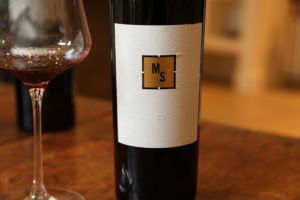 M.S. was founded by Matt Sherwin as a separate wine brand from Sherwin Family Vineyards with his inaugural vintage in 2016, a Spring Mountain Cabernet Sauvignon sourced from the Matt Block on the lower portion of Sherwin Family Vineyards property. Only 50 cases of this wine were produced. Production has grown slowly since then with about 100 cases produced each vintage.
Unfortunately the M.S. 2019 and 2020 vintages were stored at Sherwin Family Vineyards and were lost in the 2020 Glass Fire. Wanting to continue to focus on mountain wines, but expand production and location, in 2022 Matt began producing a wine from Howell Mountain.
The 2018 M.S. Sherwin Spring Mountain Cabernet Sauvignon (100% varietal) is deep ruby in color; the elegant bouquet offers aromas of plum, cherry and old cedar box. But there is more here, just give the wine time to open. It reveals additional scents of dried herbs and sage, a note of chocolate, assorted baking spices and a light note of toasted oak. This balanced bottling offers flavors of dark raspberry, red cherry and plum. The tannins are rounded, slightly grainy and exhibit a light grip. The finish lingers with a light dryness and bright fruit. This wine is showing very well 5 years post vintage and has many more years ahead of it.
Sherwin Wine Services
While most fulfillment centers and wine warehouses in Napa Valley are built for larger producers there are plenty that will store and ship wine for small producers. However, this space differs in that its setup entirely for handling the production needs of small producers. In addition to fulfillment, Sherwin Wine Services offers storage and delivery, label and packaging options, and compliance.
Sherwin Wine Services will even put wines on a weather hold, only shipping when temperatures are conducive to do so. And for consumers who have accumulated wines during their visit to the valley, during normal business hours (weekdays 8-4pm) they offer on site shipping services.
Sherwin Family used to store and package wines from a building on the lower part of their property but this structure unfortunately burned in 2020 during the Glass Fire. As a result, they moved their fulfillment operations to a 2,500 square foot space in the city of Napa. They quickly outgrew this space. One day while talking to one of his neighbors (the owner of Spring Mountain Wine Company whose shop also burned down in the Glass Fire) about the storage and fulfillment needs of small wineries, Matt Sherwin thought about the possibility of opening a warehouse, or as he told us, "a space run by small guys for small guys". A friend heard about his interest and sent him an online ad listing a 10,000 square foot space previously used by Dry Farm Wines. The space and its location made sense.
Sherwin Wine Services moved into this building in November 2022 and have since filled out much of the interior with numerous primarily small Napa Valley winery clients including, St. Helena base ACME Wines. Sherwin Wine Services was founded and is owned by Matt and Steve Sherwin.
Many of Napa Valley's wine warehouses are located in several industrial and business parks south of the city of Napa including into American Canyon, but this space is located within a short drive of downtown Napa within the city limits next to Highway 29 with easy access off of the highway from the 1st street/downtown exit. As a result its closer to wineries located up valley and avoids some of the traffic further to the south.
—
The wines are selectively distributed in certain states but the majority of their wine is sold direct through the winery, often from referrals of those who have visited here before. Wine club members are simply referred to as the "Cellar Scrappers". Total production of all their wines is usually only several thousand cases per year. For more information, to schedule a visit and to join their wine club, visit: www.sherwinfamilyvineyards.com
Exterior

Vineyards

ORIGINAL WINERY