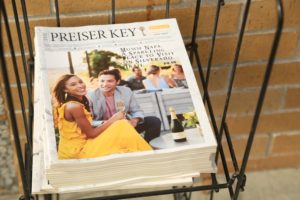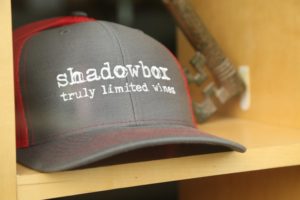 Shadowbox Cellars is a partnership between Monty & Sara Preiser, their friends Ira & Eydie Holz and the Preiser's son and his wife, Justin & Stacy Preiser. Monty & Sarah have been traveling to the Napa Valley for years from their home in Florida. After a few visits to the valley, they noticed multiple wine country publications containing limited maps, none of them were comprehensive and all shared the same winery advertisers. Both Monty & Sarah enjoy trying wines from producers they have never heard of but based on the printed information available at the time they had no easy way to locate these producers.
They realized there might be a demand for a more comprehensive printed guide for the Napa Valley. The problem was they did not live in Napa full time. Enter their son Justin. He had recently graduated from college – he remembers his father saying something like "you really enjoyed visiting Napa Valley for your 21st birthday – maybe you should go visit Napa again."
Justin took his father's advice and has never left. His introduction to Napa was a bit rough to start – he moved here in early January 2006 during a major flood; parts of downtown Napa were completely under water. After the cleanup efforts life returned to normal and he spent time researching the area and meeting those who worked in the wine business. The contacts he made were invaluable for when they started their publication. A year later at age 23 he and his parents founded the Preiser Key. Today it is a premium magazine that is available for free in many locations in the valley and in neighboring Sonoma County. It is an excellent resource for visitors to the valley. Highlights include its comprehensive winery lists, easy to read maps and relevant articles and photography.
With numerous contacts in the wine industry – and running a publication focused on wineries and hospitality it was only a matter of time before they also became vintners. In 2004 Monty and Sonoma/Napa winemaker David Ramey were enjoying a meal together in Napa when drinks started flowing and they both made a bet. Neither can remember what the bet was about but both remember that Monty won the bet, and that David owed him a barrel of Syrah each year for an indefinite period. This was in 2004. By 2008 somehow one barrel had turned into two barrels and the Preiser's started thinking about starting a small label.
The Napa Valley has such a diversity of winemakers that it was tempting to hire a winemaker for each wine produced – based on that winemakers' style and or varietal focus. They did this but soon realized it became difficult to manage – each winemaker was making wine at a separate winery. Logistically this was a headache to keep track of. Eventually they hired one winemaker (Jason Moore) who made their wines in one winery. At one point they employed four winemakers. Today, Justin (self-taught) is the sole winemaker for Shadowbox Cellars.
The idea was to keep the brand small. However, Justin now admits that 60% of his time goes into Shadowbox Cellars on top of the "75%" spent managing the quarterly Preiser Key publication. Do the math. He's a busy guy. While total production is still very small, they now make a number of wines – and Justin has since taken over the winemaking duties.
Shadowbox Cellars does not own any vineyards, rather they source nearly all of their fruit from small family-owned vineyards – mostly in Napa but sometimes from neighboring Sonoma County. Vineyard sources have changed through the years but with their contacts they have always been able to secure additional quality vineyards as needed.
Select Wines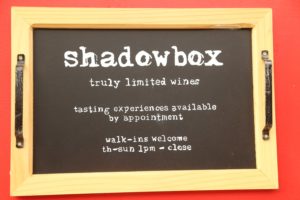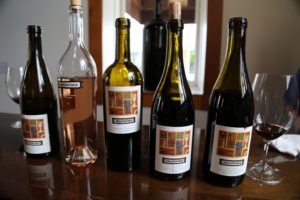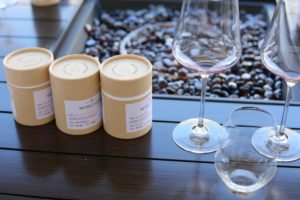 The 2012 Shadowbox Cellars Orchard Vineyard was made from Chardonnay vines over 45 years old (rare to have vines of this variety in the Napa Valley this old). Unfortunately, they were removed during a subsequent vintage, but they secured another vineyard almost across the street. This wine was barrel fermented with frequent battonage. The wine saw 50% New French Oak and 50% used during fermentation and aging. Aromas of hazelnut, honey, honeysuckle and apricot. On the palate the wine is soft and rounded with a noticeable richness of fruit. This is a very well-flavored Chardonnay.
The 2015 Shadowbox Cellars Rosé of Pinot Noir has already been a favorite among their customers, and we see why. As a result, they increased the production of this wine. It was made in the Provençal-style (similar to how it is made in Provence) and picked at a much lower sugar level then for their Pinot Noir. It is a wine that drinks easily. Notes of strawberry, mineralities and hints of earthiness show on the bouquet. Raspberry, strawberry show mid palate with a crisp finish anchored by flavors of watermelon.
The 2015 Shadowbox Cellars Chardonnay Simone Vineyard from the Oak Knoll District (tasted 6 years post vintage date) is noticeably golden in the glass with aromas of sweet vanilla, butterscotch lollypops and caramel – along with riper melon and pear although more dessert spices show than fruit aided by the age in the bottle and influence of its oak aging. Rounded texture, soft and satiny across the palate with flavors of mandarin, red apple and honeydew melon. Lingers with a richness of fruit, dessert spice influence and a brightness of acidity (but not tart). 104 cases produced, aged for 17 months in 50% new and 50% neutral French oak.
Only 25 cases of the 2012 Shadowbox Cellars Pinot Noir were produced from a premium vineyard on the Sonoma side of Carneros (different vineyard source then what was used for their rosé). This vineyard is somewhat unique as there are no other vineyards close by (typical scenery in Carneros is often rolling hillsides covered with vines). This vintage shows spicy raspberry on the bouquet – a white pepper characteristic along with floral (violet) aromas. This is a balanced wine and a richer style of Pinot Noir – both with the fruit intensity and the light oak and fruit tannins on the finish. Pleasing baking spices and an earthy nuance show on the palate.
Shadowbox Cellars prefers producing Syrah from cool climate regions. Again, they turned to Sonoma County for this wine; the vineyard is located at 2,100 feet on the west side of Napa's Mt. Veeder. The nose is elegant on the 2010 vintage – this is a lighter style Syrah, showing good acidity along with flavors of red currant. Tannins linger on the front of the palate. Nice food wine.
The 2011 Shadowbox Cellars Napa Valley Cabernet Sauvignon was sourced from a vineyard in the Stags Leap District; this is a vineyard they have worked with for multiple vintages. It shows sweet notes on the bouquet including rhubarb – there is a pleasing herbal dustiness present (which they have noticed in other vintages) – not just in the challenging growing season of 2011. Shows raspberry notes along with a lingering tartness on the finish.
—
The name 'Shadowbox' refers to a family tradition of hanging a box on the wall filled with small mementos. Each of the owners chose one item to be represented on their label. Ira & Eydie chose an important family heirloom – a chalice, Monty chose the monkey, because as Justin says, "my dad just likes monkeys" and Justin chose the key to represent all the work he has put into building the Preiser Key.
Tasting Room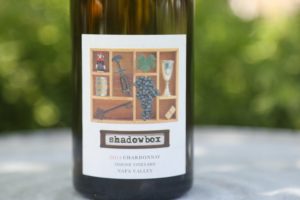 For a little over a year, Shadowbox was part of Vintner's Collective in downtown Napa – a tasting room that represents small mostly Napa based producers. As of 2018 their wines are no longer offered at Vintner's Collective; this same year Shadowbox Cellars opened a tiny tasting space next door to Rebel Vintners in downtown Napa (1201 First Street). Visits are by appointment most of the time and despite their First Street address, guests enter through the prominent red door on Coombs Street (around the corner from First Street). Open by walk in on Thursday through Sunday.
The tasting room offers a unique experience called Salt & Acid; a tasting of gourmet potato chips paired with limited-production wines. "We make our wines in a style to complement food, whether a composed meal or a delicious snack," according to Justin. "Instead of asking visitors to use their imagination to think of what foods would taste good with the wines they're sampling, we provide gourmet chips in a range of flavors to illustrate possible pairings."
The Salt & Acid tasting features at least five of Shadowbox's limited-production wines (some as small as a single barrel) served from Mark/Thomas lead-free crystal stemware alongside three flavors of from the innovating California company Wine Chips: Hawaiian Red Sea Salt, Smoked Gouda and Dry-Aged Rib Eye. The chips, which are lattice-cut to emphasize texture and flavor, are individually sealed in personal-sized portions. Visitors are encouraged to mix and match wines with the chip flavors to excite their palates and discover perfect pairings.
—
Total production each year is usually around 800 cases. For more information, to schedule an appointment or to join their wine club, visit: www.shadowboxcellars.com