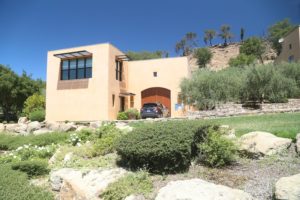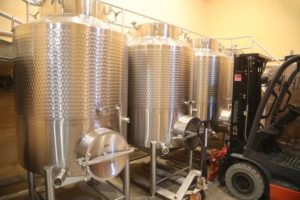 Seven Stones Winery (not to be confused with the Seven Stones Winery in British Columbia, Canada) was founded by Ron and Anita Wornick (Ron passed away in 2021). Ron had a passion for both the arts and sciences and winemaking satisfies both of these avocations. During college he earned extra money as a professional trumpet player. After college he joined the army and continued to play trumpet for the Army band. While in the Army he also experimented with food science and testing a number of techniques for freeze drying food. Then later as a graduate student at MIT he worked for United Fruit Company (predecessor to Chiquita Fruit). Long after his time at United Fruit Company, the U.S. Defense Department contacted Wornick in the 1980s for help in producing the packaged food that every combat military person knows, the MRE or Meal Ready to Eat food rations (also used in the US Space Program). Wornick Co produced millions of MREs and also humanitarian rations for refugees around the world.
In late 2022, the Seven Stones property, including the winery, sold to South Korea based Hanwha Group – a major photovoltaics manufacturer, as well as owner of numerous Korea based hospitality related businesses as part of Hanwha Hotels & Resorts. More details coming soon.
The Seven Stones estate is located on one of the truly remarkable sites within Napa Valley. Overlooking much of the northern part of the valley with its tremendous views the estate, winery and vineyards sit on a steep hillside in the eastern Vaca mountains just above Meadowood Resort. This property was part of the original ownership of nearby Meadowood Resort and then changed owners several times before the Wornick's purchased the site (45 acres) in 1995 from Harlan Estate owner, Bill Harlan. They planted a single acre with the fruit at the time used for their personal wine. Several prominent wine couples encouraged them to take the next step and produce wine commercially, including Robert and Margrit Mondavi and Garen and Shari Staglin. The first commercial production of Seven Stones was from the 2005 vintage.
We have talked to a number of property owners during this project who moved to the valley without having any intentions of planting a vineyard much less making wine. The Wornick's original intent was the same, to move to the valley in their retirement and build a retirement home for themselves, their children and grandchildren. However, an even smaller number of these owners fortuitously purchased property in some of Napa's best terroir. Case in point are the vineyards of Seven Stones. This is a prestigious vineyard neighborhood with Harlan's Napa Valley Reserve at the bottom of the hill, Herb Lamb Vineyard behind their property, the former Thorevilos Vineyard (now called Ecotone Vineyard) slightly further away as well as Ric Foreman's own vineyard and winery.
The initial major problem with this property in establishing any sort of vineyard or winery was the lack of and difficulty in procuring water for the site. The previous owners were never able to establish any sort of permanent water source. The site sits about 700 feet above the valley floor. In order to get a reasonable amount of water to the vineyards a well had to be drilled over 850 feet down! That's even 150 feet below the valley floor.
The winery is extremely small by Napa standards and was built with the intent of just making home wine. Before producing commercial wine, this was probably the finest "home winery" in all of Napa County. The winery building contains several small tanks in one room and several barrels in the aging room which is shared with a separate glass enclosed room which contains a limited amount of library wines. Total annual production is usually between 200 and 400 cases of the single Cabernet Sauvignon bottling.
Founding Seven Stones winemaker, one of Ron and Anita's three sons, Kevin Wornick produced the 1999-2004 vintages. Winemaker Brad Grimes produced the 2005 and 2006 vintages (current winemaker at Abreu Vineyards). Aaron Pott has been the winemaker since 2007; Pott graduated with a degree in enology from UC Davis and a degree in viticulture from the Universite de Bourgogne in Dijon, France. He also spent a number of years in France winemaking including a year at Chateau Troplong Mondot and as head winemaker for Chateau La Tour Figeac in Saint-Emillion. Previous Napa winemaking positions included at Beringer where much of his work was overseas, St. Clement and at Quintessa. Needless to say, he has significant experience in a number of "wine worlds" including the "old world" as well as in Napa. Aaron is also an accomplished author and for several years wrote the In the Vineyard columns for the Atlantic magazine.
Winemakers often put their stylistic stamp on wines; Aaron's 'style' is to let the vineyard site speak – focusing on wines that represent where they are from rather than the winemaker's fingerprint.
The Wornick's have collected art for a number of years and have amassed one of the largest private craft collections in the world – Ron has long been a woodworker and has focused on collecting this specific type of art. The majority of this collection was given to the Boston Museum of Fine Art in 2007. The centerpiece of the estate is a huge piece of artwork; 7 massive granite stones collected from near Yosemite are interwoven together, situated on a small hill overlooking much of the central and northern part of Napa Valley. This entire piece weighs in at over 100,000 pounds and is the inspiration for the name of their winery. The artist behind this unique work is Richard Deutsch, a well-regarded sculpturist from Southern California who often creates large sized stone works of art. His commissioned works can be found in a wide variety of places from Stanford University to Oakland to Wyoming to the East Coast. Visit: www.richarddeutsch.com
During our first visit to the property, we walked the vineyards with assistant winemaker at the time, Roy Piper. Everything about the vineyard part of the property was developed on a small scale and as a result is very much managed by hand. Despite the small vineyards the soil types change remarkably even within the same block. There might be a wide range of colors from reddish to white to brown including an ash-like soil, to soils that contain huge boulders similar to icebergs in that the majority of the rock is underground. Due to the elevation (higher than the valley floor, but not too high) they do receive the moderating effects of the fog which typically burns off in the summer by mid to late morning.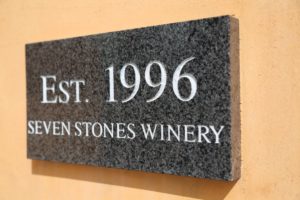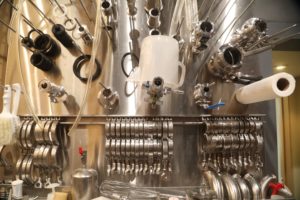 At the time of this review there are merely 3 hillside acres planted to several Bordeaux varieties. The Glass Fire in 2020 burned a significant portion of the surrounding landscape including on the Seven Stones property. As a result of this fire opening up parts of their property, plans are in place to expand the vineyard footprint several more acres.
The vineyards are separated into small unique blocks some of which contain just a limited number of vines. The property is composed of volcanic based soils most of which are extremely rocky. The topsoil is merely 6-12 inches and underneath that lies fractured rock. Huge D7 tractors had to initially "rip" the vineyard to break up the rock enough to allow the roots of the vines to penetrate deeper into the rock/soil.
Because of the soils or lack thereof, production is already low, however up to 40% of the existing fruit is also removed (depending on the vintage) leaving just the highest quality fruit to be used in the fermentation. Much thought went into the vineyards including the row orientation. Based on the vineyard's exposure to the sun angles during the summer heat spells, much of the fruit is shaded from the hottest part of the day thus avoiding any sort of sunburn.
Seven Stones focuses on a single wine each year, typically no more than 400 cases – each year's production consists of merely 10 or less barrels. With the winery located on site their grapes can be at the winery within minutes of being harvested. Their focus is on using only the highest quality berries and by the time the grapes reach the stage where they can begin their fermentation, they have been sorted 4 times (including once in the vineyard just before picking).
Select Wines
The 2018 Seven Stones Cabernet Sauvignon is 90% Cabernet Sauvignon and 10% Cabernet Franc and was aged for 22 months in new French oak barrels. Pott compares Cabernet Sauvignon to a donut; this variety has texture on the front and the back of the palate but sometimes misses out on the mid palate. That is where Cabernet Franc comes into play – to 'round' out the mid palate. Both varieties were co-fermented together. The resulting wine is dark ruby in color and almost opaque in the glass. The bouquet is elegant and offers aromas of violets, dark plum, blackberry and old cedar box. As the bouquet evolves in the glass, it begins to open up to aromas of red cherry and some subtle clove spice. The finish is long lasting and savory with a noticeable persistent grip of earthy, dusty and gravelly textured dark tannins. The wine also lingers with flavors of red cherry, shows bright acidity and notes of crushed peppercorn. It is a big but balanced mountain bottling with loads of life ahead of it.
The 2006 Seven Stones Cabernet Sauvignon (316 cases) is 90% Cabernet Sauvignon and 10% Merlot. This wine is dark ruby in the glass. The bouquet shows notes of graphite, mineralities and a crushed rock component along with elegant fruit. The wine is soft and smooth on entry and is focused and balanced from start to finish. Part of this balance stems from how well the oak integrates with the fruit. This is a wine that walks a nice line between the riper fruit forward wines and those that are more restrained. More red fruit shows than dark fruit (although there are nice notes of blackberry); the wine is velvety throughout with a pleasing long finish anchored by fine grained tannins. There is a softness yet at the same time a richness to the palate, which is part of what makes this wine so intriguing.
Hydeout Sonoma/Dysfunctional Winery
Kevin Wornick has been involved in the wine business for many years. Originally, he was a geologist for Bechtel in the 1980s, a privately held San Francisco based company. Kevin has since founded several wine businesses including Post & Trellis Vineyards in which his company developed more than 150 acres of vineyards in the San Francisco Bay Area and several years later, La Honda Winery in Redwood City (which is still in business, but Kevin has since sold it).
Today he operates Hydeout Sonoma, a vineyard development, management and consulting company with clients primarily in Sonoma County but also select clients in neighboring counties. Home base for the business is the 11-acre Hydeout Sonoma Farm (on Hyde Road), about 4 miles from the Sonoma Plaza and a short drive to several well-known wineries including Scribe, Gundlach Bundschu or Buena Vista wineries. Hydeout Sonoma is where he and his wife Cynthia operate two vacation rentals (available on VRBO) and grow Sagratino, a red highly tannic Italian variety.
The site is also home of Dysfunctional Family Winery, a small producer of both estate Sagratino and other wines from primarily the Sonoma Valley and Carneros regions. And followers of Seven Stones will be interested in the following: one unique bottling from the Seven Stones property is the 2000 Senots Yendik, Napa Valley (spell the name of this wine backwards and it reads: Stones Kidney. It was aged 24 months in new French oak and then 18 years in bottle before it was finally released!
NOTE: we will visit the Hydeout Sonoma property by the end of 2023 or 2024 and will update our notes here accordingly.
—
Because of their small distribution most of the wine is distributed via their mailing list although one can sometimes find select vintages at Meadowood. Select bottlings are available in a couple of fine-dining restaurants in Napa Valley. This winery is private and sees a very limited number of visitors. For more information and to join the waiting list visit: www.sevenstoneswinery.com
Seven Stones Winery, Similkameen Valley, British Columbia Canada
This winery is in no way related to Seven Stones Winery in Napa Valley other than both wineries share the same name. Also, their site features a few nomenclatural similarities to Napa Valley; their property contains a river they refer to as the Oxbow (reference the Oxbow in Napa) and a nearby mountain ridge is called Sleeping Lady (reference Sleeping Lady Vineyard in Yountville) in homage to its geographical features resembling a sleeping lady. Ron Wornick passed in 2021 and the founder of this Seven Stones Winery, George Hanson, also passed in 2021.
The name of this winery comes from a Native America folktale referencing seven different stones ranging from above ground to below ground referencing specific characteristics. These seven stones are: the speaking rock, standing rock, fire stone, bromley rock, witch stone, castle rock and the rain stone.
The property features surrounding hillside estate vineyards, excellent views from their deck overlooking the Similkameen Valley and a small cave used for aging wines as well as hosting a limited number of private events. They produce a variety of wines and are known for offering visitors older vintages. Driving distance to Seven Stones Winery from Vancouver is a little more than 4 hours and from Kelowona, about 2 hours.