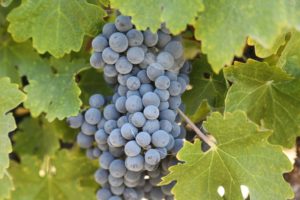 Seven Apart. Proprietor Don Dady was born in Santa Rosa and raised west of its city limits in neighboring Sonoma County (a double sports standout at El Molino High School) although he now resides in Phoenix, Arizona. He co-founded Scottsdale, Arizona based Annexus in 2006 with a business partner, Ron Shurts. Annexus focuses on growing and protecting individuals' retirement savings. While attending the University of San Diego his finance professor, William Nye instilled in his students to look for seven characteristics when evaluating something special. During their class he instructed his students to create an investment portfolio, each containing seven distinguishing characteristics. Don has carried this philosophy with him throughout his career.
When he decided to start a winery in Napa Valley, he located two properties. The property that houses their state-of-the-art winery is located off of the southern Silverado Trail on site of what used to be Van Der Heyden Vineyards. Visitors who last saw the Van Der Heyden winery and tasting room would no longer recognize the changes that have been made to the property both in the vineyard and structurally. Andre Van Der Heyden produced his first vintage in 1984; he sold his Silverado Trail property to Beau Vigne winery who in turn sold it to Seven Apart. Beau Vigne also owned Stags Ridge Vineyard next to Stagecoach Vineyard on Atlas Peak. This vineyard and the Beau Vigne brand were also sold to Seven Apart. Seven Apart later sold the Beau Vigne brand to Napa based Appellation Trading Company but kept Stags Ridge Vineyard.
Ground for the winery was broken in 2018 and was completed by February 2020.
Construction on a separate hospitality center began in November 2020 and was completed by September 2021. The building was designed by Napa based Shawback Design (their first winery project) and the architect of record is James Jeffery Architects. Several of their local winery projects include next door neighbor Black Stallion and St. Clair Brown tasting room in Napa. The winery and hospitality center sit approximately on site of what was the footprint for Van Der Heyden's old winery and tasting room.
The home winery property or 'base camp' is 8 acres; it was replanted in 2021 and 2022, primarily to Cabernet Sauvignon with smaller blocks of Cabernet Franc, Merlot and Sauvignon Blanc. Until this production comes online sometime most likely in 2024 and 2025, Seven Apart will purchase grapes to supplement their production. Eventually the model is to produce 100% estate grown fruit from both of their vineyard sites.
Stags Ridge Vineyard is 8.4 acres, located at 1,400 feet on Atlas Peak and features extremely rocky volcanic soils. A number of prominent vineyards are located nearby including Stagecoach and Antinori. This site was almost entirely planted to Cabernet Sauvignon in 1999 to clone 337 with smaller plantings of Cabernet Franc and Petit Verdot. Previously this site produced highly rated wines for Beau Vigne. Founding (but no longer the Seven Apart winemaker) Andy Erickson helped blend the inaugural Seven Apart 2018 vintage and made several subsequent vintages with associate winemaker, Patrick Nyeholt. In part, Andy was intrigued by Stags Ridge Vineyard and the potential to make wine from Atlas Peak for the first time in his career.
Mike Wolf manages both vineyard properties. When he and Andy took over, they implemented some changes to how the vineyards were being managed. First and foremost, they introduced organic farming, setup monitoring sensors on weaker vines, added double lateral Polyethylene drip lines and added cross wires higher in the trellising to better manage the canopy.
When Don purchased these sites and as the project has developed, he identified seven defining characteristics of Seven Apart:
- vineyard orientation, east to west
- unique topography of Stags Ridge Vineyard
- volcanic soils of Stags Ridge Vineyard
- climate of Stags Ridge Vineyard - allowing for warmer days but cooling breezes in the afternoon and cool temperatures at night
- a physical winery
- state of the art winemaking equipment
- an excellent winemaking team
And bonus number eight, is the fact that their winery property off of Silverado Trail is a seven-mile drive to the Stags Ridge property on Atlas Peak (we verified this exact mileage using Google Maps!).
Select Wines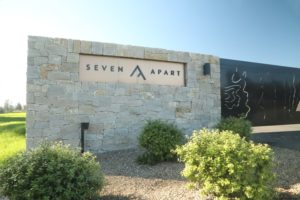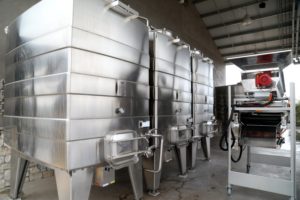 The Expedition is the only wine that is not 100% varietal; it incorporates fruit from both of the properties. The 2018 Seven Apart The Expedition is 98% Cabernet Sauvignon, 1% Cabernet Franc and 1% Petit Verdot. This wine spent 18 months in French oak. The bouquet is elegant with darker fruit aromas and as it opens shows some floral notes including of violets. There are also hints of dried herbs and tobacco leaf. Superbly balanced right out of the gate, the palate is mouthwatering and juicy. Offers slightly dusty tannins which are rounded in texture with a medium grip. Lingers with a vitality and a liveliness that is refreshing. This wine is very much ready to consume in its youth.
The 2018 Seven Apart The Shale is from the southern part of Stags Ridge Vineyard - a block that features predominantly shale rock. This wine is dark ruby in the glass; the bouquet initially offers notes of dark olive, old cedar, dark earth notes and a minerality. As the wine evolves in the glass, showcases darker fruit aromatics including of blackberry, black licorice and plum. Features plenty of aromatic depth. The tannins are firm and dense but hold up to the power of the fruit.
The 2018 Seven Apart The Basalt is sourced from a northern section of Stags Ridge Vineyard - a block that features primarily basalt rock. Offers a spicy plum note on the bouquet along with blackberry. The nose is somewhat briary. Ripe but not over ripe. A hint of old cedar box shows deeper into the aromatics. The fruit is expressive and is front and center, while the oak is a complementing factor. This wine is full-bodied and well-layered across the palate. The tannins are slightly chewy and linger with a dry, dark and earth note. This is an ideal Napa Valley Cabernet Sauvignon for those looking for structure, complexity and intensity of fruit.
The 2018 Seven Apart The Summit is sourced from a special part of the Stags Ridge Vineyard - a rolling section of the vineyard that features a blend of both shale and basalt rocks located between the northern and southern part of the site. Less than 10 rows are planted in this part of the vineyard. The winemaking team only selects the best lots produced each vintage, as a result only several barrels of the 2018 vintage were produced. The wine is very dark ruby in the glass, the bouquet initially offers some subtle savory notes including of old cedar box, sage and according to General Manager, Yannick Girardo, a teak wood nuance. Along with intriguing darker fruit flavors, one immediately notices the broad density of the tannin texture across the palate. They are firm and persistent and linger with hints of dried tobacco leaf. While highly enjoyable in its youth, this wine is clearly built to age.
With the exception of The Expedition, the other wines generally are aged for 24 months in French oak and then are aged in bottle up to a year before being released.
---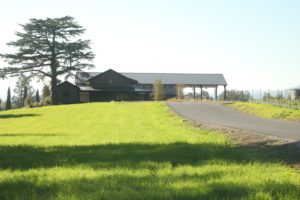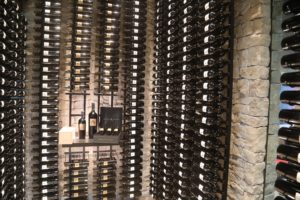 The label is a clever representation of both the Stags Ridge property and the name Seven Apart, depicting a tilted numerical seven, the top part representing the uppermost reaches of the Stags Ridge property. And the back label depicts a bar with seven segments alternating between black and gold colors, representing the seven miles distance between their two properties.
Seven Apart is permitted to produce up to 6,000 cases but current total production is only around 2,000 cases annually, with the majority of that production being the Expedition bottling. Most of the wines are sold through their allocation list but Seven Apart also has very limited restaurant distribution in parts of Arizona. Visits are reserved for active members of their allocation list. For more information and to join the allocation list, visit: www.sevenapart.com
Van Der Heyden Winery
We took these towards the end of Van Der Heyden's ownership of this property.