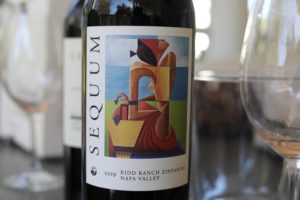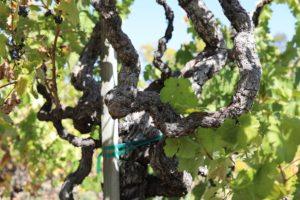 Sequum Wines was founded by viticulturist and soils expert, Dr. Paul Skinner with his first vintage in 2002. Paul's background is diverse and includes both domestic and international soils analysis and vineyard management. His first wine related job in Napa Valley was working for Martini Winery, focusing on some of their vineyards in Lake County to the north of Napa Valley. Since then, he has consulted for numerous wineries and vineyard projects, primarily in Napa Valley, Sonoma County, Monterey County and other parts of California but also in other parts of the U.S. His international soils and viticulture perspective is also impressive having traveled to numerous wine regions around the planet and worked firsthand in helping develop vineyards overseas.
He chose Sequum to honor his career studying, mapping and consulting about soils in relation to vineyard development. Sequum is a soil science term describing the vertical relationship of various layers of soil. In the early 2000s Skinner was commissioned by the Napa Valley Vintners to write two studies, Soils and Wine Grapes in the Napa Valley and Weather and Wine Grapes in the Napa Valley. Both are available for sale directly from Paul.
Kidd Ranch Vineyard, St. Helena
The flagship vineyard of Sequum Wines is the 1.75 planted acre Kidd Ranch Vineyard in St. Helena surrounding Paul's home. He purchased this property in 1998; it was originally part of a larger 10-acre parcel, previously owned by Bill Bartolucci (died in 2016) of Bartolucci & Sons Vineyards. Bill had planted part of the property in the 1970s to head-pruned and dry-farmed Zinfandel and was selling the grapes to Caymus Vineyards. After Paul purchased the property, he continued selling the grapes to Caymus where they produced a limited production Zinfandel only available in the tasting room, but in 1998 he and his friend, winemaker Chris Phelps decided to make some home wine for themselves. The resulting wine was perhaps better than both men expected, and Chris encouraged Paul to produce wine commercially from the vineyard.
Finding that this Zinfandel was not handling the more prolonged heat spikes in recent years, most of these old vines have been removed. However, there are still a number of these vines growing on the property, the healthiest ones left, while other trellised grapes grow around them. This property is an experiment of sorts in trellising, clones, rootstock and spacing.
The original head-pruned vines grew in widely spaced rows. Paul interplanted Syrah rows among the original vines, which tightened up the spacing to 1.2 m x 1m and trained some of his Syrah in an echalas system, dating back to when the Romans planted grapes on the steep and rocky hillsides of northern Rhone in France. This system historically used a wooden diagonal cross member, but Paul uses a metal one where the majority of the fruit zone is located.
A part of the property was planted with four old olive trees; due to their age the city of St. Helena would not allow them to be cut down. One day, viticulturist David Abreu was walking the property with Paul and heard about Paul's predicament. He suggested that instead of cutting the trees down, he dug them up and move them to another part of Paul's property. Paul did so (well-established olive trees tend to recover when transplanting them) and ultimately planted that small piece of his property to grapevines. And he also produced a limited production bottling of olive oil.
Paul planted some Grenache in a trellising with a single wire about 6 feet above the ground – allowing for more airflow beneath the vines. He calls this the trellising of California's future, referring to increasing temperatures, including both higher average nighttime temperatures, longer period heat spikes and warmer daytime temperatures. While Paul uses cane pruning on these vines, this trellising can be adapted to mechanized management using cordon pruning, similar to UC Davis's experimental "touch free" vineyard at their Oakville Station Vineyard.
He is experimenting with Oakville Blue Grass, a perennial grass cover crop which goes dormant in April and is revived after the first substantial rains later in the season. One advantage is that it never grows too tall, as a result it doesn't require much mowing and due to its perennial nature, doesn't need to be tilled into the soil.
Select Sequum Wines
The Sequum Wines are focused on varietal characteristics rather than too much oak influence. Perhaps the best word to describe the Sequum bottlings is balance; they offer bright acidity, are food friendly and feature approachable and comfortable tannin textures.
The 2021 Sequum La Trace Rosé of Grenache and Syrah, Kidd Ranch Vineyard is pale copper color in the glass; this bottling is highly aromatic including of guava, kiwi, lime and some mineralities. This is a balanced rosé, featuring a pleasing creamy and supple texture. It offers flavors of grapefruit, pomegranate, green apple, a grassiness and a lingering lemon and other citrus flavors. Drinks very well by itself. Growing up in southern Ohio and only 30 miles from the Ohio River, Paul wanted to pay homage to his roots. This wine is named in honor of Zane's Trace, a 'frontier road' built in 1796 and 1797 from parts of West Virginia to Kentucky, but for most of its length, crosses the southern part of present-day southern Ohio. It was built in part using numerous existing Native American trails. And when these early pioneers settled along the banks of the Ohio River some of them planted grapevines. The Ohio River was originally named la belle riviere, translated from French to English as the beautiful river.
In 2022 Paul added Cinsault from the Kidd Ranch Vineyard to the rosé of Grenache and Syrah.
The 2002 vintage of Zinfandel was the first wine bottled and sold under Sequum. From 2002 until 2016 Sequum produced a Cabernet Sauvignon from four of the finest soil types for growing Cabernet Sauvignon in Napa Valley. He sourced from four distinctive vineyards and regions in the valley including from Pride Mountain Vineyards on Spring Mountain (Aiken series), Chimney Rock in the Stags Leap District (Bale series), the historic Lewelling Vineyard, which may be the longest continuously family owned and farmed property in Napa Valley, dating back to 1864 (Cortina series) and Usibelli Vineyards in Pope Valley (Bressa series).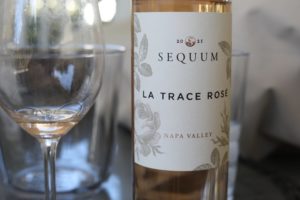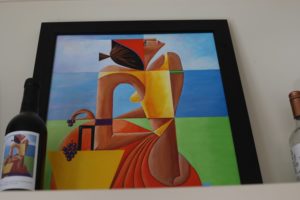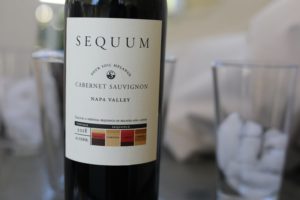 While no longer sourcing grapes from all of these vineyards, Sequum still produces a 100% varietal Cabernet Sauvignon from these four soil types. The 2018 Sequum Four Soil Melange, Cabernet Sauvignon Napa Valley is dark ruby in the glass: the bouquet features aromas of blackberry and boysenberry along with dried herbs. The focus of the aromatics are on the varietal rather than oak influences; this wine was aged in only 25% new French oak barrels. It is balanced and bright; two words we don't always use when describing contemporary Napa Valley wines from this variety. The palate offers cherry, plum and blackberry with dusty and medium structured tannins. It lingers savory with a note of dried tobacco leaf.
The 2019 Sequum Kidd Ranch Zinfandel is medium to dark ruby in color; the first two words we wrote down to describe its aromatics were spices and fruit. Both aroma sets complement each other very well: the bouquet offers notes of white pepper and cardamom along with aromas of raspberry and cherry cola. It smells like a Zinfandel and most likely would be easily identified in a blind tasting against riper, higher alcohol and more fruit forward California bottlings of this variety. The palate offers flavors of raspberry, strawberry and red cherry, complemented nicely by both a soft and supple texture and an energetic level of acidity that keeps the finish vivid and mouthwatering, begging another sip.
One day Paul and his wife Anita spotted a bright and colorful painting on the Facebook page of one of his high school friends, artist Carol Mathena. The grapes depicted on the lower left of the painting caught their eye; he messaged her and mentioned this piece would make a lovely wine label and inquired if it was for sale. Carol mentioned it was and that it was currently hanging in her daughter's room and yes, she would sell it to him. This piece, named The Picnic by the Lake, now hangs in Paul and Anita's house in St. Helena and is used as the label for their Zinfandel.
The 2018 Sequum Mixt is a four-varietal red blend led by Cabernet Sauvignon, Zinfandel, Syrah and Petite Sirah. This wine is dark ruby in color; initially its moody, brooding, meaty, savory, almost bloody with a rusting iron note along with red plums. Give it a short while to open and some of these aromas dissipate in favor of more fruit. This bottling offers plenty of flavor but in balance with its accompanying acidity and texture. Shows notes of cranberry, currant and other red berry fruits. The tannins linger with a light gravelly texture, are slightly dry and finish with a note of dried tobacco leaf.
Paul considers Syrah to be one of the most versatile grapes in California's diverse topography and climates. He believes some of the greatest Syrah grows on low vigor sites. The Syrah at Kidd Ranch Vineyard produces small grapes, similar in size to Cabernet Sauvignon with a high skin to juice ratio. The 2017 Sequum Syrah was co-fermented with a small amount of Viognier. This wine is dark ruby in color; the dark bouquet offers a variety of aromatics including plum, blackberry, blueberry, a light pepper note, forest floor and dried herbs. It is juicy across the palate featuring flavors of red cherry, cranberry and currant. The brightness of this bottling is clearly evident. It lingers with nicely integrated tannins, showing a little dryness on the finish along with a note of crushed peppercorn. This is a balanced and beautiful bottling.
The Sequum Cabernet Sauvignon is their flagship wine. Paul grows ten clones of Cabernet Sauvignon at his Kidd Ranch Vineyard, and they are usually all represented in his final bottling. He quickly recited these to us without missing any of them. They are: 4, 6, 7, 15, 337, 341, 343, 685, 412 and 191. The 2017 Sequum Kidd Ranch Vineyard Cabernet Sauvignon opens to aromas of leather and a very subtle and initial note of pepper. The palate is defined by characteristics which are not present in this wine, high alcohol, over ripeness and heavy tannins. This is very much a food-friendly bottling which is nicely balanced in its youth; it offers flavors of cherry and currant. It shows a light to medium grip of rounded and integrated tannins on the finish. Paul notices this wine in particular starts really showing well after four to five years in the bottle. He attributes its complexities to the diversity of different Cabernet Sauvignon clones. And it is his go to wine for a variety of BBQed meats.
Paul also bottles a wine under the D'Avino Family brand in a tribute to Anita's grandparents on her father's side of the family. Guiseppe and Antonia D'Avino were originally from small towns in the hills north of Taurasi, southern Italy. They emigrated to the U.S. in 1902 and settled in northwestern Pennsylvania in Meadville, a town located roughly halfway between Chicago and New York. The town was built around the railroad and as a result, its population became incredibly diverse. They had nine children (eight girls and one boy who was Anita's father Charles Angelo). Guiseppe worked for the Erie-Lackawanna Railway.
Once Prohibition started, shipments of grapes from California to New York passed through Meadville and Guiseppe purchased Zinfandel grapes in particular. During Prohibition one of his daughters married someone with a background in law. While making home wine, and not wanting to be associated with having a last name ending in 'vino' during those trying times, Guiseppe elected to change his last name to Davena.
The 2018 Aglianico D'Avino Family Suisun Valley (Wagner Family Vineyard) is medium ruby in color with purplish tinges on the rim in the glass; the bouquet is more rustic than refined in its youth, and that is from this varietal's characteristics. It offers darker aromas including of leather, white pepper, a savory meaty like quality, potting soil and dark plums. It is energetic across the palate, anchored by a freshness of acidity and tart red fruits including currant, sour cherry and cranberry. The tannins are very lightly textured and well-integrated into the mouthwatering finish. This wine is very balanced in its youth and should age well for quite a few more years. It was aged for 10 months in both neutral French and American oak barrels. We thought of pairing it with lighter style meats including duck, rabbit and pork chops.
Aglianico is grown in Southern Italy, including in Taurasi, where Anita's grandparents are from.
The winemaking team at Pride Mountain Vineyards has made the wines for many years, starting with Robert Foley and then transitioning to Sally Johnson before she left Pride in 2021 and for a short time was Director of Winemaking at Robert Mondavi Winery. The team at Pride Mountain continues to make the Sequum wines.
Terra Spase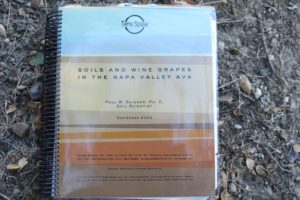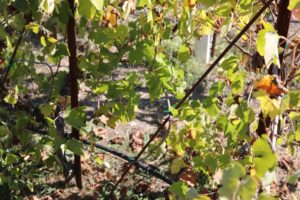 Paul founded this company with a focus on all aspects of developing and managing a vineyard including location, soil analysis, water and irrigation systems, identifying and sourcing all plant material (rootstocks and varieties), vineyard development and winemaking. And his scope is not only domestic but also international with projects in northern Mexico and in China.
In 2006 Paul was hired to consult for a major project (Canaan Winery) which involved developing over 1,000 acres of land to wine grapes in China in the Huailai Valley, located northwest of Beijing. Trips from the capital city used to take about two hours by car, but in 2019 a high-speed rail system opened, and today the region is conveniently located only 30 minutes away from central Beijing. This region was also the site of some of the 2022 Beijing Winter Olympic games and is not far from Badaling, the most commonly visited part of China's Great Wall for visitors to Beijing.
These lands had never before been used for cultivating grapevines, rather they were used for growing orchards and other agricultural crops. Prior to deciding on suitable locations for planting grapes, Paul was shown numerous sites; ultimately, he chose several different large pieces of property and assigned them names based on the order of sites he was shown. Canaan Winery was built on one of the sites, located next to surrounding vineyards, and is capable of processing up to 200,000 cases of wine a year, Site 16 is a higher elevation property (3,100 feet) planted primarily to Chardonnay and multiple clones of Pinot Noir and Site 17 is lower in elevation and is planted to mostly Bordeaux red varieties. Site 17 is also called the Watchtower Vineyard due to a number of still existing adobe/clay watchtowers which used to be connected to a wall that pre-dated the Great Wall by 1,000 years.
Paul also organized a team of consultants to determine appropriate varieties to plant and oversee and organize other vineyard development needs. The climate (extremely cold winters) necessitated someone who was familiar with growing grapes in these conditions, so Paul brought in Peter Hemstad, a grape breeder and viticulture consultant based in Minnesota to help consult on the project. All vines must be buried to survive the cold winters and were trellised accordingly so that after harvest, the trunk wire is cut allowing the trunk to be lowered and lie fully flat on the ground. It is then manually covered by soil until Spring. This type of system usually lasts for about 10 years, so shoots are trained from the base of the trunk to eventually form new trunks; some of the vines have several simultaneous trunks growing from their base.
And a fully operational nursery including cold-storage space was developed on one of the properties, bringing in a variety of rootstocks and cold and winter-tolerant varieties from California and from Geisenheim University's Institute for Grape Breeding and Grafting in Germany. Vineyard plantings were developed in phases, several hundred acres at a time and included blocks of lesser-known varieties including of Marselan (a cross between Cabernet Sauvignon and Grenache) and Petit Manseng.
Paul remembers digging soil pits and being struck by how quiet it was in the area, no birds chirping and no wildlife; it reminded him of a desert. The soils had extremely low vigor. The lands were acquired from a number of villages; early on even before grapes went into the ground, due to the often-high winds in the region, the properties were planted with hundreds of trees and bushes including Arborvitae, pines and poplars to act as windbreaks and help protect soil loss. Years later Paul recalled the dramatic difference between the stark landscape during his first visits; later after the bushes and trees had matured the properties had become wildlife habitats including attracting numerous pheasants, foxes and birds. And he remembers noting that many of the villagers had become employees of the winery.
Equipment was brought over from the states to help develop the vineyards including a device that was used to move rocks from the alluvial soils. They sourced this from Amish country in Pennsylvania; its former use was in potato fields.
The first vines were planted from the properties in 2009. Paul remembers these early years as especially challenging due to several growing seasons that experienced a lot of rain and very cool conditions. The wines are bottled by Canaan Winery; their first vintage was in 2012, a Reserve Syrah which was named the Chinese Red Wine of the Year by Bettane+Desseauve, a France based wine-rating organization, at the 2016 Le Grand Tasting in Shanghai. And among their bottlings, one of their most popular labels is Chapter and Verse.
The inception for this impressive project began at a dinner in Silicon Valley, California. Canaan Winery is owned by Taiwanese born, Cher Wang, the co-founder of HTC Corporation (a computer electronics company).
—
The Sequum wines are selectively distributed locally including at Wine Country Connection in Yountville, Outer Space Wines in Napa and at Paul's favorite San Francisco Bay Area Italian restaurant, Angelino, in Sausalito. The wines are also available at a limited number of locations in Ohio, Michigan and in New York including at the Metropolitan Museum of Art of New York City which sometimes serves Sequum wines at special events. Total annual production is around 600 cases. For more information, to purchase wine or to join one of three wine club membership levels, visit: www.sequum.com