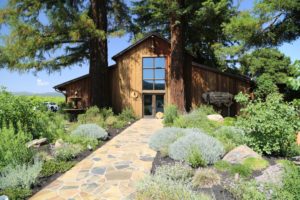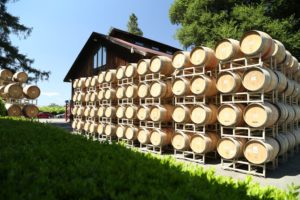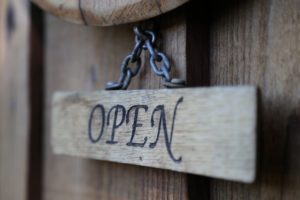 Sequoia Grove Winery was founded in 1978 by James Allen when he purchased the existing property (the winery on site was bonded in 1980 the same year as their first vintage). His brother Steve managed the 24-acre vineyard at the time. James, a former language interpreter for the United Nations in Europe was also a founding partner of Domaine Carneros and was instrumental in creating the Rutherford sub appellation.
Since 2004, the winery has been owned by the Kopf family who own Kopbrand, a New York based wine and distribution company founded by the family in 1944. Locally, they also own St. Francis Winery in neighboring Sonoma County and 50% of Domaine Carneros.
This small charming looking winery with a cozy tasting room is located in what is a renovated 150+ year old barn just off of Highway 29, one mile north of the Oakville Grocery. The inside of this "barn" has been excellently refurbished creating a warm elegant and intimate tasting environment. You will quickly see how the winery took its name as there are two large Sequoia trees growing right outside the main entrance to the tasting room as well as a small stand of additional trees near the picnic area (100+ year old trees). The winery is located in the Rutherford Appellation and sits on 22 acres.
As you drive in, the vineyard to your right is planted with a variety of Bordeaux blending grapes. Sequoia Grove also sources fruit from select vineyards around Napa Valley. They are mostly known for their Bordeaux style well-balanced complex wines. As you walk in the tasting room, next to the door you will see what look like large wooden storage containers. These are called puncheons which are wooden casks and are made to hold specific quantities of wine. They were imported from France and reassembled on location.
If you enjoy balanced wines with rich layered flavors Sequoia Grove's Cabernet Sauvignons will not disappoint. This variety is their specialty; most of their Cabernet Sauvignon wines are slightly blended with other Bordeaux varieties, although we have enjoyed at least one of these wines as 100% varietal. Their wines have performed well in various wine judging contests. At the time of one of our visits, one of their employees had personally visited and tasted at over 100 local wineries (we are going above and beyond this with our current 1,000+ Napa based wineries & producers visited!).
Also of note, in 2003 one of the huge Sequoia trees was hit by lightning and crashed through part of the tasting room. Fortunately, everything was able to be restored. And during one of our visits to the property we spotted a shy coyote wandering among the vines – this animal came almost right up to the tasting room until he saw us approaching and quickly retreated.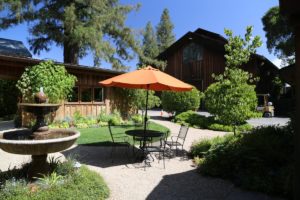 Sequoia Grove makes wines from a number of vineyards ranging from the southern part of the valley (cooler) to the warmer northern reaches in Calistoga. Their Napa Valley wines comprise the majority of their total production. Wines that have much smaller production, are only available at the winery or through their wine clubs are the Vineyard and Winemaker Series.
We have always found their staff helpful and friendly. A number of experiences require advance notice. Walk-in guests can choose from a Current Release Tasting or a Single Vineyard Cabernet Sauvignon Tasting; if you don't want to taste through a flight – unlike most wineries, you can actually order specific wines by the glass. Very cool.
Select Wines
During one of our early visits, we tried the 2005 Sequoia Grove Stagecoach Vineyard Syrah (Atlas Peak). We've visited this particular vineyard before; its steep and extremely rocky which was quite obvious due to the large piles of rocks strewn around which were removed from the actual vineyards. Grapevines thrive in these types of growing conditions. A number of very low production wines are made and as a result are only available at the winery. Their Stagecoach Syrah is one of those wines; it is inky dark and rich in fruit especially on the mid palate. There are some nice spices towards the finish and a small amount of Merlot is in the blend which adds a softness and smoother mouth feel.
The 2004 Sequoia Grove Napa Valley Cabernet Sauvignon is 100% varietal and is aged in all American Oak. The fruit for this wine comes from several premium vineyards in Oakville and Rutherford, Morisoli, Beckstoffer etc. Compared to the Rutherford Bench Cabernet Sauvignon this is a much bigger wine with more robust tannins.
The 2004 Sequoia Grove Rutherford Bench Cabernet Sauvignon is a smooth elegant Bordeaux blend from fruit sourced entirely from their estate property. There is definitely an earthy quality to the aromas with rich fruit layers and a finish that lingers for quite some time.
Instead of the almost obligatory Riedel glasses used by wineries these days at the time of our visit they were using the German made Schott Zwiesel glasses. Ask your wine-host to demonstrate the durability of these glasses by tapping them on the counter and hope they don't actually break during this demonstration. These glasses have a nice curvature about halfway up the glass which really catches the wine well when you swirl.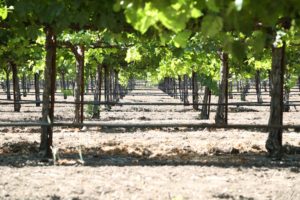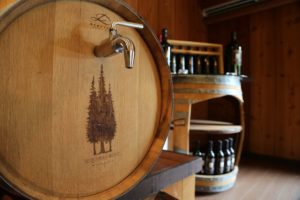 The 2009 Sequoia Grove Lamoreaux Vineyard Cabernet Sauvignon was sourced from a vineyard in the Oak Knoll District. Initially it shows notes of sage on the bouquet with influences from the oak again revealing a bit of vanilla. Darker fruit shows on the palate with minerality notes up front as well as dark chocolate undertones. The fine grained somewhat earthy tannins are delicate and linger for quite some time.
The 2012 Sequoia Grove Christian Cabernet Sauvignon is sourced from a tiny 4-acre vineyard in Coombsville. This is a noticeable dark wine in the glass. The bouquet is initially smoky and as it opens reveals an earthiness. After it has had even more time to breath one picks up a noticeable licorice component. The wine is supple and rounded on the entry; it has a juicy component. The tannins are dense and chewy especially on the finish.
The 2012 Sequoia Grove Tonella Cabernet Sauvignon shows a pretty and a floral perfume driven bouquet with sweet notes of darker cherry. That palate is balanced – with robust grippy tannins. A lingering tartness belies an underlying acidity. Good food wine.
The 2011 Sequoia Grove Stagecoach Vineyard Cabernet Sauvignon has the most unique nose of any of the wines we tried. Its full of deep dark aromas – forest floor, a muddiness, tar and mushroom-like with just a few hints of a bell-pepper herbal characteristic that does not carry onto the palate. This is a complex and layered bouquet. The wine is very dark in the glass – shows a richness of flavor with long lasting sizable tannins that coat both the sides and back of the palate.
Their Cambium wine is named after the layer on trees that provide nutrients (a nod to the giant Sequoias on site). The 2011 Sequoia Grove Cambium vintage reveals a perceptible dustiness on the bouquet with notes of blueberry, black currant and dark chocolate. The palate: dusty sweet cherry pie with additional fruit nuances including blueberry and blackberry. Moderate long-lasting tannins show on the finish.
—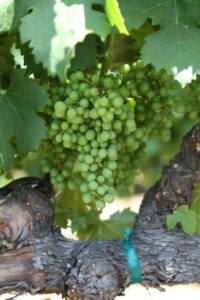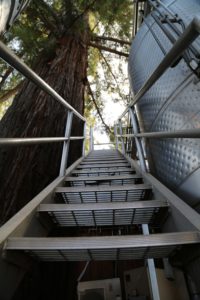 A highly unique offering in the Napa Valley is Sequoia Grove's food and wine educational and competitive sit down tasting – the Cabernet Culinary Challenge V2.0. Four to twelve people are seated indoors in their private closed door VIP room adjoining the main tasting room (larger groups can participate outdoors – weather permitting). A wine educator will lead the group through the characteristics of a flight of Cabernet Sauvignon wines and what makes them different based on a variety of factors including their source terroir.
And soil samples on site collected from different adjoining blocks within the same vineyards clearly show the dramatic differences in types of soils – sometimes even within close proximity of each other.
After the Cabernet tastings the real fun begins. A wide assortment of various charcuterie, toppings, and seasonal items are presented on large plates along with a batch of Crostinis. The idea is to build a Crostini using a minimum of three items that best pairs with their Stagecoach Cabernet Sauvignon. Hint: balance is key here – some of the items will dramatically change the flavor and structure of the wine and you have to differentiate between what degrades the flavor and what enhances it. Salty, sweet and sour are some of the key components to be aware of during this competitive challenge.
If you really want to get creative you can name your Crostini. However the name "Stagecoach Starter" is already taken 🙂 – this was the winning entry from our team (see photos). Each member of the winning team receives several small prizes in a gift bag. The food items provide light nibbles. A multi salad lunch sourced from a nearby gourmet deli can be added following the challenge.
This tasting is ideal for small groups or part of corporate events that want to focus on both wine education as well as team building. Allow 2.5 hours.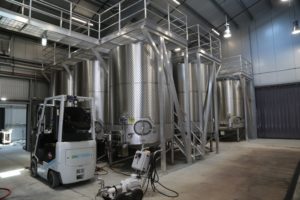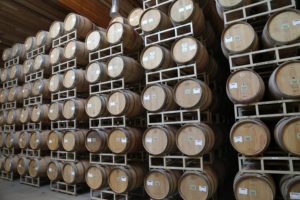 In 2018 construction finished on much expanded winery and barrel rooms and additional hospitality space. In July 2018 Sequoia Grove began offering a 5-course lunch paired with several of their premium wines (The Chef's Table experience) in a private room in the same building that also houses their kitchen and culinary team. The dishes change seasonally using locally sourced fresh ingredients. This experience seats no more than 16 guests. This experience includes a walk through their tiny demonstration vineyard with information provided about trellising, how to tell grape varieties apart from one another through leaf identification (a field of botany called Ampelography) and other important vineyard information. As of our latest update to this review, this experience is offered on select days at 11 and 2pm.
In 2023 Sequoia Grove purchased over 100 acres on Mt. Veeder with an uppermost elevation of 1,700 feet. Donald Hess (Hess Collection) used to own this particular property. About 75% of the site is forested with the remaining acres planted to red Bordeaux varieties. The first vintage produced from this property by Sequoia Grove was in 2023.
The winery offers a number of special events throughout the year including several brunches, release parties, winemaker events and more. For more information and or to join one of their wine clubs, visit: www.sequoiagrove.com
Exterior

Interior

Cabernet Culinary Challenge V2.0

Chefs Table

The Trees

The Three "M's": Morisoli, Mike & Molly, names synonymous with Sequoia Grove wines