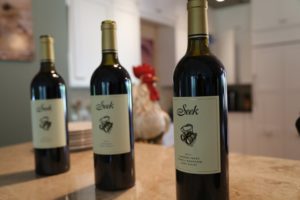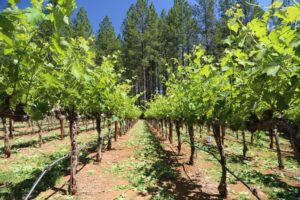 Seek Wines is a micro producer of premium wines grown or sourced from Howell Mountain. Proprietors, Gerard and Barbara Siek began drinking and enjoy wine in 1990. Their first trip to the Napa Valley in 1994 was an anniversary treat setup by Gerard. They spent one day in the valley on a 37 mile bike ride with Backroads, a Berkeley Ca, based tour operator. This trip took them from Calistoga to Deer Park through Angwin and directly by their future vineyard and home site which they would purchase some 8 years later. Gerard mentioned something like "we were to tired trying to climb up these grades to spend much time looking at the nearby land or vineyards at the time". Understandable.
They purchased their piece of land on Howell Mountain in 2002. It was not yet planted to vineyards – they hired Barbour Vineyard Management company and put in slightly over 2 acres of vines – all Cabernet Sauvignon. Like other parts of Howell Mountain, their soils are extremely rocky – and well drained. Even in significant rainfall years such as 2016/2017 when they saw over 70 inches of rain fall on their property – the water does not tend to sit very long, it simply drains off of their soil.
Jim Barbour introduced them to Bremer Family Winery (between Angwin and Deer Park) – Bremer's winemaker Bob Bolan tried the first grapes from the vineyard and realized the quality this site produces. Bremer Family purchased that first year's harvest in 2004 (only 1/2 a ton) and continues to do so every year. Bremer Family Winery makes a Seek Vineyard designate Cabernet Sauvignon each year.
Coinciding somewhat with their decision to move full time to the Napa Valley, Barbara and Gerard decided to hold back some of their Cabernet Sauvignon and create their own wine. Their first vintage was from 2013.
The vineyard is located at an elevation of 1,900 feet and is planted on a slight slope (less then 5%) – they soon learned that this site has problems with frost every few years – especially the lower end of their vineyard where the cold air congregates. Mitigating this takes a bit of work each year. Rather then install a wind fan (commonly found throughout Napa Valley) they installed a Cold Air Drain® from SHuR Farms at the lowest part of their vineyard. It runs on electricity rather then fuel (noticeably quieter) and kicks on around 34 degrees. The Sieck's have noticed that after a few hours of running this, the coldest temperature in the vineyard tends to increase by a few degrees.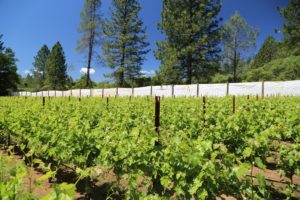 This machine helps facilitate the movement of the cold air down slope to its propeller which then shuttles the frigid air high into the air (almost up to 300 feet). During times in Spring when frost is a danger, they also hang protective cloth on the vines that surround the edge of their vineyard to isolate the cold air within the vine rows so the Cold Air Drain can work most effectively. When this cloth is hanging one almost can picture Christo's Running Fence that was displayed for 14 days in 1976 in neighboring western Sonoma County – although arguably that was more artistic in its presentation. Regardless of visual attributes, as long as the frost layer is mitigated so that it remains below the cordons, the young buds won't freeze.
And then there are the birds – one year they lost grapes from 200 vines due to the voracious appetites for grapes from quail and wild turkey. As a result they now net the outside of their vineyard when veraison starts occurring – they have found they do not need to net the entire vineyard, rather they net the outside vines and then lay down the net on the ground. The birds do not walk across the net and have not yet figured out they could merely fly into the interior of the non netted vines.
Even though their vineyard is small, as Gerard indicated, "after 14 years we are still learning about the vines and this particular piece of property".
Napa has hundreds of tiny producers but not to many as small as Seek. They currently focus on three wines, their estate Cabernet Sauvignon and two wines sourced from some of their Howell Mountain neighboring vineyards, a Cabernet Franc, and a Zinfandel. Each of these wines is produced in quantities of about 50 cases. Conveniently their grapes don't have to travel far – they are made at a winery owned by one of their nearby neighbors.
The size of their vineyard and production is ideal for both Gerard and Barbara. 150 cases produced annually is a number they can sell direct and do not have to hire distributors or seek out retail or restaurant placement. And their vineyard is certainly of a manageable size – the vine rows are located directly outside their door just a few feet away. Both enjoy working in the vineyard helping with pre-pruning, tractor work and other activities as the seasons change.
Select Wines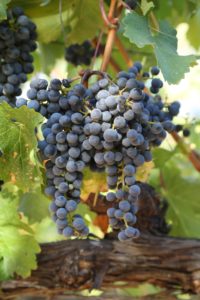 Only 26 cases of the 2014 Howell Mountain Cabernet Franc was produced – Gerard admits that it is hard to find grapes of this variety for sale on the mountain. The 2014 Seek Howell Mountain Cabernet Franc shows an intriguing and elegant nose that evolves nicely in the glass as it opens. Shows blueberry fruit, with some initial very subtle herbal notes – mostly darker fruit aromas. The fruit lingers for some time, longer then the velvety tannins. Flavors of raspberry and a hint of cocoa powder show on the finish. This is a very balanced wine.
The 2013 Seek Estate Cabernet Sauvignon shows sweet spices on the nose (oak and sandalwood) and a hint of chocolate and blackberry. This wine drinks very smoothly – it is mountain fruit but with more of the softness that you might expect of valley floor grown fruit. A lingering dustiness of tannins along with notes of black cherry and blackberry show on the finish. Very food friendly.
The 2015 Seek Zinfandel shows more red fruit then dark fruit on the bouquet, red licorice with a bit of currant and cranberry aromas. This wine was just bottled at the time of our tasting and took some time for the bouquet to really start showing. This is a balanced Zinfandel on the palate – with notes of pepper, a slight dustiness but mostly flavorful fruit. One can taste the sweetness of the fruit rather then any residual sugar.
—
Note: Seek Vineyards has sold their property to Bremer Family Estate Winery. We will revisit later in 2022 and update this review accordingly once we have more information. Seek does not distribute and all their wine is sold direct, primarily through their mailing list. For more information and to join this list, please visit: www.seekhowellmountain.com