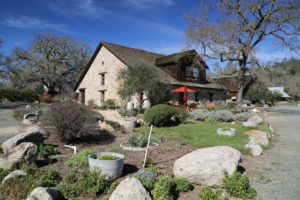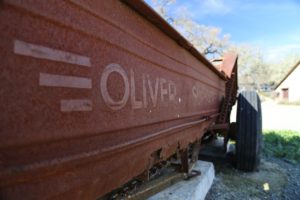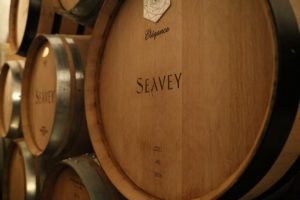 Seavey Vineyard is located along Conn Valley Road in the eastern hills of Napa Valley – about 15 minutes from the valley floor. A drive out here is a refreshing change of pace from the vineyard covered flatlands of the valley floor. Although located a short distance from the valley floor a visit seems worlds apart from the hustle and bustle of Highway 29. Rolling hills, narrow roads, and plenty of oaks grace the hillsides. This historical property was originally a cattle ranch however records indicate grapes were planted on some of the hillsides as early as the 1870s by the original owner, Charles Volper, who was originally from Switzerland. These original plantings would be among some of Napa Valley's earliest hillside vineyard plantings.
In the 1870s, Charles entered into a partnership with several men including with Georges Crochet to create the Franco-Swiss Farming Company. The stone dairy barn (still in existence) was built in 1881. The original wooden Franco Swiss winery was located on the front of Seavey's property next to Conn Valley Road. This winery eventually burned down and in 1876 the partners built a stone winery – also next to Conn Valley Road directly next to the driveway leading to Seavey Vineyard. This is one of the few remaining non-restored 'ghost wineries' in all of Napa Valley – and unfortunately every year brings a significant decline to the remaining ruins. Currently privately owned, it is still referred to as the Franco-Swiss Winery.
Production in their original vineyards later suffered from phylloxera and they closed permanently when the partners died in the early 1890s.
William & Mary Seavey purchased this property in 1979, coincidentally from their daughter Dorie's former high school geometry teacher (Georgiana Powell). William was a lawyer and former mayor of Coronado (San Diego County). At the time of the Seavey's purchase this was a horse and cattle ranch; they soon planted the slopes with grapes (the first variety they put in the ground was Chardonnay in 1981) and initially sold their fruit to Raymond Vineyards. They have never purchased grapes; all their wine is still made entirely from estate grown grapes. Their vineyards are separated into 20+ individual blocks.
Today the property encompasses about 200 acres of which 40 acres are planted to vine – ranging in elevation from about 300 feet up to 1300 feet. Their hillside vineyards produce low yields of rich concentrated fruit. A small block of Chardonnay grows in a cooler lower part of their property. Besides grapes they also raise cattle which are used to graze the hillsides (they also feed the cattle cuttings from the vineyards). Solar power was installed in 2003; this was one of the first Napa winery solar systems.
Mary passed away in 2008 and William died in 2016; for a few years, daughter Dorie returned from a career as an economist on the east coast and oversaw the winery operations locally. However, she has since moved back to Boston. Her brother Arthur Seavey (co-owner of Monterey Abalone Company – based in Monterey California) is also involved. His company creatively farms their abalone by using cages suspended from the commercial wharf in the Monterey Bay.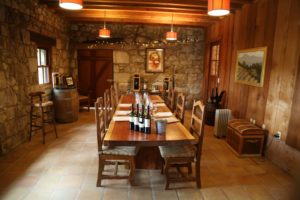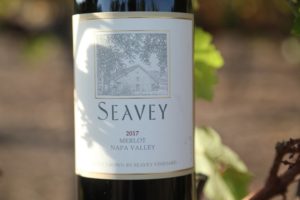 Their first commercial vintage was from 1990 a year after they renovated the stone dairy barn into a working winery. Today this stone building is the centerpiece of the property and is where tastings are hosted. A normal tour includes a walk through parts of the property, sometimes with Dorie and a visit to the winery building and their "cave". This cave serves as their barrel aging room. It is referred to as cut and cover; it is quite unique for the Napa Valley (we have only seen a several of these). Rather then boring into a hillside which can be costly – they excavated out soil, installed large and thick semi cylindrical pieces of concrete, then covered the tops of these with earth. This effectively creates a barrel storage environment with moderate temperatures that remain fairly constant throughout the year.
These massive concrete structures each weighs approximately 95,000 pounds – these pieces made it over the historical Conn Creek bridge on the property (the original bridge foundations are still in place from 1881); note the 90,000-pound weight limit sign which is now posted. Because the vineyards surround the winery, they are able to bring freshly picked grapes in for production usually within a short time after they are harvested. All their red grapes are hand sorted and then de-stemmed and are always fermented in small tanks.
Founding winemaker was Gary Galleron. Current winemaker Jim Duane has a plethora of international wine making experience – locally he has worked at Robert Mondavi Winery and at Stag's Leap Wine Cellars. He has been winemaker at Seavey since the 2011 vintage and also runs the popular Inside Winemaking podcast. Noted consulting winemaker Philippe Melka has helped oversee every vintage at Seavey since 1995 (one of his two initial wine-making jobs in the Napa Valley was at Seavey – along with Lail Vineyards).
Select Wines
As of the time of our latest update to this review, Seavey focuses on all estate grown fruit including two Cabernet Sauvignons, a Merlot and a very limited production Chardonnay (often in the 200-250 case range. They used to grow about 15 acres of Chardonnay; this has been whittled down to about 1 acre – growing in the coolest part of the property. This is an unusual production in that there is not much Chardonnay growing in this part of Napa Valley.
The 2018 Seavey Vineyard Chardonnay, Napa Valley is deep gold in color; the aromas on the bouquet are diverse, intense and are filled with 'sunshine'. Shows notes of pineapple, crème Brule, hints of lemon grass, lime, orange peel zest, margarine and an underlying note of vanilla. The texture is creamy, saline and supple. The memorable finish is wrapped in flavors of citrus, red apple, ripe cantaloupe and hints of hazelnut – and is anchored by beautiful backbone of acidity, especially noticeable as the wine lingers on the palate. The oak is a complementary characteristic on this Chardonnay rather than being dominant. It was aged in 100% French oak of which 15% was new. Simply stated, this wine is delicious.
The 2014 Seavey Vineyard Chardonnay shows aromas of lemon lime on the bouquet with various floral notes as it opens including honeysuckle. A pleasing softness is felt on the palate, somewhat creamy but not buttery or overly influenced by oak. Very balanced with a noticeable crispness on the finish along with some minerality notes. Entirely barrel fermented and then aged for 9 additional months, also in barrel.
During our first visit to the property, we tried the 2006 Seavey Vineyard Chardonnay; this is a very nice wine that doesn't undergo malolactic fermentation and is produced in limited quantities due to the small amounts of vines growing on the property. In addition, this year saw even lower production amounts because of rain around harvest so more of the grapes were left hanging or were removed by hand sorting due to quality issues. This is a weighty Chardonnay with good "grip" as well as flavors of pineapple and other tropical notes.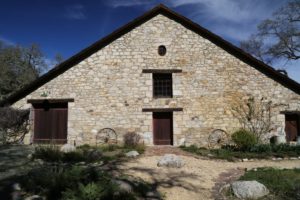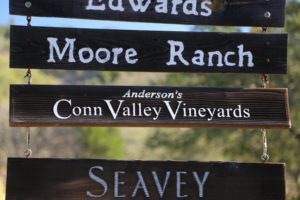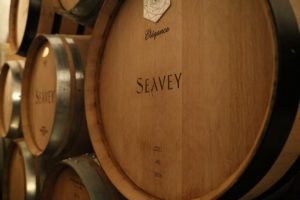 The 2017 Seavey Vineyard Merlot is a lovely shade of dark garnet in color; initially offers aromas of mushroom and forest floor but this dissipates as the wine evolves in the glass. As it breathes, it opens to aromas of plum, rusting iron, crushed peppercorn and toasted cedar. The aromatics are savory. Juicy and mouthwatering across the palate, especially so on the finish – lingering with flavors of cranberry, currant, cherry and notes of old cigar paper and pepper. The tannins offer a mid-weight grip and are slightly gravelly in their textural feel. Some of the savory notes on the bouquet continue on the palate. This would not be an easy wine to identify as a Merlot in a blind tasting.
The 2005 Seavey Vineyard Merlot is very soft and drinkable now (it includes Cabernet Sauvignon and a small amount of Petit Verdot). Their older Cabernet Sauvignons are still noticeably well-structured wines which really come into their own after at least 7 to 10 years of aging. Seavey has the luxury of holding back a certain percentage of each vintage; from time to time, they release these older vintages for purchase.
Seavey's second label Caravina was added to their wine portfolio with the 1999 vintage. Age has been nice to the 2008 Seavey Caravina Cabernet Sauvignon – it shows bright and lively fruit aromatics including blackberry and blueberry. Seductive flavors. Texture like velvet – superbly balanced with silky tannins that linger delicately anchored by persistent flavor. Interesting to note the 2013 vintage is nothing like the 2008 vintage at the time of our tasting. The 2008 vintage features dark fruit and dark aromas which are savory and slightly smoky. Meaty tannins persist and are noticeably more muscular then the older 2008 vintage.
The 2012 Seavey Vineyard Cabernet Sauvignon is made with fruit from the oldest vines on the property (30+ years old). Shows both a mix of lively fruit and a balance of barrel influence. Somewhat floral. Very rich mid palate – layered featuring mostly darker fruit flavors. Good texture on the finish with long lasting somewhat chewy tannins. Lots of life!
—
Visitors (by appointment) can choose from one of two tasting experiences; the Vintage Tasting & Tour which includes their current releases plus a library wine and the Library Tasting & Tour featuring six library wines (some dating back into the 1990s – which is certainly rare to be able to taste wines 20+ years old at any tasting offered by a winery in the Napa Valley). Unlike many wineries in Napa Valley, Seavey maintains a sizable collection of library wines.
Seavey Wines (mostly their Caravina) are selectively distributed domestically including in Texas. They also have some international distribution in Switzerland. Total production is usually between 3,000 and 3,500 cases per year. For more information and or to join their wine club, visit: www.seaveyvineyard.com