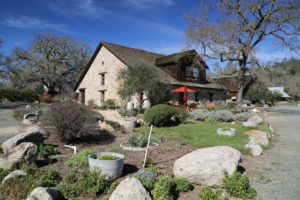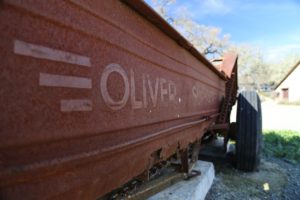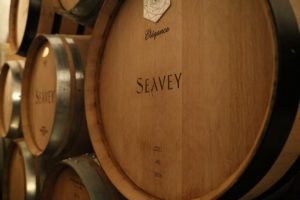 Seavey Vineyard is located along Conn Valley Road in the eastern hills of Napa Valley – about 15 minutes from the valley floor. A drive out here is a refreshing change of pace from the vineyard covered flatlands of the valley floor. Although located a short distance from the valley floor a visit seems worlds apart from the hustle and bustle of Highway 29. Rolling hills, narrow roads, and plenty of oaks grace the hillsides. This historical property was originally a cattle ranch however records indicate grapes were planted on some of the hillsides as early as the 1870s by Charles Volper, who was originally from Switzerland. These original plantings would be among some of Napa Valley's earliest hillside vineyard plantings.
In the 1870s, Charles entered into a partnership with several men including with Georges Crochet to create the Franco-Swiss Farming Company. The stone dairy barn (still in existence) was built in 1881. The original wooden Franco Swiss winery was located on the front of Seavey's property next to Conn Valley Road. This winery eventually burned down and in 1876 the partners built a stone winery – also next to Conn Valley Road directly next to the driveway leading to Seavey Vineyard. This is one of the few remaining non-restored 'ghost wineries' in all of Napa Valley but unfortunately every year brings a significant decline to the remaining ruins. Currently privately owned, it is still referred to as the Franco-Swiss Winery.
In 1882 a nephew of Georges Crochat, Jules Millet was shot and killed by fellow worker Louis (also referred to as John) Murback within the distillery at the winery. A story in the December 1, 1882, issue of The St. Helena Star provides all details of the incident which led up to the murder.
A photographer was summoned to visit the property by the owners and shoot some photographs. During his visit, some of his photographs were stolen by Murback. Millet accused Murback of stealing the photos; Murback eventually produced the items from his pocket. Murback later returned on Sunday November 26, 1882 dressed in his finest and asked Millet's wife Louise to summon her husband. She and her husband and their infant son lived in the winery. She told him to go find her husband; it was then that he shot Millet first in the hand and then as the two men struggled over the rifle, Millet was shot in his abdomen. This occurred in the presence of Millet's wife who was standing on the lower floor below the stairs where the murder took place. Millet had arrived from France to work at the winery only a year prior.
The district attorney at the time was Frank Coombs; Murback was sentenced to be executed but this was later commuted to life imprisonment by California governor at the time, George Stoneman. An article much later, in the January 5, 1917 edition of The St. Helena Star referred to the trial as, "one of the most sensational the county has ever seen". A year after the murder, Millet's widow Louise married Germain Crochat. She died in 1912, tragically after catching pneumonia at her son's funeral.
We first toured this old winery many years ago with owners, Leslie and Richard Mansfield. At the time Leslie told us about a scary ghost story she personally experienced. Richard was touring around some friends in the old winery at night with flashlights. A scary adventure in and of itself. One of their friends called out to Jules, requesting him to knock three times if he heard his request. There was no knocking. They had a good time and returned home, placing the flashlights in the basement of their home. Leslie was home by herself the next night and was wakened by six loud popping noises. The next morning she walked to their basement and was shocked to see all the flashlights they had used to explore the winery had exploded.
Production in the original vineyards later suffered from phylloxera and the operations were permanently when closed the partners died in the early 1890s. A judge later divided up their original property into three large parcels.
William & Mary Seavey purchased one of these parcels in 1979, coincidentally from the estate of their daughter Dorie's former geometry teacher, Georgiana Powell who used to teach at The Anna Head School in Oakland. William, a lawyer born in Los Angeles and former mayor of Coronado (San Diego County) moved the family to the San Francisco Bay area in the 1960s to take a teaching position at Mills College. He later resumed practicing law, serving several clients in the wine industry including wine importer Henry van der Voort and helping with a trademark for the name Dominus for Dominus Winery.
William's son Will told us his father was interested in wine for many years prior to purchasing property in Napa Valley. He recalls his dad bringing exactly a case of wine on a rafting trip in Juneau, Alaska so that they had one bottle for every night spent on the trip. William was a member of the Confrérie des Chevaliers du Tastevin. Will remembers his mother joking in regard to their decision to purchase property in Napa Valley and often saying something like, "if I had known how much work this would involve, I would have said no".
At the time of the Seavey's purchase this was a horse and cattle ranch with an existing natural spring fed pond dating from the 1960s. There were no grapes planted on the property at the time. They soon planted some of the slopes with grapes; the first variety they put in the ground was Chardonnay in 1981. They initially sold their grapes to Raymond Vineyards. By the mid 1980s they had Raymond hold back a barrel of wine made from the Seavey estate. Tasting this in part inspired the family to start producing wines under their family name.
The property encompasses about 200 acres of which 37 acres are planted to vine ranging in elevation from about 300 feet up to 1300 feet. The majority of the property is forested and did not burn in either the 2017 or 2020 fires. Their vineyards are separated into 20+ individual blocks and rather than being overseen by a vineyard management company, are managed by their own fulltime team. The health of their vineyards are extremely important; they create compost teas, use vermicompost from the breakdown of organic materials by worms and use Biochar as an additional soil amendment. Their hillside vineyards produce low yields of intensely flavored grapes.
Besides grapes they also raise cattle which are used to graze the hillsides (they feed the cattle cuttings from the vineyards). Solar power was installed in 2003; this was one of the first Napa Valley winery solar systems. They added a more powerful solar array in 2016 which between the two arrays, up to 85% of all power needed for the winery operations are powered by the sun.
Seavey Vineyards has never purchased grapes for their wines; all their wine is still made entirely from estate grown grapes.
Mary passed away in 2008 and William died in 2016; for a few years, daughter Dorie returned from a career as an economist on the east coast and oversaw the winery operations locally. However, she has since moved back to Boston. Her brothers are actively involved in the operations including Arthur (co-owner of Monterey Abalone Company – based in Monterey California). His company creatively farms their abalone by using cages suspended from the commercial wharf in the Monterey Bay. Charley, Fred and Will are also involved.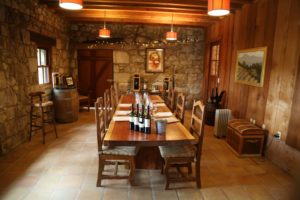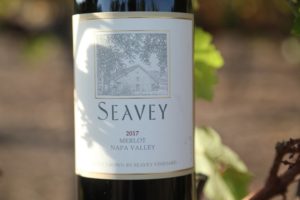 Their first commercial vintage was from 1990, the same year they renovated the stone dairy barn into a working winery. Today this stone building is the centerpiece of the property and is where tastings are hosted. A tour includes a walk through parts of the property and a visit to the winery building and their "cave". This cave serves as their barrel aging room. It is referred to as cut and cover and is quite unique in Napa Valley (we have only seen a several of these at local wineries). Rather then boring into a hillside which can be costly – they excavated out soil, installed large and thick semi cylindrical pieces of concrete, then covered the tops of these with earth. This effectively creates a barrel storage environment with moderate temperatures that remain fairly constant throughout the year.
These massive concrete structures each weighs approximately 95,000 pounds – these pieces made it over the historical Conn Creek bridge on the property (the original bridge foundations are still in place from 1881); note the 90,000-pound weight limit sign which is now posted. Because the vineyards surround the winery, they are able to bring freshly picked grapes in for production usually within a short time after they are harvested. All their red grapes are hand sorted and then de-stemmed and are always fermented in small tanks. Usually barrels from 8-10 different coopers are used each year.
Founding winemaker was Gary Galleron. Current winemaker Jim Duane has a plethora of international wine making experience; locally he has worked at Robert Mondavi Winery and at Stag's Leap Wine Cellars. He has been winemaker at Seavey since the 2011 vintage and also runs the popular Inside Winemaking podcast. Noted consulting winemaker Philippe Melka has helped oversee every vintage at Seavey since 1995. One of his two initial wine-making jobs in Napa Valley was at Seavey – along with Lail Vineyards.
The Seavey wines are built to age but also show well in their youth. They really start to shine after at least 7 to 10 years of aging and continue to show even much older than that. The Seavey wines are always crafted with a sense of place (non estate grapes are never purchased for their wines), freshness, balance and an important part of winemaking that perhaps is overlooked by consumers, texture which is always noticeable in their bottlings, but never dominates.
Select Wines
Chardonnay
As of the time of our latest update to this review, Seavey focuses on all estate grown fruit including two Cabernet Sauvignons, a Merlot and a very limited production Chardonnay (often in the 200-250 case range. They used to grow about 15 acres of Chardonnay; this has been whittled down to about 1 acre – growing in the coolest and lowest part of the property near Conn Creek. This is an unusual production in that there is not much Chardonnay growing in this part of Napa Valley. Regardless of vintage, this wine is balanced, shows bright acidity, a characteristic minerality and never crosses into the territory of oaky or buttery.
The 2022 Seavey Vineyard Chardonnay is medium golden in color; the bouquet offers a diversity of fruit aromatics including pear, peach, apricot, an apple crisp, caramel and some tropical florals including honeysuckle and jasmine. There is a also a minerally character present. This wine is superbly balanced in its youth. The palate offers flavors of melon, pear, apple, papaya, nectarine, peach and nectarine. Its texture is supple with a gentle mouth feel. This bottling is both rich and elegant at the same time. It was whole-cluster pressed and fermented in both French oak barrels and a single concrete egg. It was then aged in French oak barrels for nine months of which 20% was new oak.
The 2018 Seavey Vineyard Chardonnay, Napa Valley is deep gold in color; the aromas on the bouquet are diverse, intense and are filled with 'sunshine'. Shows notes of pineapple, crème Brule, hints of lemon grass, lime, orange peel zest, margarine and an underlying note of vanilla. The texture is creamy, saline and supple. The memorable finish is wrapped in flavors of citrus, red apple, ripe cantaloupe and hints of hazelnut – and is anchored by beautiful backbone of acidity, especially noticeable as the wine lingers on the palate. The oak is a complementary characteristic on this Chardonnay rather than being dominant. It was aged in 100% French oak of which 15% was new. Simply stated, this wine is delicious.
The 2017 Seavey Vineyard Chardonnay is dark golden in color; the bouquet offers aromas of baked apples, and to us, the memories and smells associated with the resulting juice of coring apples when we were young, with the resulting juice pooling on a wooden bench. There are additional notes of a lemon zest, citrus blossom, light crème Brule, haystack, corn tassel, stone fruits including apricot and yellow peach and as the wine evolves in the glass, a subtle note of warm butter. The palate is lively due to the bright acidity with flavors of apple, melon, mandarin orange and a hint of pineapple. The fruit filled finish is long lasting. And this wine has a bit more weight than some of the earlier vintages we tried showing a supple texture but is never viscous. We tasted this bottling 6 years post vintage.
The 2014 Seavey Vineyard Chardonnay offers aromas of lemon lime on the bouquet with various floral notes as it opens including honeysuckle. A pleasing softness is felt on the palate, somewhat creamy but not buttery or overly influenced by oak. Very balanced with a noticeable crispness on the finish along with some minerality notes. Entirely barrel fermented and then aged for 9 additional months, also in barrel.
During our first visit to the property, we tried the 2006 Seavey Vineyard Chardonnay; this bottling did not go through malolactic fermentation. Its production is always tiny, but was even smaller this year because of rain during harvest. As a result, more of the grapes were left hanging or were removed by hand-sorting due to quality issues. This is a weighty Chardonnay with good "grip" as well as flavors of pineapple and other tropical notes.
Cabernet Sauvignon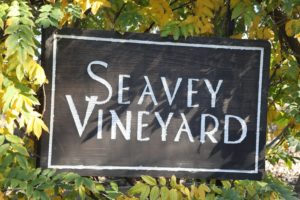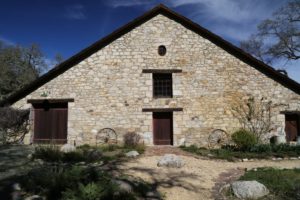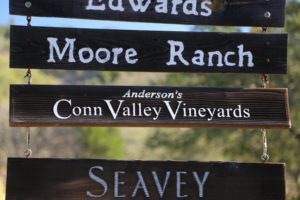 The 2018 Seavey Vineyard Cabernet Sauvignon is dark ruby and nearly opaque in the glass; the bouquet offers captivating aromatics focused on the purity of its fruit whereas the oak is a complementary character. It shows scents of blackberry, boysenberry, ripe mulberry, dark licorice, dark chocolate and a note of blood orange. The palate is loaded with layers of flavor including plum, cherry, currant and cranberry. A light astringency, herbal note and tart character persists on the finish. This wine is mouth watering, with rounded gravelly textured tannins which continue to make themselves felt for quite some time. Still shows very youthful 5 years post vintage during our tasting.
The 2014 Seavey Vineyard Cabernet Sauvignon is deep ruby and opaque; the bouquet is sweetly fruited with a ripe almost port and or liqueur like aromatic thread. It offers scents of confectionary candy, licorice, dark chocolate, cinnamon, nutmeg, Graham cracker along with darker fruits including boysenberry, blackberry and mulberry. If delicious were an aroma, this wine certainly defines that somewhat generic adjective. Its flavors include plum and dark berries (boysenberry and blackberry). The gripping and drying tannins support a brightly lit finish dominated by a mix of both red and darker fruits. This wine was aged 20 months in 60% new French oak barrels. Another very ageworthy bottling.
The 2012 Seavey Vineyard Cabernet Sauvignon is made with fruit from the oldest vines on the property (30+ years old). The bouquet sports both a mix of lively fruit and a balance of barrel influence. Somewhat floral. Very rich mid palate which is layered featuring mostly darker fruit flavors. This wine offers a persistent texture on the finish with somewhat chewy tannins. Lots of life now and still lots of life ahead.
The 2005 Seavey Vineyard Cabernet Sauvignon was tasted in 2023. It seems like the 2005 vintage was just yesterday – how did 18 years pass by in a blink of the eye? Parents whose children were born this year would have children entering their first year of college. Sigh. This wine has held up extremely well and still has years of life ahead of it. It is deep ruby in color; it shows some bottle bouquet with tertiary aromas showing including of sweaty saddle leather, sweet tobacco spice, baked plum, dried berries and assorted baking spices. As the wine evolves further subtle layers of chocolate and mocha are revealed. Balanced and beautiful. The palate offers flavors of cherry, raspberry and plum. The, dare we say, succulent finish is red-fruited and lingers with a rounded, ripe and gravelly textured tannins.
Merlot
The 2018 Seavey Vineyard Merlot is deep ruby in color; the bouquet is elegant, fragrant and floral with aromas of rose petals and violets. It also offers a dusty character, scents of tobacco spice, bramble, dried herbs and raspberry. Balanced, bright and carrying a certain finesse across the palate, the palate is primarily red-fruited including currant, cranberry, and plum. Savory is a good describpor of its character, finishing with darker spices including pink peppercorn, a mouthwatering freshness from the acidity and dried herbs. The grainy tannins show more on the front of the plate than the finish.
The 2017 Seavey Vineyard Merlot is a lovely shade of dark garnet in color; initially offers aromas of mushroom and forest floor but this dissipates as the wine evolves in the glass. As it breathes, it opens to aromas of plum, rusting iron, crushed peppercorn and toasted cedar. The aromatics are savory. Juicy and mouthwatering across the palate, especially so on the finish this wine lingers with flavors of cranberry, currant, cherry and notes of old cigar paper and pepper. The tannins offer a mid-weight grip and are slightly gravelly in their textural feel. Some of the savory notes on the bouquet continue on the palate. To us, this would not be an easy wine to identify as a Napa Valley Merlot in a blind tasting.
The 2006 Seavey Vineyard Merlot is deep ruby with a light brickening color showing on the rim at this age (we tasted 17 years post vintage). The sweetly fruited aromatics offers note of cooked plum, raspberry, old leather, licorice, dried berries and some spice notes including dried herbs, sage, cedar box, petrichor and old library book. The palate reveals flavors of cherry, currant and assorted dried berries. This balanced bottling still shows plenty of life. The finish lingers with a dusty character, dried tobacco leaf and rounded by lightly grainy textured tannins. More proof in case you need convincing that the Seavey wines age very well.
Caravina
Seavey's second label Caravina was added to their wine portfolio with the 1999 vintage per Philippe's suggestion with the early intention of making wine exclusively from young vines. This bottling is crafted to texturally be more approachable in its youth, softer and more approachable in its youth.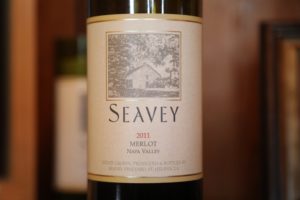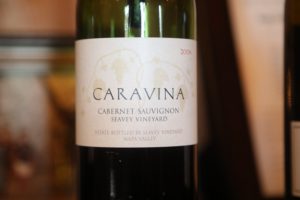 The 2016 Seavey Caravina was quickly tasted, so please excuse the abbreviated tasting notes. This wine is dark ruby; the bouquet is clearly focused on its fruit. These scents include cherry, blackberry and boysenberry. The flavors somewhat mirror that of the nose. Texturally it is on a different level then the Seavey Cabernet Sauvignon bottlings, with softer, more rounded and integrated tannins in its youth. Bright fruit anchors a lightly drying finish. This wine is a blend of 86% Cabernet Sauvignon, 11% Petit Verdot and 3% Merlot and was aged for 20 months in French oak barrels of which 43% were new .
Age has been nice to the 2008 Seavey Caravina Cabernet Sauvignon (tasted 10 years post vintage); it presents bright and lively fruit aromatics including blackberry and blueberry. The flavors and mouth feel are seductive. Its texture is like velvet – this wine is at ease with itself which comes from being so well balanced. Silky tannins linger delicately anchored by persistent flavor on the long finish.
It is interesting to note the 2013 vintage is nothing like the 2008 vintage at the time of our tasting. The 2013 vintage features dark fruit aromas which are savory and slightly smoky. This bottling offers firm tannins which are noticeably more muscular then the older 2008 vintage. And this is representative of the robust 2013 vintage which needed several years in the bottle to tame its particularly youthful energy.
And Seavey producers the Founder's Reserve, a 2 barrel selection of some of the best lots from the property.
—
Robert Parker was an early enthusiast of the Seavey story and wines and assigned some of their early vintages handsome scores.
Visitors are by appointment and are private for your party. They include a walk through of their winery and barrel room followed by a tasting in either their primary hospitality room are at a table setup next to the tanks within the winery. The tastings include a vertical of several of their wines including at least one older bottling. This is somewhat rare for a Napa Valley winery to showcase an older wine. Seavey maintains a sizable collection of library wines and from time to time, they release these older vintages for purchase.
Seavey Wines (mostly their Caravina) were selectively distributed domestically including in Texas and in the past had some international distribution in Switzerland. More recently the decision was made to pull back their distribution and focus on selling direct to consumer. They even purchased older vintages from various retailers to add them back to their library. Total production is usually between 3,000 and 3,500 cases per year. For more information and or to join their wine club, visit: www.seaveyvineyard.com
Winery

Vineyards