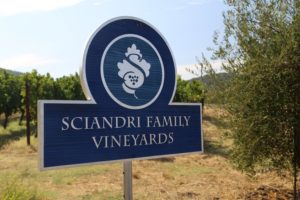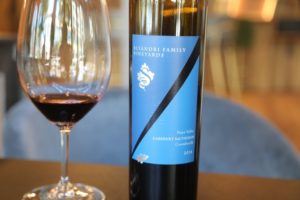 Sciandri Family Vineyards (pronounced "she-andri") is one Coombsville's 'hidden' gems, located at the edge of rolling hills bordering the 850 acre wilderness Skyline Park. Their property is located only about a 10–12-minute drive from the city of Napa but feels far removed from any urban environment.
This small family-owned vineyard (22 acres total) is planted to slightly over 4 hillside acres. The Sciandri's, (Ron who died in 2015) and his wife Roberta) moved here in 1989 after looking for 4-5 years for a unique place to live in the valley. Ron spent a career with the fire department in San Francisco, beginning in 1969 – eventually becoming Captain, Battalion Chief and ultimately the Assistant Fire Chief. Soon after moving here, Roberta asked Ron about his plan for "landscaping" their property; his answer was to plant grapes. Their first grapevines were planted in 1999. And for those who knew Ron, he was a great farmer who truly enjoyed showing visitors to the property his efforts including a number of fruit trees, vegetables in raised beds – and of course his vines.
All members of the immediate family are involved (three generations) in various aspects of the business from vineyard to bottle (total production as of our last update is under 800 cases). Building a young business such as this from the ground up brings with it a certain amount of personal satisfaction but to already have multiple generations involved will hopefully instill pride and the desire to keep the business within the family for decades to come.
The family oversaw the vineyard management for several years; today they employ one of the top vineyard managers in the valley, Javier Renteria. Before vineyards grew here this was open pasture land. For several years the Sciandri Family sold fruit to several area producers. Tasting the wines that used grapes from their property validated the quality of their particular terroir. In part, this was the impetus to begin crafting their own wines.
Enter Don Baker, a Napa winemaker who has been making wine in the valley for many years including stints at Merryvale and William Hill Estate. He is a UC Davis graduate who has international wine making exposure with some time spent in Chile helping to develop vineyards and a winery for Jackson Family Wines (Kendall-Jackson). Having tried some of Don's other wines, the Sciandri Family knew that his wine style would be ideally suited to their own preferences. He crafted the Sciandri wines for 15+ years.
Ron's focus for Sciandri was to produce only estate wines and for a number of years they did so. The 2006 was their inaugural vintage – a 100% Cabernet Sauvignon. With other red varieties planted on the property they also produce a Bordeaux styled blend. In a tribute to their Italian heritage, the small block of grapes planted near their house comes from their family vineyard in Italy. It is very likely that some of the obscure varieties growing here are the only ones growing in all of Napa Valley. One of these varieties historically only grows in and around their ancestral village of Quercia in northern Italy. These few vines have special significance to the family, not only are they a connection to their heritage but the grapes from these vines are co-fermented every year with the rest of their vineyard.
With no traffic Quercia is located about 90 minutes from Genoa and one hour from Pisa. This tiny picturesque village of less than 200 people is located in the rolling hills. In Italian, quercia means oak; we did spot a number of oak trees growing in and around the village during our visit. As with other small Italian villages, we recommend parking and exploring the town on foot. Several highlights include a visit to the local church, a marble statue which greets visitors entering one part of the town and for us personally, seeing several small vineyard blocks growing within the village. A couple of residents rent out their homes similar to a bed and breakfast and at least one restaurant may be open depending on the time of year.
Their packaging represents the family's history. The wine label is blue; one does not see many blue labels on wine bottles, but this color is traditional, is designed well, with significant visual input contributed by Rebecca. The colors are taken from the flag flown in Quercia; within the oak leaf on the label is a visual of grapes – each of these berries represents a family member involved in the winery.
—
The Sciandri hillside vineyards are rocky; the grapes/clonal choices planted on site produce small fruit with concentrated flavors. The Coombsville region is located in the southern part of Napa Valley closer to the San Pablo Bay's cooling influences which means their harvest dates are generally among the last in the valley. The moderate cooler climate of this part of Napa Valley ensures a very long hang time. Remarkably, some Coombsville growers have picked Cabernet Sauvignon into the first week of November (depending on the vintage).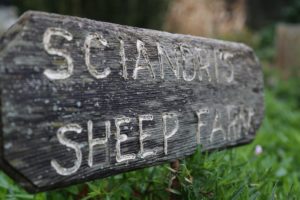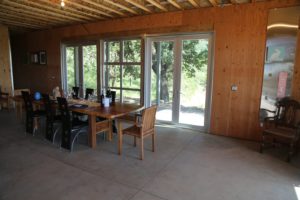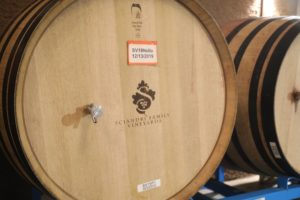 Their daughter Rebecca has worked in a number of winery related jobs over the years – even for one of their Coombsville 'neighboring' wineries. Ron used to say he couldn't afford to pay her but ultimately it was decided that she focus her efforts on the family winery. Today she is their only full-time employee. In part, Rebecca worked with another Coombsville vintner Tom Farella to obtain the region's sub appellation status (granted in late 2011 and still Napa's 'newest' sub-AVA). Coombsville is an area located approximately east of the town of Napa; it is mostly composed of gentle rolling hills planted to numerous vineyards. The soils are volcanic and generally are very well drained. A number of premium wineries own or lease vineyards from the region; most of the vineyards here are very small. Unlike a number of other AVAs in Napa, there are no wineries here that allow tastings by walk-in (all are appointment only).
Despite Ron's opposition to making wine from grapes not grown on the property and heaven forbid…a white wine, Rebecca was instrumental in creating a rosé and a Sauvignon Blanc. Over the years she learned that she could not present this idea directly to her father, but rather approached their wine maker at the time, Don – who then presented the idea to Ron as his own idea. Ron saw through this of course, but ultimately, he relented, and they created a rosé from Cabernet Sauvignon grapes grown on site. For later vintages of the rosé, they sourced Syrah grapes.
And if her father wasn't interested in producing a Sauvignon Blanc, Rebecca decided that she would. She has earned another title in the wine world; winemaker – her first wine for Sciandri Family Vineyards was a 2016 Sauvignon Blanc.
Select Wines
Whites
The 2021 Sciandri Family Rosé of Syrah is medium salmon in color; its color comes from the fact the grapes were left on the skins for merely several hours before being pressed off. The aromatics are bright, open-knitted, minerally and citrusy showing scents of lemon zest and grapefruit pith along with raspberry, strawberry and some herbaceous notes including kaffir lime leaf. It offers flavors of mandarin orange, watermelon and raspberry. A light herbal sweetness completes the finish with a flavor similar to fennel. The mouth feel is gentle with a rounded texture. The acidity shines bright, especially on the mouth watering finish. While our ancestral roots on our mothers side are not far from Quercia, our culinary interests are never far from Thailand. We wouldn't mind pairing this bottling with Thai Steamed Fish with Lime Garlic Sauce (Pla neung manao).
The 2022 Sciandri Family Sauvignon Blanc Coombsville is pale straw in color; there is nothing shy about the bouquet and its immediately expressive with aromas of comise pear, pineapple, jasmine flowers and guava. It smells minerally with a light herbal note but it is not grassy. This bottling saddles a pleasing balanced between the herbal characteristics this variety is known for and the riper more tropical characters that are often represented from Napa Valley. The palate offers flavors of white stone fruits including peach and nectarine along with apple and guava. There is also a layer of citrus at play here including of pomelo and mandarin. The bright acidity equates to a lively and fruit filled finish.
Reds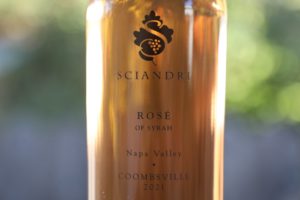 The 2018 Sciandri Family Cabernet Sauvignon Coombsville (100% varietal) is deep ruby; the bouquet is energetic and filled with plenty of fruit aromas including plum, blackberry, and bramble along with notes of dark chocolate, caramel, old cedar box, a red chili spice and tobacco. Like the bouquet, the brightly lit palate is equally well-layered with flavors of cherry, plum and raspberry along with a note of dried herbs which persists for quite some time on the long red-fruited finish. The tannins are rounded and grainy in their feel and are well integrated. This is a balanced medium bodied wine.
The 2018 Sciandri Family Coombsville Cuvée is a blend of 58% Cabernet Sauvignon and 42% Syrah. This wine is deep ruby in color; the bouquet offers a pleasing union of both ripe fruit and lighter influences from its barrel aging. These scents include blackberry, dark cherry and mulberry along with nutmeg and cinnamon. The palate is juicy and brimming with fruit trending more towards red fruits than dark. It sports flavors of plum, cherry, currant and pomegranate with a savory finish featuring darker spices including crushed peppercorn (certainly a contribution from the Syrah). The tannins are grainy and slightly gravelly but are not heavy; their textural presence outlasts the fruit on the finish. The alcohol is listed as 15.4% but one does not feel it.
The 2016 Sciandri Family Napa Valley Cabernet Sauvignon offers is medium to dark ruby in the glass; the aromatics are of bright fruits including berries, with a noticeable sweetness. As the wine breathes shows some elegant floral notes including of violets. Also hints of old cedar box. Slightly savory in its aromatic approach. The palate shows notes of plum, dark cherry and tobacco leaf. The somewhat dusty tannins show a tight density in their textural feel but are rounded rather than coarse and have a medium grip. Continues to persist for some time. The wine is 15.4% alcohol, but one doesn't' notice any 'heat' from the higher alcohol.
The 2006 Sciandri Family Cabernet Sauvignon is noticeably dark in the glass with a very elegant bouquet that shows aromas of plum and red cherry along with a note of dustiness. The palate is smooth and balanced from start to finish showing dark fruit – black cherry and blackberry. The finish is anchored by soft smooth delicate tannins that slip over your tongue like silk. One of their winemaker Don Baker's axioms is to show varietal characteristics without the wine being dominated by oak. In other words, as one winemaker told us, these are wines that have that "delicious" factor rather than the "wow" factor. He has made this vintage well in that regards, there is just a hint of oak towards the finish as well as notes of cocoa powder. As a result, this is a wine that does very well with food.
—
One can sometimes find their wines locally at V Wine Cellars in Yountville. They have distribution in Los Angeles mainly because family member Agostino Sciandri has been involved in that city's restaurant scene for decades. He was part owner of Ago Restaurant in West Hollywood with Robert Di Nero, Christopher Walken and director Ridley Scott for 20+ years until unfortunately it permanently closed in December 2020. As of our latest update to this review, Agostino currently operates Sor Tino Restaurant in Brentwood.
For more information about Sciandri Family Vineyards, to purchase wine or to schedule a tasting, visit: www.sciandrivineyards.com
Mia Carta Napa Valley
Sciandri Family is part of a small collective of boutique Napa Valley based wineries represented at Mia Carta Wine Lounge in downtown Napa. This space is located at 1209 1st Street next to Rebel Vintners near the intersection of 1st and Coombs Streets. It had a soft opening to the public on May 22, 2021, and officially opened on June 17, 2021.
In addition to Sciandri Family, this space houses several premium boutique Napa Valley producers including Arthouse Wines, Earthshine, Essere Franco, Ilsley Vineyards, Majuscule, Rarecat and Redmon Wines. Sharon Harris, proprietor of Rarecat learned about the space early on, and then invited several of her friends to join including Redmon Wines and Ilsley Vineyards.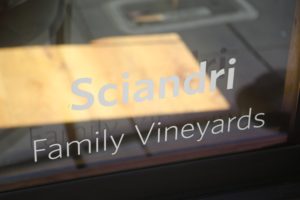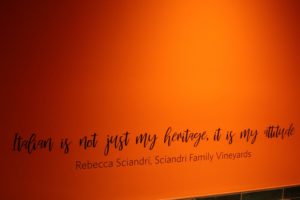 A significant amount of thought and effort went into the renovation of this space. A couple of items inside quickly catch one's eye including the Italian Piaggio "Ape del Vino" or in English, referred to as the Wine Bee. It was purchased in Italy, restored and then shipped over; unfortunately, it was stuck for quite some time at the port of Galveston in Texas before it cleared customs and reached Napa Valley. It is fully functional and is operated by a two-stroke Vespa engine. The back opens up to reveal wine kegs with spigots on the side of the vehicle – making this ideal to take to various wine tasting events. And the 145 piece 'puzzle' of walnut wood built against the back wall is in the three-dimensional shape of a street grid of downtown Napa – complete with an outline of Napa River and a red marking to indicate Mia Carta's location on the map.
Recycled cork from cork manufacturer, Amorim Cork America lines the east wall of the space. If one casually glances at this wall, one will think it's one entire piece of cork, but each piece is a quarter offset, so the lines are hard to see between each of the pieces. With Norm's background as President & Co-founder of Calgary based ZeroSound Systems, his knowledge and expertise were used during the renovation of the interior space. Acoustic tiles are placed on top of the tin stamped metal ceilings – if one looks carefully one can almost see the tiny holes punched in each of these tin squares, which are part of the design to help mitigate noise. The bar and some of the tabletops are constructed from Richlite, a recycled paper/resin composite.
Visitors taste either inside or outside weather permitting (heat lamps are built into the outdoor overhang), choosing flights from any of the vintners or by the glass or by the bottle. This part of the building used to recessed – set back more from First Street but during the renovation it was expanded, providing more interior space. And a private tasting room is located in the rear of the space.
Visitors taste either inside or outside weather permitting choosing flights from any of the vintners or by the glass or by the bottle. This part of the building used to be recessed – set back more from First Street but during the renovation it was expanded, providing more interior space. And a private tasting room is located in the rear of the space.
For those into wine, it is easy to spend an afternoon in this part of downtown Napa – numerous tasting rooms are within several blocks of Mia Carta. For more details about this beautiful space and or to make a reservation, please visit: www.miacartanapa.com
Caves of Soda Canyon
Production operations (and some hospitality) are housed in The Caves At Soda Canyon, a premium underground winery that offers both production and hospitality space for a limited number of small wineries. This winery offers a luxurious and well lighted interior alcove for tastings as well as a beautiful space on an outdoor terrace overlooking much of the central to southern part of the valley. Select Sciandri Wines are included with a visit and tasting at the property. For more information, visit: www.thecavesatsodacanyon.com