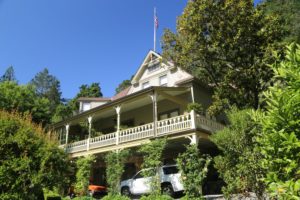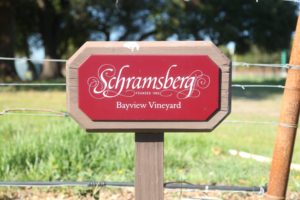 Schramsberg Vineyards is one of Napa Valley's venerable must visit properties; the winery is located just south of Calistoga off of Highway 128 on the west side of the road at Peterson Drive and Schramsberg Road. This is the Diamond Mountain sub appellation. The long steep wooded driveway is narrow and windy so drive carefully and slowly (during harvest sometimes the road will close for a few minutes to allow trucks carrying grapes to reach the winery).
We've waited in the parking lot a number of times and it is always interesting to see where visitors walk after stepping out of their vehicle (often it is not in the direction of the visitor's center). There are three main sections/buildings surrounding the parking lot – as you drive in the parking lot the visitor's center entrance is immediately on your left side.
The winery was established in 1862 and was Napa Valley's second bonded winery, just after Charles Krug in 1861 (although there were several wineries in Napa Valley in the late 1850s and early 1860s who are no longer around). David Fulton Winery in St. Helena was also founded in the early 1860s. Fulton's final date of completion is missing from historical records. Let's just say that any winery who started in the early 1860s in the Napa Valley and who is still in business today is in very select historical company. And the property was site of some of Napa Valley's earliest hillside vineyard plantings.
The estate was founded by Jacob Schram, an immigrant born in 1826 in Pfeddersheim, Germany (incidentally less than a 40-minute drive from Mainz, where the Beringer brothers were born). Schram was trained as a barber in New York City, opened a barber shop in the city of Napa in the late 1850s also cut hair at White Sulphur Springs Resort in St. Helena. During the height of his production, he and his family were producing around 12,000 cases of still wine per year from 50 acres of vineyards. Locally his wines could be found at the Palace Hotel in San Francisco and also at the San Francisco based Bohemian Club (remarkably, both still operating). Historically Jacob Schram never produced sparkling wines. After Jacob passed away in 1905, his son Herman inherited the property for several years before selling. Production stopped in 1912 and the property changed hands several times including being used as a summer home at one point by one of the owners. None of the ventures lasted very long.
In 1919 the property was acquired by Raymond Naylor who raised a large family on site including one of his daughters, Betty who eventually married John Daniel (owner of Inglenook Vineyards). In 1940 Naylor sold the property to John Gargano, a sparkling wine producer from Palermo, Italy. Gargano established California Champagne Company and named the operations, Mt. Diamond Cellars. Due to bad health, in 1951 he sold to Douglas and Katherine Pringle who began producing both still and sparkling wines and also bottled wines under the Schramsberg label. The Pringles also owned what is now Martin Estate in Rutherford. In 1965 Jack and Jamie Davies (from Southern California) purchased the grand old estate from the Pringles and produced their first vintage that year from purchased grapes.
The realtor of record was Davies family friend Jerome C Draper who owned Draper Vineyards on Spring Mountain. His son Jerry (who we have communicated with a number of times and have met in person) recalls that his father helped introduce the Davies family to Katharine Cebrian, the owner of Schramsberg – which wasn't actually on the market at the time, but the Draper's knew she might be interested in selling. Incidentally, Katherine and her second husband, Douglas Pringle purchased the old H.H. Harris Winery in Rutherford in the 1940s which remained in the family until 1996 (today known as Martin Estate and home to some of the first ever wines produced by Beaulieu Vineyard).
After the successful sale, Jerry asked his father what their commission would be on the sale. His father simply told him there are no family commissions! The Draper Vineyard manager at the time, Joe Torres helped oversee the initial plantings at Schramsberg under the Davies ownership. And one day when a coyote killed all the ducks in a pond on the property, Jerry quickly took action, found a place in Sonoma that sold Mallard ducks – recalling he had them soon swimming in the pond.
Jack had a variety of jobs after graduating from Harvard including working with his father in the cabinetry business making office furniture from their Los Angeles based business (Avalon Wood Products). Later he worked at Kaiser Aluminum and two years before moving the family up to the Napa Valley, he was a vice president at Ducommun Inc (the oldest continuously operating business in the state of California with a founding date of 1849). Ducommun was founded by Charles Ducommun as a watch repair shop in downtown Los Angeles during the California Gold Rush and was located on what was Commercial Street at that time (near the corner of Main Street). This business has evolved dramatically since its early beginnings and that has been the key to their longevity. They eventually transitioned into hardware and supply goods, military supplies during WWI, the film industry, aviation and then finally, aerospace.
Jamie co-founded the Hansen-Peterman Gallery in 1957 (Jamie's maiden name was Peterman); the gallery was located near Union Square on Tillman Alley in San Francisco. The Hansen-Peterman Gallery later changed owners and names multiple times; its last address was just around the corner from Tillman Place at 228 Grant Ave. Over the years the gallery building housed a number of artists and galleries. Today the gallery is no longer in business.
Jack's early interest in wine came from when he joined the San Francisco Wine and Food Society. He also met Martin Ray; a vintner based in the Santa Cruz Mountains who focused on single varietal wines. Jack had already been introduced to sparkling wines via Martin Ray and he observed that there were a number of still wine production wineries in the Napa Valley but only a few wineries between Napa and Sonoma that were focusing on sparkling wines – and certainly not from varieties such as Chardonnay and Pinot Noir at the time.
The estate lay in various states of decay for many years; after acquiring the property, initially with 14 other investors, Jack and Jamie began planting a number of acres to grapes including Chardonnay and Pinot Noir. Ultimately, they determined this warmer part of Napa Valley was not ideally suited to these varieties which prefer cooler climates and by 1994 they began replanting to Bordeaux red varieties, primarily Cabernet Sauvignon. Their estate vineyard spans a range of about 500 to 1000 feet in elevation.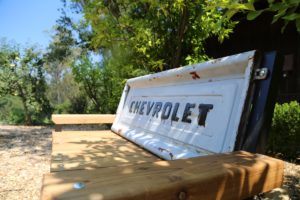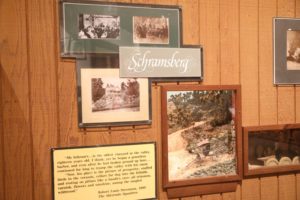 Not coming from a wine family, Jack needed to either hire or learn wine making on his own. He was referred to Dimitri Tchelistcheff (son of well-known André Tchelistcheff) and Dimitri became Schramsberg's first consulting winemaker. Their first wine made was in 1965; they purchased White Riesling from Jerome C Draper of Draper Vineyards on Spring Mountain, because Jerome already had all of his Chardonnay under contract to Beaulieu Vineyard (Chardonnay was not widely planted in the Napa Valley at this time). However, Jerome did mention that the Mondavi's might be interested in trading for Riesling; Schramsberg soon traded the Riesling for five tons of Chardonnay from the Mondavi family – fermented at Charles Krug Winery and then brought back to Schramsberg. This was their Blanc de Blancs, now their iconic wine, still produced each year. 1966 was the first vintage where they crushed grapes entirely at Schramsberg including using grapes from Draper Vineyards and Chardonnay from a Beringer vineyard near Yountville (presumably the still existing Beringer Vineyard located on Finnell Road). And 1967 was their first vintage dated wine, a Blanc de Noir of Pinot Noir. The Schramsberg selection of wines has expanded greatly since the early days focusing on vintage dated products with the exception of Mirabelle, a multi-vintage brut sparkling (one of their largest productions and best-selling wines).
Schramsberg was the first U.S. based winery to produce sparkling wines using both Champagne grape varieties combined with the traditional method of producing Champagne wines (méthode champenoise).
The original two caves were dug in 1870 and in 1881 and were expanded in size significantly by Napa Valley wine cave pioneer Alf Burtelson (a general engineering contractor), in the right circles, referred to as the Godfather of the modern-day Napa wine cave. Alf is well into his 80s now and long since retired although is still living in the northern part of Napa Valley. He oversaw the drilling of the 'new' caves with a scary looking Alpine Miner machine.
Schramsberg's property is 218 acres of which two historical vineyards are located on site, the original Schram Vineyard and the McEachran Vineyard first planted in 1878. Approximately 41 acres are planted to vines on the estate ranging in elevation between 500 to 1000 feet. One can now see some of these vineyards after the Glass Fire significantly burned through the property in 2020. These vines are located on the left side of the driveway as one makes the final approach to the winery (along with numerous solar cell panels) – prior to the fire, one could barely see them. Their yields are fairly low by Napa standards – at about 2 tons per acre.
Interestingly, for most of their history, Schramsberg has owned very few vineyards for their sparkling wines; more recently they purchased several properties in Carneros. In addition to their long-time owned small Bayview Vineyard on the Napa side of Carneros, they Also own two other sites here including a 20-acre site called the Amigo Three and in 2023 they purchased the nearby 22-acre Amigo Two property. They also own a site in the Russian River Valley of neighboring Sonoma County. They have developed relationships with numerous growers sourcing grapes from select cooler climate vineyards in the southern Carneros region of Napa Valley, parts of Sonoma County, Marin County and Anderson Valley in Mendocino County.
Their sparkling wine has been served to Presidents, Heads of State and other important dignitaries worldwide (a number of photographs of state dinners line one of the walls of the reception room).
President Nixon 1972 visit to China
The first time the White House discovered Schramsberg's wine was in 1972; Regency Wine Sellers in Fairlawn, Ohio played an important role in this story. This shop had the ear of the White House during the Nixon administration. Secret Service would sometimes pay a visit to the wine shop to acquire premium wines like Chateau Margaux. One day the White House called and asked for a sparkling wine recommendation to serve at an upcoming state visit to China by President Nixon to visit then Premier Zhou Enlai. Owner Mildred Neiman recommended they serve Schramsberg's 1969 Blanc de Blancs. The White House listened. Incidentally the Neiman's cousin Drew Neiman currently produces limited production premium wines in Napa Valley under his own label, Neiman Cellars.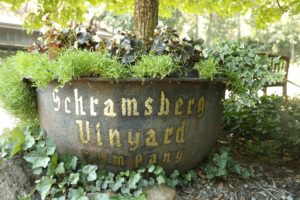 Jack Davies was called to drop off cases at Travis Airforce Base where he was met by a government official. Jack forgot to get payment and delivered the wine for free. Several weeks later a friend called up and told them to watch Barbara Walters on National TV who was holding their wine which was served at a presidential function in China. And their wine has been served at presidential functions for every president since Richard Nixon.
This diplomatic trip was an extremely important moment as it was the rebirth of relations between the two countries. This was also a time in China's history where leadership was forming diplomatic relations with other countries. Nixon and Enlai's meeting led to some remarkable stories centered around wine including the well-told and publicized story involving serving Schramsberg's 1969 Blanc de Blancs by President Nixon at the "Toast to Peace" State dinner in Beijing (the first time a wine from the United States was served at any state event, domestically or abroad).
And there is a significant story wine directly tied into this state visit from the Chinese side. Impressed by the Schramsberg sparkling wine and recognizing a need to produce fine domestic wines, Premier Enlai put out a national call to improve winemaking in China. At the time, a young man, Yan Shengjie worked at Changli Fruit Wine factory in Changli (about three hours east of Beijing). This operation was founded by his father and was owned by the state (since private ownership was forbidden). Shengjie and his wife were the first employees at this factory – and is where they met for the first time. He started as a cellar worker and eventually became Vice President of winemaking.
Known already for his winemaking work at Changli Fruit Factory – in 1979 he was chosen by the Department of China National Light Industry to become the leader of a national winemaking project – leading a group of 10 people sent to Bordeaux to increase their knowledge about both viticulture and enology. He brought back cuttings from 26 varieties from Bordeaux including Cabernet Sauvignon, Cabernet Franc Merlot, Syrah, Carignan, Chardonnay, Sauvignon Blanc, Semillon and Muscat among others and planted them in Changli. He then determined that Cabernet Sauvignon, Cabernet Franc and Chardonnay grew very well in this part of China.
It should be noted that China's winemaking heritage dates back thousands of years – with the oldest documented use of wild grapes in fermentation dating back to 7000 BC (the Jiahu archaeological site located about 4.5 hours north of Wuhan), among the oldest known winemaking in the world along with other ancient winemaking in the countries of Georgia (currently the oldest known site dating back about 8,000 years), Iran, Armenia, Israel and Iraq.
Yan Shengjie produced his first vintage of dry red wine in 1983 in a laboratory in Changli. Through an investment from the Department of China National Light Industry Shengjie was chosen to lead a new winery venture called Huaxia Winery (the precursor to Great Wall Winery). He was the general manager and winemaker and initially began producing Cabernet Sauvignon. His wife provided winemaking technical support. At that time this wine was bottled as Beidaihe – named after the Beidaihe District, a popular summer getaway from the heat of Beijing – and an area also used by the government for their own summer retreats. The name of the brand later transitioned into Great Wall, a subsidiary of state-owned COFCO Group, perhaps the most iconic and well-known winery within China. And today by volume, still the largest producing winery in China. While Shengjie has long since retired, his daughter, Yan Bin is currently the Vice President of COFCO Great Wall Huaxia Winery.
Fast forward decades. Yan's granddaughter Xinyue Zhang (Xin) began producing 70s Love in Napa Valley with her 2014 vintage.
—
Schramsberg produces world-class sparkling wine; they are one of only four physical wineries focusing on sparkling wine production in Napa Valley and the only one with no direct ties to Champagne, France. For reference, the primary sparkling producers in the valley are Domain Carneros, Domaine Chandon and Mumm Napa Valley. As of the time of this review they make 10+ different sparkling wines including their much-coveted Reserve J. Schram. They even still employ a Riddler – someone who turns the bottles by hand in order to move the dead yeast out of the wine. Today most sparkling wine producers have automated this process and the majority of their production using a machine called a gyropalette which turns an entire pallet of wine at one time.
A select number of employees worked at Schramsberg for decades including Jaime Aguirre, their vineyard manager who was Schramsberg's first full time employee (he spent nearly 50 years with the winery before retiring). Former riddler Ramon Viera spent nearly 30 years doing this job at Schramsberg; you can imagine his job description, "I turn bottles of wine for a living". However, riddlers are very good at what they do, often turning over 8,000 bottles in merely one hour. Automated riddling machines at other sparkling wineries are able to move the yeast to the stem of the bottle in about a week while it typically takes Schramsberg up to 6 weeks. This winery is all about quality versus quantity and respect for the historical aspects of making sparkling wine.
A friend of Jamie's was visiting one day and remarked how Ramon was always working whenever she visited the winery. Both women started talking about coming up with some sort of tribute to Ramon. Sculptor Larry (LC) Shank was hired (a number of his works are also displayed in the Napa Valley at select wineries and restaurants including The Greeter at Stag's Leap Wine Cellars) to create a statue in his honor. This bronze statue now greets visitors in the frog pond next to the entrance to the hospitality center. The frog is holding up a glass of Schramsberg's finest to the light examining the clarity of the wine. A contest was held to name the statue and the winning entry was chosen as The Riddler's Night Out.
Hospitality
The very educational tour winds through the dark and damp wine cellars; one notices the musty smell of the caves as soon as one enters. These are some of the Napa Valley's oldest and most historic caves. The original caves were hand dug by Chinese laborers in the early 1870s; some of the pickax marks can still be seen on some of the cave walls. The caves were extended in the 1980s – today they are among the largest caves in the Napa Valley at about 34,000 square feet which still pale in size compared to Palmaz Winery with the largest wine cave in Napa Valley at about 110,000 square feet. The Schramsberg caves can hold about 4 million bottles when full. Note the thousands of bottles stacked on top of each other – up to 6 feet deep. Some of the stacks are held in place by bottle caps on the outside of the stack – stopping the bottles from rolling out of the stack.
After you tour the cave, you will either taste within the cave or walk to one of their elegant tasting rooms where you are given select pours of various sparkling wines. Your host will demonstrate the proper way to open a bottle of sparkling wine. Seating is tight in the sit-down tasting room with many glasses sitting on the tables, so be careful not to accidentally bump over a premium glass of sparkling wine.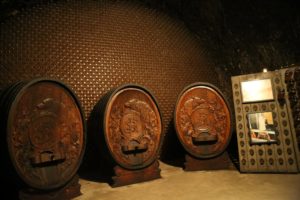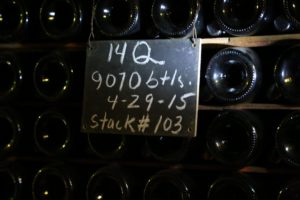 We have been here a number of times – on our first visit we had the privilege of meeting Schramsberg's matriarch, Jamie Davies who quietly stepped out of the shadows near the main entrance and introduced herself. Someone made a nice comment about the frog in the pond, but the memory has become hazy since then and we cannot recall Jamie's reply. She passed away in 2008 leaving an impressive legacy behind. Today Jack and Jamie's youngest son Hugh Davies oversees the winery and the wine making operations.
Food and champagne pairing sessions are available and you can also take a self-guided tour of their gardens which are at their peak in the spring and summer. You must reserve a tasting and tour ahead of time as tours are offered only several times per day, appointment only.
Also of historical note is Robert Louis Stevenson visited Schramsberg in 1880 on his honeymoon (the same honeymoon he and his wife ended up 'living' in the abandoned Silverado Mine bunkhouse on nearby Mt. St. Helena). During his visit to Schramsberg he noted that he tasted 18 different wines. Schramsberg is mentioned several times in his book titled The Silverado Squatters.
Select Wines
The 2019 Schramsberg Blanc de Blancs Brut is 100% varietal Chardonnay is medium gold in color; the aromatics show notes of white toast, honeycomb, gooseberry, green apple, a lemon/lime note and citrus blossom. The palate is crisp, refreshing and shows a zippy energy from the attack through to the finish. This wine offers flavors of green apple, kiwi and not yet quite ripe pear. It finishes with a noticeable mouthwatering brightness of acidity. It was fermented in a combination of oak barrels and in stainless steel. Incidentally this is the 50th anniversary Blanc de Blanc of the storied 1969 vintage of this wine which helped elevate modern day Schramsberg's reputation as a serious producer. The Blanc de Blanc was also the first wine Schramsberg ever produced in 1965. Today production is sizable – nearly 40,000 cases of this vintage were produced.
The 2018 Schramsberg Crémant Demi-sec is a very unique bottling with 59% Flora, 39% Chardonnay and 2% Pinot Noir. This wine is medium to deep gold in color; the aromatics are very diverse including being somewhat minerally along with ginger, quince, yeast, toast, bruised Golden Delicious apple and pear. This wine balances a crispness with a lightly felt sweetness and a light creaminess – and does so quite well. On the palate there are flavors of apple, pear, lychee and honey; the finish lingers with notes of soused apples including a slight lingering bitterness. We recommend pairing this wine with grilled shishito peppers using a bit of olive oil, savory salt and a few sprinkles of lemon juice. And it also pairs extremely well with the Original Blue, produced by Point Reyes Farmstead Cheese Co.
Schramsberg produced their first vintage of Crémant in 1972. We know of only one planting of this variety in Napa Valley and perhaps the only planting in all of California; the Hoxsey family (owners of Napa Wine Company) have 3 acres of White Flora planted in their Blockhouse Vineyard in Yountville. White Flora is a cross between Sémillon and Gewürztraminer created in 1938 by well-liked and prominent grape-breeder, geneticist and UC Davis Professor, Dr. Harold Olmo (one of a number of new varieties that he created over a long career). Several other Napa Valley based producers make or have made wines from this variety including Matthiasson for a vermouth and the Hoxsey's own label, Elizabeth Rose. A Red Flora also exists, having been created by a cross in the 1850s but is not related to the White Flora.
The 2019 Schramsberg Blanc de Noirs Brut is made from 88% Pinot Noir and 12% Chardonnay is medium to deep gold in color; the bouquet offers aromas of honeycomb, cantaloupe, loquat, notes of lightly toasted bread, red apples and wild strawberries. This wine offers a creamy texture across the palate with light flavors of mandarin, kiwi, apple, under ripe papaya, a flinty minerality along with a long-lasting citrus-like freshness of acidity. We immediately noticed this bottlings' superb balance; it is very enjoyable to drink. This wine was first produced in 1967.
Previous Ventures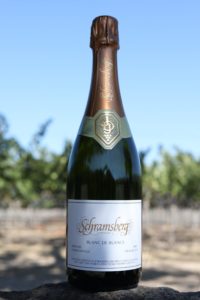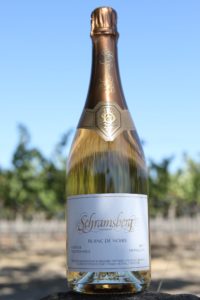 More recent fascinating history: the site of what is now Etude Winery in Napa's Carneros region used to be the home to RMS Brandy Distillery, a joint venture between Remy-Martin and Schramsberg Vineyards that was founded in 1982. Supposedly this was the first distillery built in California since prohibition with the Napa Valley's first alembic stills (initially 8 of them). Despite creating some award-winning brandies, ultimately the venture did not work out and they closed in 2002.
And Schramsberg had connections to Portugal in the 1980s. In 1988 they entered into a partnership with Portuguese winemakers João Carvalho Maia and Celso Pereira. This connection was made because João worked a harvest at Schramsberg in the 1980s and got to know the Davies family. Jointly they established Caves Transmontanas, producer of the Vértice still and sparkling wines near the town of Alijó in the Douro Valley. While Schramsberg is no longer involved in the operations, Caves Transmontanas continues to produce premium wines in this part of Portugal.
—
Note: the two photographs of the wine bottle on the left-hand side below – one was taken before the bottle was broken and one taken after. In October 2017 this bottle was being moved into the cave for safe keeping during the terrible fires in October 2017 (anticipating the fires might reach the winery – they did not). There was no backing on the original case holding this bottle and when it was pulled out from the wall in the rush to potentially save it, the bottle fell out the back and broke on the ground directly below the case. The bottle was later pieced back together (using the same label).
Guests looking for what might be the ultimate Schramsberg experience will want to inquire about Camp Schramsberg and Camp Davies, a twice a year offering where "sparkling campers" attend either a 3-day session in spring or fall with detailed on the job training about producing sparkling wine. Select scholarships are given for wine professionals. These sessions are highly popular and sell out months and months in advance.

Attendees learn practices both in the vineyard, at the winery or at Meadwood Napa Valley including reasons for clonal selections, pruning or harvesting depending on the time of year, steps to make sparkling wine, how to blend and in the fall harvesting grapes. Food is a big part of this experience with meals included in the cost of the experience.
For more information visit: www.schramsberg.com and also visit their sister winery and tasting room located in St. Helena, Davies Vineyards, which we also review separately on this site. Davies Vineyards focuses on still wines – Pinot Noir and Cabernet Sauvignon and these wines are made at an offsite winery located in St. Helena. While their first vintage was rather small (1,000 cases), production has grown significantly over the years; today total production of Schramsberg wines each year as of our latest update to this review is around 85,000 cases with good domestic distribution and some international.
Cave/Winemaking

Estate