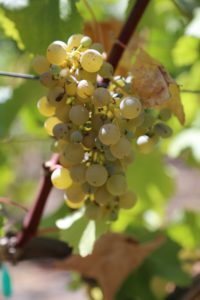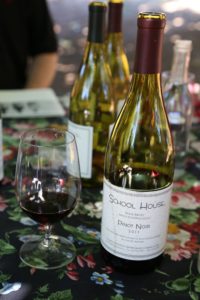 School House Vineyard is a very small producer of entirely estate wines nestled in the hills of the Spring Mountain District a few hundred yards in on Langtry Road at about 1500 feet. A visit here is for the serious wine enthusiast – their vineyard is truly off the beaten path, there is no tasting room or 'napa fancy'; all tastings are conducted next to the vineyard. Their vineyard is located in the Spring Mountain District. It is quiet and relaxed here; this is the Napa Valley's unassuming mountain appellation. Rather then being winemakers, proprietors, John M. Gantner and Nancy Walker focus their efforts on vineyard management and sales of their wines.
John has a rich and lengthy family history in northern California; he is an 8th generation San Franciscan whose relatives generations ago were the Vallejo family – his great, great grandfather was Salvador Vallejo, the brother of General Mariano Vallejo. For those interested in additional history of Spring Mountain and John's time growing up here in the 1940s – consider ordering Spring Mountain Story from through the School House website, a book John wrote that was published in 2019. At only 40 pages, this book is a quick read but offers a rare glimpse into a very specific piece of Napa Valley's history. Deer, rattlesnakes, no electricity and few neighbors; this book is John's story of growing up on Spring Mountain between 1940 and 1951.
Some of John's other relatives have connections to the Napa Valley; his great grandfather worked in California gold mines during the goldrush and later owned the Swiss Hotel in San Francisco – records show that he traveled to Napa in the 1860s to purchase barrels of wine to serve guests in his hotel. And his grandmother, Dorothy Erskine was one of the early proponents of a greenbelt or space that would remain zoned as agricultural. Her efforts along with Jack Davies of Schramsberg, Volker Eisele of Volker Eisele Vineyard and others created the nations first such preserve in 1968, the Napa Valley Agricultural Preserve. And to honor her efforts in San Francisco (she founded People for Open Space, now the Greenbelt Alliance) – a tiny park full of eucalyptus trees and great views overlooking southern San Francisco. Her namesake, the Dorothy W. Erskine Park is located just south of Twin Peaks in San Francisco. Visitors can access the park from the surrounding residential neighborhood or drive all the way up to the edge of the park and make a very short hike.
Ganter-Mattern Mementos

Dorothy W. Erskine Park, San Francisco

John's father John Oscar Gantner (died 2002) senior purchased 160 acres, the current site of School House Vineyard in 1940 (the year John was born) from Dick Sheehan (the property had been in she Sheehan family since the 1860s). John O looked for property in the Mayacamas mountains at the urging from his college friend at Stanford University, John Daniel (owner of Inglenook Vineyards at that time). John's grandfather co-founded Gantner-Mattern, a clothing company around 1900. They produced a variety of products over the years including underwear, sweaters and swim suits for both men and women. Their wikies for men were particular popular. John's father ran the company until 1954 before selling it.
John O initially sold fruit – the white variety, Golden Chasselas went to one of his neighbors slightly lower on Spring Mountain, Karl Beringer (that property is now Eeden Vineyards) and their reds went to Allied Grape Growers, a cooperative. Much later fruit from an acre of mixed reds was sold to Paul Draper at Ridge Vineyards every year for more then 20 years.
Nancy's formative years were spent in Oklahoma City, Newport Beach and then Berkeley. She has a varied career – first with United Airlines in 1960 – continuing her work in the travel business for 15 years and later becoming elected to the San Francisco Board of Supervisors in 1979.
John and Nancy subscribe to the saying that 90% of the wine making is done in the vineyard (John has worked these vineyards all his life). He still dry-farms the vineyard. They worked with noted winemaker Bob Foley for many years – today School House Vineyard produces approximately 3,000 cases a year of four different wines. Their vineyard is named after a small one-room school house built in 1881; John's family actually lived inside this old schoolhouse for several years after they purchased the property. Unfortunately it burned down in 1986. Visitors to their property will pass by the original site where this was located.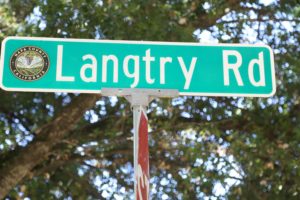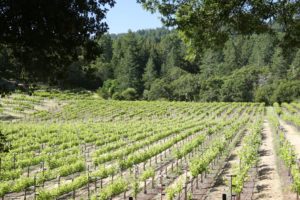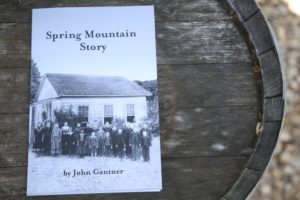 The original vines on the property were planted in the 1870's and; the vineyard has produced continuously since then. At the time of John Sr's purchase, there were 30 acres under vine and the vineyard was being managed by horses. After horses were replaced by tractors, some of the steepest vineyards blocks were no longer maintained (due to the danger of turning a tractor around at the end of these very steep rows). Today of the 55 acres they own, they manage about 17 acres of vines.
Their first vintage was made at Stony Hill Winery – one of Napa Valley's more historical wineries – also on Spring Mountain. Their winemaking operations have been highly nomadic over the years including being including being produced at California's oldest winery, Buena Vista in neighboring Sonoma County and at Chateau Montelena for some time. They have also employed a wide diversity of wine makers over the years while always keeping a careful eye out for balanced wines – with restraint on ripeness and extraction. Some of their winemakers have included André Tchelistcheff, Mike Chellini, Ric Forman (who seems like he has been involved with nearly ever Napa winery producing wine in the 1970s and 1980s) and Bo Barrett among others.
Today the wines are made at Pride Mountain Vineyards (also in the Spring Mountain appellation and conveniently located less then 10 minutes away from School House).
Remarkably they have produced wines every year since 1957, making this one of the longest continuously operating winery producers in all of the Napa Valley. By our count they are one of only 8 wineries that have produced vintages in the Napa Valley under the same brand every year since at least the 1950's – who are still producing today, the others being: Beringer, Nichelini, Beaulieu, Louis Martini, Charles Krug, Sutter Home and Stony Hill (listed in order of earliest age of continuous production). However, vineyards on site were originally planted in the 1890's and until more recently, some of these older 100+ year vines were still growing on site, intermingled in with the much newer plantings. Today the oldest vines date back to the mid 1940s.
Select Wines
The 2004 School House Pinot Noir is Burgundian in style with a very earthy bouquet that leads to a palate rich in red fruit including cherry, plum and raspberry. Unfortunately this wine is available in very limited production and usually sells out rather quickly.
The first wine released from the 1957 vintage was Pinot Noir; they still produce wine from this variety today. All grapes grown on site are dry farmed and are probably one of only a few wineries in California dry farming Pinot Noir. In addition, very few wineries on Spring Mountain actually grow Pinot Noir – we can think of only one other – as of our latest update to this review that is: Spring Mountain Vineyard. Ritchie Creek also has some Pinot Noir but is not producing wine from this themselves. The 2011 School House Pinot Noir (their 54th vintage in a row) reveals an appealing and pretty bouquet – think raspberry jam, hints of mocha and notes of mushroom. On the palate higher toned fruit shows. This is a very balanced wine with excellent acidity and fine-grained tannins.
Their small vineyard contains budwood from several very respectable Napa sources. The budwood from this wine came to be planted here as an indirect result of famed soils and winemaker André Tchelistcheff's encouragement for local growers to remove other varieties and replace these with Cabernet Sauvignon. As a result in 1952, John Daniel of Inglenook Winery decided to remove his one acre of Pinot Noir in Rutherford and gave some budwood to School House, supposedly originating from one of Domaine Romanée Conti vineyards in Burgundy. There is not a lot of old vine Pinot Noir in the Napa Valley – a couple of other producers we are aware of with Pinot Noir dating back to the late 1960s early 1970s are the Haynes Vineyard in Coombsville and Stanley Ranch in Carneros.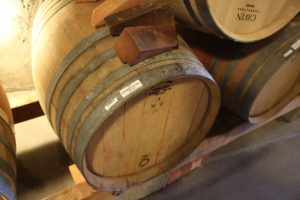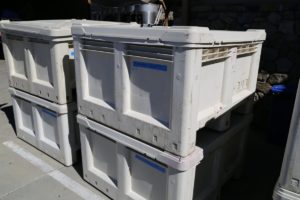 John's father was friends with Fred McCrea, founder of Stony Hill Winery (also on Spring Mountain); their Chardonnay came from Wente "small berry" cuttings that Fred gave him in 1968. The 2012 School House Vineyard Chardonnay shows a pretty golden hue in the glass revealing aromas of honeysuckle, creme brule and brown sugar notes. On the palate it is all about the variety and fruit characteristics rather than oak or manipulation in the winery. It is a balanced Chardonnay – slightly creamy (not oaky or buttery) with mineralities on the finish.
They produce two Mescolanza wines (appropriately meaning "Medley" Spanish – one that is Zinfandel based and the other Syrah based. The Zinfandel is a delicious blend predominately of Zinfandel and Petite Syrah with a touch of Carignane, a Spanish red variety rarely grown in the Napa Valley. As Nancy says, "excessive consumption of this wine may cause Zinfomania"! The 2011 School House Vineyard Mescolanza Zinfandel based blend shows some spicy white pepper notes, cassis and red fruit. It is balanced on the palate showing higher toned fruits – with a lingering tartness on the finish (red currant). The tannins are fine-grained, delicate and perfectly integrated into this wine's structure.
The Mescolanza Syrah is the newest School House project – made from a vineyard on site jointly planted with Pride Mountain. Old vines that originally were used by Beringer to make a sherry were pulled out and replaced with Syrah, Grenache and Mourvédre. The 2011 School House Vineyard Mescolanza is Syrah based but also contains the other two varieties. This wine shows earthy notes on the bouquet with cedar and hints of white pepper. It is pleasing on the palate and very well balanced.
—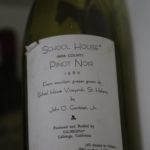 Tasting is an intimate experience sitting around the table often with Nancy or John at their home. They are setup to see only very small groups. And more recently, John's daughter Florence was helping as needed at School House Vineyard (born and raised in San Francisco, she spent much of her summers growing up at School House).
Their wines are primarily sold direct to consumer. For more information and or to join their mailing list, visit: www.schoolhousevineyard.com