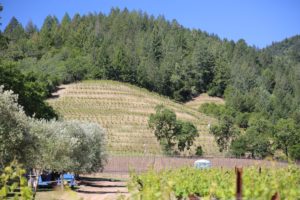 Schlein Vineyard is owned and operated by Phil Schlein a long time Napa area resident. It is uniquely refreshing to find a wine that is named after a property manager! Emilio originally immigrated to the USA from his native Michoacan Mexico in the late 1940's and has tended to and managed the location where the vineyards are planted since the late 1960's. He originally got his start in the Napa Valley for Robert Mondavi (quite a few people in the wine industry in the 1960's were touched in some way by the famous Robert Mondavi).
Emilio's Terrace vineyard is a South East facing very steep vineyard with unique microclimates. It is adjacent to Mondavi's famed To Kalon vineyard. The upper end of the vineyard typically ripens first and as a result is harvested first and crushed before the fruit at the bottom of the vineyard. Even though this is a small vineyard, ripeness is key therefore not all the vineyard is picked at once.
Their flagship wine produced since 1996 is their Reserve Estate Cabernet Sauvignon. We tried the 2004 vintage (only 510 cases made) which is blended slightly with Merlot, also from their hillside vineyard. This is a very elegant well balanced wine showing those great fruit characteristics representative of Oakville hillside grown Cabernet Sauvignon. It is a dark wine that is rich with notes of blackberry, cedar and coffee on the nose followed by ripe blackberry fruit & spices on the palate. This is a great food wine.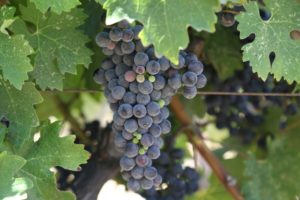 Sophie's Rows is named after Phil's mother, with a nice play on words! Each year 8 specific rows in the vineyard are set aside for this wine. The 2004 vintage is Cabernet Sauvignon, Petit Verdot and Cabernet Franc. This wine has many layers and depth of flavor. Also check out their Merlot / Cabernet Sauvignon blend called Moonschlein, a play on owner Phil's last name. This is an easy drinking everyday wine available at a decent price. Joe Cafaro was their wine maker for many years – Cory Beck joined the winemaking team in 2009.
Emilio's Terrace has an annual scholarship for wine writers which is given to a select individual at the Meadowood Wine Writer's Symposium. You can find Emilio's wine locally in St. Helena at Dean & Deluca wine shop as well as the Calistoga Wine Stop in Calistoga.
NOTE: This review has been identified as needing a major update. Never had a chance to update – they are no longer producing wine commercially under their own label.