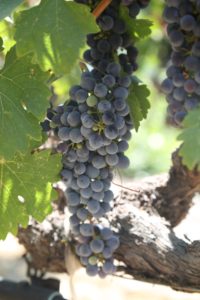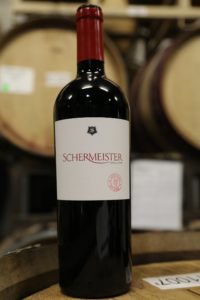 Schermeister Winery is a tiny producer of wines from both Napa Valley and select locations outside of Napa, owned by Robert Schermeister and his wife Laura. Robert is the founder and winemaker; he grew up in Idaho where his first introduction to making alcohol came through his father (both used to make beer together). Later he earned his degree in biochemistry from the University of Idaho. While in college he learned that that University of Washington had begun a Viticulture and Enology program; he took a few classes and simultaneously recalls making wine in his apartment.
Taking some time to see parts of the world from a wine perspective, he spent time in Western Australia helping make wine and also in New Zealand. Continuing his wine travels he visited the Mosel region of German and fell in love with Riesling and other wines from this part of the country.
Upon finishing college he was hired by Chateau St. Michelle and spent time working in eastern Washington state. He was then offered a job at Pahlmeyer Wines – and moved to Napa. He had never been to the Napa Valley prior to this job offer and remembers seeing the valley for the first in 2007 and being inspired by its natural beauty, visually reminding him of parts of Tuscany.
Robert realizes how fortunate he is to have worked with such notable winemakers and premium vineyards upon arriving in Napa. He worked as assistant winemaker for Marc Aubert and was introduced to a number of premium vineyards during his time there.
And then the firestorms of early October 2017 hit – living on Mt. Veeder at the time they had 45 minutes to evacuate prior to the quickly encroaching flames. Their home was unfortunately lost. All their case goods including a number of vintages were stored in the northern part of Santa Rosa. Hearing about the incredible devastation the Tubbs Fire left as it quickly ripped through the northern flanks of Santa Rosa (in neighboring Sonoma County) Robert drove to Santa Rosa to find out if his wine survived. Miraculously the warehouse where he stores his wine next to the Coffee Park neighborhood was untouched – although it was a close call – the fire burned to within about 500 feet of the building.
And this is not the first time his wine had dodged a natural disaster. In August 2014 an earthquake hit south Napa including causing heavy damage at the winery where he makes his wines. Fortunately he had just bottled wines and had moved them out of barrel off site and as a result, lost no wine.
To date, Robert has not needed to inoculate with commercial yeast any of the wines made under Schermeister Cellars. Rather all fermentation is done with indigenous yeast. Robert is not a hands off winemaker nor does he have employees help make the wine, rather does all the details himself from the punch downs to the pressing. Once fermentation has completed he often leaves what is left of the cap sit on the must for up to 28 additional days while tasting daily, looking for desired flavors and structure (one of the reasons for allowing the wine to sit longer is to help soften tannins).
These are vineyard driven wines rather then winemaker manipulated wines – Robert curates rather then manipulates in the winery.
Select Wines
The first Schermeister Cellars vintage was 2012 – a Pinot Noir that Robert continues to make from the tiny Paladini Vineyard on the Napa side of Carneros. The 2012 vintage still has plenty of life ahead of it – shows a very pretty bouquet with sweet fruit aromatics including nuances of strawberry, red cherries, floral notes (dried rose petal) and some dessert spice. It is extremely well balanced on the palate showing more red fruit then darker fruits – anchoring a very supple finish along with hints of white pepper.
The 2014 Schermeister Cellars Paladini Vineyard Pinot Noir reveals a bouquet that shows a variety of berry aromas including raspberry with just a hint of mocha/espresso and a gravelly mineral component. Balanced with very good acidity. Shows flavors of cherry along with an earth nuance – a lingering slight tartness shows on the finish with noticeable yet fairly rounded tannins with just a hint of lasting vanilla.
The 2013 Napa Valley Red Wine is a blend of 68% Cabernet Sauvignon, 22% Malbec and 10% Syrah – from vineyards on Pritchard Hill. All the varietals were co-fermented. Very dark in the glass this intriguing bouquet shows notes of sage, dark chocolate with cherry driven aromas. A big vintage in general that is known for its well structured wines – along with fruit from a 'powerful' vineyard neighborhood, this wine is packed with flavor and structure. However this wine is structured in a way so that the tannins while big and slightly chewy are also somewhat polished.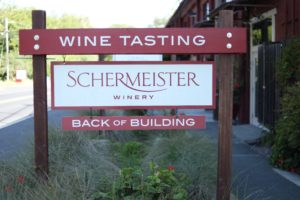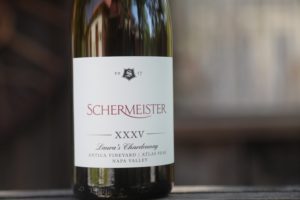 Robert made a Chardonnay from the Antica Vineyard on Atlas Peak for Schermeister Cellars for the first time in 2017. He often has control over vineyards he sources from – but especially so here. For the specific block he sources from, Robert does much of the necessary vineyard work by hand throughout the season. We tried the wine in barrel – already it has developed a rich, somewhat oily mouth feel. Robert ferments this wine slow and cold (took about 8 months to fully finish fermentation) and he puts the wine through full malolactic fermentation. This is a wine with depth, character and richness of aroma and flavor – those used to drinking 'thin' Chardonnays will quickly develop an admiration for this wine.
The 2017 Schermister Cellars Antica Vineyard Laura's Chardonnay, dedicated to Laura who helped harvest this fruit on her 35th birthday, includes about 20% Chardonnay Musqué which in part, contributes to the rich aromatics. We tasted four years post vintage. Medium to deep gold in color; shows aromas of caramel, sweet vanilla, toffee, brown sugar and hazelnut. Also some tropical fruit notes as the wine breathes including of ripe banana, pineapple and papaya. Shows a light creamy texture across the palate with flavors of toasted almond, crème Brule, mandarin, and lemon zest. Very balanced. With a few years of aging, the fruit is still there but has taken more of a backseat to the other secondary and tertiary aromatics and flavors. We enjoyed its complementing characteristics with a glass noodle, spicy lemongrass, cilantro prawn salad.
Laura is a graphic designer and created the labels and packaging for the wines
Glen Ellen Tasting Room
The wines are crafted in Napa Valley and are sold mainly direct, primarily through their small tasting room which opened in early 2019 in Jack London Village and the Old Mill, located just south of Glen Ellen in neighboring Sonoma County close to Jack London State Park. Originally founded in 1839 as a sawmill (that General Mariano Vallejo had built) this is one of the more historic sites in Sonoma County and the oldest building in Glen Ellen.
Several old pieces of winemaking equipment are displayed throughout parts of the village. One can spend some time walking through the various shops including stopping at select sculptures as part of an 'art walk'.
The tasting room is located on the south side of the complex, next to the lower parking lot. Robert designed and built the interior décor of the tasting room. Features not only their excellent wines but also art by Laura and others and a tiny aroma bar. Tastings are always held with either Robert or Laura either by appointment or Thursday through Sunday from 11 until 5pm. If there is availability, sometimes walk-ins are accepted.
Note that this tasting room is not always open and may close for a period of time up to 6 months. The reason for this is that when the Schermeister wines sell out, they close the tasting room until new wines are released.
Several tables are located inside the small tasting space in either one of their two small room, or directly outside at a table or within a short walk on to several tables on a wooden semi-shaded deck overlooking bucolic Asbury Creek.
Tasting room

Jack London Village

Artwalk

Total production at the time of this review is around 1,100 cases with plans to ultimately grow the production. For more information and or to join one of two membership levels in the Magnus Vinum Society (wine club), visit: www.schermeister.com