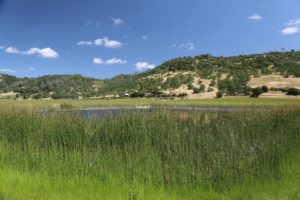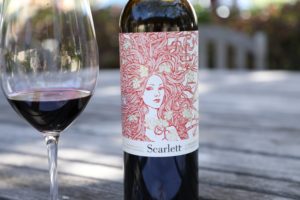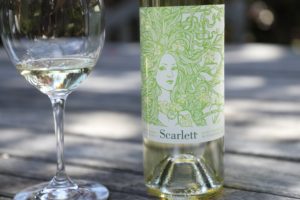 Scarlett Wines was founded with their first vintage in 2006. In 1990 E.J. Mcgah purchased a piece of property on Ponti Lane in Rutherford extending to the Silverado Trail and in 1992 purchased another piece of property to the west of Ponti Lane. The previous owner, Edward Westgate oversaw the development of the Sheraton Maui in 1963, was involved in building Honolulu's first high rise condominium in 1965, the development of the Pago Pago Intercontinental Hotel in Samoa and in Napa Valley was part of Westgate/Amfac, involved in the developments of the Silverado Country Club in the late 1960s. Westgate Drive in Silverado Country Club is named in his honor. Edward died at age 100 in 2012.
These properties are located in the southern part of the Rutherford sub appellation with Oakville bordering directly to the south. This is prime terroir; nearby vineyard neighbors including Beckstoffer's Georges III Vineyard, Bonny's Vineyard and Pina Napa Valley, both their winery and Firehouse Vineyard.
E.J. McGah was signed by the Boston Red Sox in 1945 at age 17. He served in World War II and then returned to play baseball for the Red Sox for two seasons and was on the 1946 team which won the pennant title. In 1960, McGah along with other investors, founded the Oakland Raiders and McGah served as president of the team. The early years were not easy financially with both losses on the field and financial losses mounting each year; the Oakland Coliseum was not yet ready, and the team played home games at the old Candlestick Park in San Francisco in 1960 and 1961. And even a year after the team was founded, there was talk about the Raiders leaving Oakland. An article in the Wednesday November 1, 1961, issue of the Oakland Tribune mentions a bid for the team had already been made by the city of San Antonio and other cities were possibly interested in purchasing and moving the team. The same article mentions a possible sale price would be about 1 million dollars – not bad considering the current value of the team according to the Forbes' annual NFL team valuation in 2022 listing the Las Vegas Raiders as worth 6.5 billion dollars.
The McGah family retained their ownership in the team until 2005. We have fond memories of when the Oakland Raiders used to hold their training camp on the grounds of the old El Rancho Tropicana Motel on Santa Rosa Avenue in Santa Rosa for more than two decades. Those days are long gone, the Raiders bounced around the state several times, are now based in Las Vegas, and the El Rancho Tropicana Motel has long been torn down and is now a large shopping center anchored by Costco and Best Buy. Incidentally the founders of both those companies have strong connections to wineries in Napa Valley; reference Fantesca Estate and Sinegal Estate.
The two vineyard properties are approximately 65 acres; until 2005 the grapes were sold to a variety of producers including Beaulieu Vineyard and Newton Vineyard. After E.J. passed in 2002 his grandson Sherratt Reicher became involved in managing some of his assets. In 2006 due to grape contracts expiring or being canceled for various reasons, the McGah's were left with a surplus of grapes. Sherratt brought on Mattie Cooper (now Scarlett's President and oversees grape sales) to help with the vineyard and launching their own wine brand. Mattie remembers harvesting 50 tons of Cabernet Sauvignon and 10 tons of Sangiovese in 2006 in the rain and making the wines at a winery in St. Helena where one of their friends, a cellar master worked. They ended up selling bulk wine that year but saved a number of barrels for their own wine.
From 2006 until 2009 the family operated the brand under McGah Family Cellars. But then they transitioned to Scarlett Wines named in homage to Sherratt's daughter Scarlett. The artwork on their label is from an Italian artist who was inspired by the Czech painter, illustrator, and graphic artist, Alphonse Mucha. The original piece is of a nude. The color of each label changes, corresponding to each bottling.
For the first few vintages, winemaker Gustavo Gonzalez consulted for them. In 2009 they interviewed several winemakers. They met Mike Smith for the first time at the now closed Prima Ristorante in Walnut Creek. Mike brought some of his own wines; first impressions were all they needed; they were inspired by his wines, and he was soon hired and has crafted every vintage of Scarlett since. Over the years, Mike has built a successful career consulting and providing winemaking services to a number of very small premium mostly Napa Valley based brands. He and his wife Leah also operate their wine brand, Myriad Cellars.
In 2006 the family began replanting the vineyard, choosing a diversity of varieties besides the ubiquitous Cabernet Sauvignon. They planted Grenache (head trained), Zinfandel, Petite Sirah, Sauvignon Blanc, Sémillon, Mourvèdre and Viognier. The two properties offer a variety of soil types including coveted bench land next to the Silverado Trail which is planted to their most premium Cabernet Sauvignon. One property is named Alsace Vineyard in honor of Sherratt's grandmother on his mother's side of the family who was originally from Germany. The other property is called the Heritage Vineyard. Today both properties are overseen by viticulturist DeWitt Garlock and are managed by Garvey Vineyard Management. And Scarlett Wines uses grapes from both properties for their own wines but still sells the majority of their grapes to other producers.
Select Wines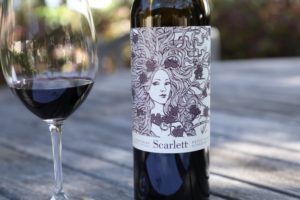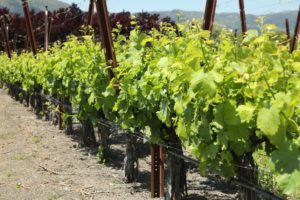 The 2022 Scarlett Sauvignon Blanc is a blend of 84% Sauvignon Blanc and 16% Sémillon from three blocks on the property. The Sémillon and the Sauvignon Blanc (To Kalon Vineyard selection) are from the Alsace Vineyard and the Sauvignon Musqué is from their Heritage Vineyard. The grapes were whole cluster pressed and allowed to sit for 4 hours before being transferred into 100% French oak barrels (20% new). Malolactic fermentation was blocked. This wine is medium gold in color; it's aromatics are highly attractive including of honeysuckle, honeycomb, jasmine, citrus, green apple, lemon juice, a hint of lemon grass and pineapple. It offers a diversity of scents, especially as it continues to open in the glass. This wine reveals flavors of Golden Delicious apple, melon and citrus including mandarin and pomelo. This wine is balanced and bright, showcasing a rounded and supple texture. It lingers with a mouthwatering finish and a light tartness but not any bracing acidity that sometimes wines from this variety growing in cooler sites display.
The 2018 Scarlett Cabernet Sauvignon is 98% Cabernet Sauvignon and 2% Petit Verdot crafted from five distinctive blocks within both of their vineyards (75% Alsace and 25% from Heritage). This wine was aged in French oak barrels from a diversity of coopers (85% new). It is deep ruby in color and almost opaque; the oak is a complementary character with its influence showing more in the background of the bouquet. The aromas offer blackberry, boysenberry, black raspberry, ripe Santa Rosa plum and light touches of dust/rock and tobacco spice. The bouquet becomes more sweetly fruited as it opens. The palate features rounded, supple and well-integrated tannins. Mike is in part known for crafting red wines which showcase this type of texture. One would not be incorrect in calling this a balanced wine. Two characteristics were highly appealing at the time of our tasting 5 years post vintage; the freshness of the aromatics, smelling like fruit which had been recently harvested and how comfortable and polished the tannins feel across the palate.
While a bit more common than most people realize in Napa Valley, one still has to actively look for 100% varietal Petit Verdot. The 2019 Scarlett Petit Verdot (100% varietal) is deep ruby/purple in color with an amaranthine rim. It offers immediately engaging aromatics including a floral tone of violets and rose petals. But there is plenty of fruit here as well and the bouquet is not shy. It offers scents of blackberry, boysenberry, dark cherry and an overall sweetness of ripe but not overly ripe fruit. A layer of dust resides underneath all the other aromatics. Rather than being overtly muscular on the palate, this wine's texture is more restrained, offering dense but lightly grainy tannins. Intensely flavored but still balanced, this wine lingers somewhat savory with a darker but bright finish, a lingering light dryness and a note of dried tobacco leaf. This wine was aged in 50% new French oak barrels. The grapes for this wine were harvested entirely from the Alsace Vineyard and were aged in 5% new French oak barrels.
—
Visits are by appointment, are personalized and are hosted at a winery just north of Calistoga where the Scarlett Wines are produced.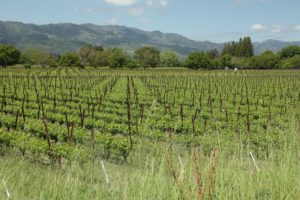 Total production varies each year but is usually between 2,000 and 3,000 cases. The wines are selectively distributed in a variety of states including Texas, Florida, New York, Arizona, California, Georgia and Nevada along with international locations including Japan. The wines are well-represented at restaurants and retail in Napa Valley including at Bouchon, Gary's, Brown's Valley Market, ACME Fine Wines in St. Helena, K Laz in Yountville and Calistoga Wine Merchant.
For more information, to purchase wine, to join one of their four wine club offerings (with member perks including a visit to their estate property) or to schedule a tasting, please visit: www.scarlettwines.com