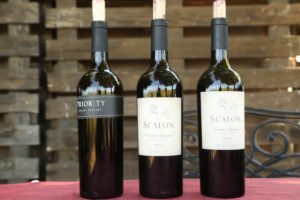 Scalon Cellars. Co-founder Jesus Espinoza came to the Napa Valley in 1990 and began to work in the vineyards – initially helping plant grapevines. He immediately took a job at Caldwell Winery after moving to the valley and has been working with John Caldwell ever since and is currently Caldwell Vineyard's vineyard manager. While Caldwell was building their wine cave, they hired Napa based BalCal Construction, Inc for some of the required work. BalCal has worked on numerous projects over the years within the Napa Valley focusing on both homes and wineries including The Prisoner, Covert Estate and Pahlmeyer. They also worked on the beautiful spa renovation at Meadowood. Co-owner of BalCal, Cruz Calderon was overseeing the Caldwell cave project and while there met Jesus, and both became good friends.
With Jesus's expertise in the vineyard and vineyard contacts and Cruz's savvy business acumen – their partnership is a strong one. In 2012 they brought on Tim Goodwin to help with sales and brand development (his former career was working with brand development but not in the wine industry). And as he admits, his job is more enjoyable than his prior career and even on a bad day, one is still surrounded by gorgeous vineyards and scenery.
The core of their wines is a tiny 3-acre leased parcel on a hill in Coombsville located within a short walk or drive from Caldwell Vineyard. This vineyard has special significance to Jesus – it was the first vineyard he planted in the Napa Valley. These vines (all 100% Cabernet Sauvignon) date from 1990. Wine from these vines produced the inaugural Scalon Cellars vintage in 2010 – a 100% varietal Cabernet Sauvignon.
Their portfolio has since expanded, producing another red wine and several lighter style wines. Total production is around 800 cases a year.
Master Cooper
Instead of selectively purchasing oak from cooperages like most wineries, Scalon Cellars has access to oak wood from suppliers in France (which are then seasoned up to 36 months) and built by Master Cooper Ramiro Herrera – the personal Master Cooper at Caldwell Vineyards. The rigors of becoming a Master Cooper in an already very specialized craft are significant, there are less then 40 master coopers on the planet. Ramiro is the only one in the United States.
He spends two months in France every year and assembles approximately 300 barrels including choosing the wood and selecting for grain and tannin levels in the oak and toast levels inside the barrel. The barrels are then shipped over to Caldwell Vineyards – and several of these barrels are used for Scalon Cellars wines. Ramiro creates his own tools for working with the barrels – his office is in a unique location, inside a Quonset hut surrounded by vineyards in the hills above Caldwell's cave. A mini cooperage if you will – a workplace where he can build barrels including toasting and making repairs as needed.
The Name
One evening while trying to decide on the final name for their wine brand, Jesus, Cruz and Tim were enjoying drinks at a bar in the city of Napa. Both Jesus and Cruz wanted the name Escalon but unfortunately it was already trademarked. About 11pm, after drinks and much discussion of a name, Tim simply crossed off the E in Escalon and said we will be using Scalon and will be printing tomorrow! The name Scalon was created in part by using several letters of both Jesus and Cruz's last name.
An image of an Andalusian horse appears on the label of their red wines – chosen because several horses used to be housed on the Caldwell Vineyard property – and both Jesus and Cruz would often ride these animals.
Select Wines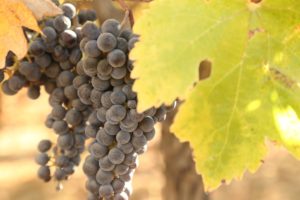 The focus of their efforts in the vineyard and in the winery are to curate and craft wines based on what the vineyard delivers that year – rather than manipulating the wine to perhaps a certain style.
The 2018 Scalon Cellars Oak Knoll Sauvignon Blanc is 100% varietal. When referring to balance, this wine is the epitome of such a description. Faded straw yellow in color offers an interesting bouquet with both citrus, mandarin, kumquat, citrus blossom and melon. Supple across the palate with an ethereal texture from start to finish. Flavors of green apple, lemon zest and a wet slate minerality are anchored by lively acidity – a tartness but not a grassy or greenness. Crisp across the palate – this wine drinks very well by itself.
The Scalon Priority is a second label – a wine meant to be more accessible enjoyed with or without food or as Tim says, "with or without people". A versatile wine. The 2016 Scalon Priority is a red blend of entirely Coombsville grown fruit including Cabernet Sauvignon, Merlot and Cabernet Franc. Garnet in color – offers ripe forward aromatics – the bouquet is an opulent and powerful featuring both plenty of fruit and spices – including clove, an Asian 5-star spice and white pepper. Darker fruits show on the palate – primarily blackberry and boysenberry with cedar box and tobacco spice lingering on the finish. Rounded across the plate with firm, ripe and medium-weighted tannins.
The 2013 Scalon Cellars Cabernet Sauvignon offers a mélange of aromas – part fruit, part spice and part barrel influence. Leather, plum, dark cherry, black licorice and as the wine breathes notes of sage and dust show – and further in the background, hints of vanilla. A bit meaty and savory in its aromatic presentation. Flavors of blackberry, and boysenberry – lingers with well-defined but integrated tannins, old cedar box and cigar smoke. This wine shows both depth on the bouquet and on the palate. Not immediately as approachable as the 2014 vintage, but with plenty of character.
The 2014 Scalon Cellars Cabernet Sauvignon, while from the same vineyard as the 2013 is both a different vintage and was made by a different winemaker (this was the first Scalon Cellars wine made by Julien Fayard). Features an exquisite bouquet, that is both simultaneously elegant and ripe at the same time with bright and lively aromas of blackberry and dark cherry along with a thread of dry earth and dust notes and as the wine breathes further, a hint of chocolate. As appealing on the palate as on the bouquet – shows superb balance with both red and darker fruit flavors. Good acidity – lingers with flavors of red cherry, plum and tobacco – framed by dusty well-integrated tannins.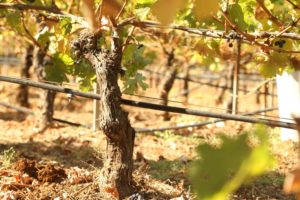 Scalon Cellars also produces a beautiful California appellation rosé (Sierra Nevada foothills) from a part of a vineyard farmed specifically for this wine.
The wines are almost entirely sold direct to consumer with very limited restaurant distribution in parts of the Napa Valley and in Sacramento.
Tannery Bend Tasting Salon
In late 2021 Scalon Cellars opened a tasting salon in the old Sawyer-Tannery complex (building L) in Napa's Tannery Bend District, a very historic part of the city of Napa along the Napa River. The Sawyer Tannery building dates from the 1880s; this was once the largest tannery west of the Mississippi and is where Nappa Leather originated from. Napa's leather industry began along this part of the Napa River in 1869 and is in a part of town named after both a bend in the Napa River and the old leather tannery.
Today the Sawyer-Tannery complex is home to several under the radar appointment only tasting rooms for small Napa Valley wine brands. And at least one winery used to produce wine here – years ago we met with Matthiasson Vineyards when they were leasing a space for their production.
Scalon Cellars spent 18 months completely renovating the interior of the space; a previous tenant used it for offices and video editing. The interior is spacious and welcoming and features several small private tasting rooms which can be closed off from the main room with sliding doors. Photographer Suzanne Becker Bronk provided the high-quality photographs which hang in these rooms.
Their tasting salon is located directly across from the Napa River; the Vine Trail (bike and pedestrian pathway) paralleling the river is located just below the surrounding parking lot. One could bike or walk here from just south of downtown Napa. While there is no dock on the river directly in front of the tasting room, the Napa Valley Yacht Club maintains a dock within a short walk of the tasting room and allows guests boats to make a docking request and pay ahead of time via their website. One could visit the tasting room coming from boat on the Napa River. On warm days the nearby saline waters along with the aquatic plant life produce some pretty aromas.
For more information, to schedule a visit to their tasting room or to sign up for their allocation list, visit: www.scaloncellars.com