Sarocka Estate.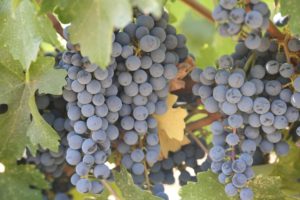 Winemaking starts with a particular site or "terroir". From a geographical only perspective, Sarocka is an extremely unique site in the Napa Valley. Perched on a peninsular type ridge in the heart of the Spring Mountain district – the vinews have unparalleled views from this property. Most properties on the hillsides in Napa have at least one unique view. Because of its location – there are stunning views from one side of the peninsular ridge looking to the south, on a clear day all the way to Mt. Diablo – and then from the other side of the entire northern part of the Napa Valley.
Sarocka is owned by Irene Sarocka Scully – she is originally from Wisconsin and has enjoyed wine for many years. She is also a philanthropist and has supported a number of charities including her own, the Irene S. Scully Family Foundation which she founded in 2003 and currently serves as their president. This charity has been instrumental in supporting public education (K-12) in Alameda County and West Contra Costa County (the San Francisco Bay Area). Typically the provide about 1.5 million dollars each year to support education. For more information, visit: www.irenescullyfoundation.org
Her initial introduction to wine growing in the Napa Valley was a 27 acre vineyard she owned high on Mt. Veeeder. Her first wine made commercially was under the Scully label. Irene has since sold this property and her focus is entirely on her Spring Mountain 2.5 acre steep south facing hillside vineyard.
This vineyard, situated at about 1200 feet was replanted in 2005 when well regarded vineyard manager David Abreu was hired. Despite being so small, the vineyard is separated into two distinct regions, the upper extremely steep terrace and a lower block. The Mayacamas mountains run in a general north/south direction – however their entire small vineyard faces nearly due south because of the ridge that juts out in the opposite direction from the overall mountain range.
The soils differ dramatically in this small area as well. The upper slopes are rocky with extremely shallow soils – erosion is always a concern in an environment like this and they take a number of steps to ensure soil stays on the slope including the use of hay.
The lower block has deeper soils – and is where their Merlot, Petit Verdot and Cabernet Franc are planted. Based on these two remarkably different soil types, comparisons can be made to soils with similar contrasting characteristics (but on a much larger scale) between the Right and Left Banks in Bordeaux, France.
While the entire property is 41 acres, only two acres were already planted to vine when Irene purchased the property. The vineyard predated the county ordinance which limits new vineyards to slopes of 30% or less. Their upper block is clearly on slopes much steeper than that. As a result, Sarocka is unable to plant vineyards anywhere else on the property. Their production will remain quite small – with typical vintages of the Sarocka usually hovering around or under 150 cases.
Once Irene sold her Mt. Veeder property – she transitioned the Scully wine into a second label, also from this estate.
While the Sarocka vineyard is somewhat new, the property is surrounded by some historical wineries. Spring Mountain Vineyard and its several historical wineries and other buildings sit at the base of one side of the property and Newton Winery and adjoining vineyards extend out further in the distance.
Select Wines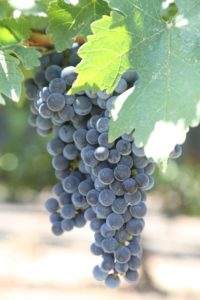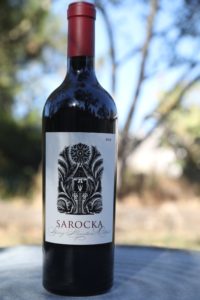 The 2016 Sarocka Antra Napa Valley Cabernet Sauvignon is a blend of 94% Cabernet Sauvignon and 6% Merlot. This wine is dark ruby in color – immediately offers attractive aromatics with darker fruit notes including cherry, complemented nicely by cassis, bittersweet chocolate and warm dessert spices. Also notes of pretty cedar aromatics that quickly brings us back to the smells inside a wood cabin my family used to stay at every year up at Lake Tahoe. A plushness runs the length of the palate – shows flavors of blackberry, Graham cracker and toasted oak. Lingers with dusty, earthy and chewy tannins along with some darker wood driven spices and a subtle hint of clove further on in the finish. Shows plenty of oak influence in its youth.
The 2016 Sarocka Spring Mountain District Cabernet Sauvignon is a blend of 91% Cabernet Sauvignon and 9% Petit Verdot; is medium to dark ruby in color. Brooding aromatics, meaty with notes of mushroom and bacon fat. Also aromas of dried rose petals. We love the savory characteristics on the bouquet. Flavors of spicy Santa Rosa plum, toasted oak and an earthiness. Nicely integrated tannins; the palate is balanced between an integration of fruit, acid and tannins. Some darker wood influenced spices show at the end including notes of cracked peppercorn.
The 2009 Mt. Veeder Scully shows a deep nose, earthy and with dark fruit along with hints of vanilla. A slightly menthol or minty component continues onto the palate. It is smooth and rounded – not a massive Mt Veeder Cabernet Sauvignon that one perhaps becomes accustomed to from other vineyards in this appellation. The finish is clean – with reasonably structured tannins – lingering, but not for an extended length of time.
Honoring Irene's Lithuanian heritage, the label on the Sarocka wine is modeled after a piece of artwork she bought from a Lithuanian street artist. It is an image of a Lithuanian "tree of life" representing the agricultural mythology based society of this country. Sarocka is Irene's Lithuanian maiden name.
The 2009 Sarocka was only a tiny production of 96 cases – or 4 barrels made up of 85% Cabernet Sauvignon, 7% Petit Verdot and smaller amounts of Cabernet Franc and Merlot. Sarocka strives to create balanced wines – letting the vineyard showcase what it is capable of. This vintage has a pleasing and "pretty nose", balanced if you will on the bouquet. Both red and dark fruit, cherry cola with mocha showing as it breathes. It's elegance continues onto the palate – with both red and blue fruit showing – balance is key in wine making and this wine has it.
And, this is only the first commercial release from what was a very young vineyard at the time of our first visit to the property. The wine certainly shows tannins but they are not overwhelming as you might expect from a hillside location in Spring Mountain.
In 2015 Sarocka introduced a second label, Antra – a blend of both estate fruit with fruit from the Kenefick Ranch in Calistoga.
—
With such limited production, distribution models that other wineries use do not apply here. Because of such a small production their wine is currently being allocated to three bottles per person – this is a rare and unique opportunity to join their mailing list before ultimately their entire production becomes allotted for.
Because of their property limitations, their production will not be growing. A caveat to joining their club is that they may not always release a vintage. Case in point was their 2011 vintage – because of a number of factors (mostly weather) the wine from this vintage did not adhere to their high quality of standards. As a result no wine from this vintage was released.
Distribution is extremely limited with merely a few cases going to selective locations in Texas.
To join their allocation list and for more information visit: www.sarockawine.com