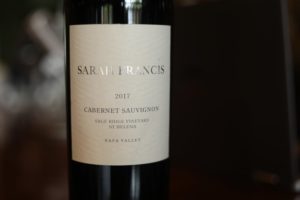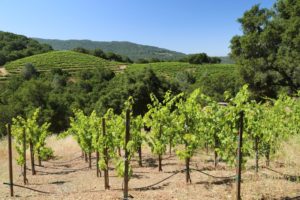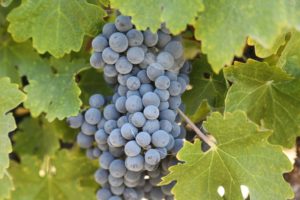 Sarah Francis Wines. Sarah Francis is the winemaker and founder of her namesake Napa Valley based wine brand. Her interest in agriculture began at an early age when visiting her grandmother who lived in Missouri (Sarah was born in Texas). Her grandmother grew a number of grapes in her backyard and Sarah developed an emotional bond with these particular vines. It was a feeling she carried later in life, which ultimately led to a career as a winemaker. In 2008 she worked a harvest for a winery in Augusta, Missouri. She learned the details of the cellar very quickly. When she asked to work the next year at harvest the owner encouraged her to move to either Bordeaux or Napa Valley to continue to learn winemaking.
She initially wasn't happy with his suggestion as she wanted to work another harvest at the same winery where she had started the year before. But his suggestion planted the seeds of possibilities, so she sold her house, cashed out her 401k and moved to Oakland. At this time, she was a pharmaceutical representative for Johnson and Johnson. Living within an hour's drive of Napa Valley she began to visit the region and research some of the growers. She quickly discovered one grower in particular: Andy Beckstoffer who owned and manages some of Napa Valley's premier vineyard sites. She called him to set up a meeting with the intent to buy a barrel of wine from his section of To Kalon Vineyard. Beckstoffer did meet her at To Kalon but once he discovered her intent, he quickly informed her about his wait list for To Kalon grapes and said there was no way he was going to sell a barrel of wine to someone he just met who had yet to even make wine from Napa Valley. She literally cried in frustration while standing in To Kalon Vineyard.
But Sarah was persistent and kept asking him for grapes from this iconic vineyard. Finally, Beckstoffer offered to take her to another vineyard – the Carneros Lake Vineyard where he offered to sell her some Chardonnay grapes. Sarah had no interest in making any Chardonnay at that point but decided to humor him, hopped in his truck and they drove down to see the site. Finally, after some back and forth they agreed that if Sarah would make a premium Burgundian style Chardonnay from Carneros, he would sell her some premium Cabernet Sauvignon. But it wasn't from To Kalon, it would be from Georges III in Rutherford. Sarah finally agreed; the first vintage of Sarah Francis was from 2009, a Carneros Lake Chardonnay and a Georges III Cabernet Sauvignon. For this vintage only, she had the help of a consulting winemaker. Sarah has made all vintages since.
Her trajectory of success in a short amount of time has been rather remarkable from working her first harvest in 2008 to some 5 years later submitting the 2013 Sarah Francis Georges III Cabernet Sauvignon to Robert Parker where it was awarded a perfect 100-point score. While vineyard sources have changed over the years and Sarah Francis has increased the number of varieties in production (including their first Pinot Noir from a vineyard in Santa Cruz in 2018), Georges III remains their flagship red wine.
Today Sarah divides her time between a 200-acre ranch in Freedom, Wyoming following agricultural pursuits and harvest in Napa Valley where she spends 3-4 months every late summer and fall crafting the Sarah Francis wines. Her daughter, Faith Raymer is a winemaker in Napa Valley and is assistant winemaker to her mom and also helps with sales and logistics in regard to vineyards and the wines. Sarah's son Chris Raymer is a noted chef who has worked in Napa and Sonoma Counties; he provides the recipes to pair with select Sarah Francis wines as listed on their website.
Select Wines/Winemaking
Sara Francis focuses on producing very limited production hand-crafted wines from carefully and thoughtfully managed vineyards. In some cases, Sarah has been extremely involved in both the management of vines and the day-to-day vineyard work. The Sarah Francis wines are 100% vintage, varietal and are vineyard designate bottlings. All their red wines are fermented in barrel after being hand destemmed; the heads of the barrels are popped off and then put back on so fermentation occurs in closed barrels. The barrels sit on oxo rollers and during fermentation are spun three times a day to ensure extraction from the skins and to also allow for a more balanced influence from the oak. Once primary fermentation is finished the wine is pressed and racked back into barrels for malolactic fermentation and aging. Sarah has used a variety of coopers but has been very pleased in particular with how the oak from TB Tonnellerie integrates into their red wines.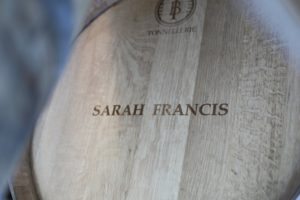 Many wineries have a set release schedule each year; Sarah lets the wines do the 'talking' and if a wine is not yet ready, it won't be bottled. Ideally their wines are released twice a year, but some years it is only once. And there are certain vintages where weather related factors have significantly limited their production or completely eliminated production such as in 2020 when smoke taint was a significant issue from wildfires.
The 2019 Blanc de Blanc was the first ever Sarah Francis produced sparkling wine. The idea behind producing this wine was from the Tedeschi family (owners of Tedeschi Family Winery in Calistoga) who decided to produce a similar wine that same year; their bottling has since become extremely popular with their customers. This Méthode champenoise style wine is bottled as North Coast and was made at Rack & Riddle in Healdsburg, a winery that is known for producing sparkling wines for various producers who do not have the equipment or ability to create their own sparkling wines. This wine is pale to medium yellow in the glass with pretty aromatics including bruised apple, citrus blossom and a hint of cut grass along with some minerality nuances. The palate is creamy and smooth with flavors of apple and melon and lingers with light notes of grapefruit. This wine is so enjoyable and easy to drink, it can easily disappear very quickly. Sold as a three-pack.
The 2017 Sarah Francis Sage Ridge Cabernet Sauvignon is from a vineyard around 1,400 feet in elevation in the hills above Lake Hennessy. The site is not accessed from Pritchard Hill but rather from a very long driveway off of Highway 128. This wine is dark ruby in the glass; the bouquet offers a pleasing union of both fruit and baking spices including clove, nutmeg and cardamom with blackberry pie and blackberry preserves. Someone we were with during our tasting remarked that smelling this wine reminded him of picking blackberries as a child. As the wine breathes, it reveals additional notes of chocolate brownie and mocha. The palate offers flavors of plum and blackberry with (for a mountain site) remarkably well-integrated and rounded tannins. This wine was showing particularly well at the time of our tasting, 5 years post vintage date. Each bottle is identified by a unique number on the back label.
The 2016 Sarah Francis The Secret Vineyard Oak Knoll is dark ruby in color; the bouquet is immediately elegant with aromas of licorice, dried herbs including sage, lavender and various red fruits. The nose continues to evolve showing additional aromatic layers including mocha, cocoa powder, Graham cracker and old cedar. The palate features juicy mouthwatering acidity framed by broadly distributed, dense and chewy tannins sporting a medium but long-lasting grip. These tannins are also layered, earthy and dusty. This wine continues to linger with hints of dried tobacco leaf. It still shows very youthful six years post vintage date at the time of our tasting and most certainly has years of life ahead of it.
—
Sarah Francis is almost entirely sold via an allocation list. The wines have some very limited restaurant distribution locally including at Cole's Chop House in Napa and Evangeline in Calistoga. For more information, to sign up for the mailing list, to join the allocation list or to schedule a tasting, visit: www.sarahfranciswines.com
VAULT Wine + Artifacts

Sarah Francis is part of a select group of vintners hosting tastings by appointment in VAULT Wine + Artifacts in Calistoga. This space was previously the home of ROAM Antiques; in early 2021 ROAM Antiques closed permanently, and the building underwent a major renovation which was completed by late summer 2021. The VAULT Wine + Artifacts space anchoring the south side of Lincoln Avenue on the far west side of Calistoga is a partnership between Mario Sculatti and Trevor Mallett.
The space re-opened as VAULT Wine + Artifacts in Fall 2021, a wine tasting space for several brands owned by Trevor and Mario, along with select other wines from Stringer Cellars and Sarah Francis, among others. Of the vintners represented in this space, the only sparkling wine available is the Sarah Francis bottling. In the spirit of the previous antiques business, a number of historical wine objects are displayed inside. These include winemaking equipment, hand-blown glass and an impressive collection of corkscrews. Other than the large items, most everything is for sale in the gallery.
The centerpiece of the space is an old Roman press, whose heritage Trevor told us, is possibly from either Austria or Ukraine. Old wooden Roman presses are extremely rare in Napa Valley. The only two wineries we know of who own Roman presses from earlier winemaking days are Nichelini Family Winery and Yates Family Vineyards. Another smaller wooden press is from Germany with words in German engraved in the wood which roughly translate to: "In good times and in bad times we still make red and white wine"!
As of our latest update to this review, VAULT Wine + Artifacts offers three tastings including Valley Floor, Mountain and Unique Varieties. Visits are preferably by appointment, but staff will try to accommodate walk-ins if not busy. A side room seats up to 8 people for a private and more intimate tasting. A large mirror greets visitors inside this room; it doubles as a secret door to another room, containing a library and and office. Private tastings of select Sarah Francis wines can be requested to be hosted by Faith as schedules allow. For more information, visit: www.sarahfranciswines.com