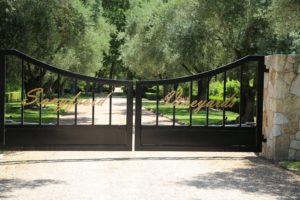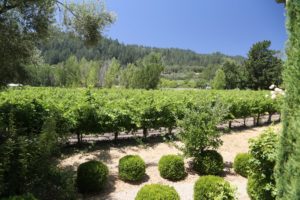 Sang Froid Vineyards. Founders, John Murphy and his wife Paula Key purchased a small existing vineyard property and home off of Lodi Lane (north of the town of St. Helena) in 2013. Prior owners produced wine under the Bisou Napa Valley label for several years from what they called the James Johnson Vineyard. Only 2.75 acres are planted to vine – separated into three distinctive blocks. The tiny one acre block used for the Sang~Froid wines is 100% varietal Cabernet Sauvignon and was planted in 1989 using a Grace Bosché clone cutting (Grace Family Vineyards). An acre of this particular clone was originally planted by Jim Barbour (Barbour Vineyard Management Company) on Dick and Ann Grace's nearby property in 1976. Later Dick provided the clone to a number of Napa based vintners including Hartwell and Vineyard 29. The rest of the Sang~Froid vineyard was planted in 1997 and is currently sold to Vineyard 29.
John and Paula are avid adventure travelers having been to a diversity of countries around the globe including numerous exotic locations. Of all their travels, however, they especially fell in love with Europe (Paula lived in France when she was young and speaks French). While in France they developed an appreciation for French wines. Part of their interest in wine was a result of visiting the Caves du Marais wine shop in Paris. Over time, they befriended the owner Jean-Jacques Bailly who introduced them to a number of French wines – mainly from Burgundy. And despite this shops' focus on French wines, one of the Sang-Froid bottles now sits proudly in the store's display window.
Both John and Paula have enjoyed successful careers. John was born in Portland Oregon, grew up in the San Francisco Bay Area and was one of the founders of the University of Phoenix in 1976 (known for facilitating a learning environment for working adults). He helped create one of the first accredited online degree programs in the country based on a non-traditional university framework (no dorms, bookstore, campus). He left the University of Phoenix in 1996. Later John wrote and produced an award winning feature film, Valley of the Heart's Delight. He continues to write and has most recently penned several stage plays. Paula is co-founder of Zuk Financial Group with offices in select locations throughout California including one in downtown Napa.
Because of their vineyard's existing contract with Vineyard 29, John and Paula were introduced to Vineyard 29's winemaker Keith Emerson. Keith was already familiar with their vineyard having worked with its fruit since 2012. John's instructions to Keith involved a key phrase framed by the words "not to much of…" – referring to oak, alcohol and structure, preferring a more restrained wine similar to the wines he has long enjoyed in France.
Their vines are located in a prominent vineyard neighborhood with nearby neighbors including Grace Family, Revana, Vineyard 29 and Colgin Cellars Tychson Hill Vineyard. The Sang~Froid vines are managed by Pina Vineyard Management Company overseen by long time Pina vineyard foreman, Jose Luis Hernandez. Due to the proximity of Vineyard 29, when Keith needs to visit the Sang~Froid Vineyard, he can easily do so on foot. According to Keith, the vineyard is "stingy on yields", averaging only about 2.5 tons each year from the 1 acre block (not surprising considering the age of the vines).
Select Wines
The 2015 Sang~Froid Cabernet Sauvignon is dark in the glass. Inviting on the bouquet, it shows a complexity of aromas – most pronounced is the dark fruit (currant and blackberry) along with nuances of sage and various baking spices (clove). Also hints of pepper and some floral influences including violets. Somewhat brooding initially, this young wine needs time to breath and when it does, it reveals beautiful fruit. Slightly savory on the bouquet. Rounded on the entry and throughout the palate it offers flavors of dark cherry, blueberry, milk chocolate, mocha and a dust element perceived more towards the back of the palate. The wine delivers a noticeable density of fruit from the mid palate through to the finish.
This wine is the definition of fine-grained tannins – we see this type of structure as polished but with a texture that is noticeable and highly appreciated for its seamless quality. Offers a long and satisfying finish.
—
The wine making is precise and extremely gentle – once the fruit arrives in the winery, the grapes are sorted by an optical sorter (all de-stemmed). Fermentation is conducted using non inoculated (indigenous) yeast inside small stainless steel tanks followed by approximately 22 months of aging in 70% new French oak from a variety of premium coopers.
And what is certainly a refreshing technology for the wine industry are certified TCA free corks from Portocork International, based in Portugal. This company uses a cork made from cork granules treated with a patented gas chromatography process to ensure all of their corks are taint free. Sang-Froid only bottles their wine using these corks.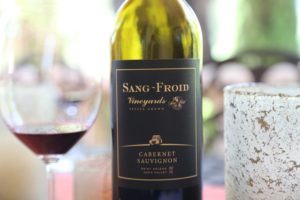 Sang-Froid is one of the smaller producers in the valley, their inaugural release was 2015 at only 116 cases.
John and Paula had already picked out a name for the wine and had ordered literature using the name Sanglier, meaning 'wild boar' in French. Fortuitously, one day while Paula and her friend were enjoying lunch in Healdsburg just north of the town's historic plaza – while eating they glanced up and were 'given a sign', a sign that clearly read Sanglier Cellars. Back to the drawing board. As John quickly says, he began researching a new name that would contain as many letters as possible as in Sanglier. Eventually he and Paula decided upon Sang-Froid – meaning 'cold blood' in French a saying that refers to keeping one's composure when one is surrounded by drama and or is in a stressful situation.
And if you see a cute 1969 Citroen driving around the north part of the valley – it is probably the 'company car', complete with the Sang-Froid logo on the front doors. John gave this to Paula as a birthday present. Its image is cleverly featured on the front of their wine label.
With such a limited production they are very selectively distributed. Their first retail client in the valley was ACME Wine Shop in St. Helena. For more information or to join their mailing list, visit: www.sang-froidvineyards.com