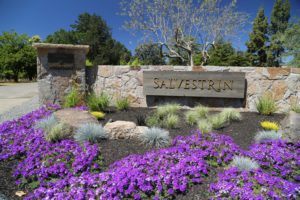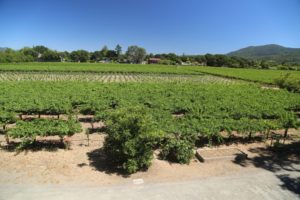 Salvestrin Winery is located off of Main Street (Highway 29) in St. Helena, bordering the historic St. Helena High School grounds. Remarkably, this site has been farmed to grape vines since 1859, one of the oldest continuously farmed vineyard sites in all of the Napa Valley. Even during Prohibition grapes from the property were sold to other wineries for church and medicinal uses.
Local resident Dr. George Belden Crane (from New York) was the property's original owner having purchased 335 acres in 1859. Crane was a pioneer as he was among the first to plant European wine grape varieties in the Napa Valley. Incidentally, according to the Vineyard Historical Society, one of Napa's two oldest still commercially growing vineyards borders the southern part of the Salvestrin property with vines dating back to the 1880s (a piece of land originally owned by the Salvestrin family). Dr. Crane planted his vineyard in 1859 although no vines remain from his original plantings. Later he donated land for what is now the site of St. Helena High School and Crane Park and over the years his descendants sold off the remaining portions of his original purchase. Crane died in 1898.
A portion of his original ranch, now a prominent vineyard site named the Dr. Crane Vineyard is owned by grower Andy Beckstoffer and is located nearby – Dr. Crane's former winery (built in 1862, no longer exists) was located where the St. Helena High School now stands. Dr. Crane, David Fulton, Henry Pellet and Charles Krug are credited with being St. Helena's first vintners and of these, Charles Krug was the first and Henry Pellet the second ever commercial winemaker in Napa Valley.
Fast forward a number of years later – John Salvestrin immigrated to the USA in 1912 from northern Italy (following his two brothers) and settled in Porterville (Central Valley) where he worked at a dairy. Later he moved to McCloud, California (near Mt. Shasta) and worked in the local mines. He and his wife Emma were first introduced to the Napa Valley in the early 1920s while visiting friends who were already living in the area (also immigrants from Italy). They settled in the Napa Valley and John took a job working at a local winery in the hills east of St. Helena (the stone winery and property currently owned by Heitz Cellars). In 1932 John and Emma purchased approximately 25 acres from descendants of the Crane Family. A year later when Prohibition was repealed, John began selling grapes from the properties' existing vineyards.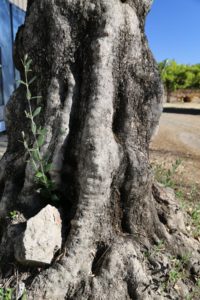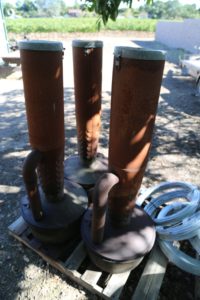 John and Emma's son Ed grew grapes from the 1960s through the 1980s and sold the fruit to the Napa Valley Coop (what is now the site of Hall Winery in St. Helena). In 1994 the family decided to hold back some of the highest quality fruit from their property and released their first vintage of Salvestrin wine, a Cabernet Sauvignon. Ed's son Richard grew up minutes from the property and recalls helping his grandfather and father in the vineyard; he learned about managing vines from a young age and while in high school worked at local wineries. Later he graduated from Fresno State University with a degree in Viticulture.
Upon returning to the valley, he worked for several wineries including Mumm Napa Valley, S. Anderson (the winery site of what is now Cliff Lede Vineyards) and for Jaeger Vineyards (former owners of Rutherford Hill Winery). He was also exposed to numerous clones and various rootstock while working at the California Grapevine Nursery.
While there are currently hundreds of family-owned vineyards and wine brands in the Napa Valley (and we have met with many of them), there are relatively few still same family-owned vineyards that date back to the 1930s or before. Walking the property and seeing a variety of fruit trees, farming implements and old vines – even if you don't know the Salvestrin's personally, one quickly feels a connection to this land, their family and the properties' rich agricultural history.
Vineyards & Winery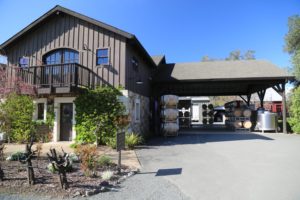 The vineyards have changed over the decades both in variety plantings and in layout. The vineyard was originally planted to mixed blacks – including Zinfandel, Petite Sirah and Carignane. The family farmed some of the original vines until the 1980s at which point the vineyards were replanted. The original vines like the rest of the Napa Valley at that time, were head pruned – centered around a wooden stake in the ground. And Rich recalls the spacing was much wider between the vines back then – typically 8 feet by 8 feet. Today the vines are on trellising and are planted much closer together.
Salvestrin manages all their own vineyards themselves (becoming more of a rarity in the Napa Valley). Their Dr. Crane Vineyard is planted to 14.5 acres of vines including Cabernet Sauvignon, a tiny section of Petite Sirah, Sangiovese, Merlot and Zinfandel. Rich is the vineyard manager, aided by the day-to-day meticulous work of two long time employees, husband and wife, Jose and Irma Rodriguez.
In addition to their home property, they also maintain a long-term lease (and manage the vines themselves) on a vineyard off of Crystal Springs Road (east of St. Helena) which is planted to Sauvignon Blanc and Cabernet Sauvignon. This is called the Crystal Springs Vineyard. While the family used to sell fruit to select local producers, today they no longer sell any grapes, rather using all the fruit for their own wines.
The original Salvestrin vintages were made at Rombauer Vineyards, back when the production facility at Rombauer was well-known locally as offering custom crush services. In 2000/2001 the Salvestrin's built a modern winery and tasting room and all production was moved on site. While not formally educated in wine making, Rich has learned by doing over many years initially by helping his grandfather and father make home wine. In Salvestrin's early years, a consultant helped but today Rich is Salvestrin's primary winemaker. Total production each year typically runs around 4,500 cases.
Hospitality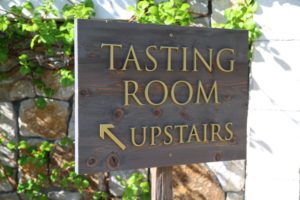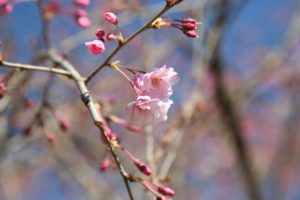 Despite their location just off the very busy part of Highway 29 a visit and tasting here is often private or semi-private; one certainly does not find the crowds that frequent some of the larger wineries in this area. Driving into the property feels like old school Napa on the gravel driveway surrounded by vineyards. Visitors may spot one of the Salvestrin's working – Rich is commonly on a tractor (his commute is a short one as he and his family live next to the vineyard) and Ed is often tending to the fruit trees and vegetable gardens when he is not helping with the vines.
All visits are by appointments; guests can choose either a seated tasting (Harvest Tasting) or a more in-depth tour + tasting (Crane Tasting). A tasting typically includes four of their current releases. A tour includes a walk-through part of their vineyard, a visit to the winery production facilities and if no guest are staying in the old Victorian, a quick peek inside.
Weather permitting, the tastings are generally held outdoors in their patio directly next the vineyards. In the case of inclement weather, tastings are held upstairs in the intimate tasting room, either at the bar or seated. Windows next to the tasting counter allow guests to look down into the actual production facilities of the winery. From the deck outside the tasting room, one has excellent views looking south across their vineyards. The winery building is modern, functional and well designed.
The winery staff are either family or select employees – the atmosphere is welcoming, and a visit here is a relaxing and educational experience.
Select Wines
The 2017 Salvestrin Crystal Springs Vineyard Sauvignon Blanc is 100% varietal incorporating three clones including the Musqué clone (generally a highly aromatic clone). On the bouquet, offers notes of lime, honeysuckle and a stony minerality nuance. Clean and supple across the palate, shows notes of red apple and white pineapple. This wine strikes a nice balance between the generally grassier Sauvignon Blancs one associates with the South Island of New Zealand and the riper wines of this variety from warm California sun-drenched sites.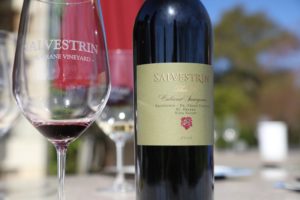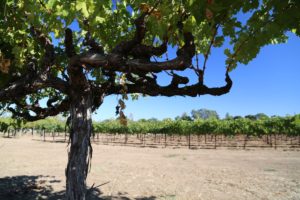 After college Rich was introduced to and began to enjoy a variety of Italian wines including Brunello di Montalcino (Sangiovese). This variety was not planted in their vineyard at the time (and is rarely found in the Napa Valley), so he planted a small block of Sangiovese (choosing two Italian clones). The 2016 Salvestrin Dr. Crane Vineyard Retaggio (meaning 'legacy" in Italian) is a Super Tuscan style blend of Sangiovese, Merlot, Cabernet Sauvignon and Cabernet Franc. Aromatically fruit froward, the bouquet offers bright red fruit aromas including cranberry, licorice and as the wine opens, an underlying hint of tobacco smoke and cedar. Very approachable in its youth, shows mostly darker fruit on the palate including flavors of plum and blackberry – harmonious throughout offers somewhat earthy tannins on the finish. This is a versatile wine that will pair with a number of foods – something with a tomato base, perhaps would be an appropriate choice.
The first wine Salvestrin ever produced was a Cabernet Sauvignon. Rich's goal with this wine is to craft a wine that is approachable, ageable and has acidity (the three 'A' hallmarks of his winemaking style. The 2015 Salvestrin Dr. Crane Vineyard Cabernet Sauvignon is blended with 12% Merlot. Shows up front bright red fruit aromas – cranberry, red cherry, red licorice and hints of tobacco and mocha. Has good acidity across the palate. Fairly fine-grained but long-lasting tannins linger softly on the finish.
Three D is a barrel selection of the finest Cabernet Sauvignon from their property every year. This is a thoughtful wine both with its name and the winemaking process. The barrel selection takes place at certain intervals during the aging process, beginning after a year of aging and then again after two years. As a result, typically only 8 to 12 barrels make the final cut. This wine generally sees 30+ months aging in 100% French Oak and is always 100% varietal. It is generally made from several clones of Cabernet Sauvignon – each clone is fermented with different yeasts and kept separate during its barrel aging before being blended together prior to bottling. Between its lengthy barrel age and time in bottle, a current release is generally 5 years old.
The 2014 Salvestrin Dr. Crane Vineyard Three D Cabernet Sauvignon offers a diversity of aromas including plum, blackberry and boysenberry along with some earth and dessert spice notes. The aromatics are darker, decidedly fruit driven. Well layered and generous in its amount of flavor depth, we also immediately noticed it's lovely texture, how the wine feels across the palate. These are integrated tannins, with a sandy like sized grip rather than a gravelly course feel. There are no harsh edges to this wine. Rich likes to make this wine in a style, as he puts it, "that is not over ripe, over extracted or over oaked". The proof is in the glass – and while it is a robust Napa Valley Cabernet Sauvignon, it is also a well-balanced wine.
And the name ties in very well for a variety of reasons. Rich is third generation Salvestrin, the first release of this wine was in 2003, the same year his youngest daughter was born, the first vintage was three barrels, some early friends described the wine as three dimensional and it is named in honor of, he and his wife Shannon's three daughters, Tessa, Emma & Hannah.
And Salvestrin owns and operates a completely separate wine brand called Cult, focusing on well-made reasonably priced wines, primarily from Lodi but also with select Napa Valley bottlings. Wines bottled under this label are meant for distribution rather than being sold direct to consumer. There is also a cult bottling from another Napa Valley based producer, but the name cult cannot be trademarked due to its descriptive nature.
The Inn at Salvestrin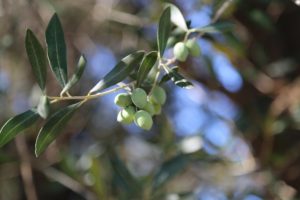 Dr. Crane's old Victorian dates from 1879 and served as the family home for the Salvestrins for three generations. In 1991 after remodeling this old farmhouse, the Salvestrin's opened it to the public as a Bed & Breakfast called Sunny Acres. The family ran this for many years, and it served as a coveted conduit to often introduce guests to the Salvestrin wines.
After running the B&B for several decades Ed and Susanne (died in 2020) decided it was time to take a break from the B&B operations for a few years; the family eventually hired an innkeeper. The name was changed to the Inn at Salvestrin and is once again hosting both wine club members and those wanting an intimate stay in one of Napa Valley's most historical spaces. Stays include a Continental breakfast and complimentary tastings and tours among other amenities. Other than the persistent traffic during the day on Highway 29 – this is a central locale to stay in the Napa Valley. Guests are minutes from downtown St. Helena as well as numerous nearby wineries or tasting rooms (some within walking distance of the Salvestrin property).
Over the years, the Salvestrins located several of Dr. Crane's original pieces of furniture (from his descendants) and based upon old photographs, placed the items back in their original positions. Even Dr. Crane's piano is housed inside. And Dr. Crane's original farmhouse built in 1859 backs up against the north side of the larger home.
The old water tower (standing next to the Victorian home) had become dilapidated by the 1940s but rather than destroying the entire structure, John and Emma elected to remove only the top floor leaving two remaining stories. Incidentally, the bottom room served as Salvestrin's first tasting room.
Salvestrin is certified Napa Green for both their winery and the vineyard (a certification program maintained by the Napa County Department of Public Works). This accreditation program helps protect and restore the Napa River watershed, focuses on water and energy saving practices and overall waste reduction.
The family also produces a very limited production olive oil – using olives growing on California's central coast. However, with alternative bearing olive trees growing on their own property, some years they blend in some of their own olives when they have enough of a crop to do so. The olive oil is named Dreamcatcher with an image of a girl and a horse on the label, in honor of Rich and Shannon's daughter Emma who enjoys riding horses.
Their wines are primarily sold direct to consumer via onsite visits and through the wine clubs – with very select distribution in the retail market. For more information, to make a reservation for a tasting or to sign up for their mailing list, visit: www.salvestrinwinery.com
Vineyard

Grounds

Winery/Hospitality

Inn at Salvestrin