Salon St Helena – Serious wine enthusiasts looking to try very limited production wines from two producers who share a similar pedigree can do so at Salon St. Helena, located just off of Main Street on Hunt Street. Jones Family and Harris Estate have combined forces to offer appointment only tasting at this artfully decorated tasting salon.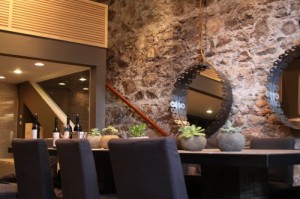 There is a reason the salon has unique artwork – this historic building is also home to Erin Martin Design and it is their genius that created and developed the furnishing and exotic paintings that hang on the walls.
Both producers hire from the same talent pool – Thomas Brown makes the wine for both Harris Estate and Jones Family at Outpost Winery, high on Howell Mountain.
We have reviewed both of these wineries separately – for tasting notes and additional information see Jones Family and Harris Estate
Salon St. Helena is located in downtown and as a result there are a number of excellent restaurants nearby that make for good culinary stops depending on the time of your appointment here. Cindy's Backstreet Kitchen as the name indicates is on a side street, parallel to Main Street – delicious food. Also Terra Restaurant is within a fairly short walking distance of the salon.
The Wine Train reaches its northernmost stop near here and if tasting during the middle of the day you will probably hear its nearby train whistle.
Salon St. Helena does not maintain "normal hours" – as a result all visits are strictly by appointment for serious wine enthusiasts. While the salon feels sophisticated in its presentation, the host is welcoming and one quickly is made to feel at home. Parking is on nearby streets. For more information visit: www.salonsthelena.com
NOTE: This review has been archived.
REASON: This tasting room in St Helena closed