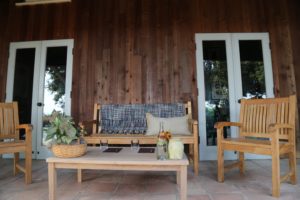 Saintsbury Winery was founded by Richard Ward (died in 2017), and David Graves in 1981. Graves was born and raised in the San Francisco Bay Area. Graves ran for 1st District Napa County Board of Supervisors in 2022. The winery continues to be family owned and operated. Both Graves and Ward met during their graduate studies in Enology at UC Davis while taking a brewing class together and is where they made their first noncommercial wine (a Santa Barbara grown barrel fermented Riesling). And both shared a love of Burgundian wines. Fate sometimes works its magic; David had a biology degree from UC Santa Cruz and Richard had an engineering degree and both were pursuing careers in the wine industry. They were only in their late 20s/early 30s when they founded Saintsbury; at that age to have the fortitude to follow through with their vision combined with an entrepreneurial spirit was impressive.
Before starting Saintsbury, they both gained hands on experience in the industry by working together at several Napa Valley wineries including living together while working harvests at Chappellet Winery and Stag's Leap Wine Cellars. The property where the winery is located was grazing land at the time they moved here. Besides the estate property, they also own two other vineyards in Carneros and in addition purchase grapes from nearby vintners including from vineyards in neighboring Sonoma County. Their first vintages were a 1981 Chardonnay (this paid the bills) and twice as much of a 1981 Pinot Noir which was the variety, they both enjoyed and were most focused on making. Their first release was sizable at 2,000 cases and was made at Pine Ridge Winery. Before they built their winery in their current location, they also produced wine in a small building on Ehlers Lane (just north of St. Helena). Richard and David shared the winemaking duties for the first few vintages but soon hired a winemaker.
Richard Ward died in 2017 and in 2021 the Richard A. Ward Fellowship was created to help with costs for graduate students at UC Davis studying viticulture and enology. And in 2019 Saintsbury produced the first vintage of the Richard A. Ward Memorial wine, naturally a Pinot Noir.
Graves' great, great grandfather Ferdinand E. Wagner operated a fruit store in a wooden building in what is now the North Beach neighborhood in San Francisco in 1858 and 1859. In 1860 he founded Wagner's Beer Hall in the same building; apparently alcohol was more lucrative than selling fruit. This space has been known as The Saloon since 1984 and is located at 1232 Grant Ave at the corner of Fresno Street; it is the oldest originally operating saloon in San Francisco but not the longest continuously running saloon; that honor goes to the Little Shamrock on Lincoln Way (founded 1893).
The same family operated the saloon until 1884 until they sold it. Over the decades it has had multiple owners and several names. Remarkably it survived the 1906 San Francisco earthquake. Nearby buildings burned in the subsequent fires, but fireman saved this block and this building. During Prohibition it changed its name from the Poodle Dog Saloon to the Poodle Dog Cafe.
Walking into this space feels like entering an old mining saloon from the 1860s portrayed in any of a number of old western films. A sign indicating the date when California prohibited smoking inside such establishments still hangs on the wall behind the bar counter. For reference, it was in 1998. Grizzled old men line the bar, eager to talk and share their wit and wisdom with newbies. Live music plays sometimes from the corner. This saloon is friendly, casual and there is always plenty of alcohol. We recommend ordering a beer from San Francisco based Anchor Brewing Company, a brewery established in 1896 and since 1965 owned by Fritz Maytag, who also owns York Creek Vineyard on Spring Mountain in Napa Valley. This bar was founded some 36 years before Anchor Brewing Company.
The Saloon is also known for its live music and over the years has hosted a number of well-known musicians including Janis Joplin, Boz Scaggs (who also has a vineyard in Napa Valley) and Charlie Musselwhite.
Today Pinot Noir and Chardonnay form the bulk of their production; they produce a number of different styled wines from both varieties. While the vineyard (surrounding the winery) is planted to 12 acres, they only use some of these grapes and sell off the rest. We were told this vineyard was one of the early vertical trellised vineyards in all of Napa Valley. The majority of their wines are from various sources in Carneros (both on the Napa and Sonoma sides) and other parts of Sonoma County including the Russian River Valley and Sonoma Coast. In addition, they sometimes source grapes from other northern California locations.
There are just a select number of Napa Valley based wineries that we invariably recommend for Pinot Noir lovers – this is definitely one of them.
The initial reaction of first-time visitors to the winery is how small the actual winery looks. In reality, during the height of their production at least half of their production was at a winery warehouse near the town of Sonoma. They no longer make their wine in Sonoma as they have since consolidated their wine making and have downsized production – as of our last update they are producing around 10,000 cases annually.
During the height of their production, they were producing over 60,000 cases annually. Part of that production was for their Garnet Pinot Noir wines which they sold in 2011. Saintsbury was also associated with the Brown Ranch (also in Carneros) for about 20 years having planted and managed that vineyard property until it was sold in 2013. In fact, their first vineyard designate Pinot Noir was from Brown Ranch in 1996.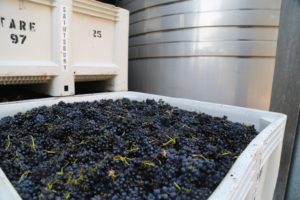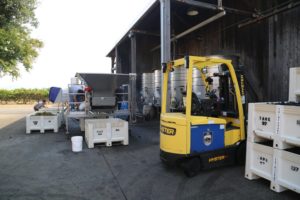 The winery is located about a 1/2 of a mile from the often-super busy Carneros Highway but a stop here feels worlds away. Vineyards surround the winery (mostly Pinot Noir), and a visit is refreshingly always about the wine with no fancy gift shop or fancy artwork, just a simple uncluttered room for tasting wine or seasonal tastings hosted in one of their barrel rooms. Weather permitting, a number of small tables and chairs are setup outside in the shade of the trees; this is a nice place to relax on one of those rarer hot Carneros days that this part of Napa sometimes experiences, particularly in late August or September. Their wine educators are friendly, knowledgeable and host unscripted and personalized tastings.
Instead of naming the winery after themselves as many wineries have done, they chose to name it after George Saintsbury (1845-1933), a professor in England who was famous for writing his Notes on a Cellar book; some of his quotes appear on the wine bottles. And the name is not associated or to be confused with Sainsbury's, a grocery store chain based in the United Kingdom. The Saintsbury Pinot Noirs have developed a strong following over the decades by their consumers, and for good reason. These wines are respectful of their origin and variety and over deliver for the price.
Their wines are categorized into three categories; Appellation wines (providing flexibility for some more unusual wines including Cinsault and St. Laurent), Vineyard Series Chardonnay and a Vineyard Series Pinot Noir (vineyard designates).
Select Wines
Tastings will typically include several of their Pinot Noir wines along with a couple of other non-Pinot Noir bottlings.
Their Vincent Vin Gris is a play on words directly honoring Vincent Van Gogh; note the Van Gogh style painting on the label. Vin Gris Saignee is a French style of wine made in Burgundy where the juice is bled off before the fermentation actually begins. Saintsbury was among the first of the Carneros Pinot Noir producers to make this style of wine. The first vintage of this was in 1989 when an exceptional amount of rain during harvest swelled up the fruit; as a result, they needed to find a use for the extra "juice". All the juice for this wine is fermented in barrel. The 2007 Saintsbury Vincent Vin Gris is a light easy drinking summer type wine with a pleasing mouth feel and notes of raspberry and strawberry on the palate.
Saintsbury produced their first pétillant naturel (Pét-nat), a Blanc de Blanc from Chardonnay in 2020 from the nearby Lee Vineyard. This wine was so well received by their customers they have continued producing wines of this style. It is produced in the Cremant style and all production from these wines is bottled by hand using a small bottling machine. In 2021 they produced a pétillant naturel from Chenin Blanc. The 2021 Saintsbury pétillant naturel Chenin Blanc Alder Springs Vineyard (Mendocino County) is 12.1% alcohol. It is medium golden in color; the aromatics are immediately noticeable as they leap out of the glass showing ripe apple, pear, honeycomb, honeysuckle, jasmine flower and a bubble gum scent. This wine's balance is its hallmark, which is framed by a light creamy texture. The palate reveals flavors of apple, cape gooseberry, a light toast nuance and some lingering mineralities. Drinking this is dangerous in a much less scary connotation of who this word is normally used – in that it drinks comfortably and goes down very quickly.
The 2020 Saintsbury Sangiacamo Vineyard Green Acres Ranch Chardonnay was produced from Wente selection Chardonnay vines that date from 1969 (with very low yields typically 1 to 2 tons per acre). Only 5 acres remain of these original plantings. This wine is medium gold in color; the bouquet immediately stands out offering aromas of pear, apricot, peach and melted butter. The bouquet tends to showcase a more California style richness, ripeness and oak influence while the palate does not. Rather its bright acidity and rich flavor complemented by its rounded texture creates a very balanced bottling. It offers flavors of apple, honeycomb and a subtle sweetness of baking spices on the finish. Remarkably, Saintsbury has been working with the Sangiacamo family since their first vintage of Chardonnay in 1981.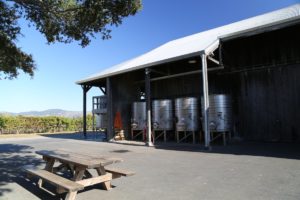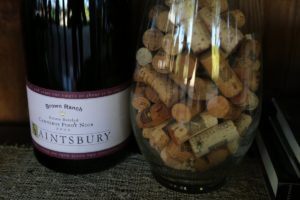 During one of our early visits to the winery, we tried two distinctly different Chardonnays: the 2006 Saintsbury Carneros and the 2006 Saintsbury Brown Ranch. The Carneros bottling is unfiltered; during an experiment in the early 1990s they made both a filtered and an unfiltered Chardonnay and decided they liked the flavor better of the unfiltered one. The rather subdued bouquet leads one to believe there may not be much fruit showing on the palate. Not true, there are appealing fruit driven flavors including pear and citrus. The Brown Ranch is slightly more complex of a Chardonnay with a creamy textured mouth feel. Only the best lots from their fermentations are used for this wine. It shows intriguing fruit flavors including ripe apple, pear and more subtle citrus notes. This is our favorite of the two wines.
Pratt Vineyard, not to be confused with Pratt Valley sandwiched between Howell Mountain and Glass Mountain just off of Crystal Springs Road in Napa Valley or Pratt Avenue in St. Helena, is located near Sebastopol in neighboring Sonoma County. The 2017 Saintsbury Pratt Vineyard Pinot Noir is medium to dark ruby in color; the bouquet is somewhat briary offering notes of raspberry, a wood spice including old cedar box and mulberry. This wine offers a pleasing depth of flavor and richness including of both dark and red berry fruits. It lingers with a light dryness on the finish including notes of tobacco spice and dried tobacco leaf. The tannins are well-integrated. This wine contains three clones of Pinot Noir including Pommard, Dijon 828, and Clone 23; it was aged for 11 months in oak barrels of which 18% was new French oak.
Saintsbury celebrated their 40th anniversary of working with the Lee Vineyard in Carneros in 2022. This vineyard is located next to nearby Hyde Vineyard and was first planted to Pinot Noir in 1967 with their first few vintages sold to the Napa Valley Coop Winery in St. Helena (now Hall Winery). Saintsbury produced their first single varietal wine from this vineyard in 2004. The 2018 Saintsbury Lee Vineyard Pinot Noir is built with three separate clones of Pinot Noir including Dijon 115, Pommard and Swan. This wine is medium ruby in color; the bouquet is sweetly fruited with notes of raspberry and dried rose petals. It is balanced, juicy and very flavorful, a crowd favorite if you will. It offers flavors of red plum currant, cranberry and red cherry. The finish is dark and slightly savory lingering with notes of dried tobacco leaf and red berry fruits. Its verve is rooted in its acidity, displaying a bright, refreshing and mouth-watering finish. We would like to try this wine in 5, 10 or 15 years. It certainly has some characteristics that will make it very age worthy.
The 2015 Saintsbury Stanly Ranch (a historic nearby ranch originally planted to vines in 1870), Dijon 115 Pinot Noir is fruit forward with pretty aromatics including blackberry, raspberry, plum and subtleties of mocha in the background. It is fairly soft on the entry but soon packs plenty of flavor. Layered with depth, this bottling reveals both dark and red fruit including plum. The finish is very clean.
For several vintages Saintsbury worked with the Kent Berry Vineyard located at approximately 1,500 feet in elevation in the Santa Cruz mountains. Remarkably the vines were planted on their own roots in 1991 (a period of time in Napa Valley where vines were still succumbing to phylloxera). Saintsbury's final vintage from this vineyard was the 2019 Kent Berry Vineyard Massale Select Pinot Noir. This wine is pale to medium ruby in color; the aromatics are beautiful, showing notes of sweet cherry cola, pomegranate and boiled rhubarb. This wine offers flavors of raspberry, cherry, currant and plum. The finish lingers with earthy, dusty and light gravelly in texture tannins along with dried herbs and a lingering burst of brightness from both its fruit and acidity. This is a balanced bottling but with plenty of depth and character.
Saintsbury embraces a number of sustainable practices in their winery and vineyards. Winery water is recycled, they have implemented insectaries and bird boxes to increase the diversity among the vines, and in 2007 installed almost 7000 square feet of large raised solar panels in the back of the winery which support the majority of their electricity needs (and also smartly doubles as shade for parking). In addition to producing their own wines here, they lease out part of their cellar options to several other small wine brands. And Saintsbury was the first Napa winery to sign on with the Porto Protocol, an international group founded and funded by Taylor, Fladgate & Yeatman (Taylor's Port) in Portugal focusing on raising awareness of climate change and providing and sharing related solutions.
Their wines are distributed in all 50 states and a number of overseas locations as well including in Japan and parts of Europe. Approximately half of their production is in distribution while the other half is sold direct to consumer. And sine 2009, for restaurants and other retail outlets, they offer a wine on tap program.
Visitors can also purchase specialty gift sets including olive oils and assorted spices. For more information, to schedule an appointment or to join one of their membership levels (each with 3, 6, or 12 bottle shipments per year), visit: www.saintsbury.com